20 Romantic Weekend Getaway Ideas (Themed to suit all couples)
Whether it's your wedding anniversary or a long over-due romantic weekend away…
When it comes to choosing where to go for your next romantic break or holiday, it's all too easy to get swept away on a tide of 'cookie-cutter hearts and flowers' romantic destinations.
Because whilst famously romantic cities, such as Paris or Venice, are rightly celebrated as world leaders for romance and ever popular choices for a romantic weekend getaway… the one-size-fits-all approach is no good when you want to show someone unique how much you cherish them.
Instead, give the gift of travel and make it personal.
And choose experiences and destinations that correspond to your loved one's very individual passions and interests.
Need inspiration? Here are a few ideas to help you find your partner's perfect romantic trip, whoever they may be… (all of which are roughly no more than a 3 hour flight from the UK - making them an ideal choice for a long weekend getaway).

If your partner is ADVENTUROUS…
Embrace you partner's adventurous spirit and discover the thrill of a lifetime! The fearless explorer is always seeking the next big adventure and yearning for new horizons. If you want to truly excite and challenge an adventurer, gift them the opportunity to behold incredible destinations and immerse themselves in new cultures from a fresh perspective. Or, ignite their passion for adrenaline with exhilarating sports and adventurous experiences that will leave couples craving more action. Unleash the adventurer within and create memories that will last a lifetime!


5 RECOMMENDED DESTINATIONS & EXPERIENCES FOR ADVENTURERS:
MARRAKECH - Dive into a thrilling weekend at Es Saadi Resort, where couples can ignite their evenings at the mesmerizing Casino de Marrakech - the first of its kind in Morocco. And when the night beckons, lose yourself in the electrifying atmosphere of Theatro Nightclub, where fire eaters and acrobats will dazzle you as you dance the night away!
If your partner is a TRUE ROMANTIC…
Unlock the full potential of your partner's romantic personality and shower your loved one with unforgettable treats and surprises. But remember, expectations are high. So don't hold back! Go all out with sweeping gestures and overwhelming emotions. Choose a destination with a breath-taking backdrop and a truly romantic atmosphere. Create a getaway that will leave your partner in awe. Let love be the centrepiece of your grand weekend getaway.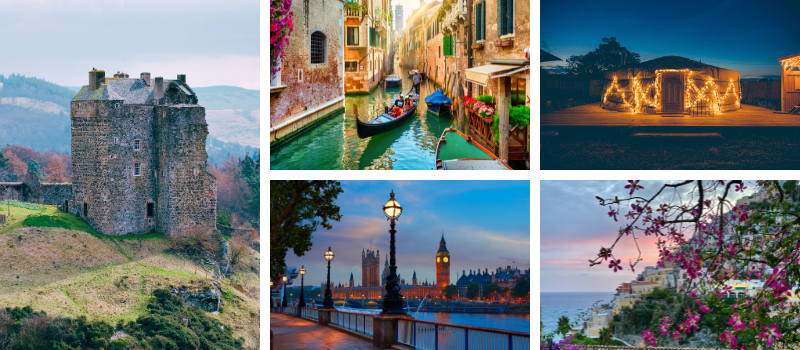 RECOMMENDED DESTINATIONS & EXPERIENCES FOR TRUE ROMANTICS:
If your partner is a NATURE LOVER…
Find your perfect romantic getaway in the embrace of nature. Immerse yourself in lush landscapes, vibrant wildlife, and the intoxicating fragrance of blossoming flowers. Give the nature lover in your life a gift that captures their deep connection with the natural world. Let love blossom in the great outdoors.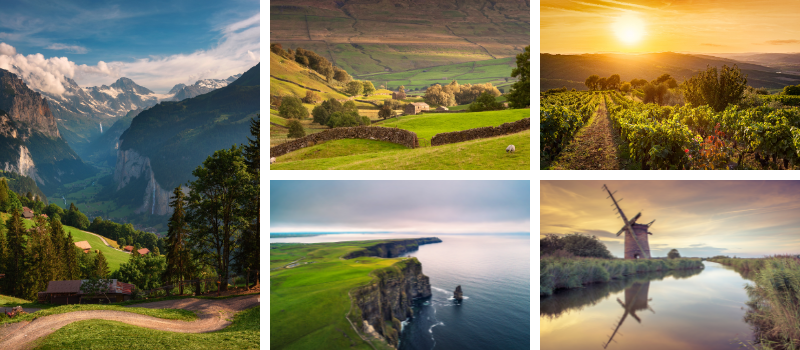 RECOMMENDED DESTINATIONS & EXPERIENCES FOR NATURE LOVERS:
YORKSHIRE DALES - Discover a hidden hot tub retreat that promises to transport you to a world of natural beauty and romance in the enchanting setting that has inspired countless love stories.
TUSCANY - Embark on an enchanting Horseback riding adventure for 2 through the picturesque landscapes and vineyards of Tuscany.
If your partner is an ARTIST…
Unleash your lover's creativity and immerse yourselves in the vibrant world of art. From exploring the enchanting art cities of Italy to expressing yourself through your own artistic creations, a world of inspiration awaits. Let your imagination soar as you discover architectural marvels and breath-taking masterpieces. Creative and colourful, perhaps a touch whimsical and extremely loving, the artist is a great person to indulge.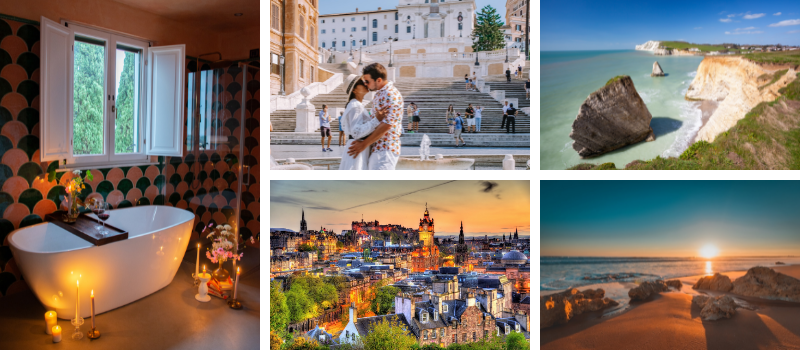 RECOMMENDED DESTINATIONS & EXPERIENCES FOR ARTISTS:
ALGARVE - Immerse yourself in the beauty and depth of art and culture in a stunning coastal paradise. Experience the timeless allure of Roman archaeological wonders, embrace the heritage of the past, and explore the vibrant world of modern art galleries. Discover a destination that perfectly blends history and creativity, offering a truly unforgettable experience.
To enquire and get a private quote for any of our featured romantic breaks and experiences - simply send a direct message to each host via their hotel / company page.

And if you need more ideas to find your perfect Romantic Break? **SIGN UP HERE** for our weekly Romance & Travel tips, special offers and recommendations.