Trend Alert! Couples Wellness - Where to go?
We've picked 13 destinations that boast some of the world's best spa and wellness resorts where you can explore your inner self while developing your COUPLE GOALS.
In today's fast paced world it can be hard to find quality time to spend together with your partner, so, it makes sense that more and more couples are choosing to take regular breaks that focus on the energy of their relationship. As well as giving your RELATIONSHIP HEALTH a boost, the well-being trend can help to RENEW YOUR SEXUAL PROWESS, or even IMPROVE FERTILITY.
Whatever it is you're seeking from a romantic retreat - from couples' massages... to exotic treatments... and much more - our recommendations will have your mind, body and soul covered...
#1 Couples Wellness in Thailand at Zazen Boutique Resort & Spa

Set on the awe-inspiring Bophut Beach in Ko Samui Island, the Zazen Boutique Resort & Spa offers a dreamy setting from which you'll effortlessly re-discover your Zen. Guests can choose between beachfront and garden bungalows, along with garden villas. Each suite is decked out like an elegant Thai home that's completed by wooden or terracotta-tiled floors, large glass-fronted doors and a veranda that overlooks gorgeous natural scenery.
Have a look at the range of treatments available through the resort's Spa Lovers' package. These include a healing hot stone massage, a Swedish fusion massage, an aromatherapy treatment and '4 Hands' massage. For a change of pace later on in your trip, ask the resort about their Thai cookery masterclasses that'll teach you how to make one of the world's most popular cuisines.
#2 Couples Wellness in Croatia at Hotel Korcula de la Ville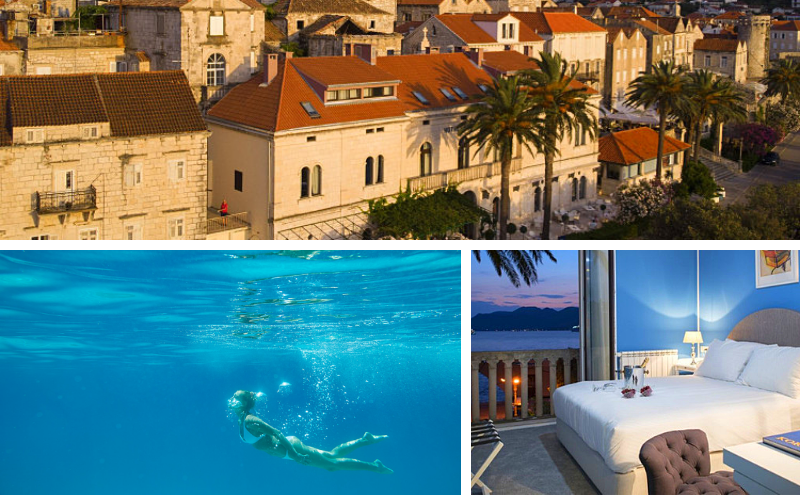 If the chance to explore some of the Mediterranean's finest nature on a secluded Croatian island sounds like your idea of paradise, then you'll want to take a look at Hotel Korčula De La Ville. Set in the Dalmatian island of Korcula, you'll have a very special and tranquil base which includes stunning waterside terrace views. Indulge in a couples' massage at the laidback Lesic Dimitri Spa to set the tone for a truly rejuvenating break. Other ways to pass your day include dining in ancient sleepy villages, or swimming in the crystal clear Adriatic Sea.

#3 Couples Wellness in India at Neeleshwar Hermitage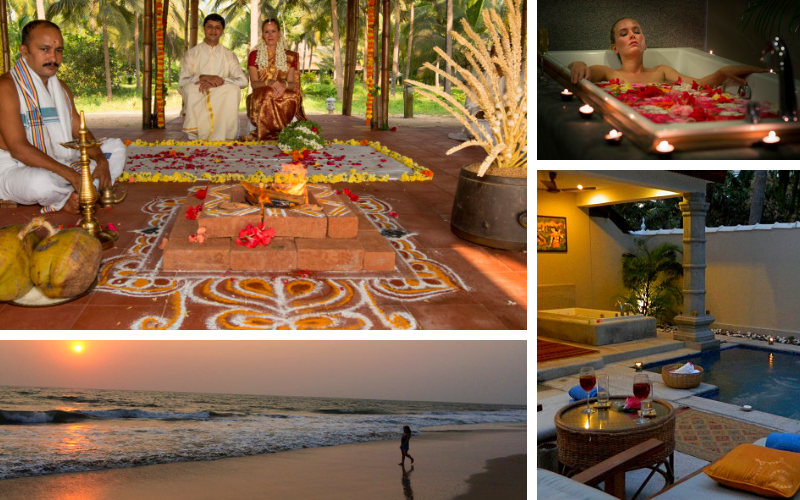 Yoga has been practised in India for more than 5,000 years and it's just one of the slower-paced activities to choose from at Neeleshwar Hermitage. This hidden tropical resort is located in a palm grove beside the Arabian Sea in Northern Kerala. In between yoga classes (both group and private sessions can be arranged), you'll be able to make the most of your private pool. Or you can unwind at your beautiful cottage, which is modelled on a traditional fisherman's hut. Ayurveda treatments, evening cruises, candle-lit dinners and long walks on the beach are among the non-yoga selections here.
#4 Couples Wellness in Italy at Hotel Garden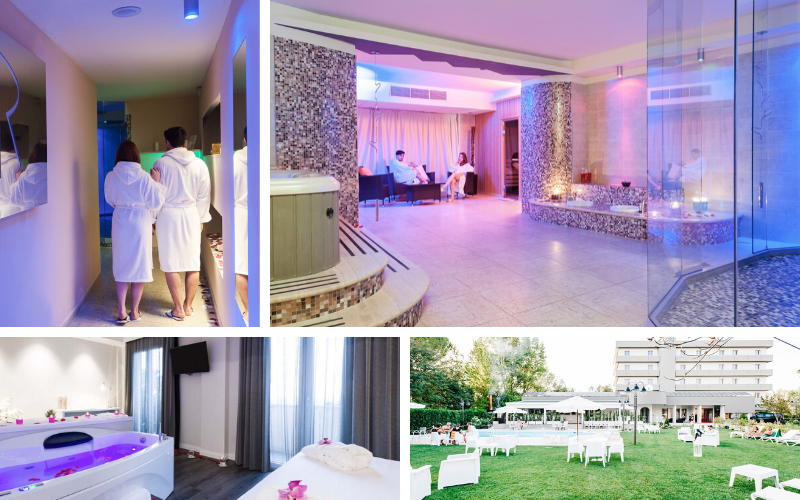 Couples wellness and romance are top of the agenda when you stay at Hotel Garden, set between Italy's Apennine mountains. Here you will find a luxurious spa designed to take you on a journey through all of your senses and with just one destination in mind - Total Relaxation!
In addition to the spa, the surrounding gardens and outdoor pool are the perfect setting for laid back days and romantic evenings, but our top recommendation here has to be the Romantic Suite. Designed for couples-only, this is the room to book for special occasions or for when you want to enjoy some alone time together. There's a wonderful Jacuzzi located in the middle of the room, and it offers many possibilities for a romantic escape away from the stresses of everyday life.
#5 Couples Wellness in Morocco at Les Jardins de la Medina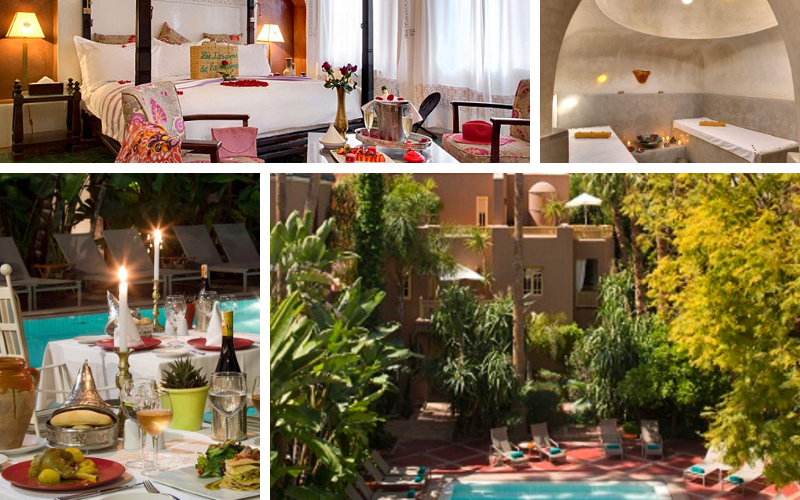 A new spa at Les Jardins de la Medina has, like an exfoliating facial, given a fresh feel to this retreat which is ideally placed in a secluded enclave of central Marrakech. On arrival at this boutique property, you get to choose your pillow perfume for the room – something that tells you everything about the way luxury is instilled at this unforgettable spot. A terrific and spacious heated pool is set in the heart of the hotel's luxuriant garden. A sense of easy tranquillity is lent through the hotel's 19th century architecture. Solariums and private terraces are both available… and that's all before you've set foot in one the spotless treatment rooms.
The Spa only uses high-quality and locally manufactured products which meet European specs. Treatments at the Spa - which include two Hammam rooms and a body care room - are accompanied by soothing traditional sounds. A complete range of treatments for the face and body are available, and there's even a barber to make the most of ahead of a night out in the spellbinding Moroccan destination city. Staff are known here for their excellent service delivered with constant smiles.
#6 Couples Wellness in Bali at Saranam Resort & Spa and Nandini Jungle Resort & Spa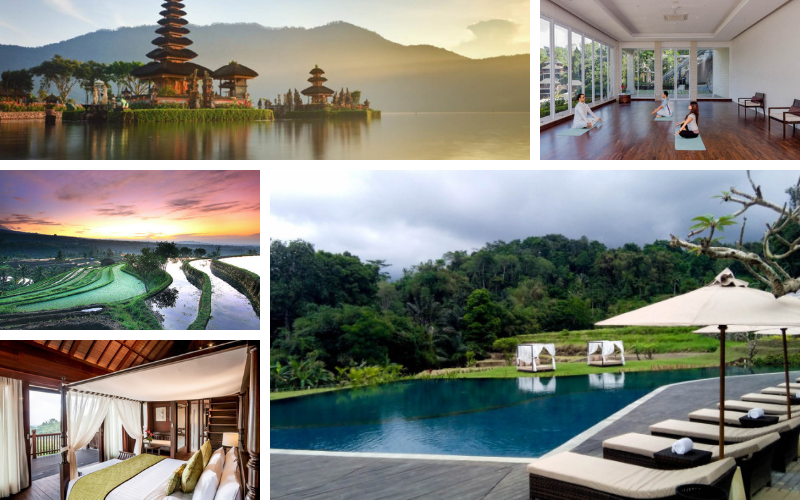 With its lovely beaches, world-class spa hotels and hot spring retreats it won't be hard to get away from the hustle and bustle of everyday life at an island that Trip Advisor named as it Number 1 destination in the world a couple of years ago.
Saranam Resort & Spa, which is nestled in the higher regions of central Bali's Lake District, is a reinvigorating luxury retreat. On arrival the incredible view from the lobby combined with crisp, clean air will immediately make you feel refreshed and at one with nature. Yoga and trekking are two choices for those on the pursuit of added wellbeing.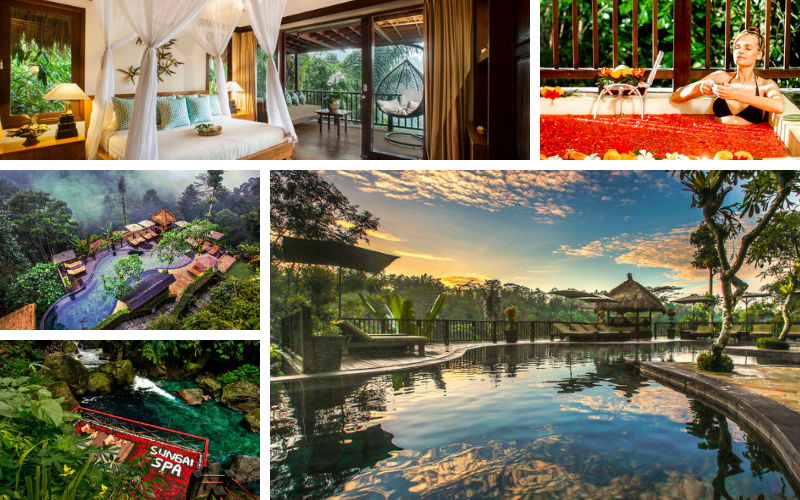 Elsewhere the Nandini Jungle Resort & Spa is an amazing mountainous retreat with a range of romantic experiences, including couples yoga, a romantic picnic lunch or dinner for two, as well as romantic trips to Beratan Lake, the Jatiluwih rice fields and a Waterfall. You'll feel aeons away from the tourist trail as you take in another early morning nature walk or an afternoon yoga session.
#7 Couples Wellness in Switzerland at Grand Hotel des Bains de Lavey & Hotel des Londres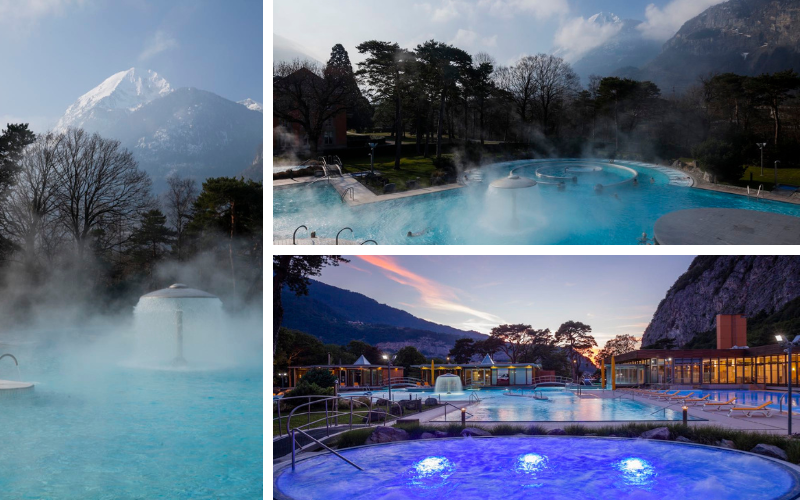 Total relaxation and tranquillity is at the heart of any romantic getaway to Grand Hotel des Bains de Lavey. If panoramic views of snow-peaked mountains aren't enough, there's a suite of choices to pamper both your body and soul. Directly accessible in your bathrobe from your room, there's no less than 1600 m2 soothing thermal waters spread over three large pools. The water is naturally warm, between 33 and 36 ° C. And all facilities including indoor and outdoor pools, bubble beds, massage jets, activated current route, saunas, steam rooms, light room wood, chromotherapy and the foot bath can be used free.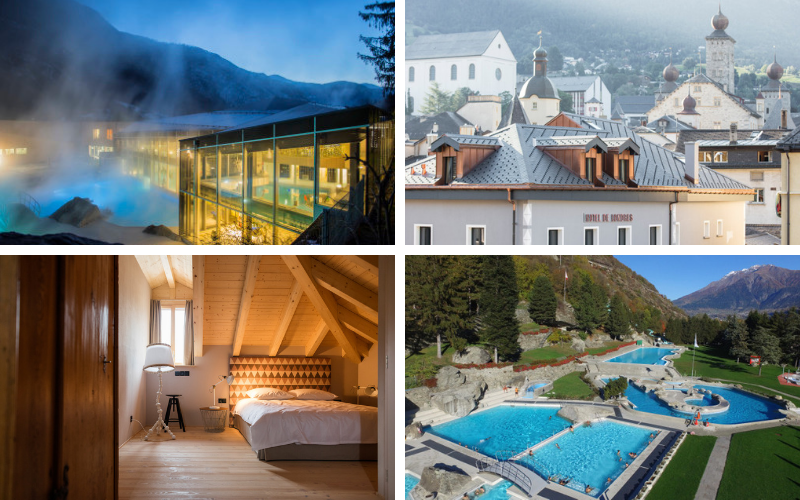 For another highly recommended destination of Swiss healing, head to the Hotel de Londres, a stylish and quaint boutique hotel in the heart of Brig town. The nearby Brigerbad thermal springs, which opened in 2014, is a huge draw offering guests the chance to make the most of a year-round oasis of wellbeing. There are no fewer than seven unique bathing areas – from diverse outdoor pools with huge water slides, to indoor health pools, plus a spa area that's spread greedily over two floors.
Have a look at Hotel de Londres' Brig and Wellness deal, which includes: an overnight stay in Attic Junior Suite, a Valais breakfast buffer with regional and seasonal produce and a 3-hour pass to the thermal springs.
#8 Couples Wellness in Greece at Santorini Zen Spa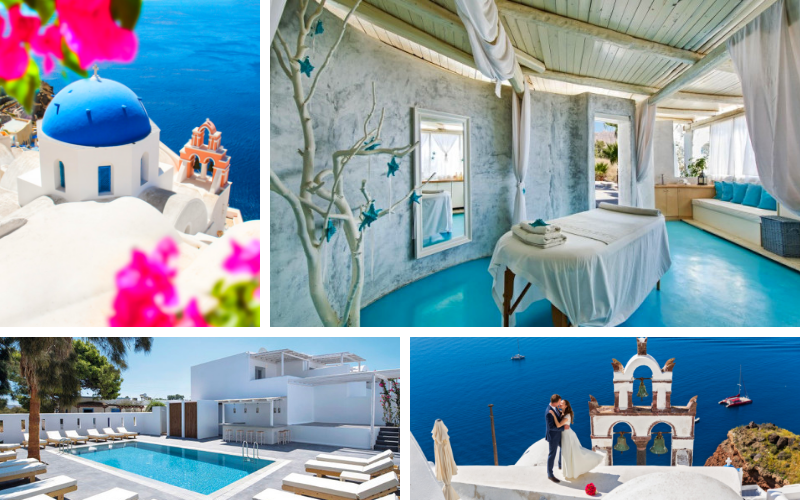 Lovers of a great spa should make sure they treat themselves to a poolside treatment at Santorini Zen Spa. The spa is located in a pavilion by the pool, inside hotels Meltemi Village in Perissa black beach and Atlantis beach in Perivolos in Santorini. They use predominantly Greek natural products in their aromatherapy treatments utilising local honey, propolis extracts, volcanic clay and salts picked straight from the Aegean Sea. Location is everything at this luxurious bolthole and needless to say you'll be perfectly placed to experience the wellness benefits of Santorini's many charms, not least the incomparable sunset views amid the rugged cliffs and the world-famous volcanic caldera.
#9 Couples Wellness in South Africa at Leeu Estates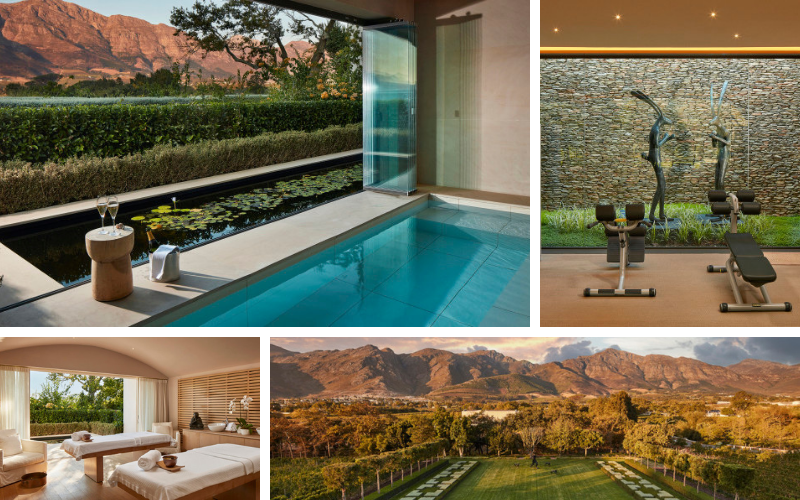 The Leeu Estates offers a vast array of treatments such as African-inspired head-to-toe massages. Couples' treatments are a big part of this charming resort's offering, with plenty of tailor-made cures, from relaxing massages and facials to manicures and pedicures. This exclusive boutique hotel and wellness spa – set among the scenic Franschhoek Valley – is placed amid a vineyard, so you'll have no trouble unwinding further with a couple of bottles of tasty local produce…
#10 Couples Wellness in Costa Rica at The Retreat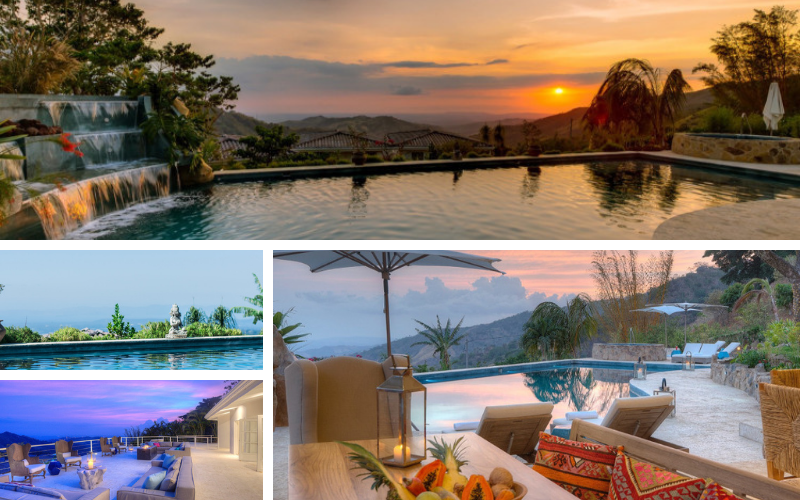 Mired in total peace and seclusion The Retreat - Costa Rica is a boutique hideaway with stunning views of the Nicoya Peninsula and Pacific Ocean. This hidden paradise is the innovation of celebrity chef, best-selling author and health and wellness life-coach, Diana Stobo. And it offers endless ways for couples to enjoy intimate and super-romantic moments alongside its signature wellness experiences.
#11 Couples Wellness in Barbados at Waves Hotel & Spa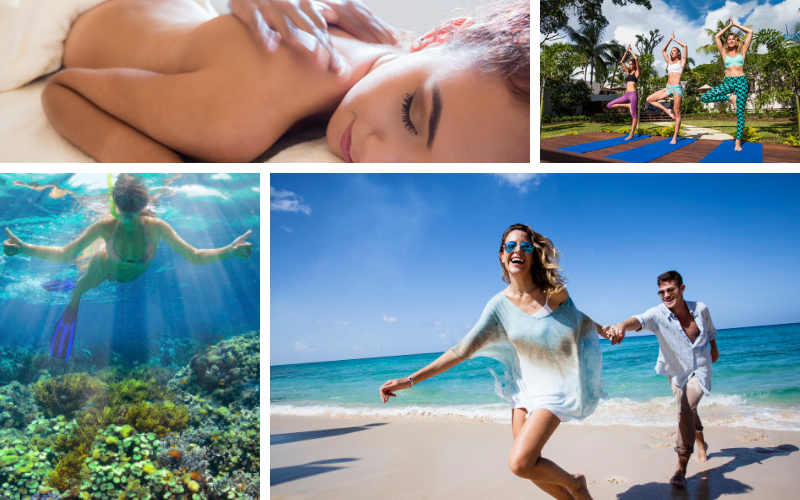 Did you know that 2019 marks a 'Year of Wellness & Soft Adventure' for Barbados? The ever-popular Caribbean island is putting on a plethora of festivals and events as part of its marketing drive. Whether or not you catch a wellbeing event, a stay at the Waves Hotel & Spa means you'llbe able to make the most of up to four spa treatments, each of which are included in your stay. If it's a special milestone that you're aiming to pair with some down time, then you'll want to check out this extraordinary venue's spa and anniversary package.
#12 Couples Wellness in Germany at Brenners Park-Hotel & Spa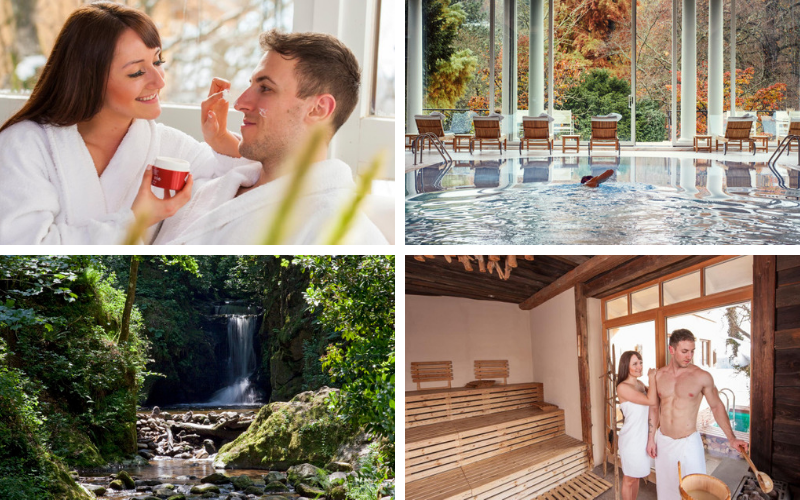 Taking its influence from the Roman spas of old, Germany is today known as a world-famous destination for wellness. Look for the 'Bad' prefix before a town name to be sure you're in a certified spa region, where the strictest air and water quality standards have been met. The 5-star Brenners Park-Hotel & Spa, in the spectacular Black Forest town of Baden Baden, is one such place. Much of the peace and tranquility of this beautiful resort can be summed up by the aroma oil massage in their couples' treatment room. Elsewhere Wellness & SpaHotel Gut Edermann is a lovely new spa hotel set in alpine foothills in south-east Germany. Marvel at the mountains of the Berchtesgaden, Chiemgauer, and Salzburg Alps while unwinding through another luxurious treatment.
#13 Couples Wellness in Austria at Schloss Piclarn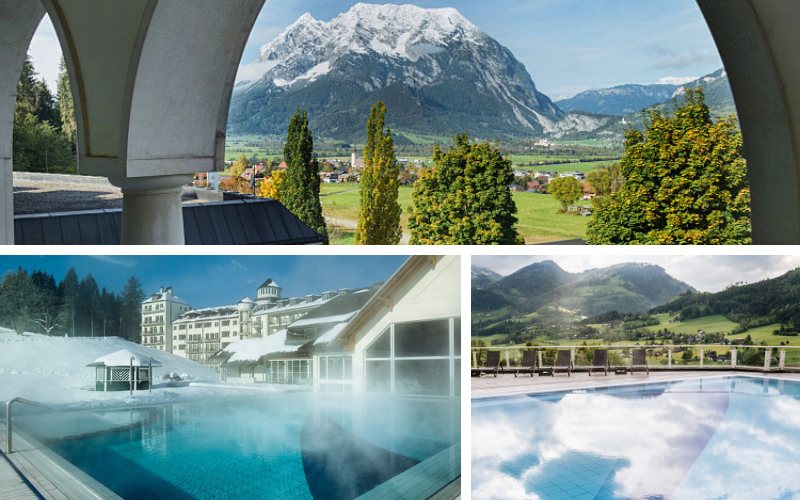 A popular wellness option throughout the Central European region is thermal baths, which are often slick oases of relaxation set in a crystal-clear atmosphere. There's a wide range of theme baths and saunas to enjoy at Schloss Pichlarn, a laid-back resort overlooking the majestic Ennstal valley in the heart of rural Austria. Be sure to check out their Romance for two deal, which comes with a couples' massage and body peeling - all enjoyed at a leisurely pace, with a glass of prosecco and a bowl of fresh local fruit.
Why choose The Romantic Tourist?
It really is simple to find a compare the world's most romantic experiences and hotels – including some exclusives only on this website – through The Romantic Tourist. You can speak directly to the host and we make it straightforward to include unforgettable add-ons with any special requirements you may have.
There's more than 60 destinations worldwide you can choose from for whatever kind of trip meets your needs. Start your search for a romantic break today.