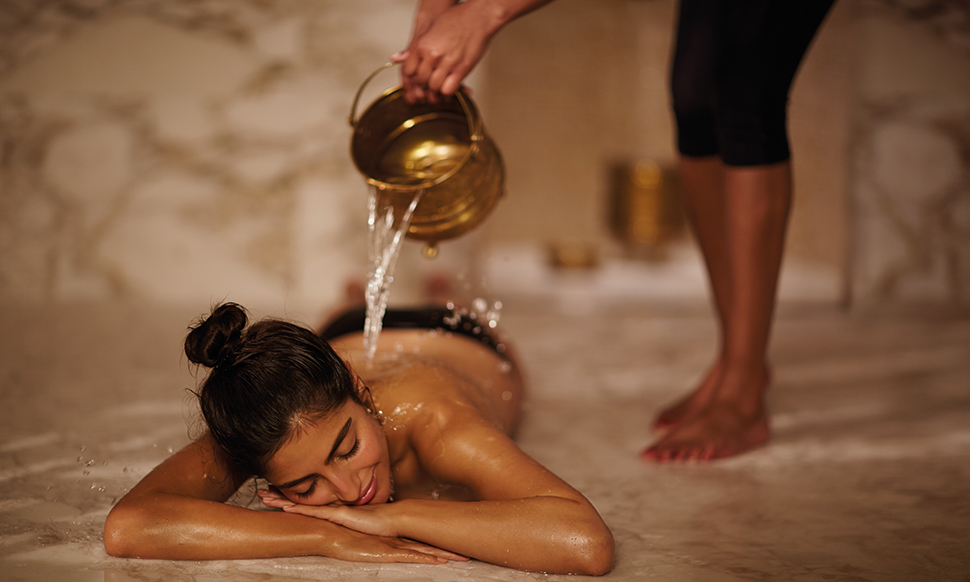 What is the Ancient Art of the Moroccan Hammam
You'll often see our luxurious hotel spas including a Hammam, but what exactly does this mean? At its heart, the Hammam is a steam room, similar to a Turkish bath, and in the Western world you'll often find that it ends there - a place to relax and detox in a cocoon of warmth and steam.
However, there is a lot more to this ancient Moroccan spa therapy, and if your hotel offers a traditional Hammam (or you visit one on your romantic getaway), you'll experience one of the most soothing yet invigorating ways to banish negative energies and 'reset' your mind, body and soul.
In Morocco, the Hammam is a way of life, rather than just an indulgent spa treatment, and people habitually visit the Hammam on a weekly basis, for several hours at a time. The exfoliating treatment is a chance to cleanse, purify and detox, following the drawn-out ritual until skin glows.
As an important part of Moroccan culture, this was - and sometimes still is - a social place to connect with people and catch up on gossip - but today tradition has melded with contemporary spa philosophies, and your Hammam will likely be a serene and sultry sanctuary, designed to help melt away stress and tension and encourage complete relaxation.
After soaking in warmth and steam, traditional black soap is used to exfoliate the skin. You can do this to yourself, do it to each other if you're with loved ones, or a spa therapist will do it for you; the most relaxing (and less self-conscious) option. Prepare yourself for a vigorous scrubbing, as this is part of the process is all about drawing out toxins and banishing negativity; shedding dead skin so that you are left glowing with life. However, you feel beautifully balanced afterwards, and an application of warm oil will soothe your skin and leave you feeling radiant.
If you're experience a full ritual in a larger Hammam, this may also include sitting in soft water for 5-10 minutes first, before being covered in a purifying mud or clay. Once this is removed, it is followed with the black soap exfoliation, which is removed with a cold shower to close pores, before you lose yourself in a lengthy relaxing full body massage. Peace and tranquillity is the aim of the game with this massage finale, and you will be in a warm, comfortable and softly lit room, to aid the ultimate serenity. If you get the chance to experience this wonderful tradition, don't pass it up - find out for yourself why this ancient art is such a big part of Moroccan culture, and bask in the bliss of pure escapism.