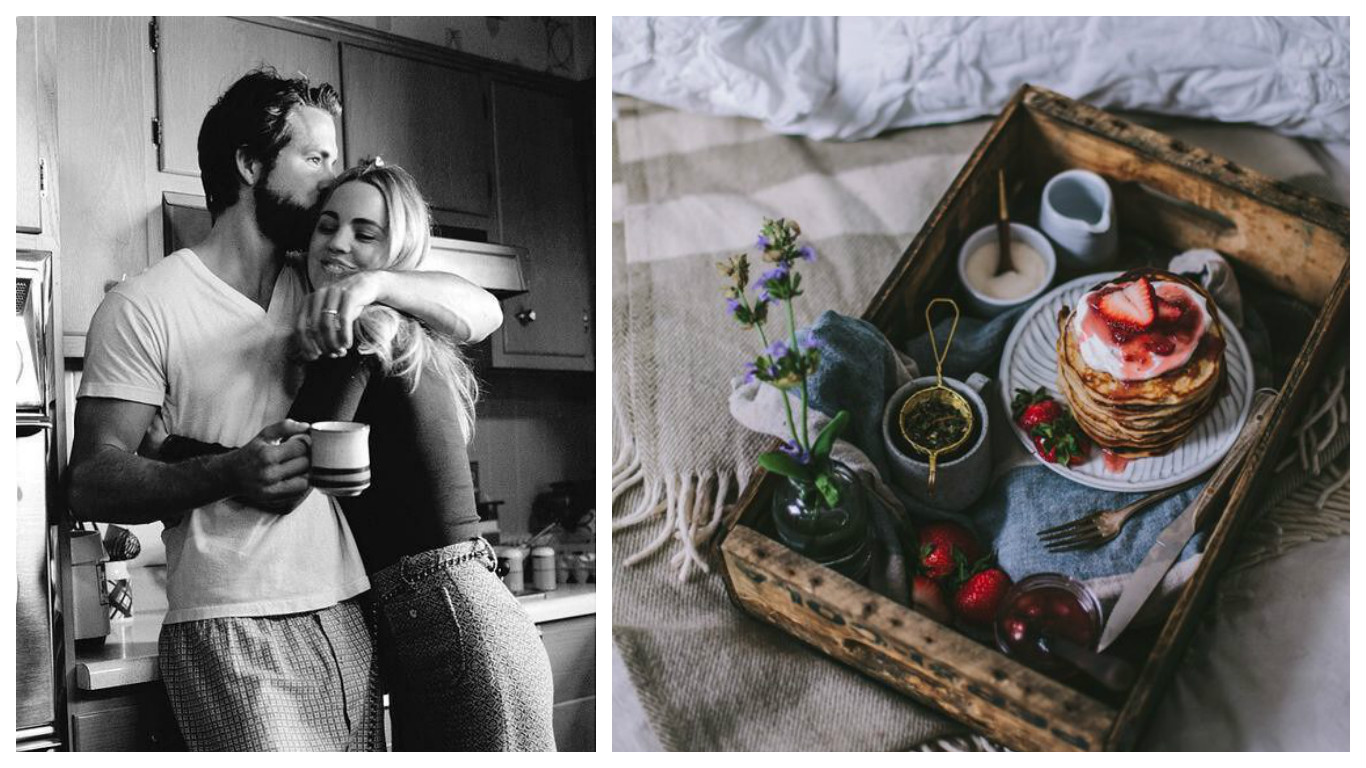 Recipes | Romantic Breakfasts in Bed
Some things seem to cost the earth (weddings, honeymoons, holidays, diamonds, yachts; to name a few), but some things don't cost a dime, yet they are utterly priceless. Dressed to the nines in a swanky restaurant and gazing into each other's eyes over the table, or giggling over cocktails in a trendy bar and being that couple, draped over each other and kissing in the corner... there is no disputing the allure of glamorous evenings, with candlelit dinners, the air scented with perfume and possibility, feeling as though you're the only two people in the world as you meander home underneath a star-filled sky...
Yet, indisputable is the charm of the morning after the night before, and, unlike nights out, where unforeseen elements can dull the shine of your romantic expectations – bad weather, bad food, bad service – your romantic breakfast is completely and utterly yours, and within your control to serve however you wish (though always with a twinkle in your eye); a secret hidden away from the rest of the world. Long, lazy mornings with your lover, where you rebelliously mix your drinks of coffee and champagne and dine like royalty, amidst getting tangled up between the sheets; these intimate mornings are to be cherished.
Perhaps you are dating and want to impress your new beau with your creative culinary skills, or maybe you've been a couple for a long time and want to celebrate a significant anniversary, or you could just be treating yourselves, because why not? Whatever it is, time together is precious, and making these mornings for each other regularly lays the foundations for a happy, romantic, close (and fulfilling) relationship...
For Good Morning Glamour
It is a simple fact of life, that all you need to turn a morning in bed from lazy to glamorous is two things – champagne and some old-fashioned jazz (don't even think about turning the TV on with a brew right now). With the early morning sunlight shimmering through the curtains and the dreamlike haziness of last night's memories making you glow, set yourselves up for a day of indulgence, with a modern take on the Buck's Fizz classic; hey, it's not the 1970s any more, this is much more.
For When You Need to Refuel...
Chorizo & Potato Hash with Egg & Parsley
It might seem impossible to peel yourselves away from the haven of your bed, but sometimes a refuelling break is a necessity... Bask in the bliss of floating around the kitchen together with the scent of coffee and cooking, fingers entwined over the table and kissing up against the kitchen counter, before returning to your sanctuary away from the world...
For When You Want to Impress
Goats Cheese & Vanilla Mascarpone Pancakes with Strawberry Rhubarb Syrup & Cinnamon Whipped Cream
The wonderful thing about pancakes is the simplicity of putting everything together in a batter, yet the end result looks distinctly decadent and sophisticated – especially with the refined flavours of vanilla and rhubarb and the indulgence of cinnamon whipped cream. This is the perfect breakfast to whip up when you want to let someone know how much you love them. Be sure to sneak off whilst they're still sleeping, as it tastes nicer when served as a surprise.
For Celebrating a Special Occasion
Cinnamon French Toast with Strawberries, Raspberries, Blueberries, Greek Yogurt & Maple Syrup