7 of the Most Romantic Break Destinations in America
America's never been short of romantic connotations. From the long sunset drives of Route 66, to eloping in Las Vegas and plenty more in between.
We've trawled the East and West coasts to find 7 of the most romantic places – with some fine hotels to match – in the good ole' U.S. of A.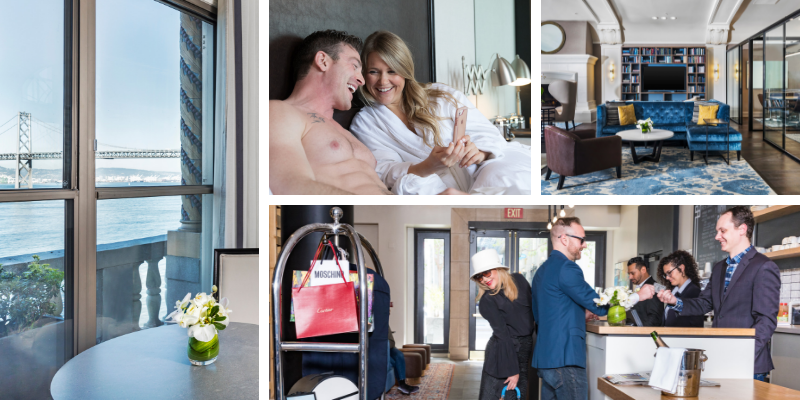 1. Take San Fran at your own pace

A choice of views is never a bad thing and you're really spoilt for them at San Francisco's Harbor Court hotel. This classy 4-star property, situated downtown, offers a waterfront view of the Bay; plus, you also get a majestic skyline and Oakland Bay Bridge. Ordinarily, this ever-cool city would make an ideal scene for romance – and a stay at Harbor Court means you get a double dose.
Alongside your beau you could unwind with an early evening saké or a craft cocktail at the critically acclaimed Ozumo restaurant, which is attached to the hotel. The Japanese eatery serves up superb and authentic sushi. Other extras available on-site include wine tasting evenings, bicycle borrowing and other fun perks which all facilitate romance. What's more, you're just around the corner from the famous Hub neighbourhood of Market Street. Take a stroll to the nearby Ferry Building Marketplace for a bite, or explore the many other shopping options of the area.

It being San Fran there are, of course, plenty of options nearby to take in some culture. You might take a cruise to Alcatraz Island. You could pop across the bay for a concert in Oakland. Or discover the majestic redwood forest of Muir Woods, which you can get lost in with your lover. Whatever you decide to do, a return to Harbor Court puts you on the doorstep of the waterfront at a stretch that would be an ideal place for either a wedding proposal a special anniversary dinner.

Guest rooms at the hotel come with a sea themed décor, massaging shower heads and more. And what's more, Harbor Court partners with a wellness centre, which has a huge pool that you're free to use at your pleasure.
Find out more about the romantic possibilities, and the range of tailored romantic packages, on offer at the Harbor Court San Francisco.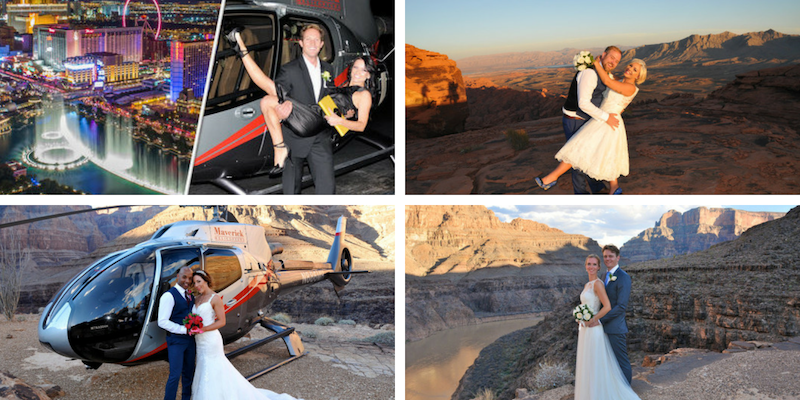 2. Make love in Las Vegas
If you're after an extra special romantic experience – for instance a wedding, proposal, anniversary or a milestone birthday – then you might not have to look any further than Maverick Aviation Group. Based in Las Vegas, this renowned tour group, which specialises in creating tailored and unforgettable romantic trips, has a half-day tour called Wind Dance. Starting and finishing at your hotel, the experience includes:

Champagne and gourmet nibbles above the Colorado River – one of several proposal-friendly places in the area

A helicopter ride to the Grand Canyon, with breath-taking views of the Hoover Dam, Lake Mead, Temple Rock and Fortification Hill along the way

An exhilarating 3,500 feet descent into the Grand Canyon, before landing at a private site on ancient Hualapai Indian Territory

See the brilliant reds and oranges of the Bowl of Fire's rock formations as you head back out of the Grand Canyon

Finally, you get one more incredible flight – this time over downtown Las Vegas and its world-famous Strip.

Maverick would be more than happy to personalise a romantic trip based on your specific needs. That could include limousine transfers, or helping you find you the ideal secluded spot to pop the question or tie the knot.
Find out more about the deals on offer with Maverick Aviation Group.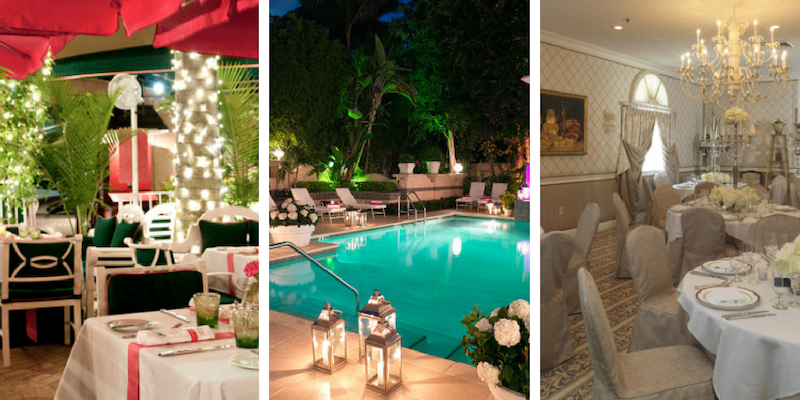 3. Worth a visit to Florida's hot spots
Housed a mere two blocks away from the enchanting Worth Avenue, complete with its splendid architecture and visas lined with palm trees, The Chesterfield Palm Beach hotel makes for a truly decadent setting to wow your other half. Choose between the traditional American cuisine and top international fare of Palm Beach amid an area famed for up-market shopping. High tea's a favourite here, as is live music each evening.

The Chesterfield's spacious grounds themselves would make the ideal setting for a wedding. Indeed, the Banquet Room has hosted countless such romantic occasions and the hotel guarantees a completely personal and tailored experience. If it's a wedding you're researching, you could 'go large' – it is the States, after all – and book into the magnificent Penthouse Suite. Expect to be swept you off your feet with its indulgent features and stunning views of the white sandy beaches nearby.

Around the property's grounds, there are a number of picturesque gardens which are ripe and ready to be explored. These include:

Pan's Garden at Hibiscus and Chilean
The Four Arts Botanical Gardens
The Royal Park Bridge
Ann Norton Sculpture Gardens
If retail therapy is your thing, the Chesterfield can deliver you to Worth Avenue in some style. Book one of their romantic packages and ask for a chauffeured Rolls Royce to take you there. Other add-ons include: a Champagne breakfast in bed, or a ready-made picnic to enjoy on the beach. Sensual couples' massages can further help you unwind, before the temperature could rise again with a trip to the Leopard Lounge & Restaurant. There, you'll be seduced by the fine dining and its provocative painted ceiling before you head back to your own love nest.
Read more about the Sweetheart Package and other romantic celebrations offered at The Chesterfield Palm Beach.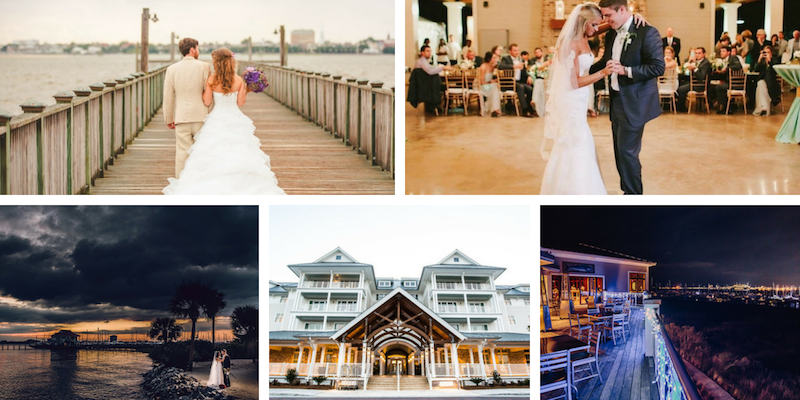 4. Discover Charleston's romantic charms
Known for its rich military history, quality cuisine and friendly folk – there's plenty to see and do in South Carolina. The seaport location of Charleston combines rugged charms with high-class architecture. Stay at the Charleston Harbor Resort & Marina and you'll find your needs are met when it comes to building one of the best couples' breaks in America.
You'll stay in the thick of the action as you're right on the marina and waterfront. While the ideal surroundings (not surprisingly) attract tourists, you can still enjoy a feeling of seclusion and intimacy here. The harbour views are sparkling, and you can enjoy them over a glass or two at the hotel's spacious tiki bar and pool area. The rooms at this 5-star resort tend to be XL too. Guests can enjoy their oversized patio or balcony, or reacquaint by sharing a bath in a deep soaking tub.
Charleston's a charming and historic port city and you could browse goods from local vendors at the historic Charleston City Market. Or, take in a tour of the Aiken-Rhett House Museum. The Gin Joint is another ideal place for an evening drink, while the Fish House is a premier spot for waterfront dining and offers some of the freshest seasonal produce. Needless to say, you might find a perfect proposal spot by the Mariner's Walk Pier.
Find out how the Charleston Harbor Resort & Marina could make all of your romantic dreams come true.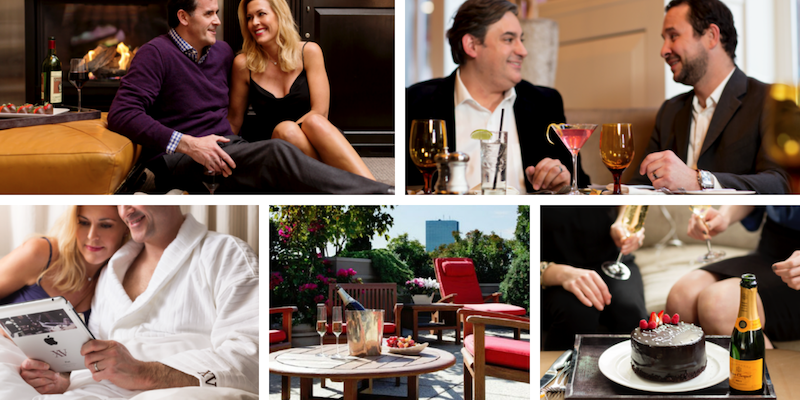 5. The best of Boston
Boston's another place of magical contrasts, as Georgian-style houses mix with towering skyscrapers and popular museums in this European-style city. Getting to know different neighbourhoods is a fun game for lovers who visit – from the posh Beacon Hill to the shops and café culture of Back Bay.
XV Beacon Hotel, which has 4 stars, is home to its very own art collection by some of America's most renowned names. In-room couples' massages are offered, while Champagne can be sipped in front of roaring fireplaces. You can even customise your whirlpool bath at this decadent resort. Recent visitors have been very complementary about the quality of the hotel's restaurant at all times of day. Location wise, the Beacon is situated at the peak of the prestigious Beacon Hill and you're a matter of minutes from the Boston Commons central park. One add-on offered by the hotel is a courtesy Lexus car service to help you explore the wider city.
This boutique hotel has its own modern steakhouse in the form of The Mooo, prepared by the award winning Chef and Owner Jamie Mammano. Meanwhile the Wine Cellar is a private dining space in case you're thinking of an extra special romantic occasion. Wedding services, including wedding planning, are available. And large 'feature shower' and a personalised Fridge/Minibar are just two of the romantic extras on offer here. Find out more about the romantic deals on offer at the Fifteen Beacon Hotel.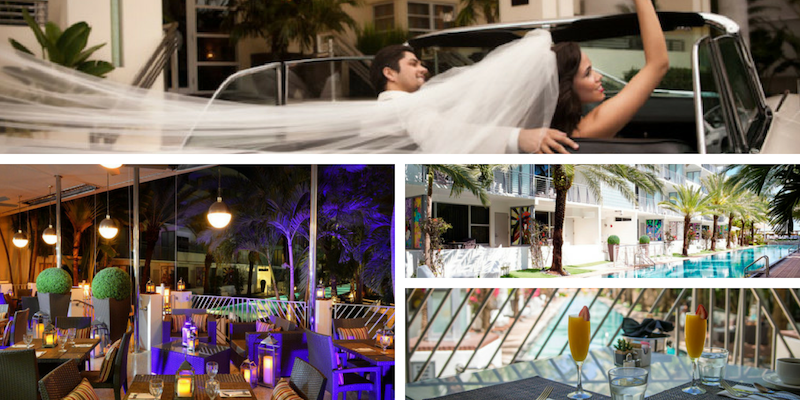 6. Welcome to Miami
Styled on an authentic Art Deco restoration, and boasting a mood of the '40s but with a modern twist, The Hotel Miami in South Beach is the ideal setting for a romantic break in America. Impressively, it's located alongside native tropical palm trees and the 4-star resort is home to Miami Beach's longest infinity-edge pool. Its ocean-fronted location is a natural fit for a wedding or anniversary. Having hosted countless Miami Beach weddings at its hotel, the National are a safe pair of hands when it comes to facilitating a perfect day of celebration.
Tropical cocktails can be customised at their Blues Bar and Martini Room while the Tamara Bistro, a French restaurant on-site means that some of the finest clubs and shopping experiences in the world are just extra special options here. Find out more about The National Hotel.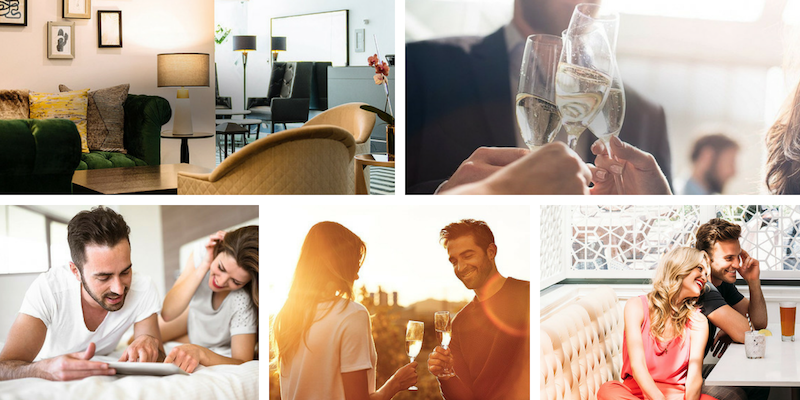 7. Live like a couple of stars at West Hollywood
It sounds like too much of a contradiction. A West Hollywood hideaway that also makes for the ideal and intimate romantic getaway. Especially in an area which is infamous for its ability to party around the clock. But the Chamberlain West Hollywood is no ordinary location. The hotel recently enjoyed a multimillion pound facelift, and is now complete with 115 elegant new suites.
You really wouldn't need to leave the hotel resort if you didn't want to, and, depending on the type of romance you're hoping to ignite – you might not need to. As well as a glamorous rooftop terrace there's a great pool to try out. Although the area's gorgeous at night, you'll really appreciate the cool black and white décor at any time. There's a private restaurant for the hotel's guests that's billed as an Old Hollywood hideout. The famous Sunset Boulevard's just a short stroll away.
If you do decide to venture further afield, the Sunset Strip features the Chateau Marmont, a swanky celebrity hideaway, plus top draw comedy clubs such as the Comedy Store and live music venues like the Whiskey a Go Go. This area of Hollywood also offers some of the city's most trendy (and tasty) restaurants in the district. Read more about the charms of the Chamberlain West Hollywood. You'll want to hurry – as the hotel offers time-limited offers.
Not sure of the next step? Then get in touch with one of our expert romantic consultants, who are available around the clock and on-hand to help you with all of your questions or bookings.
Or, start by comparing all of our romantic fuelled locations in America.