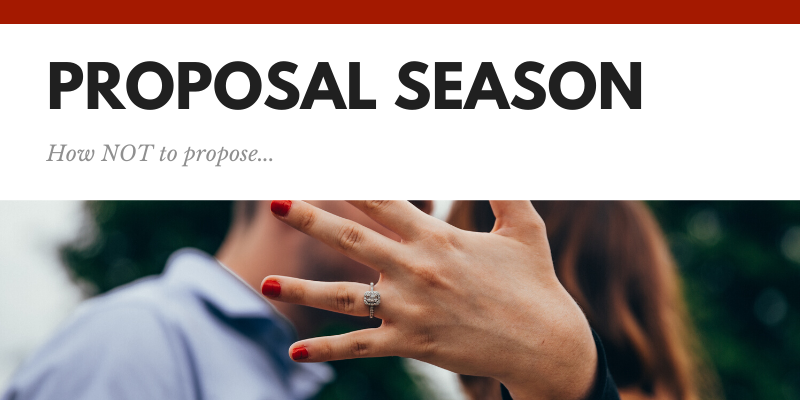 5 Most Awkward Proposals of All Time
It's the moment that she has been dreaming of since she was a little girl... from the time when pillow cases were used as veils in dress-up... to teenage crushes, when doodling his surname in your textbook made much more sense that actually talking to him!
He gets down on one knee and bravely asks the big question: 'Will you marry me?'
And for a second the world stops spinning and all that exists is the two of you, gazing into each other's eyes, lost in the romance of this perfect proposal, the glittering diamond and the breathtaking backdrop making you feel like a princess.
But did Wills propose to Kate Middleton outside a Wimpy using his wealth of iPhones down at the local shopping centre?
We think not.
We've rounded up some of the most awkward wedding proposals on the net. Make sure you watch them from behind a pillow – painful cringing guaranteed.
#1 Let's Call the Whole Thing Off!


Because nothing says 'I love you and want to spend the rest of my life with you' quite like 99 iPhones. This chap decided he'd had enough of being single and proposed to his girlfriend in China on its annual Singles' Day. He 'romantically' arranged them in the shape of a heart – which his beloved broke, with a firm 'no', leaving him rejected – and $82,000 out of pocket.
#2 Falling in Love


Dramatically throwing yourself off a rooftop will definitely ensure a truly unforgettable occasion. This elaborate stunt certainly has its awkward moment, but, fortunately, it only lasts only a second before the petrified girlfriend discovers his safety. This marriage proposal brings a whole new meaning to the term 'falling love'.
#3 The Cliff-Hanger
This proposal goes from bad to worse... and even worse! We're not even sure his girlfriend saying 'Yes' is really a happy ending???
#4 App-y Ever After


If we were ever proposed to like this, the man in question would have a whole other sort of angry bird on his hands. Self-confessed Angry Birds addict, Ben, may have the most tolerant girlfriend on the planet, as Mel is not only unfazed by an Angry Bird popping via the app, but says yes as well; Ben and Mel, you're clearly meant to be.
#5 Puppy Love


They say a dog's a man's best friend, but it seems like this best friend is jealous that his wingman will no longer be living the single life with him, doing tequila shots and eying up all the pretty bitchez down at the local kennels. Talk about a moment killer.
If you're planning you own proposal check out our top tips and most FAQs to make sure you get it right.