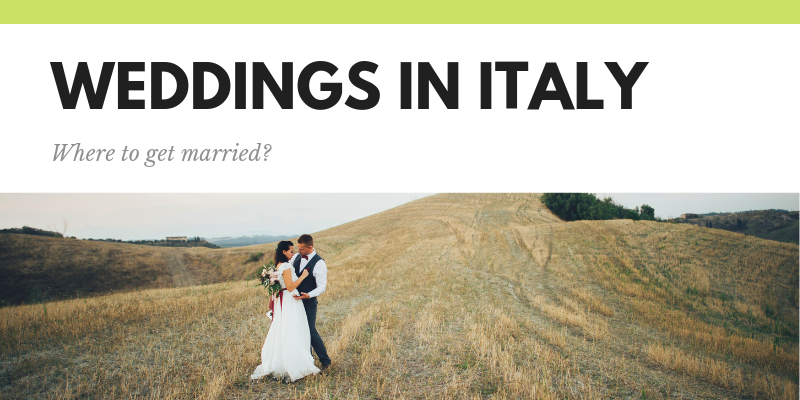 Weddings in Italy: the ultimate guide
Italy and romance have always had a very deep relationship – from Juliet's balcony in Verona, to the canals of Venice, to Michelangelo's Florence where love is permanently in the air. Then there's the dazzling Sistine Chapel and the ancient ruins of Rome. But it's much more than historic cities that attract lovers in droves each year to the country.
The spectacular Lake Como, Tuscany, the Amalfi Coast… the list of attractions just goes on and on.
Plus, there's the adored Mediterranean islands such as Capri, Ischia and Sicily. There's such a rich tapestry throughout this land that it can be hard to know where's best to pick your destination wedding. Let's take a look at seven unique settings across Italy.
Which areas should we explore for a dream wedding ceremony in Italy?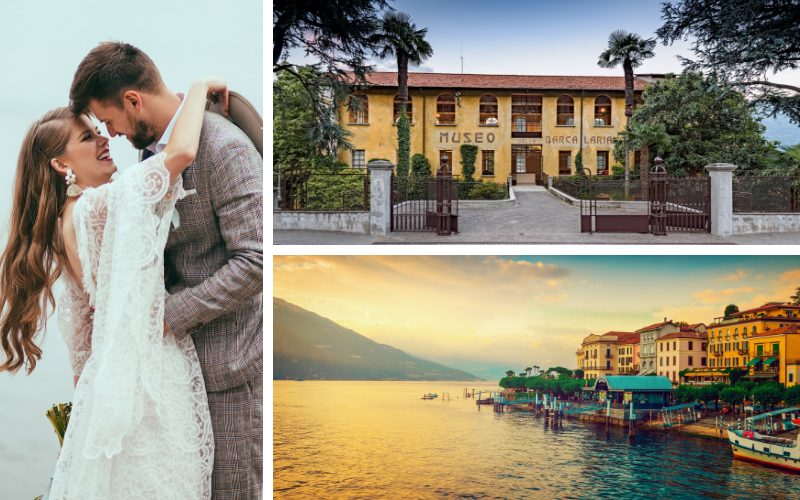 Lake Como
Italy's third largest lake is widely regarded as one of the most beautiful in Europe, and has been a draw since Ancient Roman times (and probably long before that too). The crisp mountain air and majestic views at this part of northern Italy help Como to remain one of the most picturesque and romantic of places for lovers today.
Lake Como is great for a ceremony… with the most amazing lakeside view.
Having the chance to tie the knot with the spellbinding lake in the background of your wedding snaps really is a once-in-a-lifetime opportunity. The panoramic view through the large windows of Salon of Museo Barca Lariana is of such beauty that it can't be put into words. Instead read more about the wedding package at Salon of Museo Barca Lariana - Historical Venue, Lake Como.
Where is Salon of Museo Barca Lariana?
The hotel is in Pianello Lario, a small village on the west shore of Lake Como close to the Swiss border. It should take about an hour and a half to drive to the hotel from Milan.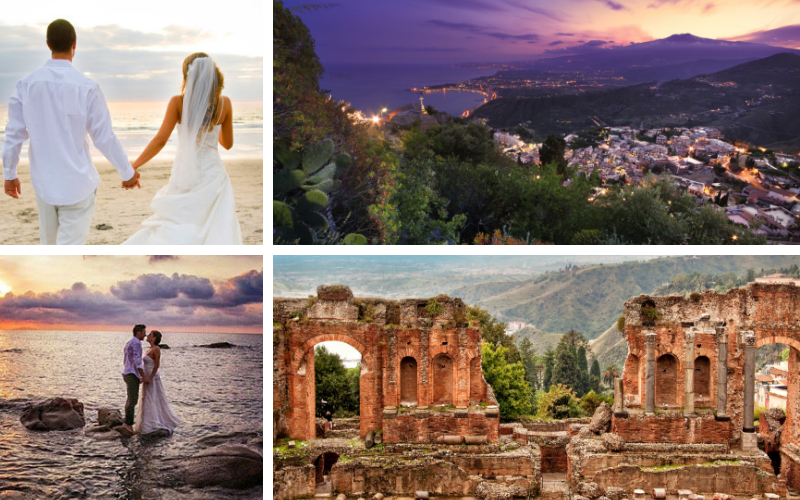 Sicily
The largest island located in the Mediterranean Sea has plenty of charms – gorgeous architectural history competes with the buzzing Palermo and natural wonders such as Mount Etna. Meanwhile the Aeolian Islands are a highlight for many travellers to Sicily, and are just a short hop away from the mainland.
To help you navigate this wonderful island, Sicily by Experts can offer a luxury concierge service that's tailored towards whichever kind of trip meets the needs of you and your guests. Their custom tours can include bookings for:
Museums
historical palaces
theatre shows and concerts
the finest restaurants
farm and wine estate trips
cooking classes
open-air markets
Booking with Sicily by Experts means you'll also have the services of an English-speaking driver with a Mercedes. That's in addition to your wedding and event planning services. No event is too large or too small to tackle, according to the bespoke travel specialists - whether it's for a 10-person event or a 1000-person gala.
Sicily's great for a ceremony… that's by the sand.
The RG Naxos Hotel places couples amid complete luxury and indulgence. This seaside resort has almost 300 rooms and suites overlooking the Ionian Sea. The hillside village of Taormina is close by, which offers stunning views and a cabin lift down to a sandy beach. Meanwhile Mount Etna provides the most dramatic of backdrops.
RG Naxos' facilities are plentiful and include a private beach club and swimming pool, a lush Mediterranean garden, a crazily good spa and indoor pool complete with a Jacuzzi, hammam and sauna. The lobby bar has a range of homemade Sicilian pastries to enjoy with a cocktail. After another relaxing day, you can take a stroll between moonlit terrace bars before hitting a gourmet spot for the freshest seafood risotto.
Where is RG Naxos Hotel?
RG Naxos offers direct access to the wonderful beaches of Giardini Naxos on Sicily's east coast. Giardini Naxos town centre is only 1.2 miles away. Many of the island's major attractions are nearby, while it's a 40-minute drive from Catania Vincenzo Bellini Airport.
Puglia
It's fitting that the 'heel' of Italy's boot is growing in popularity for couples who put on their loveliest brogues to prepare for the first joyous days of matrimony. This historical region of southern Italy has many charming sides, and has been billed as the 'new Tuscany' for the more intrepid holidaymaker. Savour some truly delicious local gastronomy made with seasonal products and 'Puglia portions' that won't leave you or your guests hungry for a second during your whole visit.
Puglia's great for a ceremony… in a rustic olive grove.
The Montirò Hotel is often considered to be the premier venue for weddings in Puglia. The charming boutique hotel is an exclusive retreat set in 12 acres of unspoiled wilderness and lush gardens. It boasts 38 splendid rooms carved from Trani Stone, completed by ceramic lamps and Salento landscapes on the walls.
Your wedding can take place in the most idyllic of settings: a suggestive path surrounded by olive trees leads to a small 'borough' featuring a few stone houses which help to harmonise human touches and nature, as you arrive to say 'I do'.
Where is Montirò Hotel?
Located close to the sea, the hotel is one mile away from Marina di Leuca Port and Santa Maria di Leuca Beach. The property offers transfers from the airport, which is 63 miles away.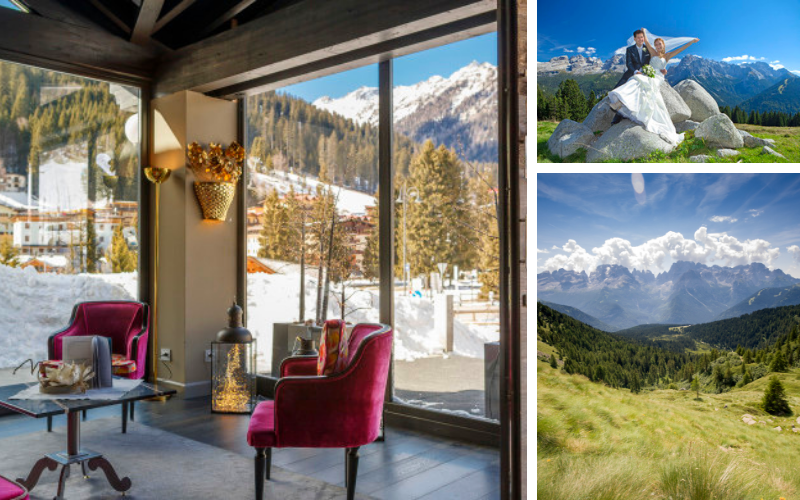 Brenta Dolomites
Located in the province of Trentino in north-eastern Italy, Benta Dolomites is a subrange of the Rhaetian Alps and offers the most romantic views matching some of the globe's finest ski runs. Active couples with a sharp sense of adventure would love the chance to scale a tricky ascent on a mountain hike. This region is home renowned vie ferrate (trails with permanent cables and ladders), including the Via delle Bocchetta. In the summer, try a guided tour of the Adamello-Brenta Nature Park.
Brenta Dolomites is great for a ceremony… by the slopes.
Hotel Spinale Madonna di Campiglio offers rooms with stunning views of the Brenta Dolomites and is ideally set at the foot of the Monte Spinale ski lift.The resort will provide the idyllic ski holiday with ski storage and passes. After a day on the slopes, indulge in a treatment at the full-service spa or soothe your muscles in the hot tub or in the Turkish Bath ahead of your Big Day.
The 4-star Spinale Hotel has huge and impressive interiors, elegant restaurants and what's more it's large enough to accommodate up to 400 guests. Read about how you could create your fairytale wedding at Hotel Spinale Madonna di Campiglio.
Where is Hotel Spinale?
The centre of Madonna di Campiglio is just a 5-minute walk away. Verona Airport is 52 miles away. The property offers transfers from the airport and train station.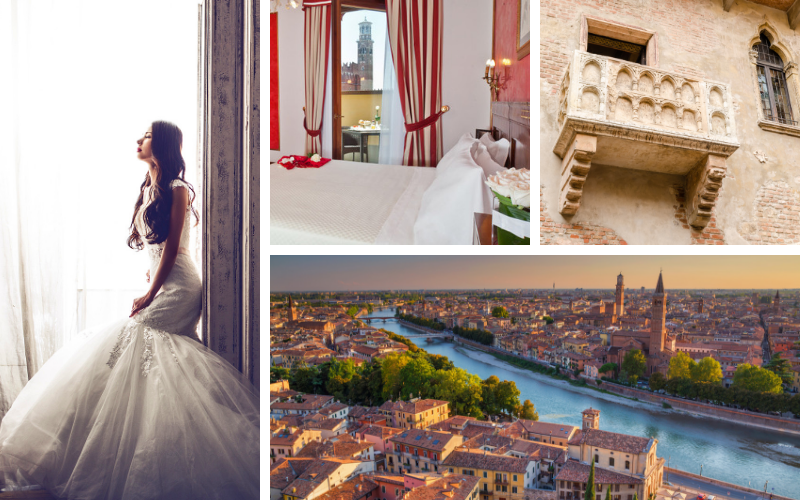 Verona
Not far from balcony where Juliet declare his love for Romeo is the 5-star Due Torri Hotel. During Spring and Summer, the resort's exclusive panoramic terrace opens on the rooftop of this 14th Century palace. There you can unwind with a glass or two of chilled Valpolicella wine, or you could take a stroll and do the same at a café under the Verona Arena. Another great option is to enjoy a tasting tour of some of the most prestigious vineyards of the area, before sharing a gelato to really feel like a local.
Elsewhere a stay at the 4-star Hotel La Favorita, in the lakes near Mantua – less than an hour's train ride away – offers a much different, but no-less-special scene than 'fair Verona'.
Verona is great for a ceremony… for lovers of literature. For civil weddings, Verona makes available the prestigious locations described by Shakespeare – including directly underneath Juliet's balcony.
Where is Due Torri Hotel?
Due Torri is situated in the heart of the ancient city. Verona Airport is just six miles away. Hotel La Favorita is 1.2 miles from the historic centre of Mantova. It's a 40-minute drive from Mantova to Verona Airport.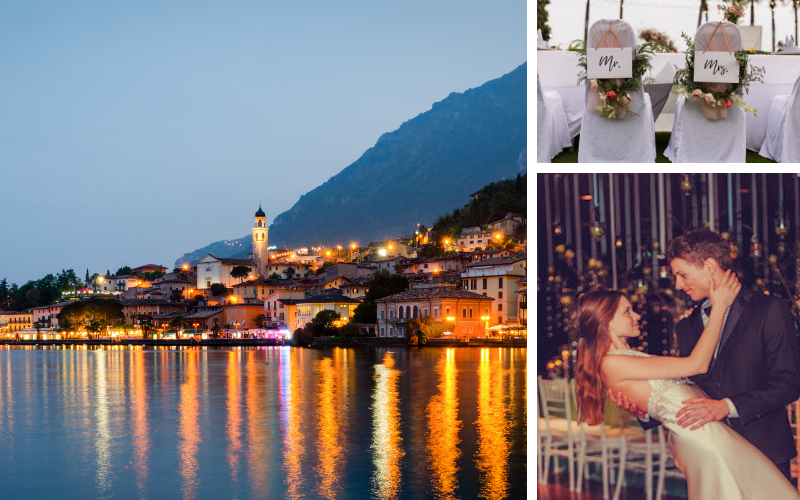 Lake Garda
There are few locations that do romance and style quite like Lake Garda. It's with good reason that about 7% of visitors to Italy go to the lake's famous shores, quaint towns and rolling vineyards. The three distinct regions of Lombardy, Trentino Alto-Adige and the Veneto would all make for a superb base for a wedding.
Lake Garda is great for a ceremony… with old-world glamour and modern facilities
The super-stylish Lido Palace has a unique atmosphere and slick modern design with a choice of modern facilities such as a spa, sauna, salt room and chromatherapy suite. The hotel is the only luxury 5-star hotel in the Trentino region – extraordinary ceremonies on the lush front lawns, of up to 150 people, can be laid on by the venue.
Where is Lido Palace?
The city of Trento can be reached by car in 40 minutes. The Lido Palace is 55 miles from Brescia. The hotel offers free parking to guests.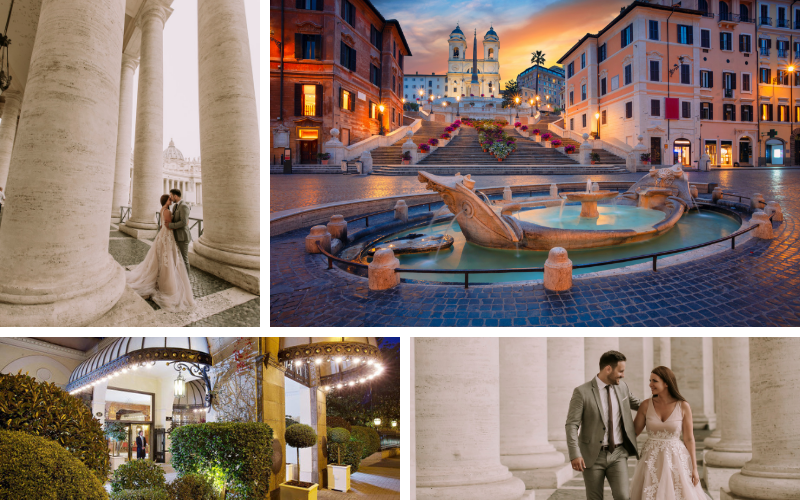 Rome
World-renowned museums, the Vatican, fantastic local trattorias… there are too many delights to count in Italy's vibrant capital city. Finding quality accommodation near to as many famed attractions as possible is a good way to do as much of the Eternal City during a wedding trip. To that end Aldrovandi Villa Borghese, which is situated in Municipio II, couldbe a great location to mark your union.
Rome's great for a ceremony… for culture vultures. The 5-star Aldrovandi Villa Borghese has top-notch features including a swimming pool, Turkish baths and a large private garden. Meanwhile the on-site restaurant is home to the Michelin-starred Ristorante Assaje. In terms of weddings, you're spoiled for choice: there's nine venue spaces, along with a Sala Verde Ballroom and a terrace that can play host to ceremonies both big and small. Newlyweds get to stay in the terrific Honeymoon Room for the night of the wedding.
Where is Aldrovandi Villa Borghese?
Aldrovandi Villa Borghese is less than a mile away from the Spanish Steps - the whole of Rome can be explored easily thanks to the resort's free shuttle service. Hotel guests can book transfers to and from Rome Ciampino and Rome Fiumicino airports, or one of the city's railway stations.
Italy - the travel essentials
Language - In bigger cities like Rome, Venice or Florence, the language shouldn't be a barrier for you. 'Please' is 'per favore', 'thank you' is grazie, and 'you're welcome' is 'prego'.
Tipping culture - This isn't typically expected in restaurants, but a service charge might be added to your bill. Taxi drivers will appreciate a tip.
Siestas - Most bars and restaurants will stay open, but some shops will close for a few hours during the afternoon.
Healthcare - Italy's in the EU so don't forget to take your European Health Insurance Card (EHIC). By doing so, you can get state medical treatment on the same terms as an Italian.
Visiting churches - Italy is full of churches, many of which have significant artworks; as they're places of worship, be sure to dress appropriately. Try to avoid shorts and vests.
Driving - Italians like to drive fast. Take extra care on roads if you're hiring a car or walking around.
Our guide to the most frequently asked questions about weddings has information on topics such as wedding insurance and when's good to book your honeymoon.