Top 20 Romantic Retreats | UK, Ireland & Channel Islands
Two things revolutionized my life: moving to the countryside and falling in love – Nick Love
OK, so we can't all pack up home tomorrow and move our lives to the country. But for those lucky enough to have fallen in love, what better way to celebrate than a romantic retreat away from the bright lights and noise of the city?
The UK and Ireland has some of most beautiful countryside in the world, all of which is perfect for a weekend getaway or summer break with your partner.
Here are 20 of our favourite romantic retreats in the UK, Ireland and Channel Islands.
Which will you choose …
#1 ANOTHER PLACE, THE LAKE | LAKE DISTRICT, UK
Couples will love Another Place, The Lake because…
With 18 acres of Lake District National Park and a quarter of a mile of private lake shore looking out over Ullswater and the fells, Another Place, The Lake makes for an effortlessly romantic backdrop for your break in the Lakes. A little less traversed than the popular Lake Windermere, Ullswater is widely regarded as the most beautiful lake of them all.
#2 STAPLEFORD PARK COUNTRY HOUSE HOTEL | LEICESTER, UK
Couples will love Stapleford Park because…
Set in the gloriously green Leicestershire countryside Stapleford Park epitomises the quintessential English country house experience. This intimate yet impressive hotel doesn't look like a hotel, but more like a country estate including cottages and its own charming chapel. Rolling rural views from each room, along with an indoor swimming pool, fine dining and plenty of sporting and active pursuits, mean you'll rarely want to leave the property during you stay. And when it comes to romance they are experts at creating memorable and seductive celebrations.
#3 ASHFORD CASTLE | COUNTY MAYO, IRELAND
Couples will love Ashford Castle because…
Through the grand stone gates, a royal adventure at Ashford Castle begins. This remarkable 800-year-old castle, widely recognised as Ireland's top castle destination and once home to the Guinness family, is exceptional in every sense. Set in 350 acres of woodland on the shores of Lough Corrib in County Mayo, the multi-award winning property has been voted 'Best Hotel in the World'.
#4 THE GILPIN HOTEL & LAKE HOUSE | LAKE DISTRICT, UK
Couples will love The Gilpin Hotel & Lake House because…
Located just 2km from the station in Windermere, The Gilpin Hotel & Lake House is a small, family owned and run hotel with a welcoming and personal atmosphere. The original Georgian country house, built in 1901, has retained its historic charm but with modern chic touches. It strives to be one of the finest luxury Lake District hotels in Cumbria and has been voted the English Tourist Board Awards for Excellence 'Small Hotel of the Year 2011', AA England Hotel of the Year and Conde Nast Johansens Most Excellent Country House Hotel 2013, amongst others. The Gilpin offers bespoke romantic experiences including Champagne, spa treatments and gourmet dining.
#5 SUMMER LODGE COUNTRY HOUSE HOTEL & SPA | DORSET, UK
Couples will love Summer Lodge Country House Hotel & Spa because…
Set within the enchanting village of Hardy's Evershot and surrounded by rolling hills, this five star country house hotel epitomises the ultimate in traditional style, genuine warm service and innovative and delicious menus to rival the best in the world. With a relaxing spa, indoor pool, private tennis court and miles of beautiful countryside to explore, Summer Lodge Country House Hotel and Spa is the quintessential luxurious escape.
#6 COTSWOLD HOUSE HOTEL & SPA | GLOUCESTERSHIRE, UK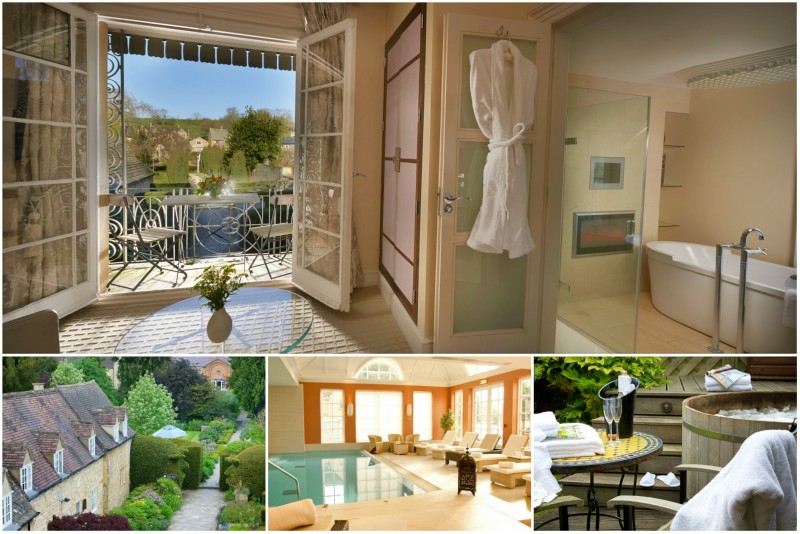 Couples will love Cotswold House Hotel & Spa because…
Set in Chipping Campden in Gloucestershire is the tranquil award winning luxury hotel Cotswold House Hotel & Spa which is the perfect hotel for luxury and peace seeking Cotswold lovers. The contemporary style of the hotel makes it one of the most admired hotels in the Cotswolds and well suited to romantic weekends away. It is also perfectly located for exploring English heritage in the form of historic houses and superbly designed gardens and pretty villages.
#7 THE MANOR COUNTY HOUSE HOTEL | OXFORD, UK
Couples will love The Manor Country House Hotel because…
Offering beautiful views over the unspoilt Oxfordshire countryside, The Manor is the perfect destination for couples looking for a picturesque country house escape away from the hustle and bustle of modern life. Here grand rooms and suites make the perfect space for unwinding and relaxing after a day exploring the many romantic and cultural sights that the famous city of Oxford has to offer.
#8 THE OLD GOVERNMENT HOUSE HOTEL & SPA | GUERNSEY, CHANNEL ISLANDS
Couples will love The Old Government House Hotel & Spa because…
The Old Government House radiates a sense of well being, with the fresh sea air and the breathtaking landscape creating a feeling of peace and harmony. Whether you're here for the perfect proposal, a honeymoon hideaway or a cherished anniversary, the devoted team of hopeless romantics at The Old Government House will tailor your experience to meet your every desire. To make the most of your stunning location, opt for a room with a balcony, where you can sip champagne with an enchanting view.
#9 SWINTON PARK | NORTH YORKSHIRE, UK
Couples will love Swinton Park because …
A luxury castle hotel set in the Yorkshire Dales, Swinton Park offer a selection of special Romantic Break packages. With Le Rendezvous, you'll find chocolates in your room and enjoy a free glass of champagne followed by dinner with a bottle of fine wine. Other packages include perks like an hour's exclusive use of the spa, flowers in your room and massages. The impressive building and beautiful grounds also make it an excellent wedding venue. The hotel is ideal for both large exclusive use events and intimate celebrations with a variety of spaces including the Deerhouse in the Parkland and your own private Island on one of the lakes in the Parkland. Picnics are also available for your own romantic moment.
#10 HOGARTHS SOLIHULL | WEST MIDLANDS, UK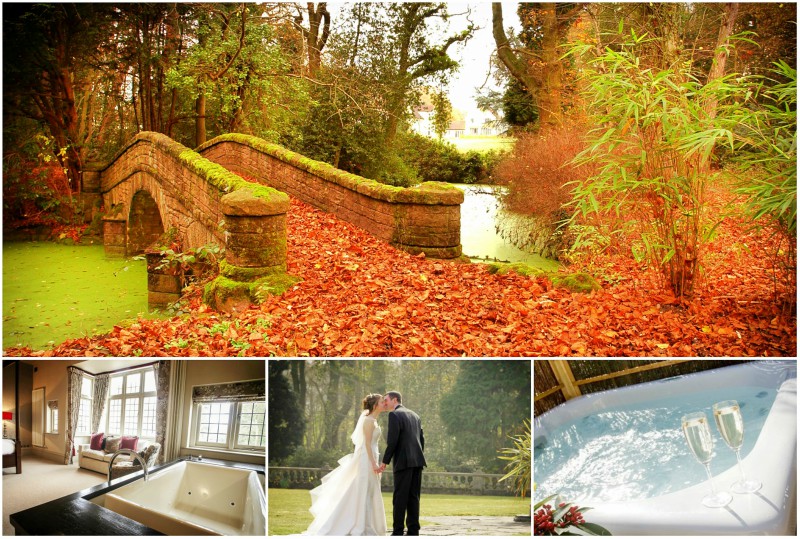 Couples will love Hogarths Solihull because…
Hogarths Solihull is set in a handsome contemporary two-storey building surrounded by 30 acres of parkland and gardens, including a lake with a small island. Although just a mile from the M42, meaning you can drive from Birmingham in just 45 minutes, the hotel is a rural idyll and the perfect place to get away from it all. The hotel is convenient for a number of popular tourist attractions including Stratford-upon Avon, Warwick Castle and Packwood House, a National Trust property. You can even host your wedding on the hotel's private island which you'll reach via the charming, stone-built Kissing Bridge, which will lead you into the wedding glade and on to the enchanting summerhouse.
#11 LORDS OF THE MANOR | GLOUCESTERSHIRE, UK
Couples will love Lords of the Manor because…
Located in the classic countryside of the Cotswolds, The Lords of the Manor is a boutique hotel with a rich rural history. Set in a 17th century, honey-hued manor house, it originally belonged to Henry VIII before being sold on as private family home to the Slaughter family. Since then the property has exchanged ownership a handful of times but still today remains a much loved privately owned property filled with charm and character in abundance. This is a sweet and cosy place that is perfect for couples wanting to relax in the traditional English countryside.
#12 BANNATYNE SPA HOTEL | HASTINGS, UK
Couples will love the Bannatyne Spa Hotel because…
Hidden away in the heart of 1066 country, the Bannatyne Spa Hotel is a truly magnificent hotel on the south coast of England offering the ultimate in relaxing breaks. Here couples can enjoy the comfort and ambience of beautiful contemporary rooms and suites, while a calming spa and popular restaurant ensure guests are kept busy throughout their romantic getaway.
#13 THE DUKE OF RICHMOND HOTEL | GUERNSEY, CHANNEL ISLANDS
Couples will love The Duke of Richmond Hotel because…
This beautiful, luxurious hotel in St Peter Port is an easy stroll to the harbour and overlooks a quiet park with views across the sea. The dedicated and friendly team at The Duke of Richmond Hotel create memorable stays for couples and romantic celebrations which never fail to exceed expectations. Superb dining with fresh local seafood can be savoured in stylish surroundings or al-fresco on the terrace overlooking the heated outdoor pool.
#14 WIVENHOE HOUSE HOTEL | COLCHESTER, UK
Couples will love Wivenhoe House Hotel because…

Hidden away on the border between Essex and Suffolk in the English countryside, Wivenhoe House is a beautiful 18th-century country house hotel that makes the perfect holiday hideaway for loved up couples. This beautiful hotel provides the perfect base for guests looking to enjoy the English countryside while still only a short journey from London. Couples looking to celebrate their big day at the hotel are sure to be impressed by its romantic setting and stately rooms that make it the ideal venue for both large scale celebrations and more intimate affairs.
#15 THE TENNANTS ARMS HOTEL | SKIPTON, UK
Couples will love The Tennants Arms because…
The beautiful countryside, dramatic seascapes and quaint streets of the Yorkshire Dales make The Tennants Arms Hotel an excellent destination for that romantic break you've been promising yourselves. The Wharedale countryside has many scenic walks and you're quite likely to see red squirrels as you stroll along the riverbank. After a day out, you'll arrive back at the hotel in time for a well-earned glass of wine by the fire. The hotel is happy to intimate clebrations and can cater for private dining. Indeed, foodies will love this place which has quite a reputation for its culinary delights.

#16 THE ACORN INN | DORSET, UK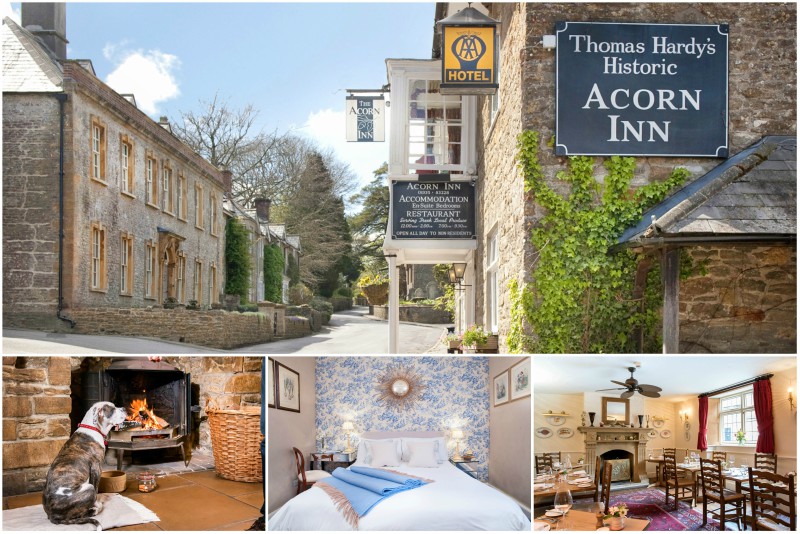 Couples will love The Acorn Inn because…
The charming Acorn Inn transports you to the pages of a Thomas Hardy novel, as this16th century coaching inn features in Tess of the D'Urbervilles. With old beams, oak panelling and roaring fires, an original skittle alley and fine local cuisine, this is a beautiful rural setting complemented exemplary service. Each of the ten individually designed en-suite guest rooms are themed around Hardy's novels, locations and characters, while the inn itself is a quintessentially English village pub serving real ales and award-winning food. Follow in the footsteps of the great author and take a stroll around the idyllic village or magnificent nearby deer park.
#17 THE LODGE AT ASHFORD CASTLE | COUNTY MAYO, IRELAND
Couples will love The Lodge at Ashford Castle because…
Sitting within the magnificent 350 acre estate of Ashford Castle, The Lodge overlooks magical Lough Corrib and the hills of Connemara and the picturesque lakeside surroundings make it the ideal setting for a destination wedding or romantic escape. Originally built in 1865, the property exudes classic refinement with modern appeal, with 24 beautifully decorated deluxe bedrooms and 26 suites, each individually designed with meticulous attention to detail. Enjoy a warm Irish welcome and a unique range of activities including falconry and fishing. Discover exceptional fine dining at Wilde's Restaurant or Quay Bar, using fresh home-grown produce and local artisan suppliers.
#18 CHILWORTH MANOR HOTEL | SOUTHAMPTON, UK
Couples will love Chilworth Manor Hotel because…
There is an air of magic at Chilworth Manor, with an almost fairy tale like feel to this beautiful traditional Edwardian manor house, set in a whimsical woodland setting. The location has it all – the woods, twelve acres of gorgeous gardens and leading directly onto a further twenty-seven acres of conservation grounds. Set only 4 miles from Southampton town centre, Chilworth Manor is serene and secluded, making it perfect for couples looking for a glamorous yet relaxed romantic retreat, with the peace and tranquillity of the wilderness.
#19 MACDONALD RUSACKS HOTEL | FIFE, UK
Couples will love Macdonald Rusacks Hotel because…
If you're in any doubt about the romantic magic of this Scottish town, just recall that this was where a commoner called Kate Middleton met and fell in love with Prince William when the two were students here. The beautiful beaches, scenic surrounding countryside and rich historical heritage of St Andrews make it an eminently romantic destination. Explore the charming town, walk along the pristine beaches and end your day out with a glass of champagne in Macdonald Rusacks Hotel's elegant R Bar. You can also get married at the hotel with wedding packages available for from 12 to 40 guests functions.
#20 ST. MICHAEL'S MANOR HOTEL | HERTFORDSHIRE, UK
Couples will love St. Michael's Manor Hotel because…
St Michael's Manor Hotel is set on the edge of the charming Hertfordshire market city of St Albans with its many well-preserved Tudor and Georgian houses and a lively centre that's just a few minutes walk from the hotel. Occupying a handsome 16th-century manor house, on a site that has traces dating back at least 500 years, the five acres of grounds surrounding the hotel are beautifully landscaped in a typically English garden style and include a pretty lake. St Michael's Manor offers the ambience of a traditional country manor with the advantages of being in the historic city of St Albans, which is just 20 minutes by train from London.