St Lucia or Barbados – which is your perfect Caribbean island for romance?
Two Caribbean destinations that ooze relaxation and beauty are the islands of St Lucia and Barbados.
They are a romantic's dream.
Both islands are idyllic yet, both offer a different type of vibe. If you're looking for somewhere to make a romantic proposal, host your wedding or even an ideal location for your honeymoon, then pick either St Lucia or Barbados.
Planning your trip – when to travel
St Lucia, island of luscious rainforests, beautiful mountains and wonderful beaches is probably one of the most iconic destinations to celebrate a romantic occasion. But you won't want your adventure to be marred by hurricanes and heavy downpours. The most popular months for visiting the island are from December to March, when the weather is at its most balmy.
The summer months can be very hot – but you can always cool off in the sea. From June to October life on the islands can become a little more hectic as this is the peak time for hurricanes, if you want to add a bit of a dramatic flourish to your trip.
In contrast, Barbados with its beautiful beaches and hectic nightlife, botanic gardens and numerous natural splendours suffers more from heavy rain from May to November, hurricanes really do 'rarely happen.' The dry months are from December to April, when you'll be able to relish stunning summer temperatures of up to 81F, and even in the so-called 'cold' months, the temperatures will still sit at a very comfortable 79F.
Going for gold
When looking for that ideal destination for weddings in St Lucia or Barbados you'll be looking for something a little bit out of the ordinary. The furnishings, bed linen and amenities must be of the finest quality. The view should be spectacular, and you'll want to rest assured that you'll remember your special occasion for the rest of your days. You're going to want your romantic trip to be perfect.
Here's a selection of some the very best and most romantic hotels in both St Lucia and Barbados that will help you have an adventure to remember:
Choose St Lucia for Chilling...


If you're seeking a laid-back Caribbean Hideaway, the dazzling Crystals hotel situated in Colombette in St Lucia, and close to the small town of Soufriere will fit the bill for any dream trip.
Here you'll be afforded stunning views of the local rainforest, and the awe-inspiring Piton mountains.
And if you're planning an intimate Caribbean wedding then Crystals can hold your wedding ceremony on the beach or at the property itself (hidden away in the trees) as the venue boasts a wedding licence. Stay here and we highly recommend you visit the volcano or possibly take a private boat trip - the staff at Crystals can make this happen for you.
Choose Barbados for Beachside Bliss...


Barbados is world-famous for its near-perfect beaches. And if you're choosing Barbados for renewing your vows, holding your wedding or just enjoying a relaxing break, then the upscale amenities of The House will fulfil all your romantic dreams.
This venue prides itself on its attention to detail, even offering you a massage the moment you book into the hotel!
We recommend you also take advantage of the private dining, the laid-back atmosphere and simply relish the joy of unwinding a in a beachside paradise.
Choose St. Lucia for Romance in a Rainforest...


St Lucia is famed for its majestic rainforest, and if you decide to stay at the iconic Fond-Doux Plantation resort you'll be right in the heart of some beautiful scenery and lush vegetation.
Comprising 15 luxury cottages, privacy is guaranteed here. This magical place recently played host to the UK's Prince Charles and Camilla, Duchess of Cornwall, high credentials indeed.
Whether your idea of heaven is to go for romantic rambles in the forest or simply relax in your hammock admiring the stunning scenery... you'll be able to chase all your Caribbean dreams at this beautifully restored cocoa plantation.
Choose Barbados for Colonial Charm...


If it's four-poster beds you're looking for, romantic wanderings in 7 acres of tropical gardens and returning to a luxury suite like no other, then make your reservation at the renowned Colony Club.
This 4-star hotel is the embodiment of style and sophistication and has all the key ingredients to make your stay a memorable one.
Complimentary water sports are also added to the mix, and the joys don't stop there. If you want to spend the whole of your romantic break or honeymoon here the hotel can cater for your every need – it even delivers on some of the most beautiful sunset views in the Caribbean.
Choose St Lucia for a Luxury Garden of Eden Experience...


If you're in search of paradise, and most romantic trips are seeking some form of earthly perfection, then Landings resort and spa in St Lucia's Rodney Bay will open the gates to Eden.
This wonderful place is all about relaxation, and self-indulgence. You and your partner will be able to enjoy some heavenly meals all served with locally sourced tropical fruit and vegetables.
You'll have a selection of beautifully appointed villa suites, overlooking some of the best views that St Lucia has to offer. An outdoor hydrotherapy terrace is just one of the many treats on offer here. The villas have all been completed to a very high spec, so why not simply luxuriate.
Choose Barbados for Ocean Views from your Suite...


For the ultimate in upscale wining and dining, or simply unwinding and relaxing, the staff at Turtle Beach will ensure that your romantic trip is a resounding success.
You'll be able to let all the cares of the outside world, drift away as you relish the luxury of your oceanfront suite. Private dinners on the beachfront terrace are idyllic. This dreamlike paradise can also host up to 100 for your ultimate fantasy wedding. Just sit back in the hotel's splendid surroundings and let everyone else carry out the hard work.
The ultimate romantic getaway
Both St Lucia and Barbados can boast stunning sable sands, majestic views and a tropical climate. You are going to want this trip to be special, so your choice will depend upon your own personal taste. Holding hands and being passionate are all part and parcel of a romantic getaway, sometimes, though, it's fun to take part in some local activities, if only to enhance your island experience.
Making the most of St Lucia
With its plentiful beaches, many take to the skies during their stay here. Windsurfing is popular on Sandy Beach in St Lucia. Or, you can stay with your feet firmly on the ground and explore the island's extraordinary rainforest and rock formations. Soufriere, to the west is where you'll be able to immerse yourself in St Lucia's natural beauty, including the majestic Piton peaks.
In the evening, you can always head out to the open sea and celebrate your trip with a specially tailored champagne cruise as the sun is setting across the horizon. Not much can beat this experience for romance.
And if you're thinking St Lucia might be the perfect place for your wedding...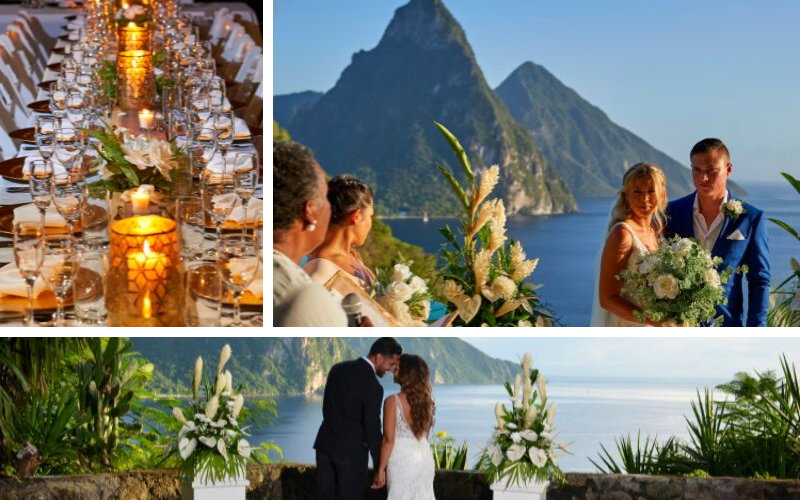 ... we highly recommend Thouzand Wordz for their amazing destination and events services.
Just wandering about in Barbados
Parts of Barbados have a cosmopolitan vibe. And, Bridgetown, in the southwest of the island is a historic and beautiful town to wander around. You can indulge in some retail therapy, gifts for her or gifts for him, or you can simply sip a divine cocktail and watch the world go around. The town also enjoys a reputation for its vibrant nightlife, so if dancing the night away in an atmosphere of uninhibited pleasure is your thing – go for it.
The island is also renowned for the quality and spread of its pristine beaches. If you're looking for privacy and don't want to share your idyll, then head off to the West coast. Just look for the gaps between the hotels and enjoy the splendours of the Platinum Coast.
You could also venture into the sea and spot some wonderful and exotic species of marine life that enjoy their habitat under the waves. Snorkelling is great fun and if you try out this type of adventure you'll be building some special memories for your future with your partner.
The fine things
St Lucia was formerly a French colony, and the island's cuisine has a strong European influence. Look out for frog's legs on the menu. La Terrase in Rodney's Bay is a beautiful cosy little restaurant, where you can enjoy a fantastic intimate meal. Lobster, green figs and salt fish also feature on local restaurant menus.
Barbados boasts the oldest distillery in the world, Mount Gay, and it would almost be criminal to spend some time on the island sampling some of the island's national spirit. The local cuisine comprises fish, pork, local vegetables including yams, sweet potatoes. Expect your food to taste spicy, it's the local tradition.
Whichever island you choose, you'll have a splendidly romantic time and be able to build some magical memories that will last you both for a lifetime.
See all hotels, romance and wedding packages in St Lucia HERE
See all hotels, romance and wedding packages in Barbados HERE