Our No.1 Destination Wedding in Rome | We review
It's a huge mistake to automatically assimilate destination weddings with white-sand tropical beaches.
A city destination wedding is often an equally romantic and more sophisticated alternative.
Add to this the practicalities of:
Painless travel routes
Abundant accommodation to suit all budgets
Easy accessibility for guests of all ages
It becomes increasingly obvious why a city wedding abroad could be the perfect solution to your destination wedding dreams.
USE OUR ROMANTIC BUTLER TO GET PERSONALISED RECOMMONDATIONS FOR YOUR PERFECT WEDDING DESTINATION
Have we got you thinking a city destination wedding may be for you?
If you're a bride with her heart set upon walking up the aisle in a pair of spectacular bridal Christian Louboutin's… read on... those are not shoes you wear on the beach!
City weddings are enchanting, elegant… and as diverse as the many cities and cultures that reach across our globe.
Because every city has its own unique stories.
But, in our expert opinion for a timeless city destination wedding… we choose Rome.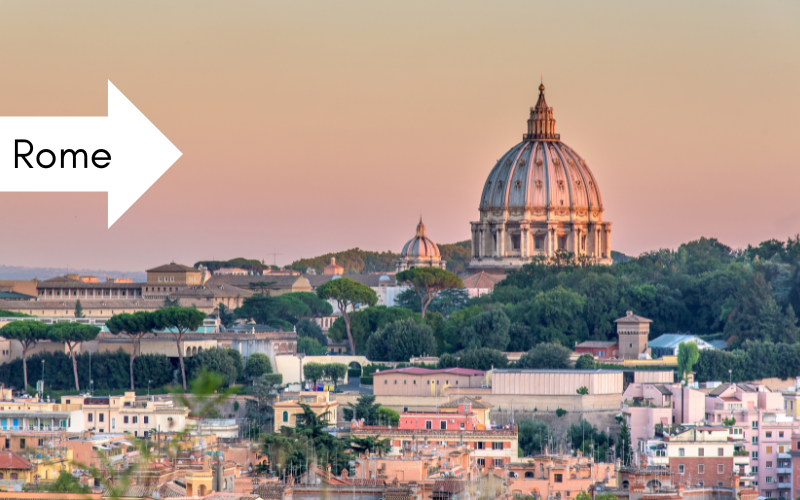 Famous as the birthplace of civilisation, Rome, the Eternal City is a treasure trove of historical and artistic wonders.
Popping with an urban vibrancy and visceral passion, we addictively adore.
We wholly agree when the Lonely Planet describes Rome 'one of the world's most romantic and charismatic cities.'
SEE OUR GUIDE TO ITALY'S 25 MOST ROMANTIC HOTELS
Find out here the answers to the key questions you might have about destination weddings in Rome and why we think we found Rome's No.1 wedding venue on our recent visit this year...
What makes Rome so special for destination weddings?
Rome's romantic charms and iconic status need little explanation.
From a romantic standpoint you're already winning.
And it gets better.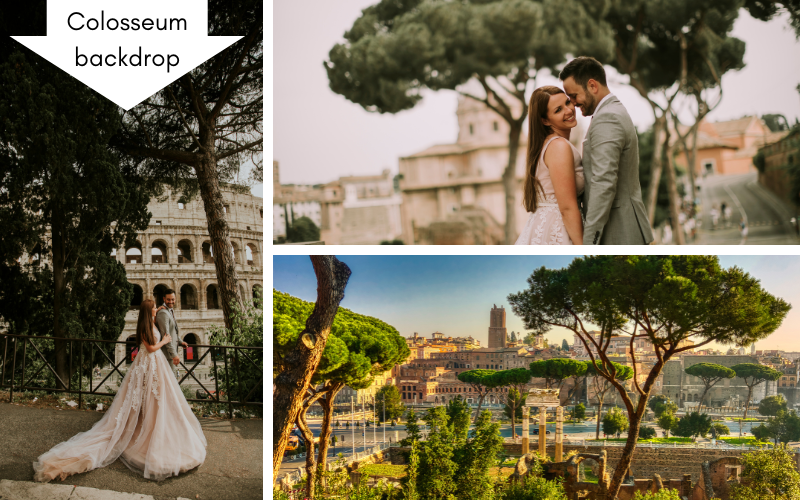 Choosing your wedding destination can often seem like a comprise between your dreams and your guests.
But, if you're like most couples, your guests are probably the most important and most indispensable aspect of your big day.
SEE OUR EXPERT SURVIVAL TIPS FOR DESTINATION WEDDINGS
You need a wedding destination that works for everyone.
You need to get married in Rome.
Why everyone will want an invite to your destination wedding in Rome.
Rome is an easily accessible city for wedding guests travelling from most destinations worldwide.
With 2 international airports and excellent transport routes into the city centre, this is a destination wedding guests actually want to be invited to.
Plus Rome doesn't discriminate on budget.
Guests on a tighter budget can still find plenty of good accommodation options and fully the experience everything the city has to offer.
Once you arrive in Rome, you may initially feel overwhelmed by the sheer number of 'must-see-and-do' opportunities, but Rome is actually not a difficult city to navigate and explore.
You really can get a good glimpse and feel of it just spending one full-day meandering through the streets on foot* (get a map, wear good shoes and expect a few cobbled streets along the way).
Perfect for wedding guests who may only be flying in for a couples of days.
*You can also tour the city by bus, car, horse and carriage, or scooter, if you prefer not to walk.
In our view Rome is ideal for multi-generational groups of all ages and persuasions.
And for those guest who want to stay longer and make a holiday of it, Rome has enough to keep them enthralled for days long after your nuptials.
Which type of wedding ceremony should we choose in Rome?
It is possible to have both a Catholic or civil ceremony in Rome, and of course you may also choose to get legally married at home and then travel to Rome to celebrate with a stunning city reception and symbolic blessing.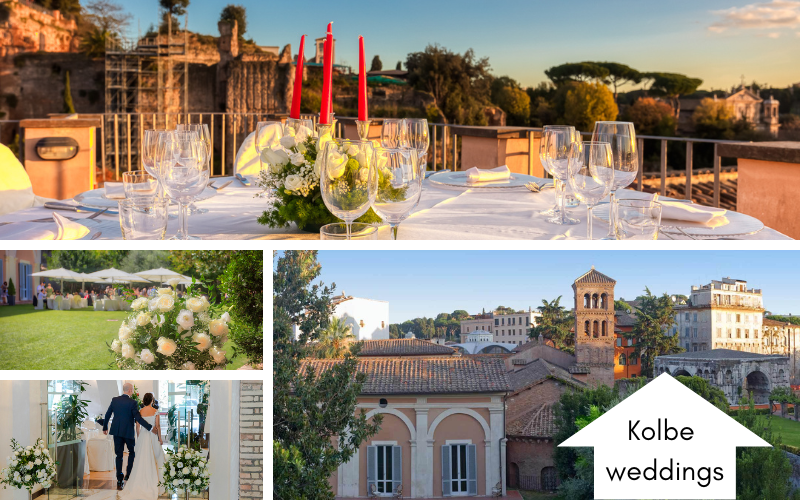 Civil ceremonies are generally conducted in the city's Wedding Halls or more recently also in some private locations, but more usually (as you'd expect) most weddings in Rome are held in a Catholic church with at least one partner required to be Catholic.
Your wedding planner or venue will be able to fully advise on your ceremony options and requirements.
DM OUR EXPERT WEDDING PARTNERS AT HOTEL KOLBE HERE
How long should we arrive before our wedding day?
It's sensible to arrive in Rome at least 2 days before your wedding but there isn't a strict legal residency requirement to get married here. However, depending on your nationality you may need to be in Italy for at least 10 days or have previously travelled to Italy within the last 3-6 months.
Where to get married in Rome – our top recommendation
Rome offers many options for couples planning a destination wedding.
And we recently travelled to Rome to experience one of the city's most inspiring and romantic wedding venues – HOTEL KOLBE ROME.
Hotel Kolbe stands out as one of Rome's most sought-after wedding venues for many reasons but it is perhaps its unique location in the heart of Rome's historic city that makes it truly special.
Here's our top 5 Reasons Why We Think Hotel Kolbe is Rome's Most Romantic Wedding Venue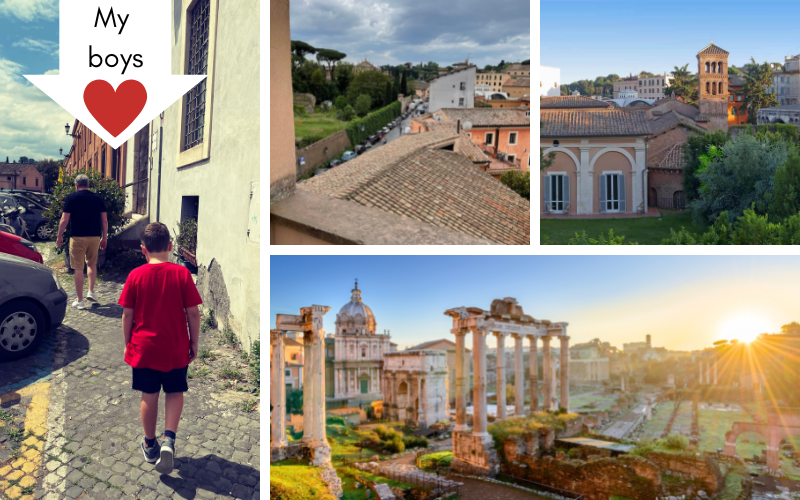 #1 Its World-Class Location in the Heart of Rome's Historic City
Set along a charming cobbled street directly adjacent to the Roman Forum we challenge you to find more historically imposing and romantic setting to get married.
Just moments away you'll discover many of the world's most iconic buildings and ancient monuments including the Circus Maximus and the Colosseum.
And hauntingly juxtaposed against this almost surreal, filmset-like backdrop of ancient Rome, Hotel Kolbe creates an intimate ambiance of authentic Roman hospitality.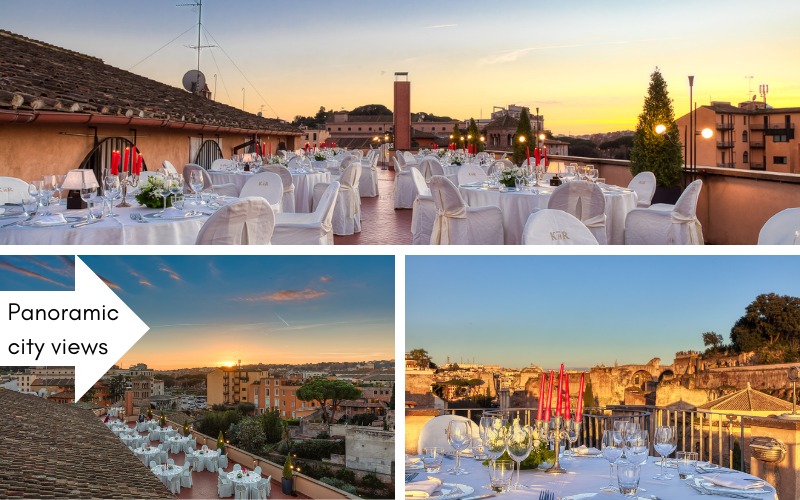 #2 Its Spectacular Rooftop Weddings & Sunset City Views
It's hard to imagine a more jaw-dropping wedding venue than this.
Take the lift or stairs up the rooftops of Hotel Kolbe for a unique wedding celebration with the wow factor.
Views from the rooftop provide an exclusive perspective of ancient Rome and wider city.
And it gets even more romantic as the sun sets.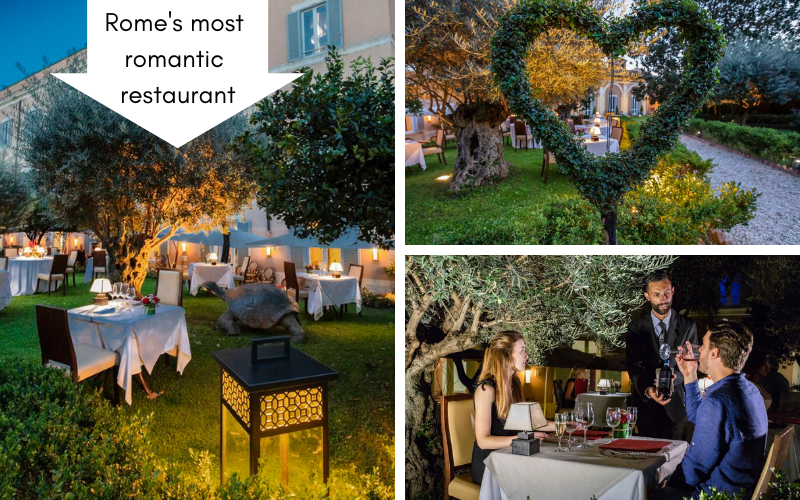 #3 Its Award-Winning Garden Weddings in 'Rome's Most Romantic Restaurant'
If you don't have a head for heights, your wedding at Hotel Kolbe need not be any less special. Instead, you may host an enchanting celebration in the hotel's charming courtyard garden decorated with orange, lemon and olive trees.
This quiet city oasis is home to Kolbe's restaurant Unique Al Palatino, named as the 'Most Romantic Restaurant in Rome' amongst other accolades.
We especially love intimate star-kissed weddings here by candlelight.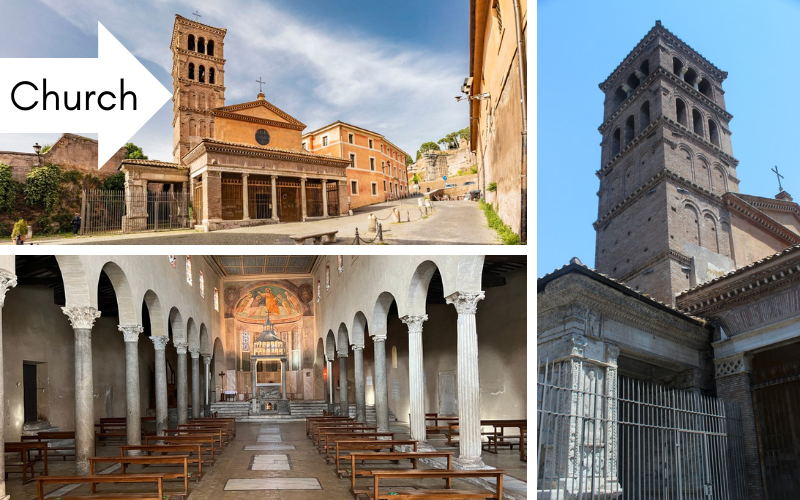 #4 Its Charming 7th-Century Local Church
For couples planning a Catholic ceremony here you'll find the Basilica of San Giorgio in Velabro just a minute walk from Hotel Kolbe Rome.
This charming 7th-century church, with elegant, column-lined interior is a beautiful wedding venue and ideally located for guests to walk to and from the hotel.
#5 Its Hotel and Honeymoon Experiences
Beyond the big day itself Hotel Kolbe is an evocative and timeless honeymoon destination. They offer a dedicated honeymoon experience for couples including a stay in their hot-tub honeymoon suite with view on the Palatine Hill.
And personally recommended Carlo Izzo, General Manager of Hotel Kolbe Rome, honeymooners should not leave Rome before experiencing the following…
Share private romantic dinner in Kolbe's garden restaurant Unique Al Palatino voted 'Rome's Most Romantic Restaurant' (during summer months only)
Take the lift up to the terraces of the spectacular Vittoriano monument for the best panoramic views across Rome
Visit the Orange Garden for another breath-taking vantage point of the city
Hold hands and climb the dimly lit stairs of Castel S.Angelo (Castle of the Holy Angel) to be rewarded with enchanting sunset views from the terrace
And our personal top tip if you're having a destination wedding Rome...
From our own experiences in Rome and looking back on our own destination wedding (we got married in St. Lucia) we would 100% recommend taking a walk over the Tiber to the trendy neighbourhood of Trastevere for a pre-wedding dinner with your guests.
For our own pre-wedding dinner we booked a table at the Rabot Restaurant (you may know this better as Hotel Chocolat) where we shared an amazing menu of chocolate inspired dishes with about 10 of our guests who arrived before the wedding.
It is without doubt one of favourite memories of our 'wedding trip' and we urge you to do the same.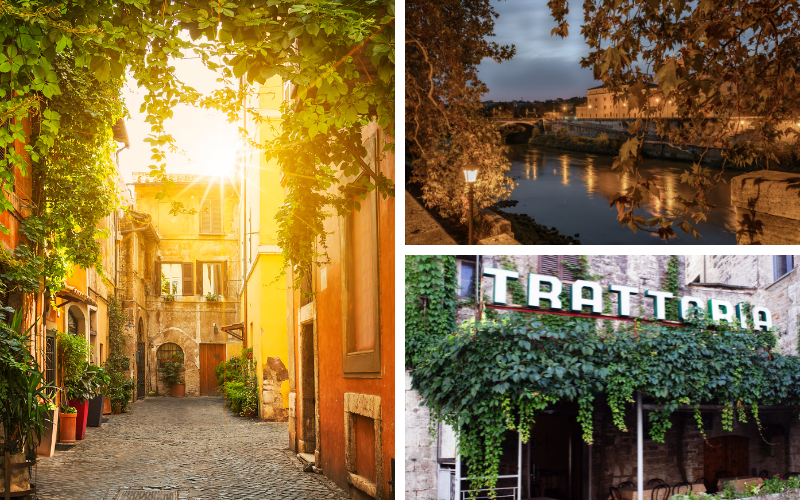 Trastevere is just a gentle 10-15 minute stroll from Hotel Kolbe, where you'll find a delightful medieval maze of alleyways leading to the main piazza, and filled with buzzing trattorias.
Extremely popular with the locals, this is where to come for authentic and delicious Roman cuisine.
Book ahead to avoid disappointment - especially if you're a big group.
The need to know details for a destination wedding at Hotel Kolbe Rome
If we've got you seriously considering a destination wedding in Rome and you'd like more details about weddings at Hotel Kolbe Rome look no further.
Hotel Kolbe can host stunning weddings up to 200 guests but they are equally experienced at hosting magical intimate celebrations.
Simply get in touch with them here and the wonderful Marieke (she's not just lovely but really knows her stuff) will be more than happy to discuss your enquiry and recommend the best options for your wedding.
MESSAGE MARIEKE & HER TEAM AT HOTEL KOLBE HERE alternatively you find more details about Hotel Kolbe and a link to their wedding brochure here.
Rooms at Hotel Kolbe Rome start from £110 per night and wedding options and prices can be found here.
To find out more... get in touch with one of our expert

Romantic Consultants

at The Romantic Tourist, we'll be more than happy to help you.