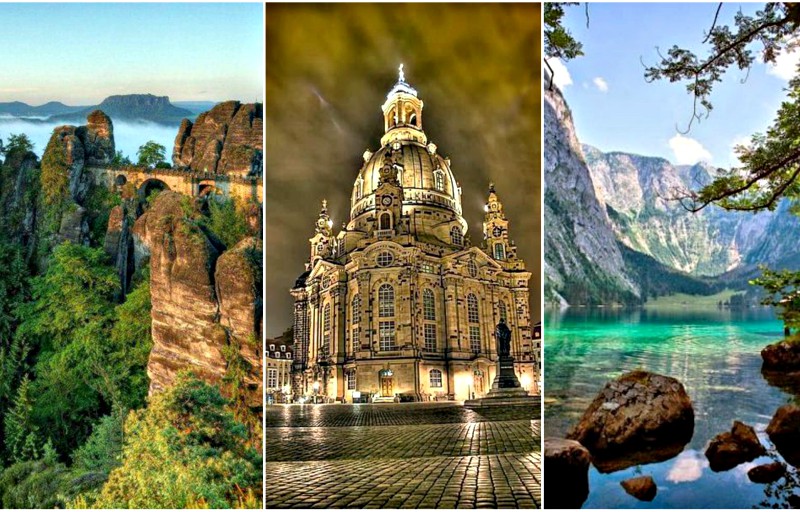 Image: via Pinterest & The Romantic Tourist
Most Romantic Places in Germany | Taunus, Frankfurt, Dresden, Southwestern Palatinate & Bavaria
Covering over 350,000 square kilometres of central western Europe, Germany is a country that offers a magical blend of breath-taking natural scenery, history and heritage alongside some of Europe's most exciting and urbane cities. It is this breadth and diversity of experiences that make Germany such as wonderful romantic destination for couples all throughout the year.
Here we look at some of Germany's most romantic destinations including the hilly mountains of the Taunus, the international city of Frankfurt, the beautiful, historic Dresden, South Palatinate (Germany's answer to Tuscany) and the fairytale paradise of Bavaria...
#1 ROMANCE IN TAUNUS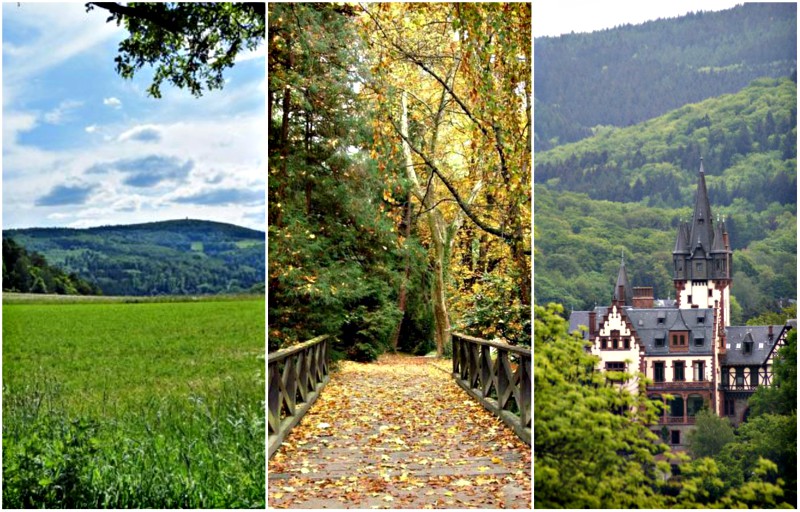 Why is the Taunus a great destination for romance?
Breath-taking nature, ubiquitous silence, low-lying mountain forest views and enchanting German villages all make the Taunus an idyllic choice for a romantic break in Germany.
Located north of Frankfurt, the Taunus mountains have long been recognised as a place of beauty and peaceful retreat, attracting visitors since the romans with its many geothermal spas and secret hiking tracks. Discover an ideal getaway from the frenzied pace of modern living where you can turn off your cell phone and enjoy every minute with your loved one.

Romantic things to see and do in the Taunus:
Take a hiking tour to the Saalburg
Relax and rejuvenate with a day at the historical spa Kur-Royal in Bad Homburg
Visit a vineyard in the Rhine Valley and enjoy a romantic meal for two at one of the many intimate restaurants in the area
Rent a classic or convertible car to drive through the Taunus exploring the many beautiful hidden romantic places
Who should go to the Taunus?
The Taunus is a great destination for couples of all ages, interests and persuasions. Days are best spent enjoying moments of blissful silence as you explore nature, with the regions central metropolis of Frankfurt also offering plenty for couples looking for shopping or a night out on the town.
Whilst there is plenty here to keep couples busy for as long as they wish to stay here, a three-night trip is perfect for visiting the region's historical sites and enjoying long walks through the parks whilst leaving enough time for simply cosying up and relaxing together as you take in the beautiful surroundings.
Where to stay in the Taunus...
Schlosshotel Kronberg | Romantic Hotel in the Taunus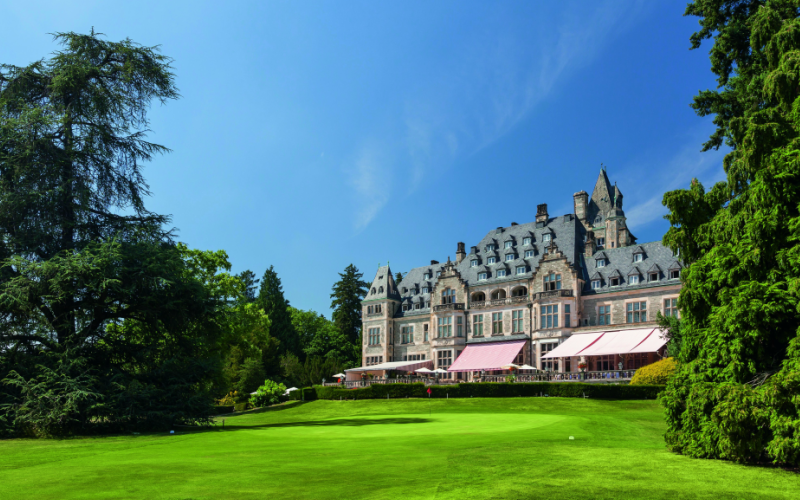 Located in the picturesque spa town of Kronberg, Schlosshotel Kronberg is a stunning nineteenth century royal castle that has been converted into a beautiful luxury hotel.
Artjom Matzmohr - Asst. Director of Sales & Marketing says…
"A trip to the Schlosshotel Kronberg in the Taunus can rekindle the romance that has taken a back seat to daily life. In my opinion, I highly recommend staying for at least three nights. On the day you arrive turn off every electronic device and walk through our 58 hectare large park and enjoy the nature. On the second and third day, after a relaxing night please do not hesitate to speak to one of our guest service agents to get advice for your daily getaways. There are so many that in my opinion you should enjoy the freedom of spontaneity and plan them on the day itself - because we are already too planned and organized in our days at work."
See more details and book your romantic break or celebration at Schlosshotel Kronberg
Falkenstein Grand Kempinski | Romantic Hotel in the Taunus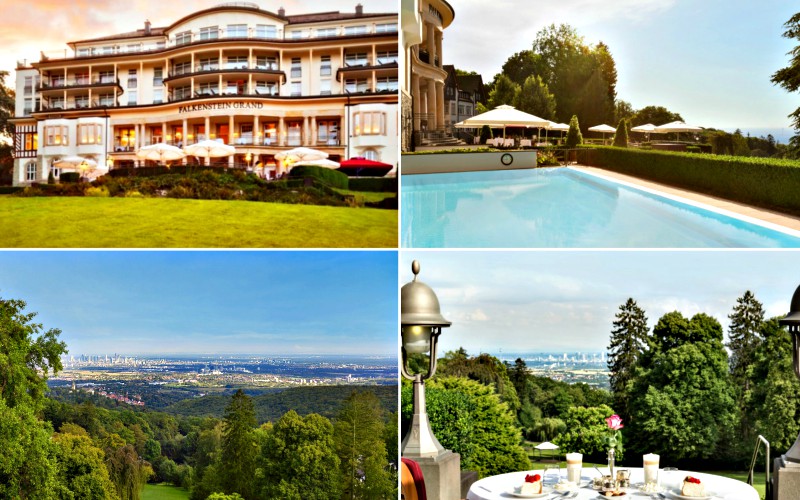 The Falkenstein Grand Kempinski is a fabulous, five-star hotel hidden in the hilly mountains of the Taunus and only 20 minutes from Frankfurt International Airport and Frankfurt City.
Charlotte Trapp, Reservations Manager says…
"It doesn't matter how long you stay with us or which event you celebrate, the Taunus is worth a trip at any time. With its terrace with an adorable view over the skyline of Frankfurt and the huge park it makes it very easy for you to escape from the daily grind and enjoy this unique moment with your loved one!"
See more details and book your romantic break at Falkenstein Grand Kempinski
Villa Rothschild Kempinski | Romantic Hotel in the Taunus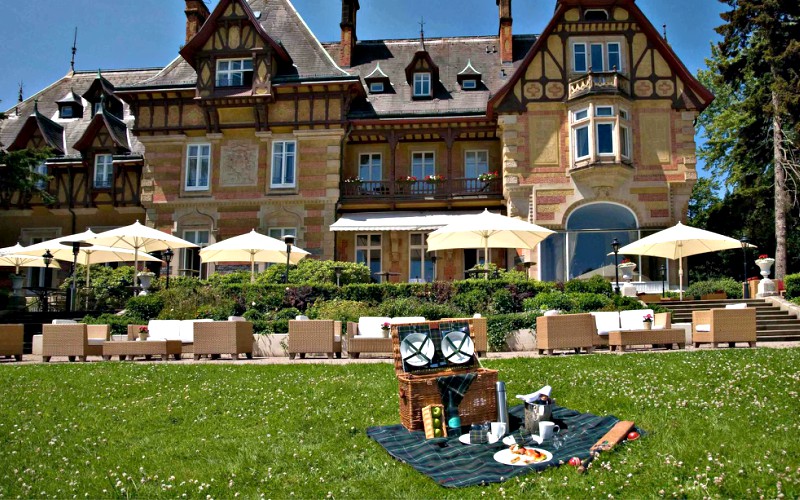 Visit the smallest Kempinski Hotel in the world and stay at the top wedding location within the Rhine-Main region. Formerly the summer residence of the Rothschild family, this boutique hotel is also one of Germany's most exclusive fine dining destinations.
Charlotte Trapp, Reservations Manager says…
"With its park and the special charm of everything that is Villa Rothschild Kempinski, it very easy for you to escape from the daily grind and enjoy this unique moment with your loved one!"
See more details and book your romantic break at Villa Rothschild Kempinski
#2 ROMANCE IN FRANKFURT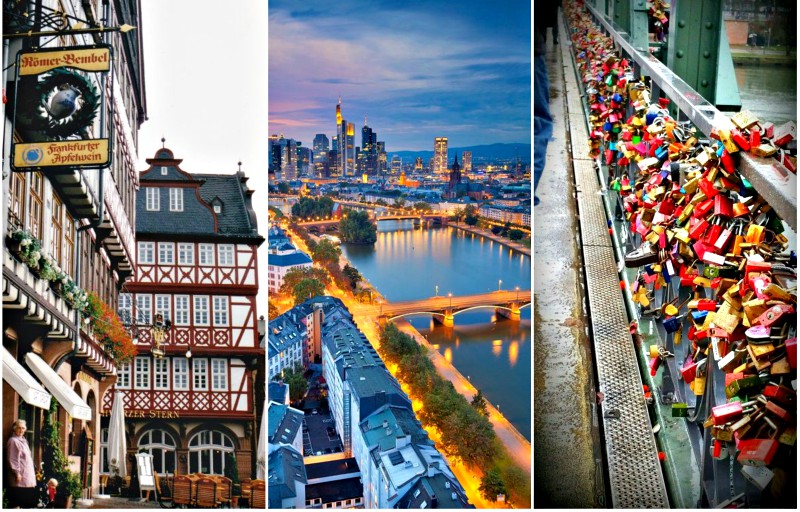 Why is Frankfurt a great destination for romance?

Frankfurt is a vibrant, cosmopolitan metropolis in central Germany and a fantastic destination for a romantic city break - offering visitors plenty of art, history and culture. Couples will especially love taking romantic walks along the river Main and sharing candlelit dinners with amazing views of the breath-taking skyline of Frankfurt at night.
Romantic things to see and do in Frankfurt:
Take a boat trip on the river Main
Share a picnic in the Palmengarten
"Love lock" your names on the Eiserner Steg Bridge
Walk together through the vineyards
Go shopping at Frankfurt's Christmas market
Who should go to Frankfurt?
We recommend a visit to Frankfurt to all types of couples: whether young or old, we guarantee it will be a special experience for everyone. Stay for two or three nights and discover the historic charms and cultural diversity of Germany's most international city.
Where to stay in Frankfurt...
Grandhotel Hessischer Hof | Romantic Hotel in Frankfurt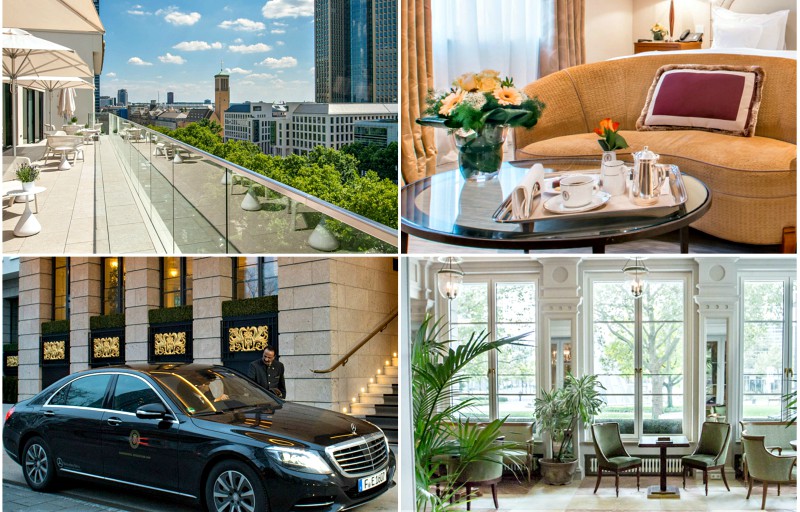 As the only family run five-star hotel in Frankfurt, the Grandhotel Hessischer Hof is the perfect host for romantic couples seeking a more personal experience of luxury.
Maja Noetzel, Junior Sales Manager says...
"The Grandhotel Hessischer Hof offers an excellent location for lovers in Frankfurt. The family and luxurious atmosphere of the hotel is the basis for an unforgettable love trip, whilst the 5 * service and comfort ensures that your every desire is met and catered for."
See more details and book your romantic break at Grandhotel Hessischer Hof
#3 ROMANCE IN DRESDEN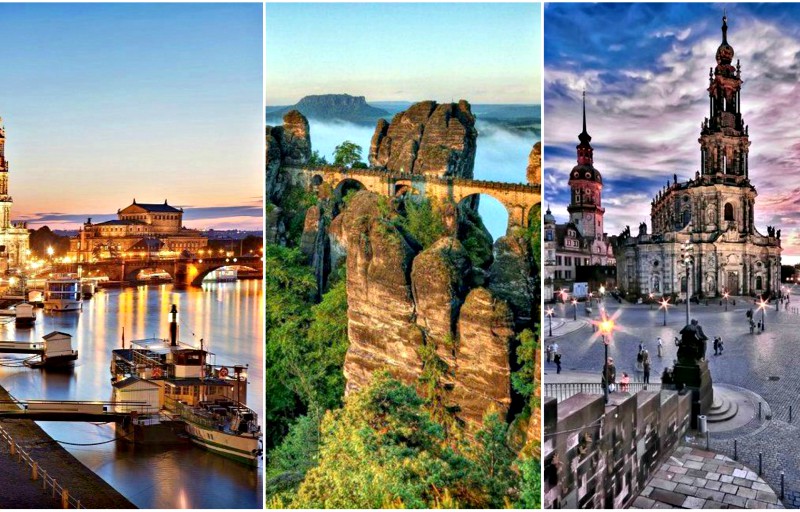 Why is Dresden a great destination for romance?
With its historic, baroque old town, Dresden offers the perfect backdrop for loving couples on a romantic city break. Enjoy the unique flair of one of the most beautiful cities in the world where romantic places are found at every turn as you come face to face with the history and the splendour of the Saxon electors.
Romantic things to see and do in Dresden:
Take a romantic carriage ride through the historic old town. Let yourself be pampered by the coachman with a glass of sparkling wine while the sumptuous buildings pass by.
A very special tip is to take a gondola ride on the Carolasee in the Großer Garten. Enjoy the thriving variety of this park in the city and don't forget to pack a picnic basket!
Take a day trip to nearby Saxon Switzerland and watch the sunset over the hills.
Who should go to Dresden?
Dresden offers lovers of any age an incredible variety of activities at any time of the year, whether you want to be enchanted by the beauty of the city during the summer months or drink a punch in the famous Christmas market Striezelmarkt in winter. Dresden is simply the perfect backdrop for your romantic holiday.
Where to stay in Dresden...
Hotel Taschenbergpalais Kempinski Dresden | Romantic Hotel in Dresden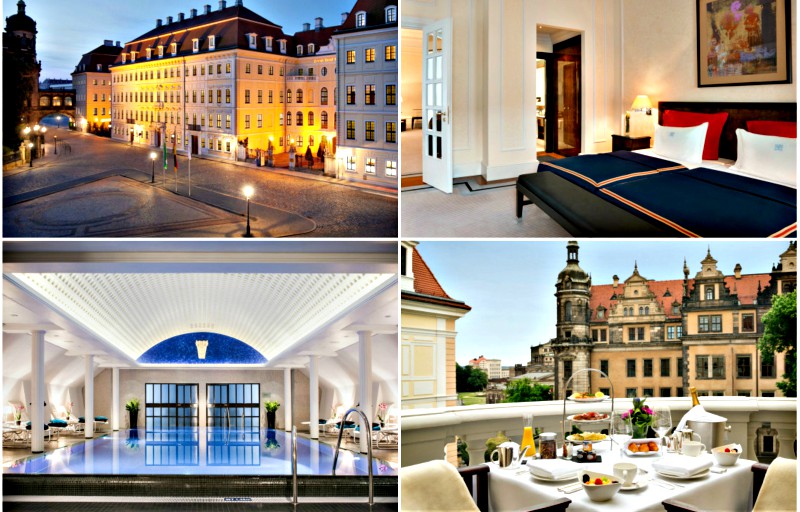 Let yourself be enchanted by the beauty of Dresden and enjoy the luxury of Dresden's only grand hotel. Hotel Taschenbergpalais Kempinski is located in the middle of the historic old town, where the Saxon Electors once rejoiced. August the Strong built the Taschenbergpalais as a sign of his love for his beloved Countess Cosel.
Susanne Morgenstern, Assistant Director of Sales says…
"The Hotel Taschenbergpalais Kempinski is the ideal backdrop for your stay in Dresden and located in the immediate vicinity of famous sights, such as the Residenzschloß, Zwinger or the Semperoper. With our exclusive arrangements, we are the perfect partner for your romantic stay in Dresden. But also in terms of weddings, we have the perfect contact for you with our wedding planner, and offer endless possibilities. What could be a more romantic place for your holiday? Enjoy a romantic candlelight dinner in our restaurant Intermezzo or the historic courtyard amid the beautiful and enchanting surroundings."
See more details and book your romantic break at Hotel Taschenbergpalais Kempinski Dresden
#5 ROMANCE IN SOUTHWESTERN PALATINATE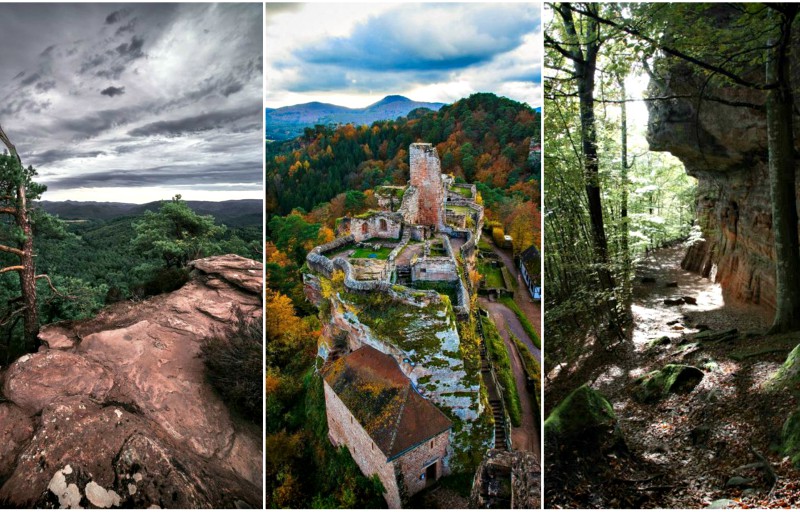 Why is South Palatinate a great romantic destination?
South Palatinate is a hidden touristic gem close to the French border with some travellers referring to the region as the German Tuscany due to its beautiful landscape and rich culture and history. Here you can find soft shaped hills, colourful and flourishing landscapes, forests, tiny towns and idyllic villages and historical monuments. Plus, the destination is also one of the best places to taste the culinary variety of Germany and fine Palatinate wines.
Romantic things to see and do in Southwestern Palatinate?
Feel like a knight and his damsel: Visit of the "Dahner Felsenland" and its group of former castles "Grafendahn", "Tanstein" and "Altdahn" dating back to the 13th century. The impressive ruins belong to one of the biggest fortresses of the Middle Age. Stroll along small paths, enjoy breath taking views, visit the museum of the fortress or have a glass of delicious Pinot Blanc, Pinot Grigio or Riesling from the region in the tavern of the castle.
Enjoy the smell and the colours of over 45,000 roses in the Rose Garden Zweibrücken. The history of Zweibrücken's famous landmark began in 1912 with the decision to create an open air rose display. Today, it is a 50,000 sqm oasis of nature and beauty with over 45,000 roses and more than 1,500 different varieties and species. A path through the park leads to the romantic Wild Rose Garden, teaching about the history of rose growing and displaying ancient types of wild roses long forgotten elsewhere
Go shopping and find your dream designer outfit at Zweibrücken The Style Outlets - Germany´s largest outlet centre, with more than 130 must-have brands such as Armani, Karl Lagerfeld, René Lezard, Michael Kors and many more. More than 120 stylish shops are waiting to be discovered and the best part is all brands are reduced all year round.
Who should go to Southwestern Palatinate?
Southwestern Palatinate is a destination for holiday seekers of all ages who want to discover nature, German history and culture, who love to travel over the frontier to France and who like to be active and go for a hike, a bicycle ride or a romantic car drive on small, curvy streets to visit one of the numerous good restaurants and taverns. The idyllic landscape with its historical mile stones attracts young couples who want to get married as well as those celebrating anniversaries in a unique atmosphere.
Where to stay in Southwestern Palatinate...
Hotel Kloster Hornbach | Romantic Hotel in Southwestern Palatinate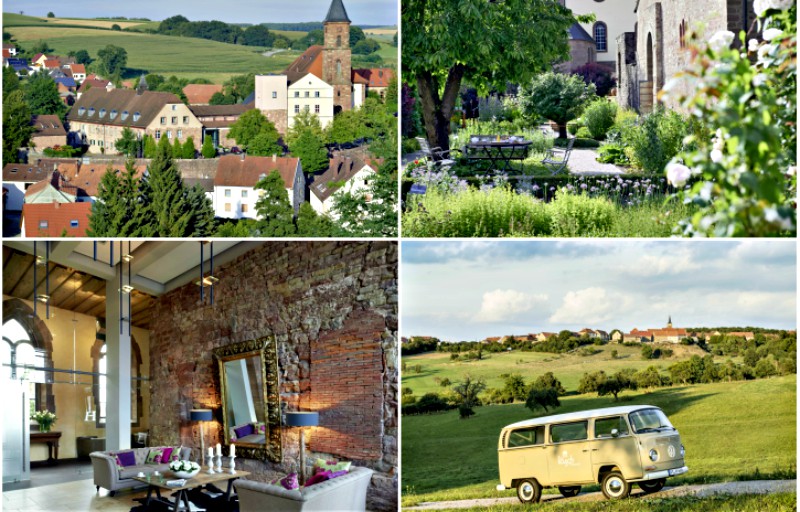 The lovingly restored monastery complex of Hotel Kloster Hornbach dates to the 8th century and comprises a total of 48 rooms and suites. It is popular as a location for celebrations, weddings and for all those seeking peace and relaxation away from the stresses of daily life, a place where guests can enjoy the greatest comfort in a unique historical setting.
Katja Driess, Hotel Kloster Hornbach PR says...
"You can live and find romance everywhere: in the romantic monastery courtyard and the fragrant herb garden, where generously proportioned day beds, deckchairs and wooden benches are provided for relaxation, in the two preserved cloisters where guests can enjoy an afternoon cup of tea and delicious pastries at the "Teestation" or during a candle-light dinner in the hotel's gourmet restaurant Refugium. For guests who are keen to experience a romantic travel back in time we recommend a romantic getaway with the hotel's Citroen 2 CV for an excursion with sun umbrella, picnic basket and blanket to the countryside."
See more details and book your romantic break at Hotel Kloster Hornbach
#5 ROMANCE IN BAVARIA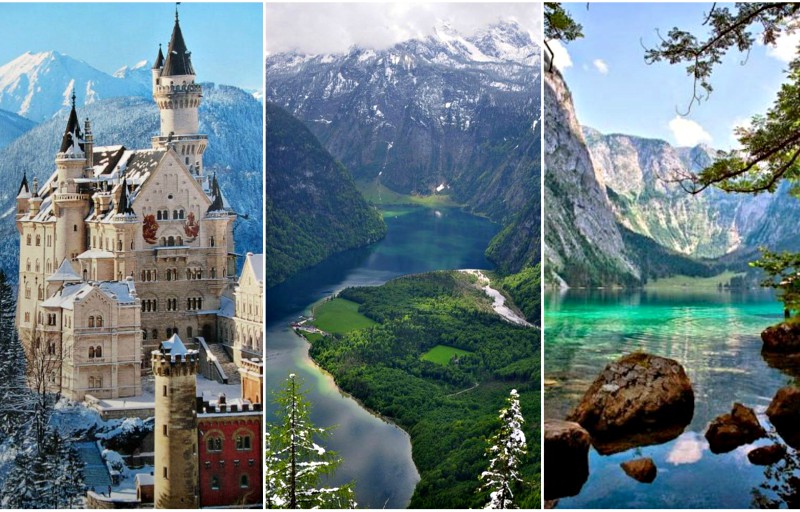 Why is Bavaria a great destination for a romance?
Bavaria is one of the most beautiful and romantic spots in Germany with its numerous lakes, fantastic mountain scenery and famous fairy-tale castles. The untouched nature, the many charming excursion destinations and the great hospitality of the inhabitants makes Bavaria unique. Here is exactly the right place for your short break, marriage proposal or romantic honeymoons.
Romantic things to see and do in Bavaria:
Visit of the king's castle Neuschwanstein in Schwangau. A special highlight is the mystical history of King Ludwig II and the magnificent fairytale castle Neuschwanstein is one of the most visited castles in Europe and attracts millions of visitors to Bavaria each year. In addition, the castle is known as the inspiration for Walt Disney's Cinderella castle.
In the summer months, the most beautiful lakes await you here for a romantic picnic, as well as cosy mountain chalets for a hike.
For winter lovers, a common snowshoe hike as well as a romantic carriage ride in the horse sled through the snowy winter landscape is an absolute highlight.
Who should go to Bavaria?
The region around the Bavarian alps is known for its beautiful scenery and charming excursion destinations. We recommend a stay of 2 days or more for couples between 20 and 65 years old.
Where to stay in Bavaria...
Hotel "Das Rübezahl" | Romantic Hotel in Bavaria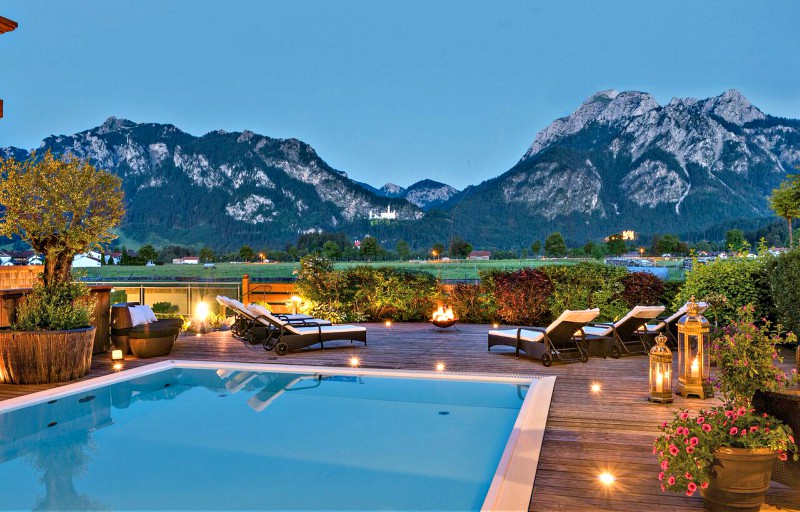 The Hotel "Das Rübezahl" is a special place to enjoy a romantic break for two with a royal view to the fairytale castle Neuschwanstein. As a member of the renowned Hideaways Hotels Collection, the Wellness and Gourmethotel combines discreet luxury with an alpine romantic lifestyle.
Verena Kwasnitschka, Sales & Marketing Assistant says...
"What could be better than spending a couple of romantic days together in a cosy ambience at a fairytale place? We spoil you with beautiful candlelight dinners from the exquisite gourmet kitchen and alpine spa-treatments for two in the hotel's private spa area for a relaxing romantic break in Bavaria. All rooms as well as our lobby area are individually furnished with lots of love and create a special atmosphere through natural materials. On request, we can create unique marriage proposals with a romantic picnic at the lake, a carriage ride through the winter landscape or in one of our suites with champagne, fresh roses and strawberries."

See more details and book your romantic break at Hotel "Das Rübezahl"

To enquire and get a private quote for any of our featured romantic breaks and experiences - simply send a direct message to each host via their hotel / company page.

And if you need more ideas to find your perfect Romantic Break? **SIGN UP HERE** for our weekly Romance & Travel tips, special offers and recommendations.