18 Love Islands – Most Romantic Island Destinations Worldwide
Nothing speaks louder of romance than idyllic island destinations.
With their unrivalled fairy-tale-like magic; you're instantly transported from the stresses and strains of modern life, to suddenly living inside your very own love story.
These are places where romantic dreams come true… and fantasy becomes a reality! Which is why they're the perfect choice for the most romantic holiday of them all - YOUR HONEYMOON!
HONEYMOON ISLANDS IN EUROPE
1. Majorca (Spain)
Why go to Majorca on honeymoon?
The luxury villas of Majorca have been put on the map thanks to the super-popular show 'Love Island.' Newlyweds will have few problems finding amazing honeymoon experiences in Majorca. The Balearic Islands of Spain are ripe territory for an extra special romantic holiday. And northeast Majorca makes an ideal base for a honeymoon filled with blissful Mediterranean memories.
As well as its idyllic beaches and beautiful rural landscapes, you'll want to explore the sandy hills of the Levant and the surrounding coves from Alcúdia to Cala Millor, plus there's plenty of nightlife to keep you busy after dark.
Recommended honeymoon hotels in Majorca?
The charming hotel Cases de Son Barbassa is one of Majorca'smost enchanting places for honeymooners. Located on a hillside of the mountains by Artà, you'll have magnificent views of the coast of Cala Mesquida, Cala Agulla and Cala Ratjada and the village Capdepera with the magnificent medieval castle.
Alternatively, the 5-star Carrossa resort is right up therewith the best accommodation on the island. Open a bottle of wine on your private terrace in one of the recently-built Bay View suites, which offer an enchanting landscape view of the Bay of Alcúdia. Then take a dip in the boutique resort's terrific Spa, before enjoying a candle-light dinner on the panorama terrace of Bistro Badia.
2. Santorini (Greece)
Why go to Santorini on honeymoon?
For many years, the Greek island of Santorini has been a honeymoon favourite and it's not hard to see why. Honeymooners here adore the crystal-clear waters of the Aegean Sea, dramatic rugged landscapes and cosmopolitan style.
It's a safe bet to stay in one of the four towns – Fira, Oia, Imerovigli, and Firostafani – situated on the Santorini cliff, from which you'll gaze in total awe at the caldera, volcano, and of course the incomparable (and world famous) sunset views.
Recommended honeymoon hotel in Santorini?
Oia Sunset Villas have six luxury properties, each of which offer private havens with a garden. You'll be able to unwind with some al-fresco dining and drinking, plus there's a private heated hydro massage spa. Expect infinity pools and hot tubs, from which you'll make unforgettable honeymoon (and possibly steamy) memories of the spectacular sunset – and the perfect way to relax after a scenic hike from Fira to Oia.
3. Guernsey (United Kingdom)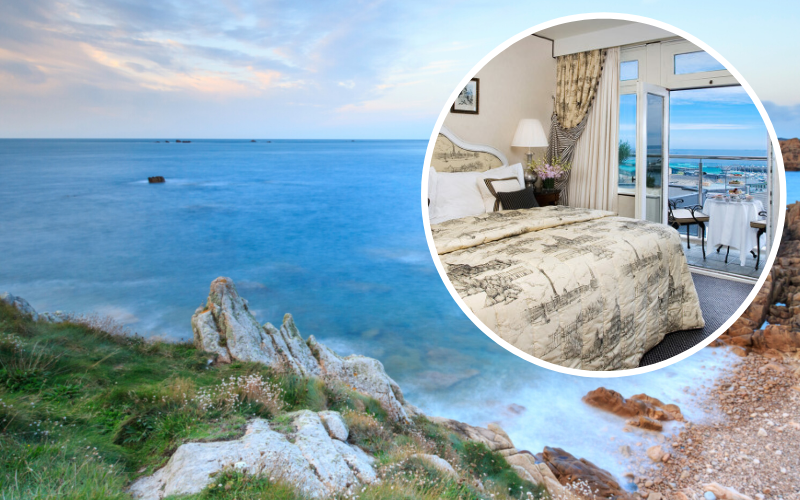 Why go to Guernsey on honeymoon?
With beach resorts like Cobo Bay and stunning coastal cliff scenery, Guernsey would offer a charming backdrop for a spring or summer honeymoon. Plus a recent movie (The Guernsey Literary and Potato Peel Pie Society) about a romance-linked book club - formed during the island's German occupation during the War - has lent a new interest in this charming Channel Island. There's a great mix of coastal, spa and luxury hotels to choose from too.
Recommended honeymoon hotel in Guernsey?
The Old Government House Hotel & Spa would make for an ideal honeymoon hideaway. Ask for a room with a balcony, where you can sip champagne together over a captivating sea view.
4. Corsica (France)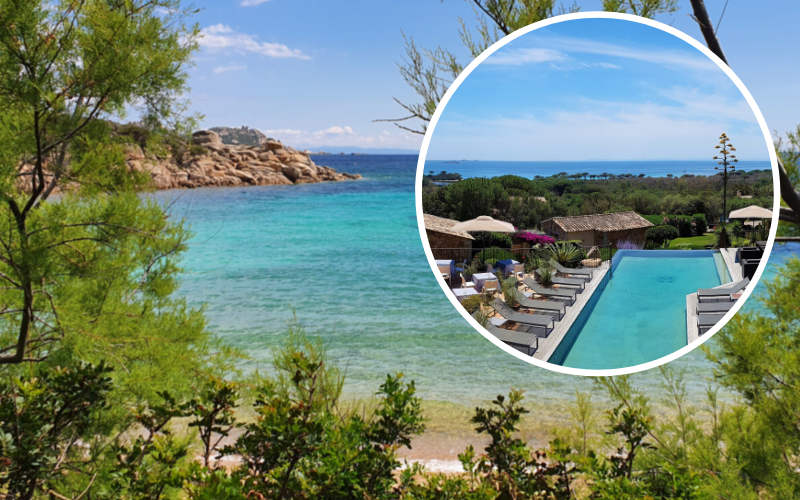 Why go to Corsica on honeymoon?
Proudly boasting 1,000km of coastline (and over 200 beaches), the diverse coastline and mountainous terrain of Corsica have shaped a fascinating foodie culture in this island region of France. There's plenty else to get your teeth into here (other than each other) making this an unforgettable destination for honeymooners…
Recommended honeymoon hotel in Corsica?
Les Bergeries De Palombaggia offers a breath-taking landscape of sea front and luscious greenery, and this stone-built property is both up-market and traditional. There's a divinely rustic Corsican charm here, combined with the finest luxury accommodation and stunning infinity pool.
5. Sveti Stefan (Montenegro)
Why go to Sveti Stefan on honeymoon?
For a truly exclusive honeymoon destination, the 15th century fortified island village of Sveti Stefan is a stunning choice. Proclaimed as Montenegro's most iconic (and most photographed) landmark, Sveti Stefan is a picture-perfect jigsaw of pretty stone cottages surrounded by the deep turquoise waters of the Adriatic.
Recommended honeymoon hotel in Sveti Stefan?
Once a 15th-century fishing village, the charming Sveti Stefan has been transformed into a private haven, exclusively reserved forguests of Aman Sveti Stefan. Book your dazzling honeymoon here and you'll spend your first days precious days of married life basking on blush sand beaches… diving into dramatic pools… exploring fragrant gardens… and dining by moonlight.
HONEYMOON ISLANDS IN THE CARIBBEAN
6. St. Lucia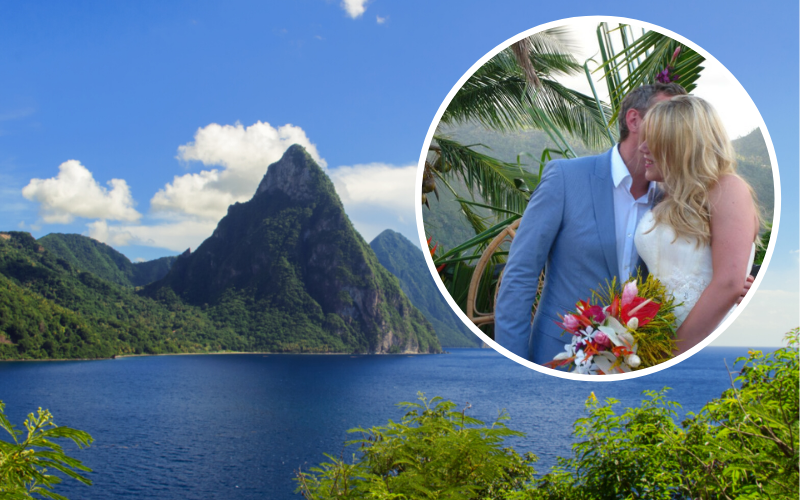 Why go to St Lucia on honeymoon?
This Eastern Caribbean nation is a firm favourite for honeymooners, famous for its pair of dramatically tapered mountains – named the Pitons – on its west coast. Tropical rainforests hideaways and beachfront resorts are top of the list for honeymoon accommodation, and there's plenty to explore around the island including volcanic beaches, reef-diving, fishing villages and luxury resorts for fine dining.
Recommended honeymoon hotel in St Lucia?
Crystals is a glorious hillside retreat which gives visitors some of the most spectacular views of the Pitons, sea and rainforest, near the charming town of Soufriere (the original capital of the island). This exquisite property is a remote hideout perfect for honeymooners celebrating their new future together.
7. Barbados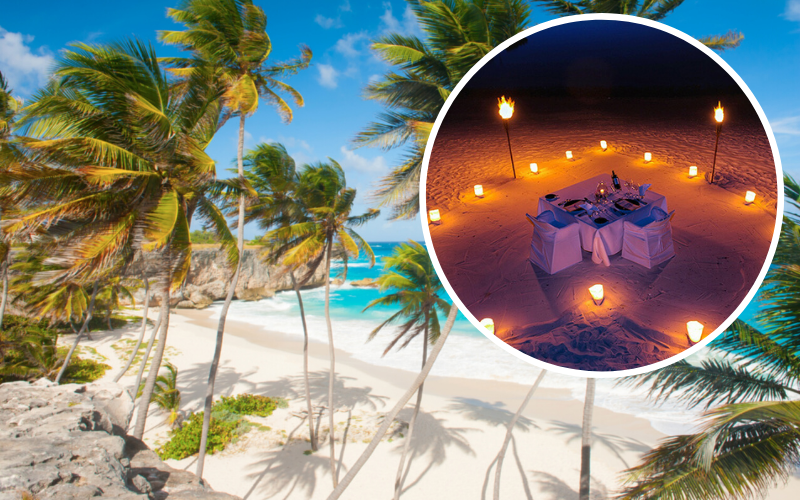 Why go to Barbados on honeymoon?
A dream place to spend your first days as a married couple, Barbados has many things going for it: pristine beaches, wall-to-wall sunshine and line-fresh seafood to name just three.
Recommended honeymoon hotel in Barbados?
Tamarind is a 4-star resort located on a superb crescent of white sandy beach on the Platinum West Coast. This splendid hotel is part of a local Dine Around programme, meaning you'll be able to take advantage of bookings at some of the finest restaurants in the area.
And if you looking to arrange a few extra surprises during your trip, Exquisite escapes are a local destination concierge that come highly recommended. Get them to set up a scrumptious Caribbean meal under the night stars, with the sound of crashing waves as your backdrop, and you'll have a romantic night you'll never forget.
8. Dominican Republic
Why go to the Dominican Republic on honeymoon?
As the Caribbean's second biggest island (it's more than twice the size of wales), and famously popular with tourists seeking all-inclusive fun in the sun, the Dominican Republic may not immediately jump out as the best destination for honeymooners seeking a more intimate experience. But you'd be wrong! Because the Dominican Republic has so much more to offer than just package holidays. In fact, (thanks mainly to its size), it's pretty easy to find remote beaches, intimate boutique hotels and an authentic Caribbean experience. Which sounds like honeymoon perfection to us.
Recommended honeymoon hotels in Dominican Republic
For a more intimate experience of the Dominican Republic head to Boutique Hotel Casa Veintiuno in Playa Sosua. Hugging a crescent-shaped bay, it's just a 3 minutes' walk from a beautiful beach and you'll be personally greeted with a delicious rum punch on arrival. Priding themselves on providing the best boutique experience on the island you can expect lots of lovely little extras such as petals scattered on your bed, glowing candles, and a bottle of bubbles awaiting you in your guest suite.
9. Bequia (St. Vincent and the Grenadines)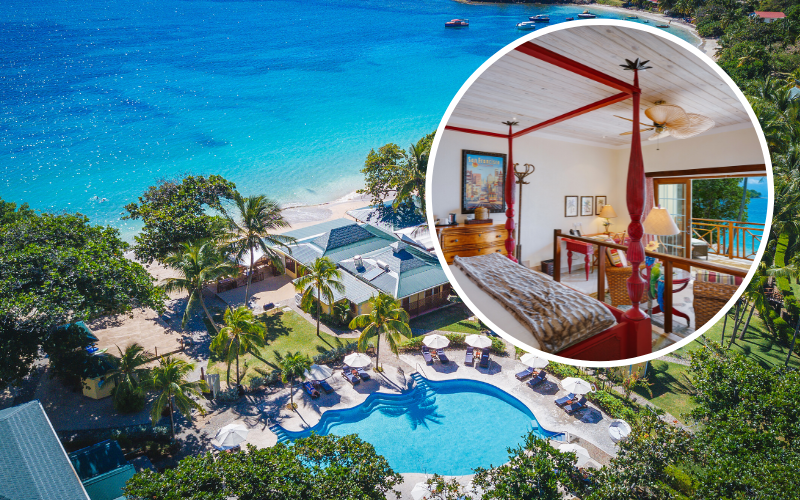 Why go to Bequia on honeymoon?
Although Bequia is the second largest of 32 islands that make up St. Vincent and the Grenadines, this tiny island paradise is only 7 square miles in size. It has a balmy tropical climate all year round and stunning white sand beaches making it a fabulous choice for romantic couples and honeymooners seeking an intimate beach experience away from the crowds.
Recommended honeymoon hotel in Bequia?
Bequia Beach Hotel is a beautiful boutique property on the beachfront of Friendship Bay. Dedicated to hosting romantic celebrations, prepare to be truly spoilt and pampered with treats including a floating breakfast, couples massage, romantic dining and plenty of bubbles.
10. Martinique
Why go to Martinique on honeymoon?
Martinique has an exotic cosmopolitan buzz that makes it an ideal destinations for honeymooners. Stunning mountain scenery and world-class beaches make it hard not to feel the heady romance offered by Martinique's unique beauty.
Recommended honeymoon hotel in Martinique?
Hotel French Coco lets you enjoy a local Creole experience that is also super-romantic. The fabulous Chef concierge is dedicated to introducing guests to the best local flavours at nearby restaurants, or recommending the best places to sip a deliciously fresh cocktail. Expect lightly swaying palm trees and days by the pool against a backdrop of tropical colours.
HONEYMOON ISLANDS IN ASIA
11. Koh Samui (Thailand)
Why go to Koh Samui on honeymoon?
The large island of Koh Samui should be near the top of all couple's honeymoon wish-lists in Thailand. Lovers here are only a short boat trip away from stunning smaller islands, such as Koh Tao - putting the country's best scuba diving only a few hours away. Private tours of the surrounding islands can easily be arranged.
Recommended honeymoon hotel in Koh Samui?
Vana Belle Luxury Collection Resort is situated on Chaweng Noi Beach and offers a slice of paradise through its modern, opulent resort. And the Vana Belle Ocean View Pool Suite is the perfect choice for celebrating couples, with a private outdoor bath-tub and balcony ocean view enticing passion-filled gestures and intimate moments.
12. Bali (Indonesia)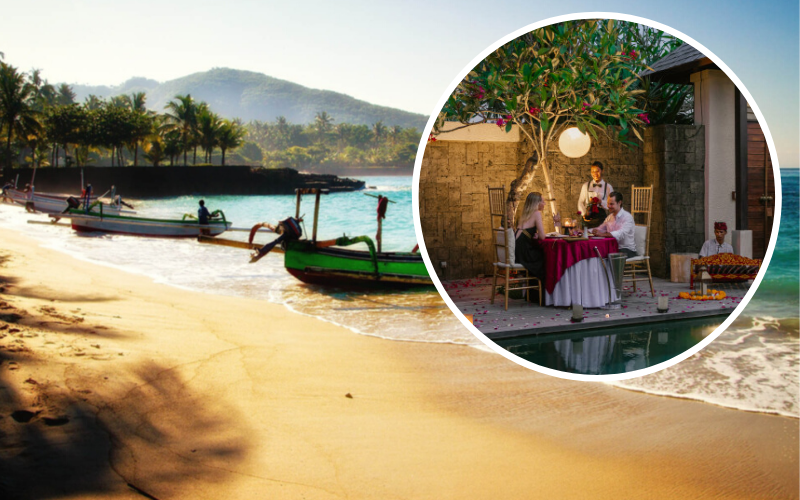 Why go to Bali on honeymoon?
With a rich assortment of beaches including palm-fringed white sandy coastlines, cliff-guarded 'secret' shores and the striking black sands of its north-west seafront, Bali gives you plenty of honeymoon choices. And if beaches aren't top of your tropical wish-list? Then Bali's lush rainforest covered heartland of hills and volcanic mountains offer a romantic hideaway buzzing with nature's magic. Bali is an affordable yet high-class destination, and has plenty of experience in hosting fabulous honeymoons.
Recommended honeymoon hotel in Bali?
Berry Amour Romantic Villas are custom-made for honeymooners, with each individually love themed villa especially designed to inspire romance and ignite passion. This is a place to fulfil your wildest honeymoon fantasies.
13. Lombok (Indonesia)
Why go to Lombok on honeymoon?
Indonesia can be the base for a once-in-a-lifetime honeymoon trip. Newlyweds often bundle their trip to include Lombok, Bali and the nearby Gili Islands taking in some of the country's most beautiful islands in one holiday.
Recommended honeymoon hotel in Lombok?
Lombok's Hotel Vila Ombak has a Royal Honeymoon packagewhich could tick all of the boxes for your special trip. On arrival, you'll have welcome drinks and a special flower arrangement will be ready for you in your suite. The friendly and professional staff will host a romantic dinner for two by your private villa poolside, and you'll be treated to a tropical spa treatment for couples. All of your transfers are included in this dream deal as well.
14. Sri Lanka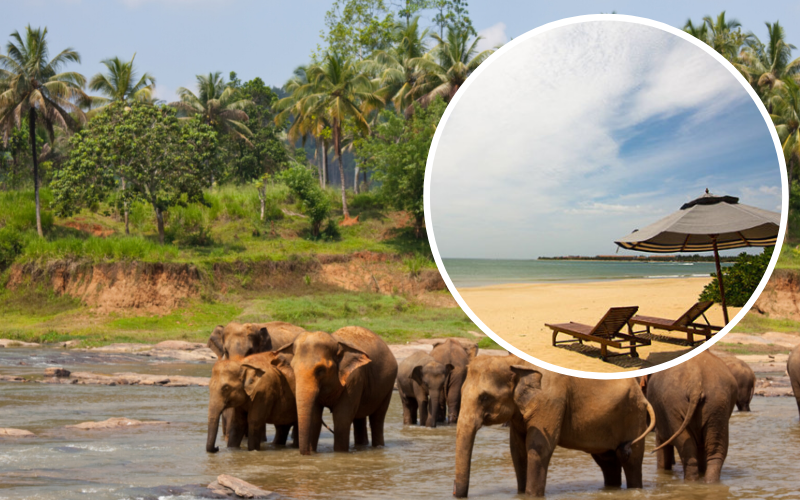 Why go to Sri Lanka on honeymoon?
With its extravagant retreats, natural beauty and plentiful spa resorts, Sri Lanka is an island which ever-more couples are choosing to take their honeymoons.
Recommended honeymoon hotel in Sri Lanka?
The Anantaya Resort & Spa in Passikudah would make for an ideal tropical honeymoon retreat. There's two cuisine high-class restaurants, plus you can stroll from your private veranda straight out on to the beach and crystal-clear seas.
HONEYMOON ISLANDS IN THE SOUTH PACIFIC
15. Cook Islands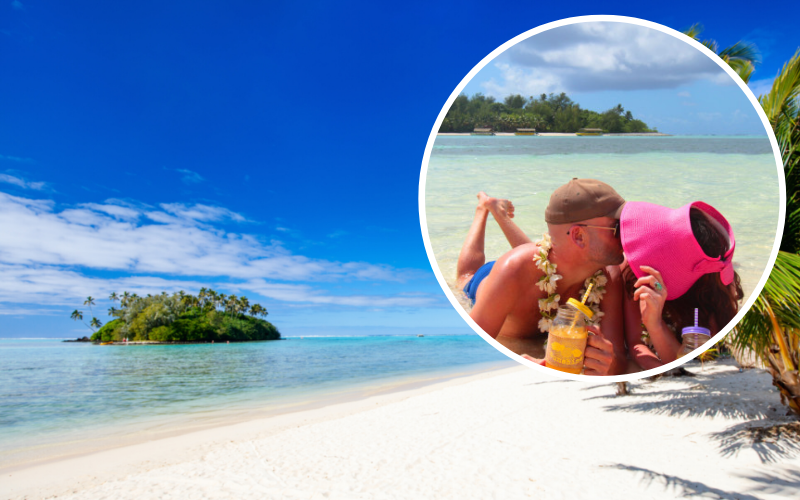 Why go to the Cook Islands on honeymoon?
With less heavy tourism than other tropical islands in the region, the Cook Islands are typified by peaceful and quiet beaches. There are plenty of chilled activities to choose from, and resorts to suit a range of budgets.
Recommended honeymoon hotel in the Cook Islands?
Muri Beach Club Hotel is an ideal destination for unwinding with your life-long mate. An adults-only oasis of tranquillity, the resort is a tropical paradise. Warm white sand meet the alluring waters of the Muri Lagoon and all of your worldly cares will ease from the minute you arrive at this magical location.
16. Bora Bora
Why go to Bora Bora on honeymoon?
Bone white sands and iridescent, turquoise lagoon waters are the romantic calling card of Bora Bora, 'Pearl of the Pacific,' and one of the world's most iconic honeymoon islands.
Recommended honeymoon hotel in Bora Bora
Situated on one of the finest beaches in the South Pacific, the Le Méridien Bora Bora is an ideal honeymoon destination for anyone seeking the ultimate in exclusive privacy. There are no roads and no traffic – just peace, tranquillity, and dazzling tropical beauty.
Not on a five-star budget? Sunset Hill Lodge welcomes you in comfortable, well-equipped, air-conditioned apartments, just steps from the lagoon ... Reasonable prices make this dream accessible.
HONEYMOON ISLANDS IN THE INDIAN OCEAN
17. Maldives
Why go to the Maldives on honeymoon?
The ring-shaped atolls, which make up more than 1,000 coral islands of the Maldives offer complete relaxation and seclusion for honeymoon travellers. All-inclusive resorts (often over-water) are spoilt by the turquoise lagoons and clear sandy beaches all around the area.
Recommended honeymoon hotel in the Maldives?
Choose between beach and water villas at the Amaya Kuda Rah! Amid pure luxury, honeymooners will romantic dining under the stars on thebeach. Gaze into your new spouse's eyes over a sumptuous meal as the sun goes down.
18. Seychelles
Why go to the Seychelles on honeymoon?
Imagine the feeling of being shipwrecked upon your own exotic island; where you'll feel like you're living inside the beautiful bubble of a secret escape, away from the rest of the world. That's a honeymoon in the Seychelles. White sandy beaches, protected by coral reef and home to a sun-drenched climate all year round… you'll bask on your sunbed with the sounds of the waves gently lapping the shore and experience pure bliss.kk
Recommended honeymoon hotel in the Maldives?
Hilton Seychelles Labriz Resort and Spa is the perfect destination for a dream honeymoon celebration. Our 111 luxurious villas are your personal oasis in paradise. Step out the French doors to your private balcony and breathe in the fresh sea breeze. Reserve a King Sanctuary Pool Villa and enjoy your own private pool.
To find out more, get in touch with one of our expert Romantic Consultants at The Romantic Tourist, we'll be more than happy to help you find a deal that suits you.