How to Get Married in Bali | Expert Advice from Avavi Bali Weddings
Arranging your wedding is one of the most exciting and important things you may ever do And organising a destination wedding adds another challenge to the mix.
If you've got your heart set on getting married abroad then Bali is a destination like no other, offering a wide choice of wedding styles to suit all personalities.
Whether you dream of marrying on a sandy beach... in a traditional chapel... or even if you wish to say your vows on the banks of a majestic waterfall... BALI HAS IT ALL! The diversity of Bali's landscape gives you a superb choice no matter how you wish to celebrate your dream wedding.
And with all that Bali has to offer, it's important to get some expert advice on how to plan your big day and your wedding dreams a reality.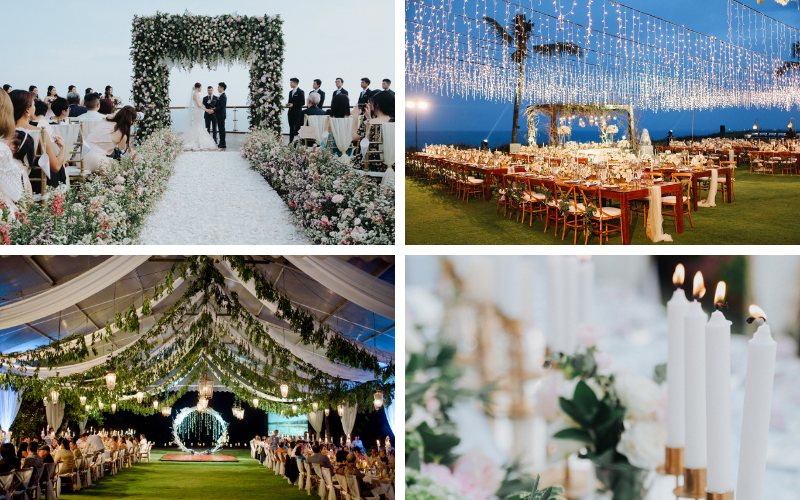 Introducing Avavi Bali Weddings
The seasoned team at Avavi Bali Weddings can plan and advise on every aspect of your Bali wedding, with no request too grand and no detail too trivial.
They cater to all types of wedding, no matter how unique or unusual. Whether you want full-service wedding planning or would just like to have experts on hand for those things you need a little assistance with - Avavi Bali Weddings can do it all.

Legal Requirements for a Bali Wedding
The legal requirements for a Bali wedding vary depending on each couple's individual circumstances. Indonesia's marriage laws mean that the particular requirements and the specific paperwork needed for each couple can vary slightly. What is required also differs depending on your nationality and whether your country has a consulate or other legal representation in Indonesia.
The skilled team at Avavi Bali have over seven years of experience arranging weddings for clients from around the world, so rest assured that Avavi Bali Weddings can advise you of everything you need to do to fulfil the necessary legal requirements based on your particular situation.
Top 5 Bali Wedding Experiences
Bali has an incredible selection of destination wedding styles, ideally suited to all personalities. And offering some of the most stunning views not only in Indonesia but in the world!
Marrying anywhere on this Indian Ocean oasis will exceed all of your wedding expectations. But unsurprisingly, the majority of the most popular styles of wedding take place in the incredible natural habitat of this small, yet magical island.
Here's a few possibilities to inspire you...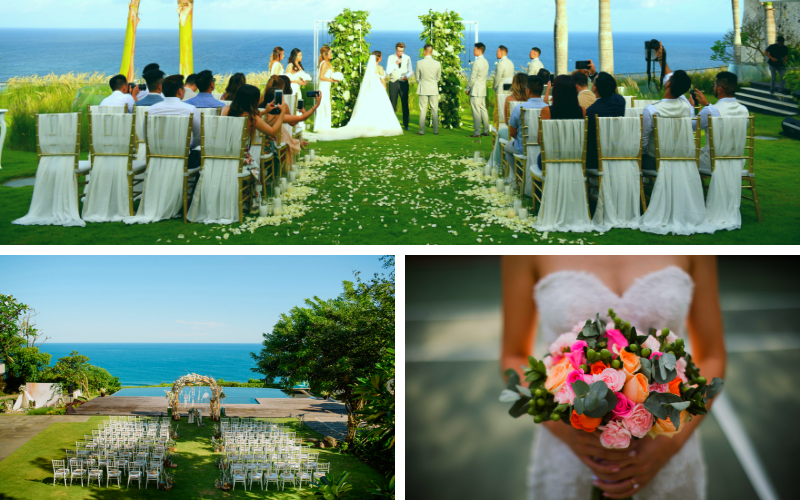 #1 Private Villa Cliffside Wedding
The awe-inspiring views atop the cliffs of Bali deliver truly unique scenery in which to declare your love to one another. The majesty of the Indian Ocean is inimitable, tinted with the golden glow of the incredible sunsets, this memorable wedding style is perfect for those who want lavish luxury complete with the incredible natural beauty of Bali.
The exclusivity of the private villas, such as the incredible Sinaran Surga estate on the southern coast of the island, ensures that only your truly treasured guests will get to experience your special day. This astonishing viewpoint, 70 meters above the ocean creates the perfect mix of intimate romance and the grandeur of nature.
See full wedding package details here - Clifftop Villa Weddings in Bali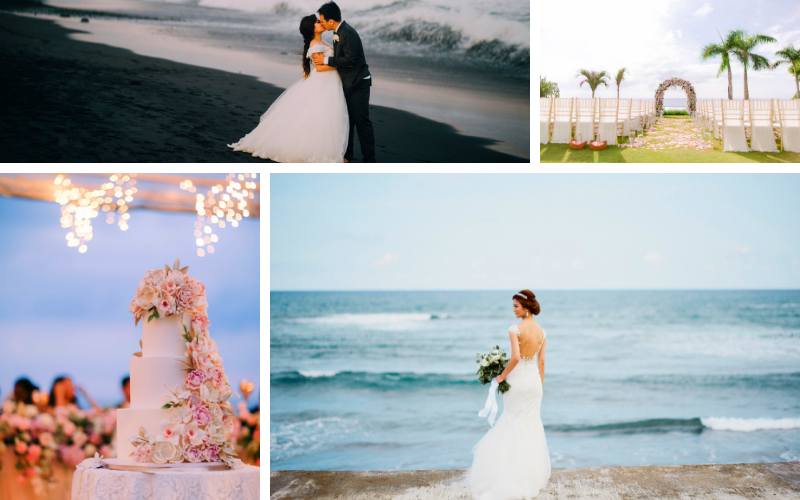 #2 Beachfront Private Villa
Accompanied by the sounds of the Indian Ocean lapping at the shore and the tropical breeze flowing lightly against your skin, there is nothing more romantic than saying your vows on the warm white sands of this mystical island. The epitome of tropical romance and elite tranquillity, a private beachfront villa wedding is ideal for those couples looking for a stunning yet simple wedding.
The bonus of this wedding style is the ability to retire to the luxury of your private villa once the festivities are over. There is nothing more romantic than saying 'I do' on the sands of Bali's famous beaches, with a private beachside villa wedding ideal for those looking for the epitome of paradise.
See full wedding package details - Bali Beach Wedding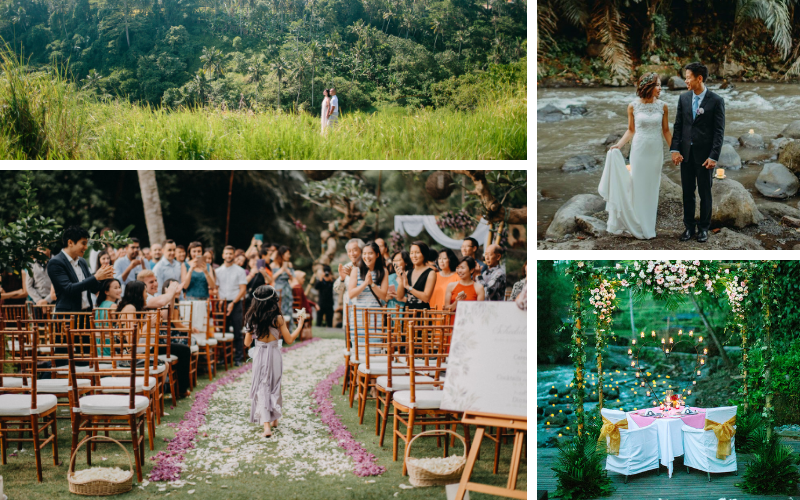 #3 Riverside in the Tropical Rainforest
For those couples looking for a lush, exotic day to remember, the tropical rainforests in Ubud are unparalleled. The ethereal surroundings will make your wedding day unique beyond compare. The breath-taking rice fields and forest views as a backdrop for your first pictures as a married couple offer a cultural Bali feel.
Wed under a floral canopy beside a majestic rainforest river, Avavi Bali's Helping Hand Wedding Planner services will make your day go as smoothly as possible before retiring for the night at an intimate one-bedroom villa. Whether you have eloped or cherished friends and family surround you, a riverside wedding has an intimate feel that can't be replicated.
See full wedding package details - Riverside Wedding in Bali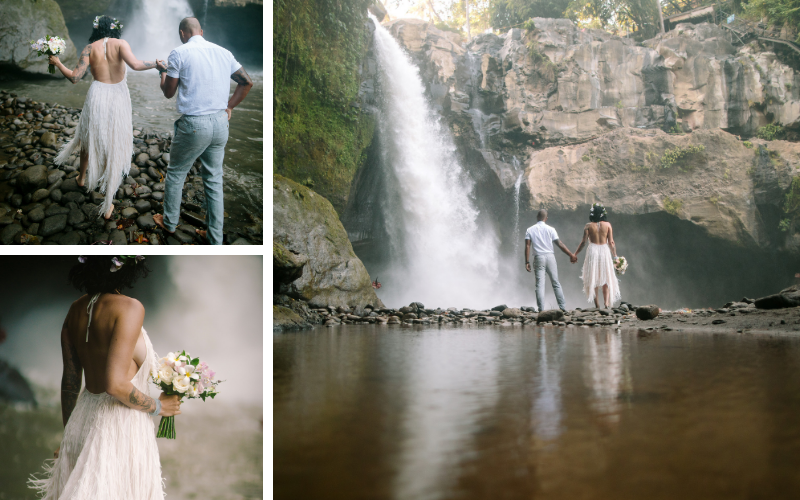 #4 Waterfall Wedding
A tropical hideaway waterfall is the perfect backdrop for an intimate wedding for two. For those couples with a love of the outdoors and an appreciation of nature's majestic design, there's no better way to solidify your love than in front of Bali's incredible waterfalls. An unforgettable and unique way to celebrate your love, the lush, natural habitat is the perfect way to start your lives together.
Our wedding packages include care both before and on the day. Sightsee on the eve of your wedding before celebrating your love under an ornate wedding arch – all captured by our in-house photographer and videographer, taking enviable wedding pictures to the soothing music of these tropical falls.
See full wedding package details - Waterfall Wedding in Bali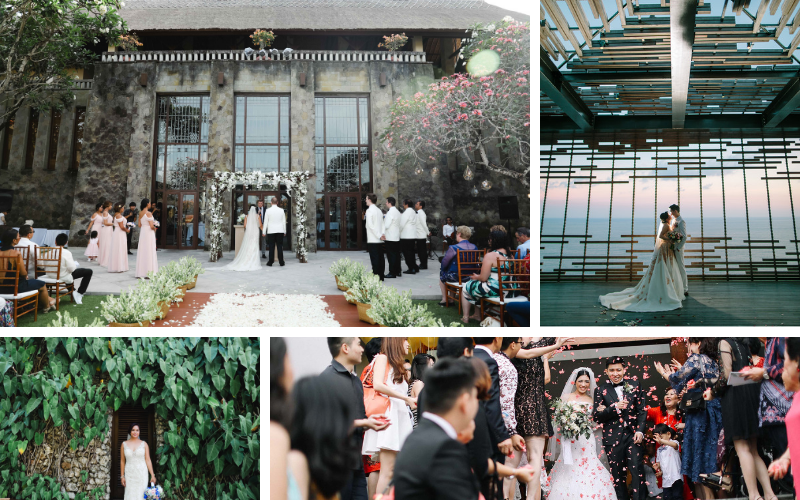 #5 Chapel Wedding
One of the most popular Bali wedding styles, a chapel wedding is a charmingly traditional way to solidify your love, without losing any of the magic of Bali. Ideal for couples looking for a classic yet contemporary paradise ceremony, our packages include your special moment accompanied by the beautiful music of keyboardist and singers.
At beachfront or cliff-side, say I do in the air-conditioned comfort of a stunning glass chapel to frame the stunning views, then throw the bouquet in the ambient tropical breeze. The contrast of the building against the stunning backdrop of the Indian Ocean makes for out of this world wedding photos.
See full wedding package details - Bali Chapel Wedding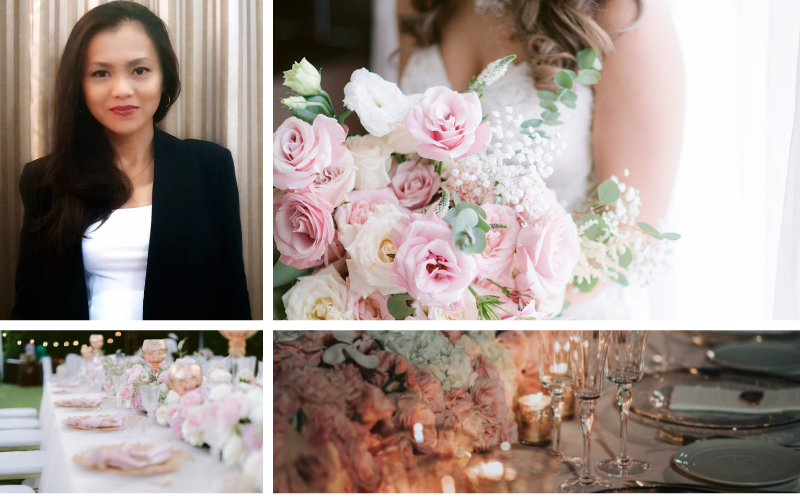 Weddings with Avavi Bali | Q&A with Elisabeth Herbert, Owner
Who are Avavi Bali Weddings and how did you start?

W

e first started in 2009 from a villa rental agency. Our motto and agency philosophy was to provide an excellent service with a fast response to clients. The business has been family owned and managed ever since. I realised that the very same work ethic used in our villa agency could easily be transferred to the wedding planning industry. As we had such comprehensive knowledge of the beautiful villa locations throughout Bali, the two businesses became the perfect match, and Avavi Bali was born.

I am also a founding member and Vice-Secretary (Director) of the Bali Wedding Association, which helps to make sure I am connected to all the best vendors in Bali, and that I am fully apprised of all the legalities of performing weddings in Bali.

We are incredibly proud to have served people from all around the globe, and we continually endeavour to provide the best possible service to all our clients. Not only are we always aspiring to maintain our first-class customer service, but we are continuously looking to bring new ideas to our customers to make their perfectly tailored special day unforgettable.

What is the best time of year to get married in Bali?

Generally, it is better to have your wedding during Bali's dry season between April and September. We suggest avoiding having your wedding during December, January and February, as it is the height of the rainy season. Of course, if you do plan to have a wedding during the wet season, you should always have a plan B to make sure the weather doesn't hamper your perfect day.

What makes Bali such a popular wedding destination?

Although not a big island, Bali offers all you could imagine for your dream wedding. You will be amazed by the endless settings in which to take beautiful sunset photos which be treasured lifetime memories. There are many incredible private villas Avavi can offer to its clients, which are one of our most popular choices of wedding style.

Villa weddings are so popular due to the privacy offered, as only the couple and their guests are at the venue. The locations available with private villa weddings afford some of the most stunning views imaginable, and each of our wedding venues can be decorated to your personal dream wedding theme, so the possibilities are endless. Bali has everything you could dream of in a wedding – the ocean, the rice paddies, the forest. Each one romantic, beautiful and tranquil. Countless possibilities await you!

What size weddings do you cater for? Does this change for some settings?

We can cater for weddings from 2 people, all the way to 500 people. Capacity does change for some settings, but we will always make sure that any changes won't lose the theme of your wedding. After all, the wedding is all about what you desire for your dream, and we help you make it happen!

Can you also arrange honeymoons?

Yes! There are so many beautiful spots in Bali for honeymooners to choose from, making Bali an even more perfect place to get married. There is an abundance of natural beauty to enjoy in Bali, but also incredible culture and attractions to explore. Alongside the paradise that Bali offers, Avavi Bali can make special arrangements to heighten your experience, including any tours the couple may wish to experience.

What is the most romantic wedding you've arranged?

The most romantic wedding we have arranged so far was the wedding of a couple called Kenny and Sylvia. The bride was so surprised and full of emotion when the groom began playing the saxophone for her. She couldn't stop looking at her husband with tears of joy in her eyes. The wedding was so intimate and wonderful, and the setting was truly amazing.

See full details and enquire directly to Elizabeth and her team to find out more about planning your perfect wedding in Bali using Avavi Bali's Wedding Services and Experiences HERE