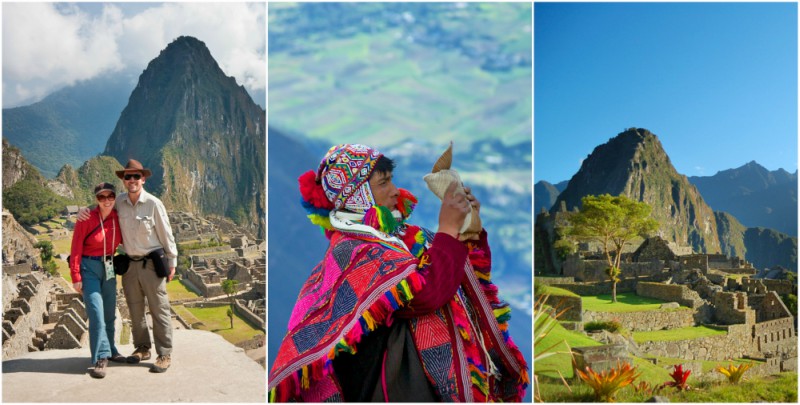 Honeymoons in Peru | 5 Reasons why Peru is an Amazing Honeymoon Destination
Peru, with its ancient cultures and traditions, and its exceptionally rich, diverse natural habitat boasting everything from lush rainforests to dry deserts and snow-topped mountain peaks, is a truly incredible and unique honeymoon destination.
Perfect for couples looking to share an adventure; a honeymoon in Peru is filled with once-in-a-lifetime romantic experiences.
Here are our top 5:
#1 WATCH THE SUNRISE OVER MACHU PICCHU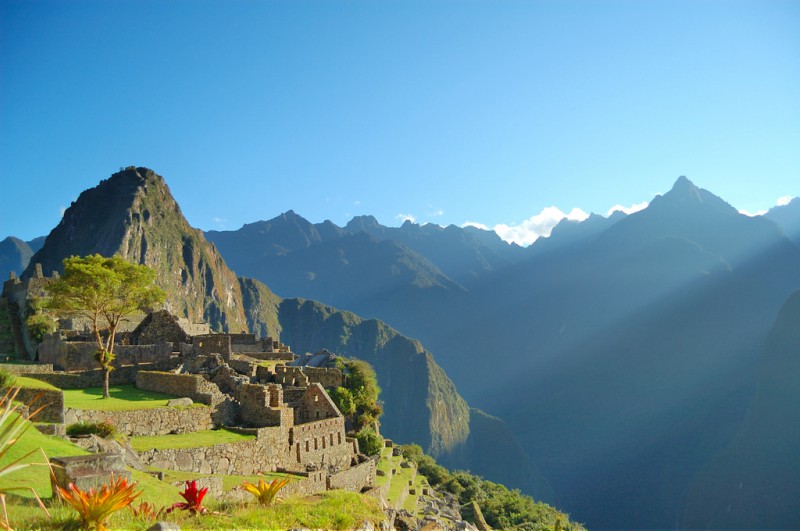 "Machu Picchu is a trip to the serenity of the soul, to the eternal fusion with the cosmos; where we feel our fragility. It is one of the greatest marvels of South America. A resting place of butterflies in the epicentre of the great circle of life. One more miracle." - Pablo Neruda, The Heights of Machu Picchu.
Only recently discovered in 1911, a visit to the mysterious ruins of the 15th century Inca citadel Machu Picchu, is often considered to be the highlight of any trip to Peru, or indeed South America. Located high up in the Andes at approximately 7000 ft above sea level, Machu Picchu offers spectacular, awe-inspiring views across the verdant Urubamba Valley and is listed as one of the New 7 Wonders of the World. As Peru's most popular tourist attraction, visitors now exceed over 1 million each year, with many reporting their experience of Macchu Picchu as simply magical and otherworldly.
For the ultimate once in a lifetime honeymoon adventure, experiences don't get much more memorable than watching the sunrise together over Machu Picchu and Guiding Peru tours include hiking into Machu Picchu through the Sun Gate where their experienced indigenous guides take pride to insure their guests are the first to arrive, prior to the crowds and other tour groups, thus insuring privacy and a perfect moment to reflect together as the sun rises over Machu Picchu.
Best time to Travel:
High Season (June – August): Dry season in the Andean highlands. Best time for clear skies and dry conditions.
Shoulder Season (September-November and March-May): Occasional rainstorms Machu Picchu and Inca Trails are less crowded, making for ideal visits with more solitude.
Low Season (December to February): Rainy season. Expect cloudy skies and persistent daily rains.
The Inca Trail is closed in February for trail maintenance and campsite clean up.
#2 EXPERIENCE A PRIVATE PERUVIAN SHAMEN SESSION TOGETHER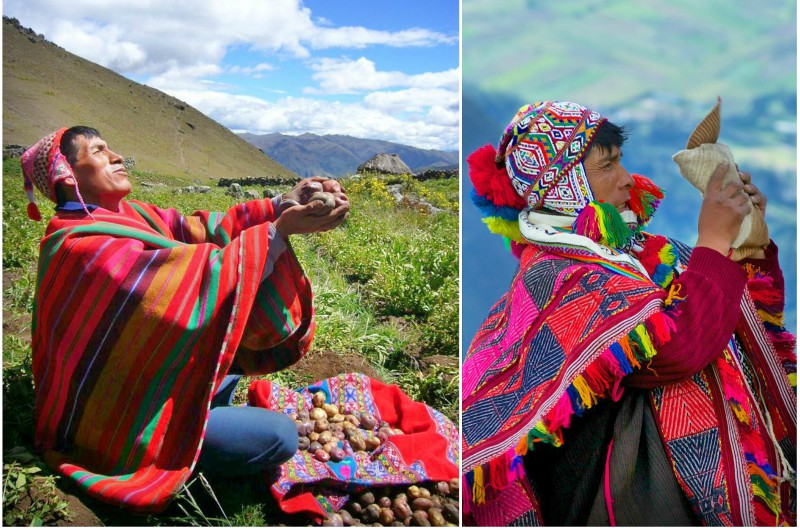 As an important and significant rite of passage, your honeymoon is not simply a hedonistic holiday (although a fabulous trip filled with romantic treats and indulgences is most certainly a big part of it) but it also a time during which couples look to celebrate and prepare for the beginning of their married lives together in a union of their minds, bodies and souls. For a meaningful and spiritual honeymoon experience in Peru couples can share a private Peruvian shaman session together and partake in an ancient ritual of healing and spiritual guidance and enlightenment.
Guiding Peru itineraries allow their guests to meet with a local Shaman for a "mountain offering". In the Andean traditions of Peru, a "Despacho" is a ceremonial offering to Pachamama and the Apus (Mountain Spirits). The purpose of the ceremonies range from peace, to an offering of thanks for a bountiful harvest, to something as personal as relief from bodily pains. The shaman gathers a variety of symbolic offerings: wine, sugar, incense, gold and silver threads, red and white flower petals, grains, seeds and more. Each item is placed on a large sheet of paper and arranged in a mandala-like shape. Prayers are blown into small bundles of leaves called kintus and added to the paper, then the bundle is tied and ceremonially burned. The participants turn their backs to the fire allowing the spirits to consume the offering in peace. The smoke takes the prayers up to the Mountain Spirits, as its energy is turned to ash for Pachamama to consume and compost, transforming into fertile ground for future prosperity.
Each private mountain session is held in a sacred space created by Guiding Peru, allowing couples to learn of the Andean mountain traditions and to release blocking energy and emotions, allowing each participant to follow their heart's desire and intention.
#3 VISIT THE INCA SPA IN CUSCO FOR A COUPLE'S MASSAGE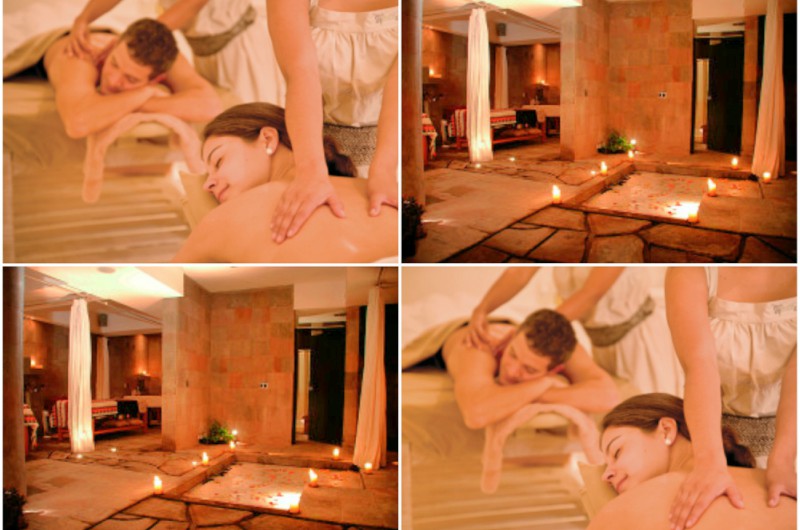 Peru is for spa lovers! If you are travelling to Peru for your honeymoon or wedding anniversary then we highly recommend you join your partner for a romantic couples massage. Let Guiding Peru book you and your partner a private couple's experience at one of the 1st class Cusco spa facilities. Their staff will help you find just the service you're looking for and work with you to schedule it into your Guiding Peru itinerary. Also, they can design a custom trip that is wellness- and spa-oriented, upon request.
Recommended Andean Spa Experiences:
Cocoa Temptation - This is a pure cocoa treatment that will scintillate the senses.
24K Highlight - This treatment maximizes glamor and sophistication in a revitalizing body therapy based on 24K gold emulsion that covers the skin with golden highlights.
Bath of Grapes - Immerse yourself in the antioxidant and anti-aging power of grapes, for skin that looks and feels luminous.
Inka Mud - Clear, stimulate, and normalize the skin's vital functions with a fine mud wrap.
#4 SHARE A ROMANTIC PICNIC LUNCH ON THE SHORES OF LAKE HUAYPO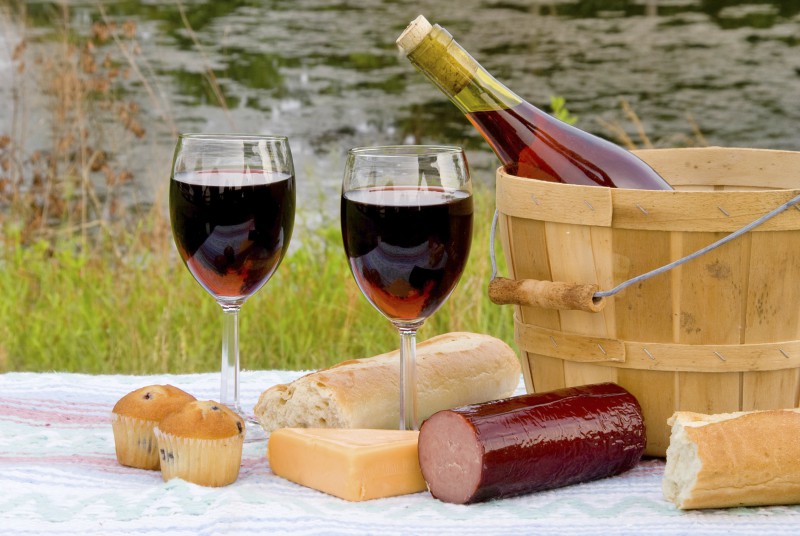 Peru has emerged as a new global culinary destination. With a fertile ecosystem, the country is constantly revising its culinary scene. For a romantic honeymoon dining experience unlike any other, complete with a dose of nature and delectable Andean cuisine, Guiding Peru can take you and your partner on a romantic luxury picnic lunch at Lake Huaypo, around 40 miles from Cusco.
Boasting private luxury tents by the lake shore, the romantic set up will impress honeymooners as much as the culinary delights and the Peruvian wines! Indulge and relax next to Huaypo Lake, after which your dedicated Guides will lead you on a scenic hike in the surrounding majestic Andes mountains.
#5 A GUIDED CONSTELLATION VIEWING OF THE PERUVIAN NIGHT SKIES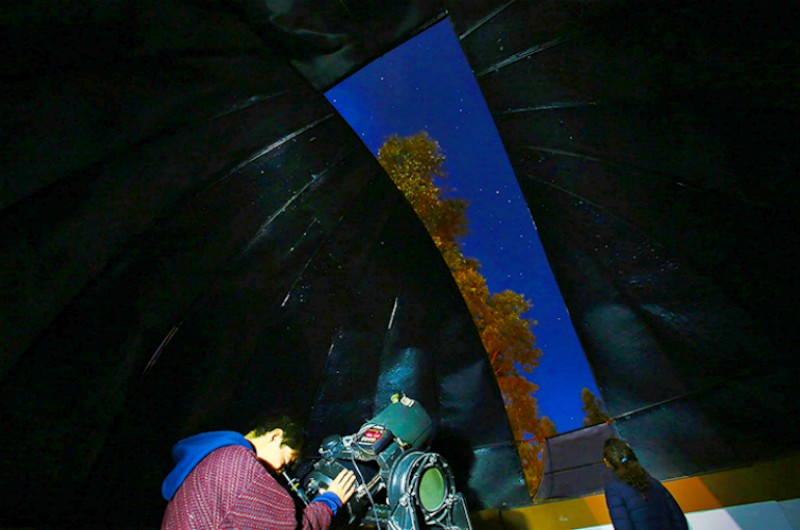 There is something deeply romantic about the night sky and nowhere more so than in Peru! For an unforgettable honeymoon experience, escape Cusco's sprawling sea of lights and head to the hills of the Sacred Valley where Guiding Peru can include in your Peru itinerary the wonderful and unforgettable experience of "stargazing" through a telescope.
Your guide will introduce you and your partner to the Incas and their use of the stars, sun and moon while observing the sky darkening and turning a beautiful purple colour inviting you to its heavens. This unique and romantic experience allows you and your partner to visit a small planetarium hidden in the hills of the Sacred Valley where the constellations of the Southern Hemisphere are on full display. Experience the best stargazing in the area while enjoying a glass of wine with your loved one and create treasured memories of your honeymoon that will last forever.
Honeymoons in Peru | Q&A with John Dzurka from Guiding Peru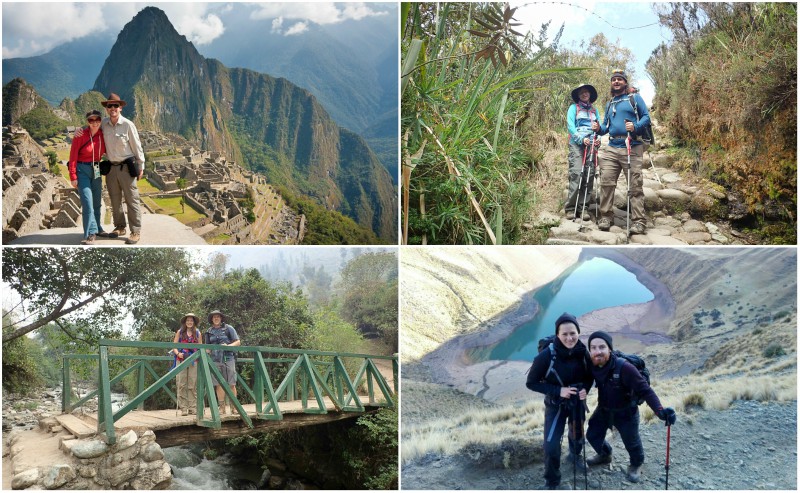 We spoke with John Dzurka from Guiding Peru to get their expert advice on some the most frequently asked questions from couples considering Peru as their chosen honeymoon destination.
Q1) Why would you recommend Peru as a honeymoon destination?
Peru is a fantastic choice for a unique honeymoon destination. For those looking for an adventure that offers a shared sense of accomplishment and the ultimate honeymoon bragging rights, Peru is perfect! From the iconic lost city of the Incas, Machu Picchu, which ranks high on everyone's bucket list, to the Rainforests of the Amazon, Peru is a culturally rewarding, safe and affordable country to visit.
Q2) What type of couples would enjoy a honeymoon in Peru?
Couples of all ages will enjoy a cultural travel experience. Guiding Peru's tours have been designed for all levels of activity and interests, from those looking for a hard-core trek to those that would prefer a more relaxed vacation while still visiting Machu Picchu and surrounding area.
Q3) Does Guiding Peru offer a special honeymoon experience?
Guiding Peru offers private tours that are customized to the preferences of the couple. Our staff specializes in insuring a memorable experience, while maintaining the privacy of the couple. Our experiences are unique and not offered by other tour companies.
Q4) How do couples book honeymoons with you and are there any travel requirements they need to be aware of?
Couples may book directly with Guiding Peru and through the Romantic Tourist website. Our reservation specialists communicate directly with each customer to insure all aspects of their honeymoon are taken care of. From the basics of airport pick-up to the special requests of champagne/flowers/chocolates upon hotel check-in. No detail is overlooked, insuring our company's commitment to the couple.
Q5) Do you offer luxury and budget options for honeymooners?
Yes. Guiding Peru offers exclusive/unique/inclusive experiences for all travel budgets. Our luxury packages feature the "Best of Peru", including 5* accommodations, private transportation, gourmet meals with included drinks. Trekking doesn't mean roughing it! For the perfect honeymoon hiking experience, our luxury trekking options include private campsites/hot showers/gourmet meals. No tour company in Peru, budget or luxury, offers more inclusions than Guiding Peru as we insure the client's experience exceeds their expectations on any budget.
Q6) Can you give an example of the most romantic trip you have organized?
Guiding Peru has fulfilled the dreams of many couples wishing for a memorable trip to Peru. As it is difficult to single out the "most romantic" trip, we can relay to our future guests that all couples will have the unique opportunity to travel to Peru with their partner, guided by Peru's most experienced and respected Indigenous guides, while enjoying solitude and privacy on an adventure of a lifetime.
See further details and some of the recommended itineraries offered by Guiding Peru LLC...Machu Picchu and beyond!