9 FAQs for Getting Married Abroad in Thailand
With its vast golden beaches, outstanding hospitality and cuisine of the highest order there's little surprise that Thailand is also one of the world's most popular destinations to get married abroad.
Find out here the answers to the key questions you might have about destination weddings in Thailand...
What makes Thailand so great for destination weddings?
From a romantic viewpoint, it's easy to see why more than a million UK travellers head to this much loved south-east Asian country each year. And the vast amount of choice on offer in Thailand makes it one of the world's favourite destinations for weddings, not least because it offers so much for so many.
Thai resorts such as those in Bangkok, Chiang Mai, Phuket and Koh Samui have for many years been hosting weddings of all sizes, settings and themes. And today, many hotels in these and other areas can provide expertly executed family-friendly celebrations for multi-generational groups, with plenty of activities and services to accommodate guests of all ages and persuasions.
Marriage licences can be obtained in the country and your marriage is legal and recognised worldwide (as long as you follow the set requirements of both the Thai government and those of your country, of course!)
Where are the most popular destinations in Thailand to get married?
Chiang Mai and neighbouring northern provinces are a nature lover's paradise. In one day alone you can visit a local elephant sanctuary, take a trek in lush mountainous forestry and learn to cook traditional Thai cuisine... Heading south you could spend a few heady days in the pulsating capital of Bangkok, where life buzzes around the Chao Phraya River and its tapestry of canals... Then, there's the crystal-clear sea and fine sands that typify southern Thailand, a region that's world-famous for its historic temples, full moon parties, water sports, phenomenal beaches, and lots more.


Which type of wedding ceremony should we choose?
Among the most popular weddings in Thailand are traditional Buddhist ceremonies, which tend to be held in the morning and are led by monks from a local temple. These usually include the main elements of a Buddhist marriage, featuring alms-giving and a water-pouring ceremony.
But the kind of ceremony you go for is entirely up to you. Humanist ceremonies with a Thai or foreign celebrant is another option you might want to explore. And western religious weddings can also be arranged.
How long should we arrive before our wedding day?
It's sensible to allow a week or so as the bare minimum amount of time. Assuming you're a non-resident, it can take between four and five working days in Bangkok to register your marriage. That's because you'll need to have been a resident in Thailand for at least three days before you marry, and you must allow time for the ​paperwork to be processed in the capital city.
Which are the best places to get married in Thailand?
Enchanting Thailand can truly be a magical place for a wedding abroad.
For a glimpse of why this part of the world is so special, we have hand-picked 9 destinations that offer a perfect setting for romantic celebrations.
#1 Le Meridien Phuket Beach Resort - Phuket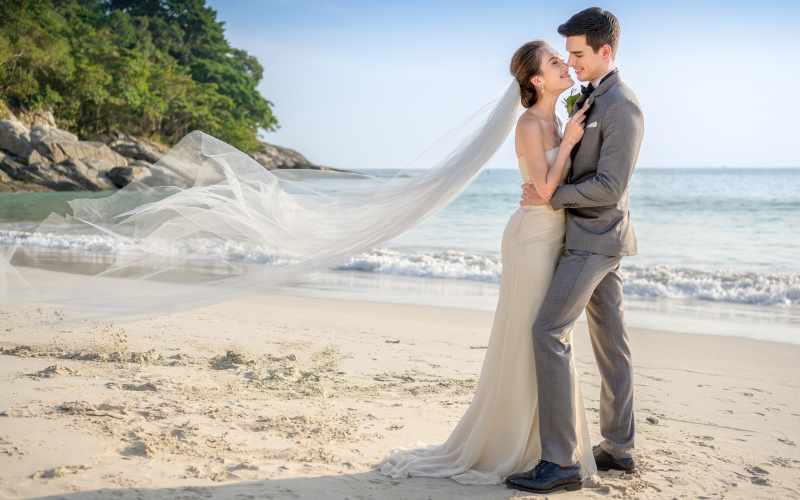 The mountainous island of Phuket is surrounded by the crystal clear waters of the Andaman Sea and home to some of Thailand's most popular beaches - offering the perfect mix of romance and seclusion.
For an unforgettable wedding in Phuket, Le Meridien offers couples a private seaside sanctuary with incomparable ocean views and lashings of 5-star luxury. From the incredible sunsets, to panoramic ocean views and romantic dinners on the beach under the clear night sky. Le Meridien boasts a total of 10 on-site restaurants including award-winning Japanese cuisines and wood-fired pizzas. Couples can get married by the beach, in a gorgeous function room in the hotel, or even on a cruise. Ceremonies can be held for up to 300 and receptions for 980.
And your wedding party will have plenty to do along the coasts, as there are a range of fun water based activities including diving, snorkelling and sailing. Meanwhile Bangla Road and the Phuket Big Buddah are just two of the hot things to see on Thailand's largest island.
#2 Vana Belle, a Luxury Collection Resort - Koh Samui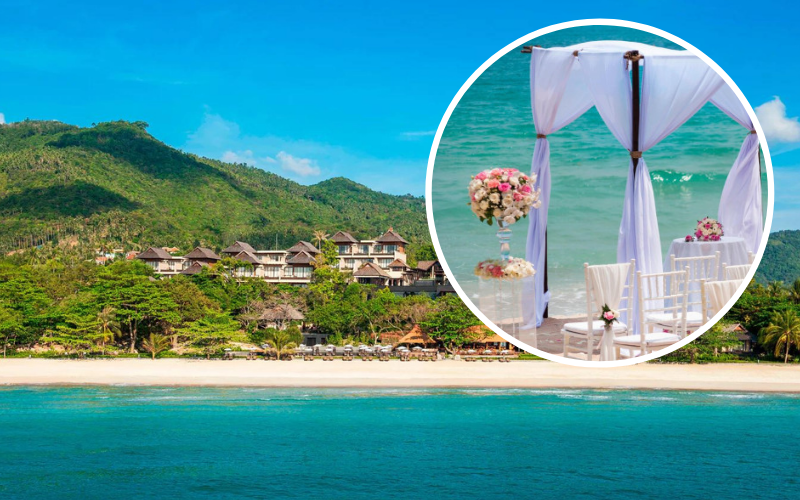 Thailand's second largest island boasts a rich mix of scenery – its steep rainforests teem with wildlife, while palm-lined beaches compete with a string of luxury resorts and spas. All of which make this Thai island one of the world's most popular and romantic settings for a destination wedding and honeymoon.
Vana Belle is the ultimate wedding destination for a sun-kissed ceremony on the soft white sands of Chaweng Noi Beach. A dedicated wedding planner and comprehensive wedding package is available to organise your special day.
Plus their Ocean View Pool Suite is the perfect place to celebrate your honeymoon!
#3 Coastal Escape Natai Villas - Phang Nga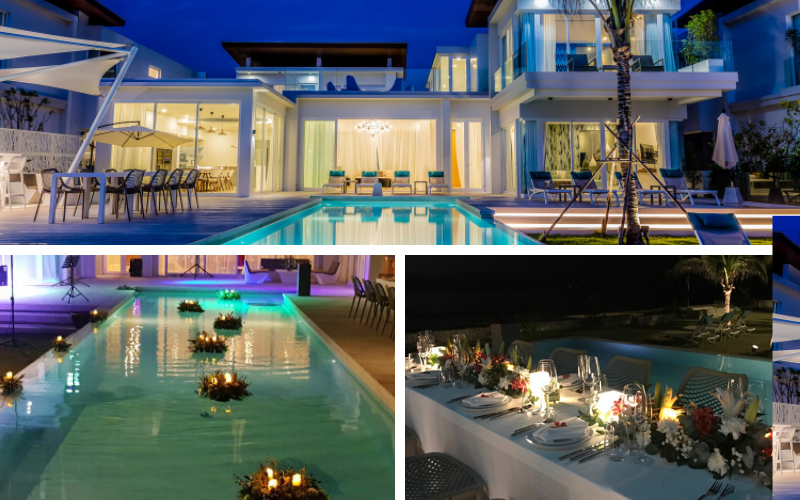 Set on Natai Beach, Coastal Escape Natai Villas has a lovely contemporary feel and offer luxury oceanfront villa accommodation with a large pool, private ocean bar, private spa and a totally private beach area.
Making this a truly fabulous wedding venue!
Guests will appreciate lots of options here including a hot tub, water sports facilities a car rental service. Have a look at their Western Wedding Package, which is tailored for 40 guests and you'll have the services of a personal wedding planner as part of this attractive deal.
#4 Maikhao Dream Hotels - Phuket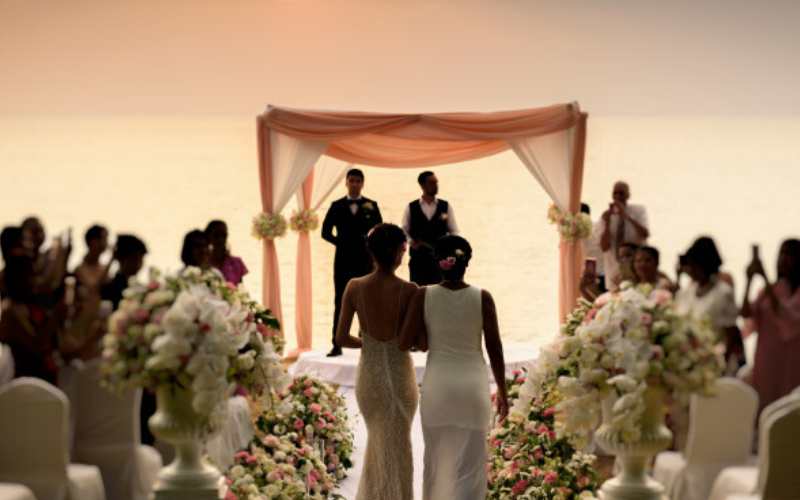 Situated in the north of the island, offering both poolside and beach weddings, celebrations at this luxury villa resort can cater for up to 50 guests. The lavish and spacious units at Maikhao Dream Hotels would be ideally suited to groups and families and lucky guests here can enjoy an outdoor pavilion, a private pool and a jet pool. Then there's the Dream Spa, which features a wide choice of spa treatments, sauna and steam rooms.
P.s. The pristine Maikhao beach is (pretty much) all yours at this luxury hideaway.
#5 Ban Sabai Village Boutique Resort & Spa - Chiang Mai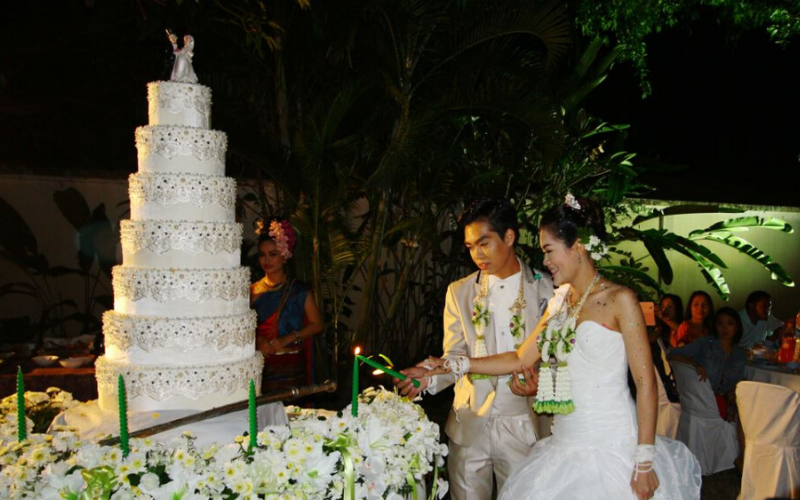 Set in the rolling foothills of the Himalayas, Ban Sabai Village Boutique Resort & Spa is a wonderful and atmospheric location in northern Thailand. Weddings here are held in a cozy tropical garden for an intimate celebration with plenty of Thai magic.
And there's so much to do in and around the hotel: from meditation sessions held in the middle of a lotus pond, to Thai cooking classes and much else, you can be assured you and your guests will never be bored! The Wild Orchid Restaurant serves up delicious Asian and international dishes each day. Ask about setting up a private dinner in the garden pavilion for your wedding guests.
#6 Paradise Beach Resort Samui - Koh Samui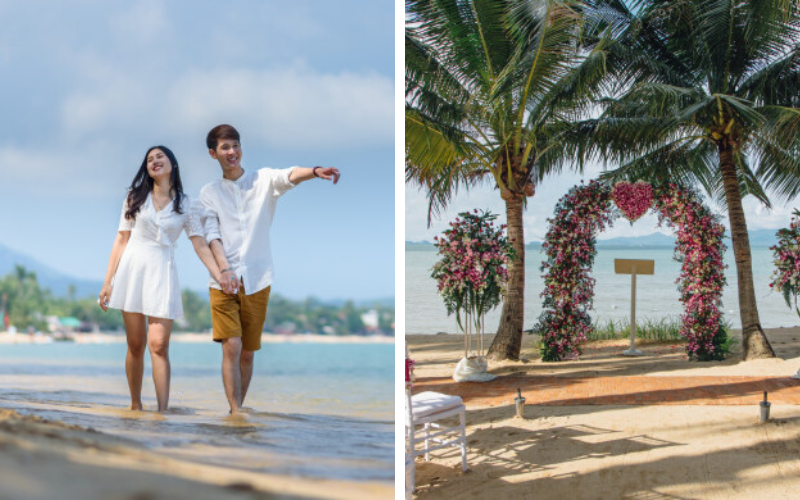 Set in lush tropical gardens this fabulous setting right next to Koh Samui's Maenam Beach is perfect for a beachfront wedding. Wedding ceremonies for up to 50 can be hosted at Paradise Beach, while twice as many can be part of a reception.

And there is lots to see and do here! Guests are aided by free round-trip shuttle services to and from Fisherman's Village and Chaweng city centre. Or you could venture out from Thailand's second largest island to see the nearby Big Buddha statue, a colossal attraction on the tiny nearby island of Ko Phan.
#7 Novotel Phuket Resort - Phuket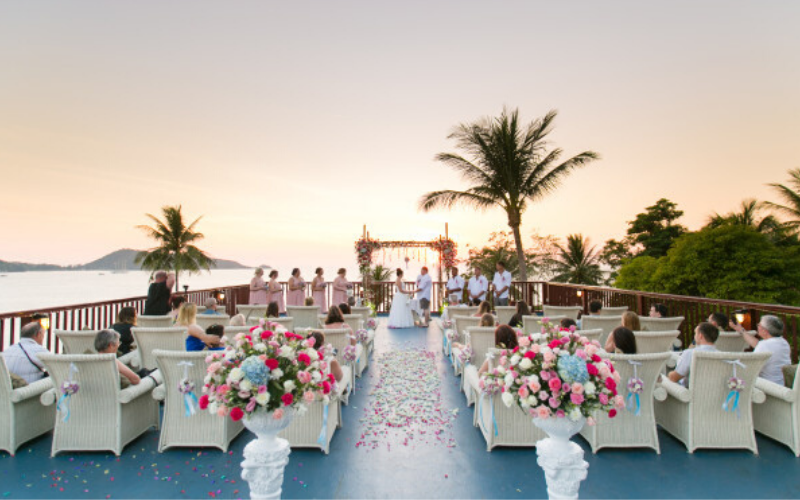 Want to get married on a rooftop overlooking magnificent views of Patong Beach and the Andaman Sea? Then choose The Novotel Phuket Resort which offers blissful couples the chance to experience a traditional Thai ceremony or a Western wedding in front of hundreds of guests.

Your guests will truly appreciate a free shuttle to Patong Beach, something which opens up lots of wonderful restaurants and shopping opportunities. What's more, the bride and groom can make the most of a complimentary couples' spa session during their stay.
#8 The Royal Phuket City - Phuket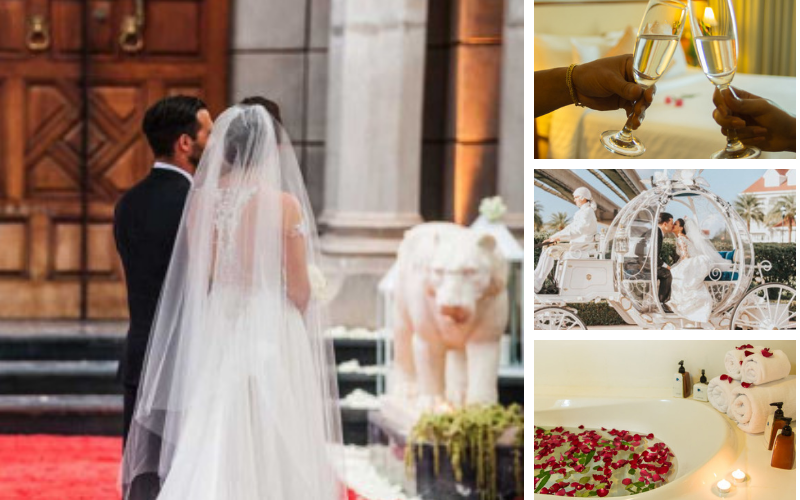 Situated in the heart of Phuket's pleasure-seeking capital, The Royal Phuket City has a wealth of attractions on its doorstep. And planning your big day here shouldn't be hard as you'll have the services of a dedicated wedding planner and ceremonies can host many hundreds of guests.
For those planning big celebrations you'll be happy to know your guests will be well entertained with karaoke never far away in Phuket Town, two popular weekly markets and a tonne of historical sites to explore. Closer to home there's the Red Onion Coffee Shop, which is perched on the 19th floor and serves a sumptuous breakfast buffet with beautiful coastline views.
#9 The Dhara Dhevi Chiang Mai - Chiang Mai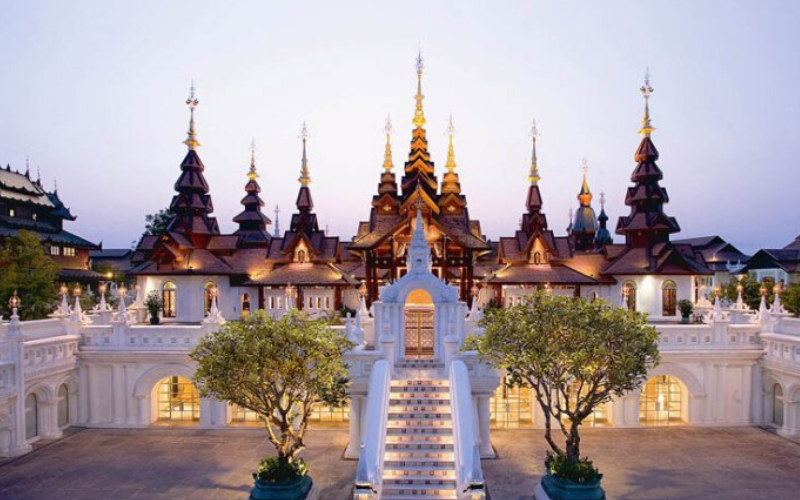 With its perfectly-manicured grounds and luxurious suites, The Dhara Dhevi Chiang Mai mixes colonial and north Thai decor to great effect and this classy resort has a total of nine dining choices, a spa and two outdoor pools.
Host up to 400 guests, the resort's serene natural landscapes and authentic Lanna-style buildings create faultless romantic settings in which to get married. And if you think your wedding guests would appreciate a flavour of home, then you can order up some homemade ice cream or a gourmet teas at the Victorian-style Dhara Dhevi Cake Shop.
What's the best time of year to get married in Thailand?
Thailand's wet season, which can bring flooding and fierce storms, varies from region to region. In north and central Thailand, the best months to steer clear of the worst downpours are between November and April. However, the southern peninsula of Thailand experiences a lot of wet weather from November to March, so be sure to check with care before you make a booking.
How can we make sure our marriage is legally recognised?
Your marriage will only be recognised under your country's law if it's valid under Thai law.
Start by looking at any requirements listed in your country's embassy (for UK citizens, this would be via an appointment at the British Embassy in Bangkok). You'll will need to swear your affirmation by completing a form called an Affidavit of Freedom to Marry. This affirmation document can be downloaded before your visit, but it must be signed in-person during your appointment. As a minimum requirement, you will need a valid passport as proof of identity – along with any evidence that any previous marriages you've had have been terminated.
How much does it cost to get married in Thailand?
The Affidavit of Freedom to Marry certificate will cost about £100 for a couple. Just be aware that you may need to pay a small fee to get your Thai marriage certificate translated back into English.
Where could we extend our wedding to include a honeymoon?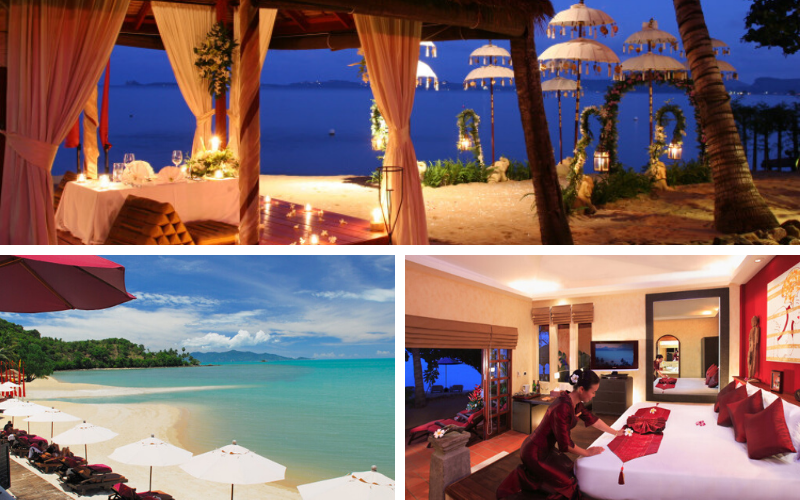 You're certainly not shy of Honeymoon options in Thailand. Zazen Boutique Resort & Spa in Koh Samui as pictured above offers a truly magical setting for lovers. In part that's because of the chance to have a once-in-a-lifetime first honeymoon dinner at the Beach Sala table, which offers newlyweds a walkway decked out with tropical flowers and fire torches. And if that wasn't special enough, you'll have the services of your own butler to provide food and wine recommendations at this dream beachside restaurant.
If you're feeling a little more adventurous, here are three more unique Thai locations to look into:
Hua Hin - This one-time fishing village is now a popular seaside resort on the Gulf of Thailand, in the southern province of Prachuap Khiri Khan. Hua Hin Beach is a popular spot for kitesurfing and other water sports. There's also lively markets, golf courses, water parks and classy international cuisine all within close reach.
Khao Yai - The technicolour Khao Yai National Park is perhaps best known for featuring in scenes from Danny Boyle's classic film The Beach. These charming, forest-filled lands are also home to diverse wildlife such as bears, elephants and gibbins.
Kanchanaburi - A west Thai town that's known for its Death Railway, which was built during World War II. But there's much more than history to soak up here nowadays. The Tiger Temple and the Erawan National Park are both within easy range for visitors. Take a leisurely bamboo raft along the River Kwae, visit the Khmer ruins, or spend a day shopping at the gemstone village.
Further reading...
If these have tickled your fancy then check out our all our Wedding Venues & Packages worldwide along with some helpful tips and FAQs for couples booking their wedding.
To help you find YOUR perfect wedding experience you can choose to search by Wedding Venues / Hotels, Wedding Packages or Wedding Specialists including wedding planners. event services, specialist venues and bespoke wedding experiences and experts.
Then simply use the filters to narrow down the choices by selecting: the type of wedding services you're looking for such as a wedding blessing or a legal ceremony; the setting or venue style; included romantic experiences and much, much more (even if you've no idea of the destination you're looking for).
P.s. We also do Honeymoons - including honeymoon hotels / accommodation, honeymoon packages and honeymoon specialists.