Enchanting Winter Wedding Venues in UK & Ireland
When the weather starts to turn and the nights draw in, Autumn sees the trees lose their luscious green leaves for the rusty copper-coloured hues that decorate the streets, and many grieve the goodbye to the Great British Summertime.
Those months see the peak of Wedding Season, and the summer can whir past in a beautiful haze of invitations and wedding outfits and bridesmaid dresses, champagne receptions on the lawn and marquees for dancing until dawn, but wedding season isn't just for the sun-filled days.
The last few years have seen a steady increase in couples choosing to tie the knot in a colder climate.
It's time to say hello to the Winter Wedding
Snowy scenes create the most enchanting backdrop for your love story, and the British Isles look breathtakingly beautiful in the winter, whether it's one of those frosty days of crisp, cold air and bright blue skies, or a day of storybook charm, where snowflakes have danced elegantly down from above, covering the land in a glittering blanket of snow.
Many brides opt for a white fur coat or shrug in the picturesque park, which not only ensures you keep wrapped up and warm, but will add a touch of vintage glamour and sophistication to the photographs of your big day.
Winter weddings are enchanting affairs. Swap your champagne for mulled wine... your open-toed sandals for glittering heels... balmy summer evenings for roaring log fires and the sultry glow of candlelight...
If you're ready to wrap up for snowflakes and sparkle, with a Winter Wedding in the UK & Ireland, here's 12 of our favourite wedding venues to choose from.
#1 Stapleford Park - Leicestershire, UK
We love winter weddings at Stapleford Park because... There's a secret church for wedding blessings on the estate just a short, walk from the main house
Nestled in the heart of the English countryside near Melton Mowbray, Leicestershire, winter weddings at Stapleford Park Country House Hotel are magical. Perfect for intimate celebrations, you'll share stolen moments in the eaves of this impressive Tudor residence and get married in a winter wonderland of glittering frosty lawns and spellbinding log fires.
#3 Luttrellstown Castle - Dublin, Ireland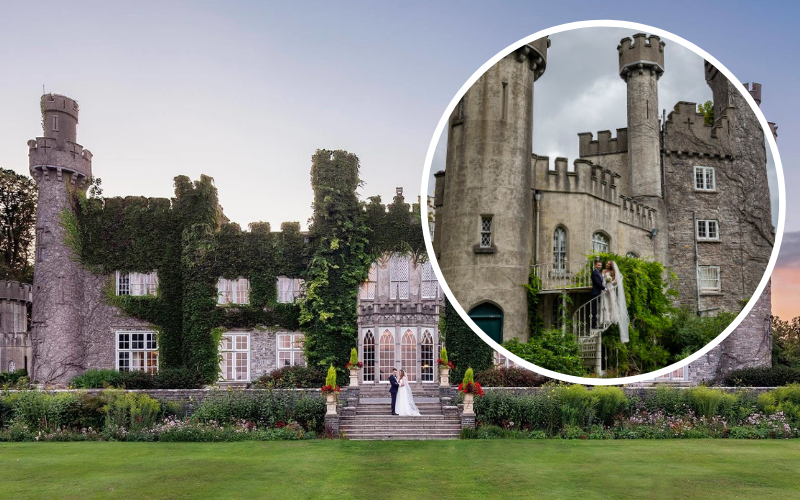 We love winter weddings at Luttrellstown because... You can treat your guests to the perfect winter warmer with a (centuries-old) traditional Luttrellstown Castle afternoon tea including immaculately cut sandwiches, piping-hot tea and decadent hand-made deserts.
Situated in the heart of a sprawling 567-acre private estate, Luttrellstown is a romantic 15th-century castle available for fairy-tale winter weddings on an exclusive hire basis. Choose from two incredible locations for your special day – the world-famous 15th century castle OR the brand-new Swiss Alpine-inspired, state-of-the-art clubhouse.
#3 Leeming House - Cumbria, UK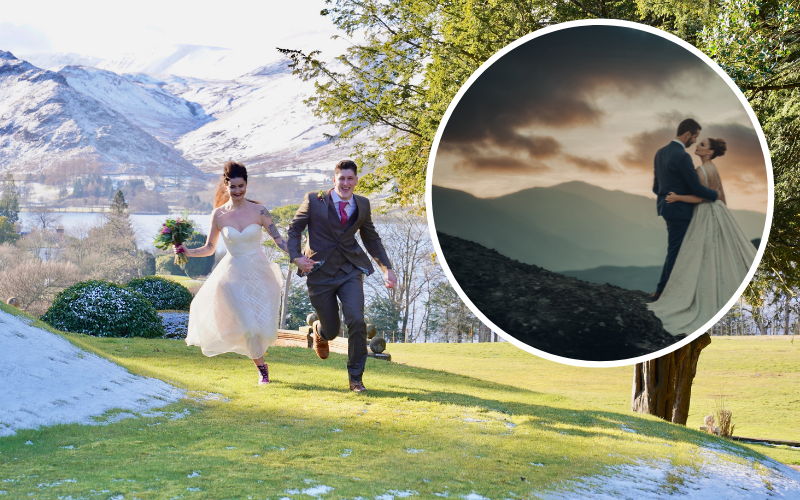 We love winter weddings at Leeming House because... The snow-kissed mountains and sweeping lake views are simply SPECTACULAR!
Celebrate your wedding at one of the most romantic locations in the North of England. Inside this gorgeous wedding venue you'll find a 200 year old country house providing red carpet weddings and a selection of expertly crafted wedding packages. Combine this mesmerizing setting with inspired menus and attentive service and you're guaranteed the winter wedding of your wildest dreams.
#4 Barbican Centre - London, UK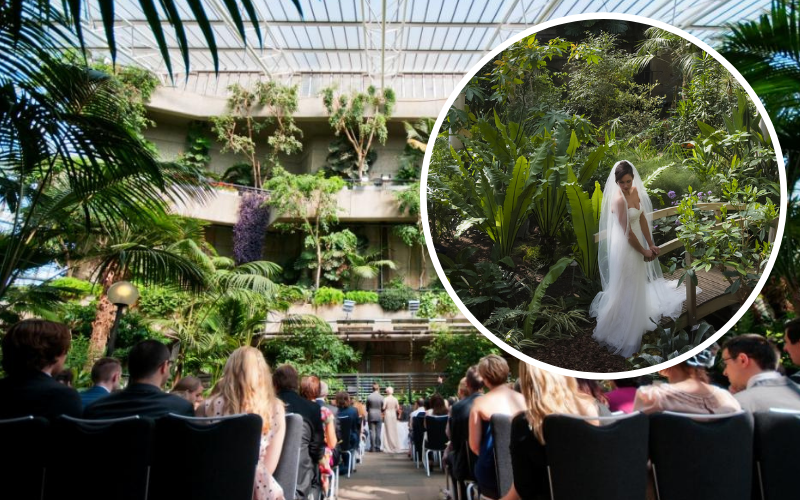 We love winter weddings at the Barbican because... You can have an exotic rainforest wedding without leaving London
Get married in one of London's most iconic buildings in the heart of the City - the Barbican. And for a winter wedding with a difference the Barbican Conservatory (famous for its cascading plants, a high glass roof and tranquil fish pools) is an unexpected tropical oasis that will both thrill and inspire your guests on your big day.
#5 Lusty Glaze - Cornwall, UK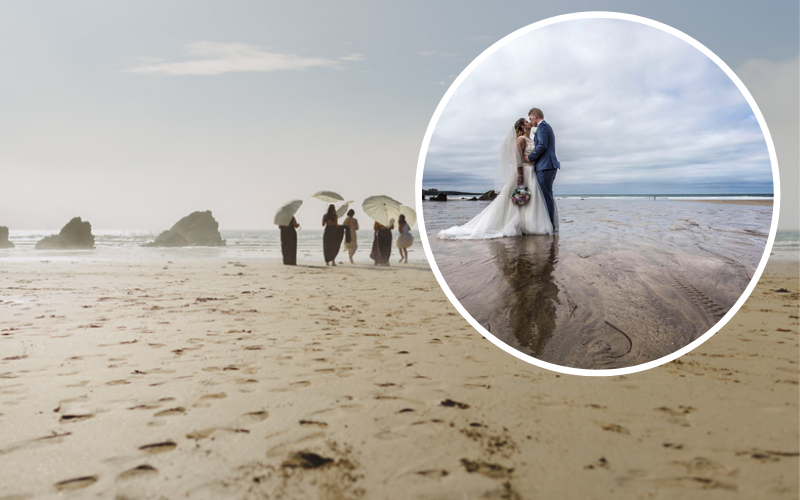 We love winter weddings at Lusty glaze because... Lusty Glaze is the only wedding venue in Cornwall allowing you to hire the entire beach for only you and your guests to enjoy!
What could be more romantic then a windswept winter wedding on the beach? Roaring wood burners… twinkling fairy lights… and the dramatic backdrop of the waves crashing on the sand set the scene. And you're encouraged to kick off your shoes, let down your hair and enjoy a day that's completely relaxed, informal, private and personal to you.
#6 Muthu Clumber Park Hotel & Spa - Nottinghamshire, UK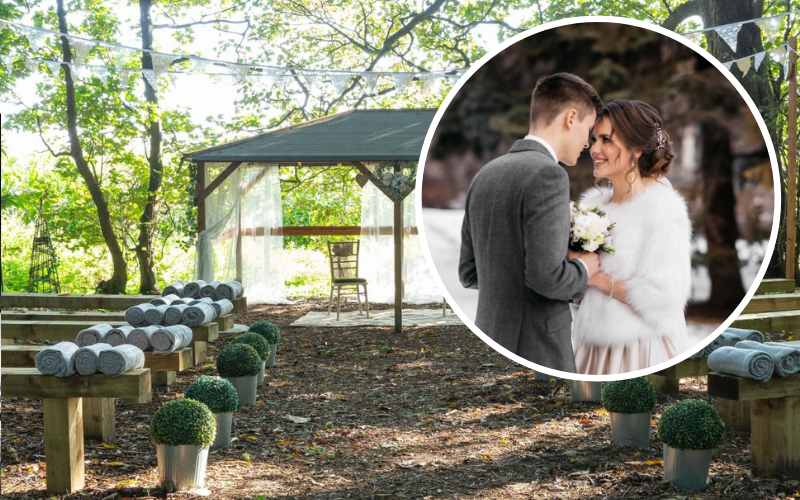 We love winter weddings at Muthu Clumber because... You can get married in Sherwood Forest - the legendary home of Robin Hood (and it's super accessible for your guests to get to).
Located in a natural woodland on the edge of Sherwood Forest, this Nottinghamshire hotel is a haven of unrivalled tranquillity and rural beauty. Offering bespoke wedding packages including a licence to host both civil marriages and civil partnerships, we especially love their intimate woodland celebrations.
#7 Searcy's at the Gherkin - London, UK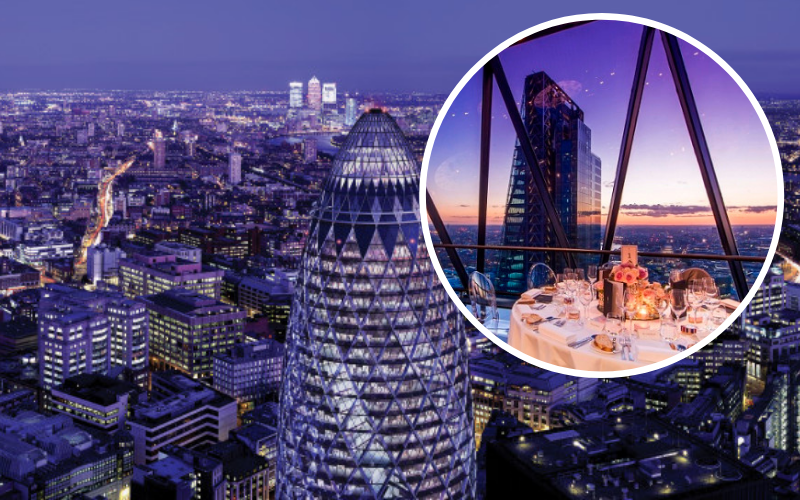 We love winters weddings at The Gherkin because... You can get married in the clouds with stunningly romantic 360° views, including Tower Bridge, St Paul's Cathedral, Big Ben, and Buckingham Palace.
Feel on top of the world with a beautiful winter wedding in the Gherkin. Towering above the heart of the City, you can exclusively hire the spaces for private parties, weddings and events until the early hours. Or for a more intimate romantic experience, get cosy on cloud nine with a celebration in one of their private dining rooms, 38 floors up the sky.
#8 Wivenhoe House - Essex, UK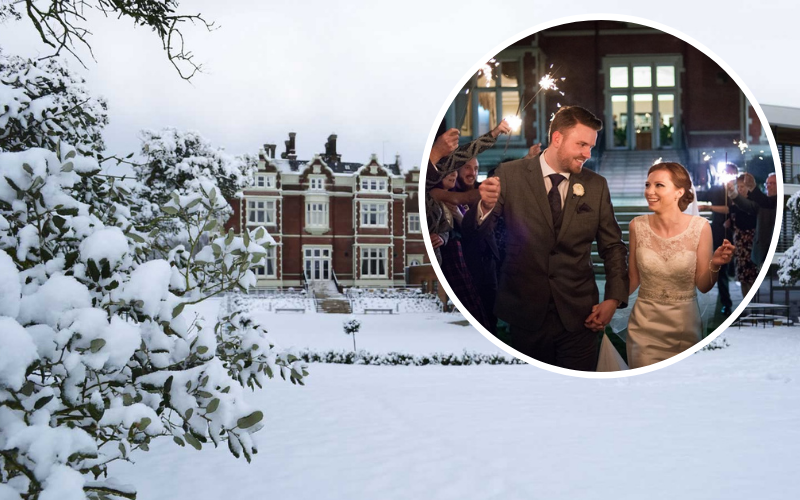 We love winter weddings at Wivenhoe House because... you can choose from a tailored winter wedding package or a bespoke wedding day. Plus it's super-pretty in the snow.
Surrounded by glorious parkland, yet only minutes from Colchester, Britain's oldest recorded town, Wivenhoe House is a beautiful four-star luxury hotel, combining the romance and history of an eighteenth-century Grade II listed house with all the comforts of contemporary living.
#9 Montague at the Gardens - London, UK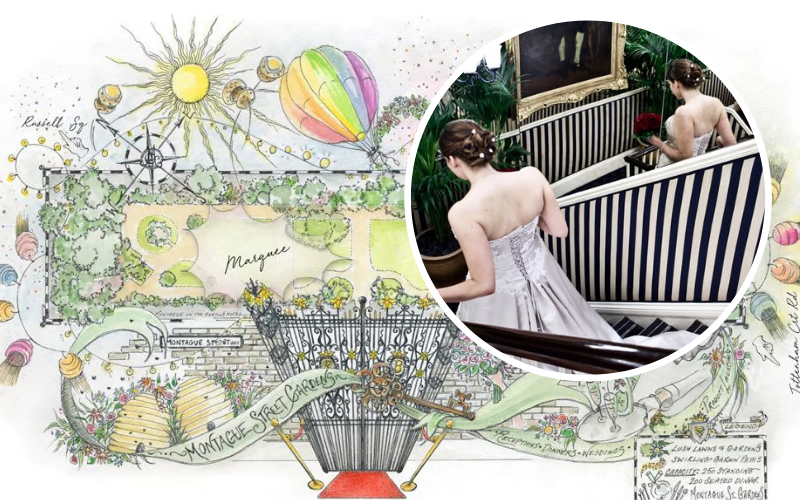 We love winter weddings at Montague at the Gardens because... You can have a secret garden winter wedding in the heart of London.
Hidden behind imposing black and gold, crested gates, you'll be led by candlelight to a secret garden oasis available exclusively for private hire weddings and celebrations. The gardens at the Montague are available for hire throughout the year and hires can be taken on any day of the week. Parties can continue until 10.30pm within the gardens.
#10 K Club - County Kildaire, Ireland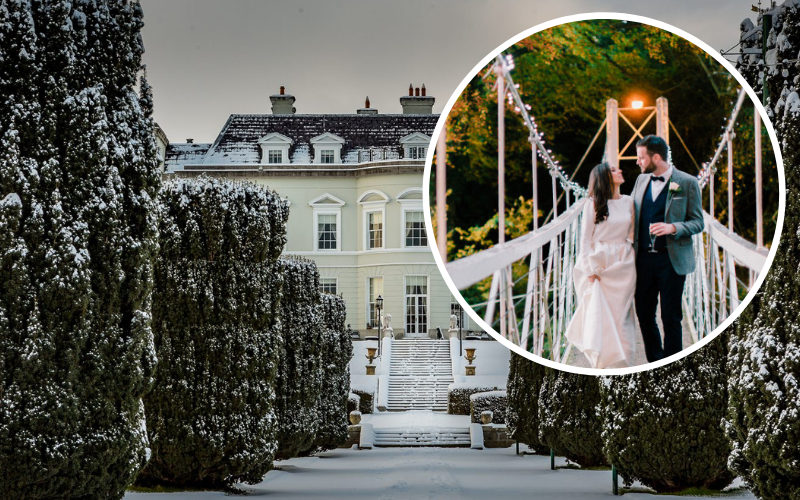 We love winter weddings at The K Club because... They have a 'One Wedding a Day Policy', making sure your wedding is the once in a lifetime event you dreamed of.
The K Club Hotel & Resort in Kildare is one of Ireland's most famous wedding venues, and their first ever AA 5 Red Star Hotel. Located only 30 minutes from Dublin in the beautiful County of Kildare where the River Liffey meanders through the soft green countryside, winter weddings here are plush celebrations of breath-taking luxury and romance.
#11 The Milestone Hotel & Residences - London, UK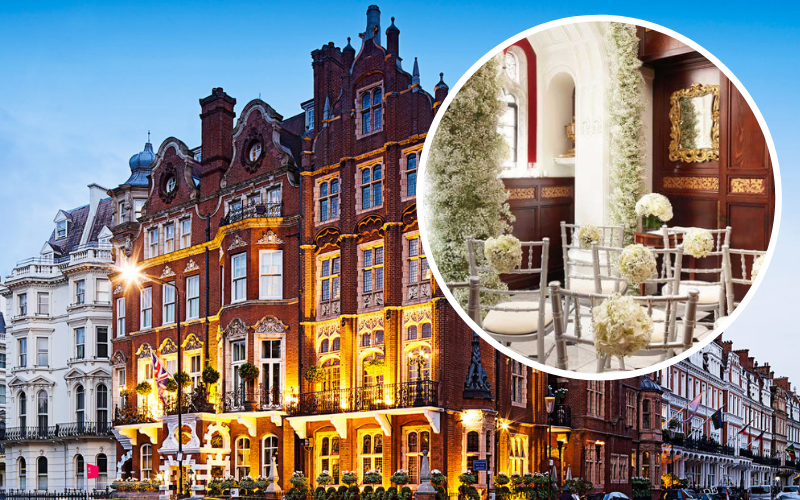 We love winter weddings at the Milestone Hotel because... For a winter wedding night to remember their discreetly hospitable staff will take care of everything from Romantic Turndowns to a decadent midnight feast for two.
It's hard to imagine a more romantic city than London in winter. And opposite Kensington Palace and Gardens, (home to Prince William and The Duchess of Cambridge), Milestone hotel has expertly catered to romantic celebrations for many years. The Milestone Hotel is licenced to hold intimate weddings in the Oratory, the original chapel of the building, and with an events coordinator at your beck and call, the day you celebrate your love here is sure to have the beautifully ambient atmosphere you've always dreamt of.
#12 HMS Wellington - London, UK
We love winter wedding weddings at HQS Wellington because... You can head to the quarterdeck for unforgettable wedding photos, where captivating views of London's most iconic landmarks are set against the River Thames.
Embark the magnificent HQS Wellington for an utterly spectacular wedding venue! After serving bravely at sea in the Second World War, HQS Wellington was transformed into a romantic venue for weddings, and today sits proudly on the Thames in central London. Boasting stunning city and river views, as well as sumptuous and historic interiors, HQS Wellington is a unique and unforgettable backdrop for your big day.
To find out more about the amazing wedding venues, get in touch with one of our expert Romantic Consultants at The Romantic Tourist, we'll be more than happy to help you find a deal that suits you.