26 Best Adventure Honeymoon Destinations ( A-Z Adventure Honeymoon Ideas)
Are you known as the 'Adventurous Couple' amongst your friends?

Intrepid... Brave... Always up for the next big thing... And hungry for new experiences?
Adventurer Couples like an exhilarating ride!

So, here's a few ideas to help you FIND YOUR DREAM HONEYMOON if you're a couple who like to get your hearts racing...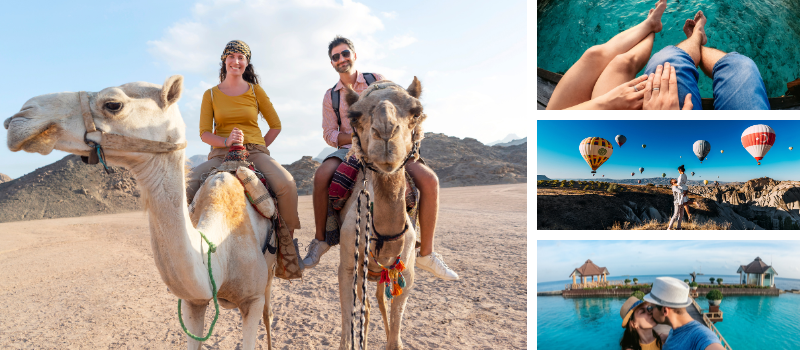 #1 Beachside Safari Camp in Australia
The beachside safari camp of Sal Salis Ningaloo Reef Safari Camp, in Western Australia, is a Dark Sky area meaning you could enjoy your first blissful days as a wedded couple with extraordinary views of the Milky Way. That's all after a spot of snorkelling by the pristine beach of Turquoise Bay, completed by gorgeous soft white sand and the clearest of water. You'll find plenty of sunshine all year round at this vast and romantic land, which has no fewer than 10,000 beaches – a world record.
#2 Caribbean Adventures in Belize


Zip line through the teeming Central American jungle. Explore the Mayan underworld in an archaeological tour. Then after an action-packed day, retire to one of the countless shorelines that look out to the Caribbean Sea and an amazing Barrier Reef. Belize is a truly special honeymoon destination for the daring. And the luxurious Sirenian Bay Resort makes the perfect base for your exploration including direct access to their expert honeymoon team who are ready to create your dream honeymoon itinerary.
#3 Eco-Conscious Escapades in Costa Rica
Looking for the ultimate honeymoon adventure? Look no further than Costa Rica! With stunning coastlines, lush jungles, and amazing wildlife, it's the perfect destination for thrill-seeking couples. And if you want a truly eco-conscious, luxurious experience, you won't find anything better than Capitán Suizo. This amazing Four Star Beachfront Boutique Hotel (officially rated by the Costa Rican Tourism Board) boasts 35 units surrounded by native trees and beautiful organic gardens teeming with all kinds of wildlife. You'll never forget your amazing stay at Capitán Suizo – it's the honeymoon of your dreams come true!
#4 An Adventure Awaits: Honeymoon in the Dominican Republic
Thanks to its tropical climate, this northern Caribbean island enjoys an average sea temperature of around 27 degrees - in December! Honeymooners with activity on their minds may wish to look for a 'safari adventure' tour that stops at local coffee or cacao farms. Meanwhile you can take in wildlife like iguanas, turtles and donkeys before finishing a busy days with a sport of boogie boarding on a local beach.
#5 Get lost in Nicaragua's Emerald Coast


Escape to the heavenly paradise of Rancho Santana on Nicaragua's breath-taking Emerald Coast. Indulge in pure romance as you bask in star-lit alfresco dinners serenaded by live acoustic guitar. Take a romantic horseback ride along the pristine beach at sunset. Unwind and connect with your partner during rejuvenating couple's spa experiences and private yoga sessions. Rancho Santana is your ultimate destination for the perfect romantic getaway.

#6 Unforgettable Honeymoon in Finland
Embark on
an unforgettable adventure honeymoon in Finland at the mesmerizing Kakslauttanen Arctic Resort
. Nestled amidst the enchanting landscapes of Finnish Lapland, this resort is a haven of breathtaking beauty. From its idyllic forests to the nearby Urho Kekkonen National Park, every season offers a stunning display of nature's wonders. And if you've ever dreamt of witnessing the magic of the Northern Lights, Kakslauttanen is the perfect place to make that dream a reality. Prepare to be captivated by the Arctic wonderland that awaits you.
#7 Honeymoon in Ghana: Adventure, Culture & Tropical Paradise
A trip to the capital of Accra, in this West African Republic, would make for a unique city break for honeymooners. The lovely beaches around the city draw ever-increasing numbers, not least at the weekly beach party. Dance the night away with your lover, amid teeming street art, live Reggae music and a terrific string of bars.
#8 Feel the Rhythm of Romance in Haiti
Offering hikes and cultural tours to places such as Parc National la Visite and Port-Au-Prince, this Caribbean island nation is growing in popularity with travellers of all types. It's also ideally located for an onward trip to Cuba, Jamaica or the Dominican Republic among others.
#9 Dare to be Romantic in India


Long regarded as a country full of romantic wonder, adventurous couples will love a trip to India. And we think a train journey across the sub-continent is ultimate luxury adventure honeymoon. Book with Journeys Worldwide for the 'The Deccan Odyssey', 'The Maharajas' Express', 'The Palace on Wheels', or 'The Golden Chariot'. Prepare to be enchanted and pampered on your romantic escapade!
#10 Love, Adventure, and Bliss: Discover the perfect honeymoon in Jamaica!
Boasting top notch music, food and sports cultures are just a few reasons why honeymooners love the buzz and adventure offered by Jamaica. Doctor's Cave Beach Club in Montego Bay should be among your bucket list.

#11 Embark on a Wild Honeymoon in Kenya
Embark on
an incredible adventure honeymoon in Kenya
! Discover the beauty of this captivating destination while creating lifelong memories together. From thrilling safaris and stunning landscapes to luxurious accommodations and unique cultural experiences, Kenya offers the perfect blend of romance and excitement. Immerse yourselves in the wild wonders of Africa, explore extraordinary wildlife, and indulge in the warm hospitality of this awe-inspiring country. Your dream honeymoon awaits in Kenya – get ready for the adventure of a lifetime!
#12 Last call for Lao adventure!
It might be known as more of a backpackers' favourite, but there's no reason that honeymoon visitors of a more adventurous bent shouldn't take part in an 'unexplored' tour from Vientiane to Luang Prabang; or perhaps a jungle trek.
#13 Dare to be different: Tioman Island Honeymoon in Malaysia


Embark on a mesmerizing honeymoon adventure on Malaysia's Tioman Island, where the stunning Japamala Resort awaits. Indulge in the ultimate relaxation as you soak up the sun on pristine white sands and immerse yourself in the crystal clear waters. Unleash your inner explorer and choose from a variety of thrilling activities, whether it's immersing yourself in the lush jungle or embarking on a captivating sea voyage to witness the wonders of marine life. And don't forget to dive into the vibrant world of the island's wildlife. Marvel at breath-taking waterfalls, encounter extraordinary sea creatures, and encounter unique jungle inhabitants. Tioman Island is brimming with countless treasures waiting to be discovered.
#14 Light up your Adventure with the Northern Lights!
Nothing is quite as romantic as watching the mesmerizing colours of the Northern Lights from your honeymoon getaway. Imagine standing beneath the star-filled night sky, surrounded by natural beauty and plenty of adventure. Whether you've been dreaming of a trip to experience this celestial spectacle or simply looking for an unforgettable way to end your honeymoon, you won't be disappointed. With so many great places to witness this stunning light show, there's no time like now to plan out the perfect romantic escape! We recommend booking your honeymoon in Iceland for a truly unforgettable romantic trip.

#15 Take the plunge with an adventure honeymoon in Orkney
The historic collection of islands off Scotland's north-eastern coast includes Neolithic sites, jagged sandstone cliffs and seal colonies among its extraordinary list of things to see and do. Perfect for an adventure honeymoon in the British Isles.
#16 Pursue Passion & Adventure Together in Peru
There's plenty more to wow honeymooners in Peru aside from the incredible Machu Picchu - cycling around the Sacred Valley of the Incas, plane tours over Nazca Lines and the nightlife of Lima being just a few. You could easily combine your honeymoon with the ceremony itself – after all, the Peruvian Andes offer a magical setting for the exchange of vows: picture a mystic ceremony of ancient traditions and spiritual connection with nature. Read our full guide to Honeymoons In Peru here.
#17 Island Hopping in Quirimbas
If you're seeking a romantic hideaway that can be coupled with some island hopping, the Quirimbas Archipelago, off the northern coast of Mozambique, could meet all of your needs. Head south and a trip to the picturesque Parque Nacional das Quirimbas can be followed by a stay at Diamonds Mequfi, a jewel in the country's mainland. You'll have no trouble finding luxury at this classy resort, which is set next to a spotless beach and is less than an hour's drive over a dusty road from the nearest airport.
#18 A Dance of Adventure and Romance in Rio!
Hit the world-famous beaches or Rio Carnival to really welcome in married life in style. From taking a cable car up Sugarloaf Mountain, to the Christ the Redeemer Statue and lots else – you won't be short of Instagram-friendly activity in one of the world's premier seaside cities.
#19 Romantic Safari Honeymoon South Africa
With its rolling landscapes, big game wildlife and buzzing cities, South Africa is a destination like few others. You can choose to drive from Cape Town to the secluded nature reserve of Bushmans Kloof. However for a special honeymoon treat, why not book a chartered flight which, including transfers, takes you from city to bush in just an hour and a half? The honeymoon package here includes a dinner for two in the secluded Walled Garden and a bottle of Guy Cadel French Champagne in your room on arrival. Or if you're a couple who like their adventures with a sea view, African Oceans Manor in Mossels Bay might be the place for you! Expansive oceans views provide a stunning backdrop to an array of adrenaline-pumping activities and of course it's a great spot for surfers.
#20 Ready to be wooed? Koh Samui Awaits in Thailand


Are you looking for an exotic honeymoon destination that offers the perfect blend of adventure and relaxation? Look no further than Koh Samui, Thailand. From white-sand beaches to dense jungle treks, dive spots to lush reserves, bustling nightlife to silent meditation retreats – this island paradise has something for everyone! Whether it's bungee jumping off a bridge at 300 feet above sea level or experiencing the tranquillity of untouched Thai culture in the small fishing villages scattered along its coast, Koh Samui will captivate your heart with each step you take. Get ready: this is going to be one wild ride! Stay at Royal Muang Samui Villas for
our top recommended honeymoon package in Koh Samui.
#21 Ready for a Romantic Adventure in UAE?
Are you looking for an unforgettable honeymoon experience? Look no further than the United Arab Emirates! Packed with unbridled luxury, spectacular landscapes, incredible cuisine and endless adventure –
from vibrant cities to pristine beaches - UAE is a perfect destination for newlyweds.
From exotic beach getaways to unforgettable desert safaris – your romantic escapade in this fascinating part of the world will be truly special. So forgo sun-drenched beaches and tropical paradises; say yes to UAE and create everlasting memories on your one-of-a-kind honeymoon!
#22 Escape the Ordinary with a Honeymoon in Vietnam
Vietnam offers the perfect combination of culture, romance, and outdoor exploration. From the majestic Ha Long Bay to bustling cities like Hanoi and Ho Chi Minh City, this vibrant country is sure to offer something special for your romantic getaway. Explore jungles teeming with wildlife, go on hikes through lush rice paddies or relax on white sandy beaches; no matter what you're looking for in an adventure-filled honeymoon, there is something here for everyone! So if you're ready to embark on an unforgettable journey full of beautiful landscapes and rich cultural experiences then it's time to book your ticket — come join us as we explore all that Vietnam has to offer for adventurous honeymooners.

#23 Mrs & Mrs. Warmth and Adventure under the Winter Sun
Are you looking for a unique and unforgettable winter honeymoon? Look no further than an adventure in the sun! Whether you're wanting to explore mountain trails on skis, enjoy romantic evenings in elegant chalets, or lounge by the pool with a cocktail—a honeymoon spent discovering the beauty of someplace new can be an amazing experience. From cosy ski-side cabins and rustic ranches to luxurious beach villas overlooking crystal clear waters, there are plenty of options for your perfect winter getaway. And with so many adventurous activities available both indoors and out, there's something to do whatever your budget or desires may be. So come with us as we uncover all that awaits you on this dreamy escape into paradise!
#24 Feel the Romance and Excitement in MeXico
Plenty of tourists are flocking to Mexico today in search of an inspiring trip and they don't have to look too far from the heart of Mexico City to find one. Make sure you catch a Lucha Libre wrestling show before heading off, for example, to the cobbled streets of Valle de Bravo for a slower paced treat.
#25 Say "YES!" to an Extraordinary Adventure in Yosemite National Park
This hugely popular Californian wonder delivers a choice of attractions for the adventure seeker - Glacier Point and Tuolumne Meadows to name just two. For an extra special experience, try to book a trip around the time of the glowing waterfall known as the Yosemite Firefall.
#26 Serious couples vibes in Zanzibar
With its crystal clear turquoise waters and white sand beaches boasting endless opportunities to explore, snorkel, scuba dive or just lounge around the beach bars atop your private bungalows along the shore… Zanzibar is an experience like no other! From vibrant culture and colourful markets full of exotic spices and handmade crafts to spectacular wildlife watching safaris – there really is something here for everyone. Whether you're looking for lazy days spent soaking up the sun on empty stretches of coastline or heart-pumping activities like paragliding over tropical jungles; get ready to create some seriously incredible experiences together as newlyweds!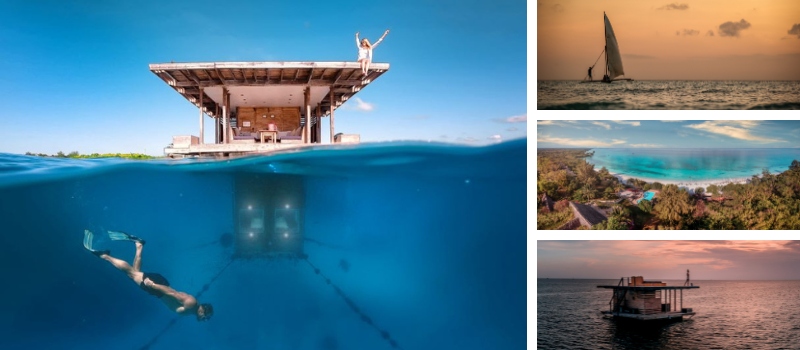 P.S. If you love the idea of a honeymoon in Zanzibar don't miss The Manta Resort - Pemba Island. The remote island of Pemba, off the breath-taking coast of Africa, is a true hidden gem fo0r adventure honeymoons. Leave the world behind and reconnect with nature and your loved one in this untouched paradise. Immerse yourself in the beauty of white sandy beaches and discover the vibrant botanical wonders that surround you. Indulge in 4-star luxury, where tropical opulence meets unforgettable experiences. Whether it's a romantic getaway or a special celebration, The Manta Resort is the perfect destination to create cherished memories.
All in all, adventurous honeymooners can make the most of their time off by exploring some of the best a-z destinations available! Whether you're looking for an exotic island getaway or a cosmopolitan city trip, your honeymoon is sure to be a memorable experience. Don't forget to take advantage of your time off and see the sights – and don't forget to take plenty of snapshots that will last a lifetime! Now's your chance to make memories that will truly last forever. So what are you waiting for? Get ready for a wild adventure and start planning the honeymoon experience of your dreams! Don't forget to get in touch directly with our recommended venues above to get a personalised wedding offer. Here's wishing you and your partner happy travels!