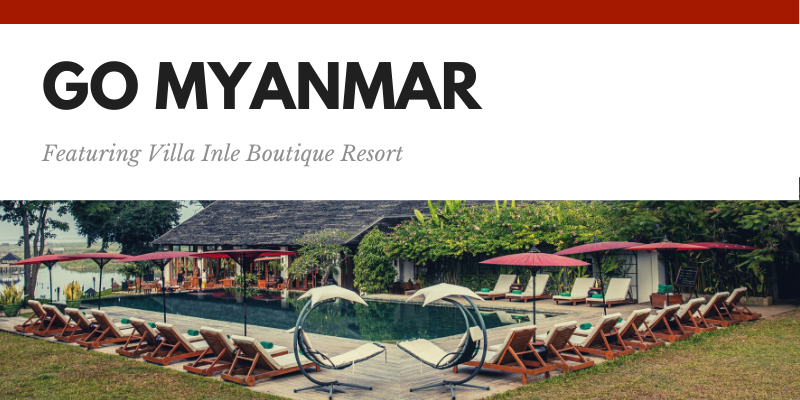 5 Reasons why Myanmar is a Great Destination for Honeymoons & Romantic Getaways
TREND ALERT!
When planning a romantic getaway or honeymoon Myanmar may not be the first place that springs to mind...
... But with its white sandy beaches... luxurious accommodation... and plenty of secluded spots to explore... Myanmar is one of the hottest new destinations for couples and honeymooners in 2019. (And chances are even your most well-travelled friends won't have been there, making it an especially exciting choice if you're a couple who like to lead the way when it comes to being bang-on trend!)
Still need a reason to visit? We'll give you five...
#1 Choose Myanmar for its stunning golden beaches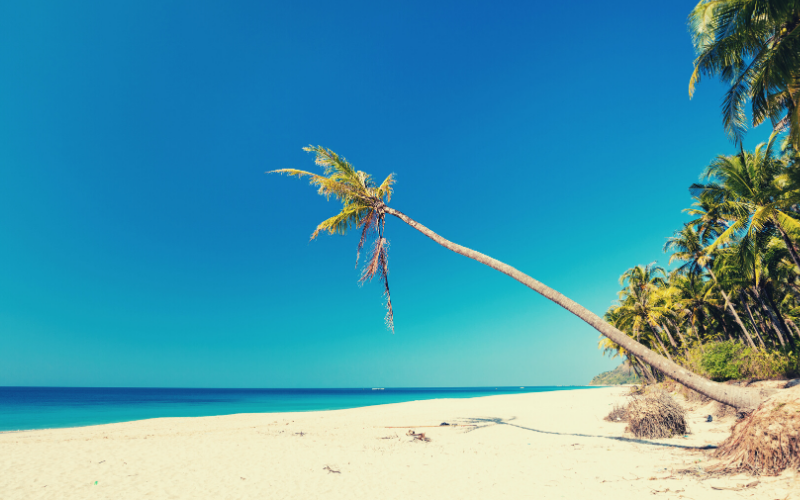 Not an obvious choice for those seeking sun in South East Asia, but Myanmar has some incredibly beautiful beaches running alongside the warm waters of the Bay of Bengal and the Andaman Sea (which explains why the image above could easily be mistaken for Thailand).
The big difference, of course, is that Myanmar is a destination still fairly untouched by tourism (unlike super-popular Thailand), which means that many of the beaches are unspoiled and undiscovered. What's more, many of the beaches face west, meaning that you're almost guaranteed spectacular sunset views.
We recommend Ngwe Saung (Silver Beach) for the perfect romantic spot. Situated West of Yangon it's in an area still fairly undeveloped, and with its palm fringed white sandy shores, it's the perfect place to unwind. When you've had enough of relaxing on the beach you can walk out to Love Island via a sand bank that appears during low tide. Or explore the crystal clear waters and enjoy scuba diving or snorkelling.
#2 Choose Myanmar for the unmissable Inle Lake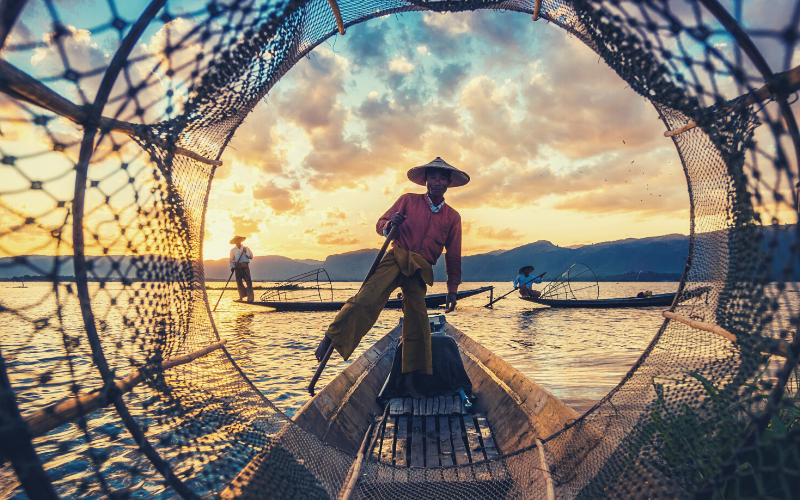 A trip to Myanmar wouldn't be complete without witnessing this captivating region. A vast, tranquil lake – 13.5 miles long and 7 miles wide – famous for its floating gardens, stilt-house villages and mountainous backdrop, it's a truly breath-taking place.
Visit Ywama village, most famous for its floating market, to explore a typical traditional community. Here you can also see the majestic Phaung Daw Oo Pagoda, one of the holiest shrines in Shan State featuring five ancient golden Buddhas. Nampan village is another must see with its wooden houses all built on stilts and beautiful floating gardens where the local people grow vegetables and flowers. Plenty of tour boats are available to explore the lake, or you can hire kayaks and take it all in at your own pace.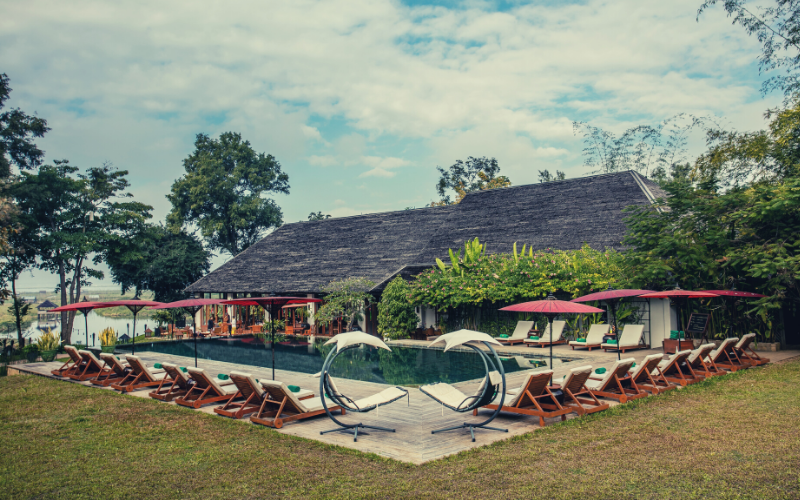 We recommend staying at least a couple of days to truly experience the unique way of life here and there are plenty of accommodation options available. Our top pick is the intimate Inle Villas Boutique Resort, which is nestled between the Shan Hills and the lake. The resort consists of a small number of wooden stilted luxury bungalows that blend into the beautiful surroundings. And for romantic couples they can arrange a private dinner (or cocktails at sunset) on the resort's romantic floating island!
# Choose Myanmar for its impressive palaces and pagodas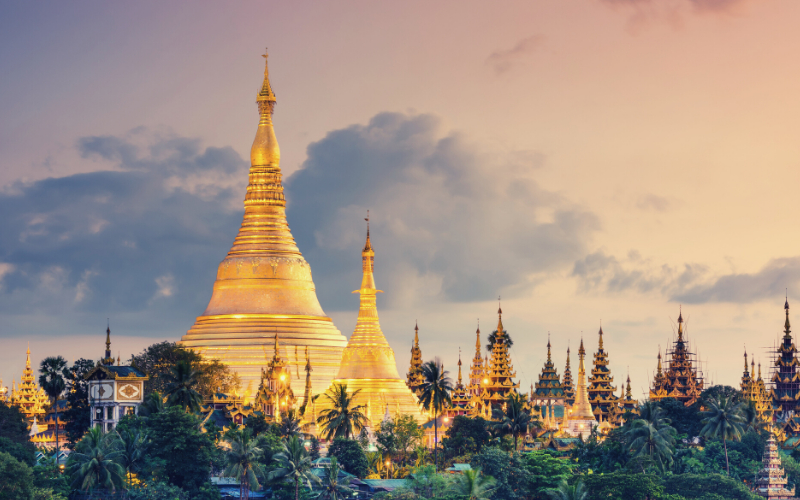 The landscape of Myanmar is glittered with awe-inspiring golden palaces and pagodas. Make sure to visit the 2,500-year-old 'winking wonder' of Shwedagon Pagoda, an iconic part of Yangon's skyline and undoubtedly one of the most famous pagodas in the world.
We couldn't talk about the pagodas without mentioning ancient Bagan. With a fairytale-like feel, it's home to 4,000 incredible stupas dotted throughout its plains, some dating back to the 9th century. Explore the city by bicycle, or for a truly unforgettable experience take a hot air balloon ride and take it all in from above while drifting serenely through the misty sky.
For somewhere a bit more off the beaten track, take a trip to the Kyaiktiyo Pagoda (also known as the Golden Rock) at Mt Kyaiktiyo. Here you can see a small pagoda sitting on top of a granite boulder covered with gold leaves. The rock is precariously positioned on the edge of a chasm and is a spectacular sight.
#4 Choose Myanmar for its delicious food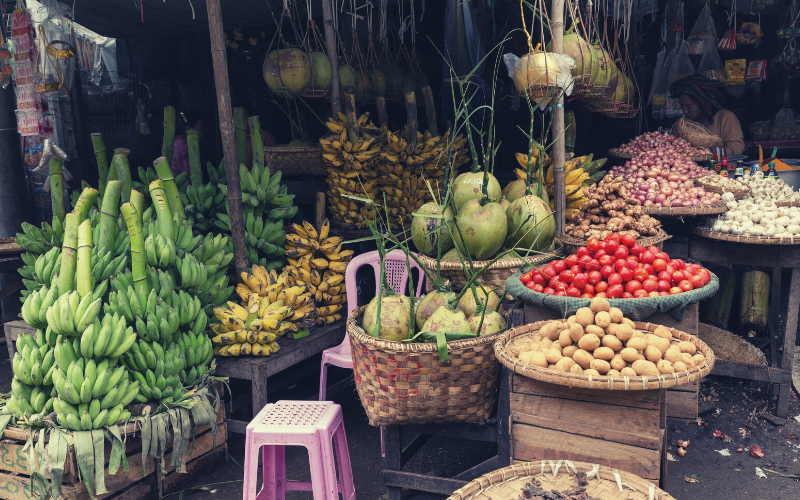 Like its culture, Myanmar's cuisine hasn't been watered down by tourism, meaning that many of the original flavours and ways of preparing food are still in use. With influences from China, Thailand, India and Vietnam, the cuisine of the Burmese is both unique and delicious.
Myanmar hosts a plethora of street food stalls and you'll be spoilt for choice. Don't miss a chance to sample the country's unofficial national dish of Mohinga. It's a breakfast dish consisting of rice vermicelli noodles and fish soup flavoured with ginger, lemongrass, garlic, onions and an assortment of boiled eggs and fritters.
Burmese seafood is excellent and what better place to enjoy it than at a restaurant offering wonderful ambience and beautiful vistas. Pleasant View Islet Restaurant just off of Ngapali beach is based on an islet and offers incredible views of the bay. You can wade through knee-deep surf at low tide to reach it, or catch the free boat service at high tide. The perfect spot for a unique romantic evening for two or some sunset cocktails.
#5 Choose Myanmar for its vineyards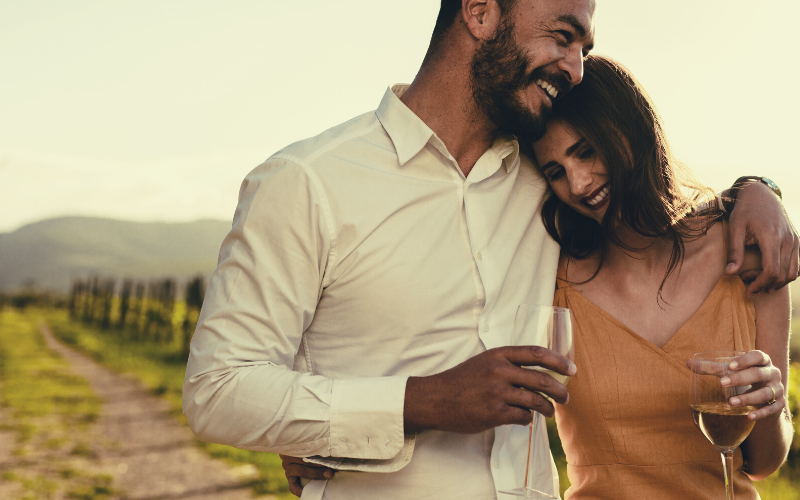 Perhaps the most unexpected suggestion on this list but believe it or not, Myanmar has its own vineyards and they produce surprisingly good wine too.
Tropical climates aren't always the best for grape growing, but the vineyard managers have gotten around this by planting their vines high in the mountains where they are protected from the heat and humidity. Located near the beautiful Inle Lake, the mountains and valleys provide the perfect backdrop for tasting the local wines and make for an excellent day out.
Enjoy a tour around the vineyards and wineries and sample the wines on offer. With both red and white grapes grown here you can work your way through glasses of sparkling rosé, shiraz, tempranillo and sauvignon blanc. Soak up the alcohol with a delicious dinner at the Athaya Sunset Wine Garden which offers a terrace section with a breathtaking view of the vineyard.
How to book your Romantic Getaway or Honeymoon in Myanmar
Working with our professional hosts at Villa Inle Boutique Resort we are excited to offer some of the most authentic and memorable experiences of Myanmar. Guests staying at the property can choose from a selection of experiences packages designed honeymooners, culture lovers, culinary enthusiasts, wellness, and mystical memories.
Alternatively you can create your own bespoke experiences by simply adding extras such as a candle-lit floating dinner on Lake Inle to your stay.
Destination Weddings in Myanmar
And Villa Inle Boutique Resort do weddings up to 100 guests. So if you're planning a destination wedding you want your guests to remember... this could be the place for you.
Further reading...
If these have tickled your fancy then check out our all our Wedding Venues & Packages worldwide along with some helpful tips and FAQs for couples booking their wedding.
To help you find YOUR perfect wedding experience you can choose to search by Wedding Venues / Hotels, Wedding Packages or Wedding Specialists including wedding planners. event services, specialist venues and bespoke wedding experiences and experts.
Then simply use the filters to narrow down the choices by selecting: the type of wedding services you're looking for such as a wedding blessing or a legal ceremony; the setting or venue style; included romantic experiences and much, much more (even if you've no idea of the destination you're looking for).
P.s. We also do Honeymoons - including honeymoon hotels / accommodation, honeymoon packages and honeymoon specialists.