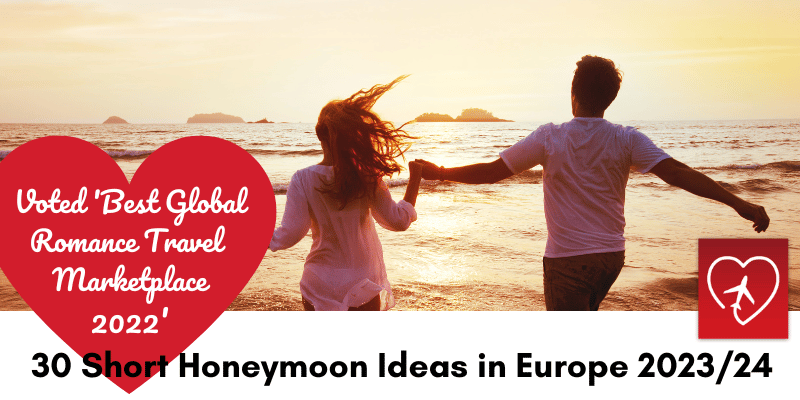 30 Mini Moons in Europe - Short Break Honeymoon Inspiration
Mini-moons are no longer just the time-poor couple's answer to a traditional honeymoon.
Instead, mini-moons are a steadily growing trend for busy newly-weds who are looking to take a short (albeit no less luxury) honeymoon immediately after their wedding... followed by a longer (often long-haul / multi-destination) trip later in the year.
Doing it this way you have the obvious advantage of getting 2 honeymoons!
But it also means professional couples can take more time off work before their wedding - without having to cut short their 'proper' honeymoon.
**Plus believe us when we tell you post-wedding blues are real... And this way you literally get to extend your 'honeymoon period' for up to 1 whole year.
Here are 7 inspiring options for couples looking for a magical and memorable mini-moon in Europe in 2023/24:
OPTION 1 - The Romantic City Break Mini Moon in Europe….


Whether you're discovering a new favourite city or visiting a place that's already special to you both; a romantic city break is a great post-wedding treat.
Favourite mini-moon city experiences in Europe include people-watching in a Parisian café, sharing an ice-cold gelato as you walk through the historic centre of Rome, Edinburgh at festival time, or Lisbon for understated elegance.

Simply pick your favourite European city and make it a mini-moon of intrigue and indulgence!
OUR TOP 5 CITY MINI-MOONS IN EUROPE 2023/24:
ROME: Lose yourself in the majestic beauty of ancient Rome with a unique mini-moon at Kolbe Hotel. Not only can you explore all that this romantic city has to offer, but also savour mouth-watering treats from the hotel's famously charming restaurant!
VALETTA: Treat yourselves to a luxuriously romantic honeymoon in the stunningly beautiful and historic city of Valletta, Malta at Palazzo Ignazio. Relax and soak up some relaxation with a hot tub stay as you explore all that this UNESCO World Heritage site has on offer!
LONDON: Spend the most romantic night ever in one of London's top-rated hotels, Hotel 41! Enjoy stunning views of Buckingham Palace and literally sleep under stars in their one-of -a-kind conservatory suite for an unforgettable and luxury mini moon getaway.
LISBON: An unforgettable experience awaits as you discover the captivating beauty of Portugal's sublime metropolis. With unobstructed views from six stories high at Valverde boutique hotel, no other city opens its arms to love quite like this one - bask in the magical mystique and explore all that southern Europe has to offer for an amazing city adventure together!
EDINBURGH: Escape to the romantic hideaway of House of Gods in Edinburgh, one Europe's most beautiful cities. Appealing to couples looking for a luxurious (and sexy) mini-moon retreat and named Sunday Times Hotel of the Year 2021, this adults only hotel is steeped in decadence - with Tatler, GQ and Conde Naste all featuring its splendour!
OPTION 2 - The Beach Mini Moon in Europe…


Beach holidays don't have to be long holidays.
A few days in glorious sunshine with nothing to do but admire clear azure seas can be as rejuvenating as a full fortnight.

The Greek Islands, with their (almost) year-round sunshine are ideal for mini-moons. The archipelago's beaches, welcoming locals and natural attractions all make them hugely popular with mini-mooners.

Alternatively, the beaches of Southern Europe are some of the most beautiful in the world… and perfect for celebrating romance.

OUR TOP 5 BEACH MINI-MOONS IN EUROPE 2023/24:
CRETE, GREECE: For couples in search of an unforgettable beach escape, look no further than Out of the Blue Resort! This beautiful private peninsula is a paradise away from it all – tranquil and romantic - just perfect for beginning your journey as newlyweds. So why not make those honeymoon dreams come true on stunning Crete?
ISTRIA, CROATIA: Escape to Kempinski Hotel Adriatic! Nestled among the incredible Istrian landscape, this resort offers secluded cabanas with views of turquoise waters. Soak up stunning ocean panoramas from your own private beach - bliss awaits!
AYVACIK, TURKEY: Looking for an idyllic beach getaway? Experience the history, beauty and hospitality of our private beach at Simurg Inn. Nestled between Mount IDA, a legendary landmark in Greek mythology and Lesvos island – this stunning stretch of coast is waiting to be discovered!
ALASSIO, ITALY: Experience a luxurious beach getaway surrounded by 8 hectares of lush Mediterranean vegetation, overlooking the shimmering Ligurian Sea. BaBa Dream offers an intimate setting for couples seeking complete privacy and connection in Alassio - known as 'the city of people in love'. An immaculate retreat with 5-star service awaits; make unforgettable memories while discovering the unique beauty that Italy has to offer!
ALGARVE, PORTUGAL: Come to Epic Sana Algarve, a resort of five-star luxury nestled amidst 8 beautiful acres of tranquil pine forest. Enjoy exclusive access to stunning beaches and glorious sunshine as you make memories with your loved one in its Love Tree experience - the perfect destination for honeymooners.
OPTION 3 - The Active & Adventurous Mini Moon in Europe...


Couples who like to get physical may enjoy an active, adventurous mini-moon and the choices are endless.
How about setting out on a Tuscan horse trail, experiencing this incredible region's lush landscapes and picturesque vineyards? Or how about going mountain climbing on Europe's best crags, skiing in the Alps, or diving in the Balearics?

Finland is another great choice for adventurous couples. Snowmobiling, horse riding, quad biking in search of the northern lights, skiing in winter and canoeing in summer, are just some of the activities on offer in this fascinating country.
OUR TOP 5 ACTIVE & ADVENTUROUS MINI-MOONS IN EUROPE 2023/24:
ICELAND: Go on an ultimate and romantic getaway to Iceland! The breath-taking scenery of the Nordic island country in the North Atlantic will make your honeymoon adventure unlike any other. From conceptionalizing a plan under the Northern Lights, exploring majestic glaciers and ice caves, to spotting captivating ocean wildlife - fall for this extraordinary experience together designed by Friend in Iceland
AUSTRIAN ALPS: Alpenhotel Montafon nestled in the mountains of Vorarlberg, Austria is your perfect mountain mini-moon escape. Relax and take in stunning scenery with a dip in their outdoor pool or explore by guided hikes during summer months and ski touring, curling, and night tobogganing when winter arrives! This is an idyllic traditional Alpine romantic vacation that won't soon be forgotten.
LAKE DISTRCT: Explore the beauty of Britain with a mini-moon at Leeming House and take to the skies in style! Embark on an unforgettable journey as you treat yourself to a trial flying lesson in a Gyroplane, taking off from some of England's most stunning landscapes. Experience breath-taking aerial views within this world heritage site - don't miss out on this amazing opportunity for adventure!
SANTORINI, GREECE: Experience the dreamy romantic adventure of a lifetime and make unforgettable memories with your special someone. Explore Santorini's beautiful volcano by embarking on an Aegean cruise - take in breath-taking views, relax in surreal volcanic hot springs and bathe together under starry night skies! (Book here with Santorini Experts)
ARCTIC LAPLAND (FINLAND): Escape to an Arctic beauty of Kakslauttanen Arctic Resort. A mere 250km north of Finland's Lapland, you can immerse yourself in this wonderland surrounded by forests that lead up Urho Kekkonen National Park - no matter what season! Enjoy unique igloo accommodation for a truly magical experience or chase after Northern Lights on your honeymoon getaway.
OPTION 4 - The Wellness Mini Moon in Europe...


The run-up to your wedding can be a stressful time.

Flowers, cakes, the dress, the guests… there's so much to think about and lots of work to be done!
When the big day is over, you may understandably decide you want a mini-moon dedicated to complete relaxation, and opt to take sanctuary for a few days in a luxury spa.
If time is limited, a short wellness break in gorgeous surroundings can be the perfect solution. Think couples massages and pampering therapies with sunrise yoga and evening chill-out sessions. (N.B. This is your honeymoon so you're looking for an experience inspiring romance, reflection and relaxation... not a juice detox!!)
This is a mini-moon that's all about nurturing your total wellbeing as a couple whilst re-connecting with each other.
OUR TOP 5 WELLNESS MINI-MOONS IN EUROPE 2023/24:
MAJORCA: Escape to the beautiful Majorcan countryside with a mini moon at Cases de Son Barbassa, situated on a hillside overlooking Artà's coastal views. Honeymooners can experience open-air Spa & Wellness among fragrant lavender, orange and lemon trees, and enjoy peaceful tranquillity accompanied only by birdsong. Treat yourselves to luxurious spa treatments while soaking up some sun or winding down after your sauna session!
SWISS ALPS: Treat yourself to a luxurious spa experience in the breath-taking Alps! At Nira Alpina at the Shanti Spa by Pure Altitude, you can rejuvenate with typical alpine health and beauty treatments. From Nira Alpina romance and wellness packages to yoga on snow - spoil your senses amidst picture-perfect nature!
NORTHERN ITALY: Connect with nature while you luxuriate in absolute privacy at the deluxe BaBa Dream Suite. Located less than 5 minutes from a pristine beach, this getaway's serene ambience includes an outdoor bathtub set against picturesque views of Gallinara island and glimmering Ligurian Sea. Enjoy precious together-time as you relax in Antonio Lupi's designer outdoor bath-tub for two.
VAUD ALPS: For those looking the ultimate mis of romance and wellness, look no further than Grand Hotel des Bains de Lavey – home of the renowned and revitalizing thermal springs favoured by ancient Romans! Cosy up in a stunning Superior Room with views over its lush park while indulging in an exclusive romance package that includes all the therapeutic benefits of their healing waters.
OPTION 5 - The Rural Retreat Mini Moon in Europe...


We love a romantic rural retreat at any time.
But if you're planning a long-haul exotic beach honeymoon later in the year, then why not spend your mini- moon away from the hustle and bustle in nature's embrace?
Enjoy each other's company with some fresh air, delightfully green scenery, and lots of yummy local food and wine - perfect for those who want to recharge their romantic batteries following the nerves and excitement of your big day.
OUR TOP 5 RURAL RETREAT MINI-MOONS IN EUROPE 2023/24:
COUNTY CLARE, IRELAND: Spend your honeymoon in a beautiful Irish country house for an unforgettable escape at the award-winning Carrygerry Country House. Feel the warmth of authentic hospitality and enjoy all the comforts of home, surrounded by breath-taking views and tranquil landscapes in County Clare. Plus they offer lots of romantic extras and surprises just for couples like you.
MAJORCA: Venture away to the sun-drenched hills of Majorca for a dreamy mini-moon escape! Surrounded by Mediterranean nature and stunning sea views, Cases de Son Barbassa is an idyllic hideaway perfect for romantic couples seeking tranquillity. Enjoy peaceful days filled with sunshine, fragrant flowers, and total intimacy at this secluded rural retreat.
UMBRIA, ITALY: Escape to Tenuta San Masseo, a gorgeous country villa located in the paradise-like backdrop of Assisi. Immerse yourselves in 20,000 square feet of lush green parkland while admiring breath-taking panoramas spanning over the city. Make your honeymoon extra special with an intimate dinner in a stunning private wine cellar at the villa. Enjoy romantic candlelight surrounded by some of the best local wines!
NORFOLK, UK: Immerse yourselves in an unforgettable glamping mini moon in the Norfolk countryside - complete with hot tubs to make it even more magical. At Glamp & Tipple you can relax under the stars and indulge yourselves with special romantic surprises, all while embracing nature... close up.
OPTION 6 - The Poolside Mini Moon in Europe...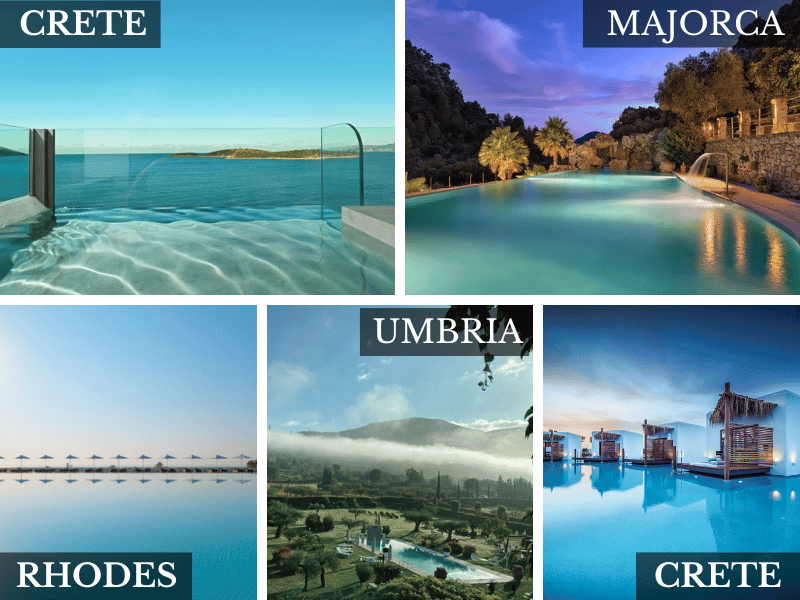 Get ready to soak up the fun and relaxation of a poolside mini-moon getaway!
If you dream mini-moon involves you imagining yourselves together in an sun-kissed oasis, with crystal clear waters sparkling beneath you as you take it easy - we've got you covered.
Because sometimes only a pool will do!
OUR TOP 5 POOLSIDE MINI-MOONS IN EUROPE 2023/24:
CRETE, GREECE: At NIKO Seaside Resort MGallery, couples can enjoy a romantic and luxurious mini-moon getaway. Relax by the jaw-dropping infinity pool with stunning panoramic views of the sea, or yourselves to a few nights in one of their private pool suites for an extra-special honeymoon experience!
UMBRIA, ITALY: Newlyweds can experience the romantic escape of their dreams at Tenuta San Masseo. Spend days in sunny Italy soaking up rays by the outdoor pool, and after dusk indulge in an intimate dinner for two as you watch a glorious sunset unfold before your eyes.
CRETE, GREECE: Experience the height of relaxation and luxury at Stella Island Luxury Resort & Spa. This resort is a favourite with honeymooners for it's stunning Over Water Bungalows and Swim up rooms, all offering direct access to a truly majestic lagoon-style pool. Think turquoise waters stretching out beneath you where anytime can be 'swim time'!
And finally (something a bit special)...
OPTION 7 - The Fairy Tale Mini Moon in Europe...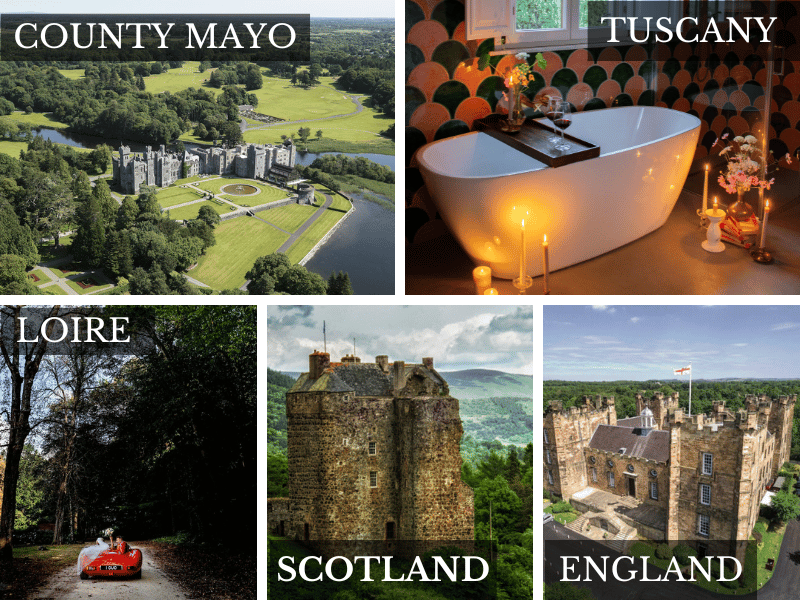 Make your dreams come true and experience a magical mini-moon in one of Europe's awe-inspiring castles or grand historical hotels.
This is the perfect time to create enchanting experiences that will stay etched in your hearts for eternity!
Explore each nook and cranny, discover hidden gems, indulge all five senses with delightful delicacies - just enjoy life without any worries!
So what are you waiting for? Start packing today for an unforgettable honeymoon getaway like no other.
OUR TOP 5 FAIRY TALE MINI-MOONS IN EUROPE 2023/24:
All in all, choosing to go on a mini-moon could be the perfect solution for couples wanting to balance a busy schedule and make sure their honeymoon isn't cut short.
And with Europe offering such a rich variety of destinations and experiences, you can rest assured there's something to suit every couple out there!
So why not delight yourselves by opting for a mini-moon adventure before your longer getaway?
That way you get two trips instead of one - double the fun!
If you're thinking that a mini-moon break might be just up your street, then why not check out all our honeymoon packages and experiences here.
Or get in touch with our romantic consultants and let us help you find the perfect honeymoon destination!
You might also like: 10 ROMANTIC GETAWAYS FOR COUPLES IN PORTUGAL