20 of the Most Romantic Places to Propose... in the World!
It can be hard not to overthink when it comes to planning your marriage proposal.
And for good reason!
It's arguably the most important question you'll ever ask… so it's understandable that you'd want to get it right.
To help you along the way, we've come up with 20 of the most romantic places to propose, with destinations and expertly designed proposal experiences to suit a variety of dream scenarios.
Here we go…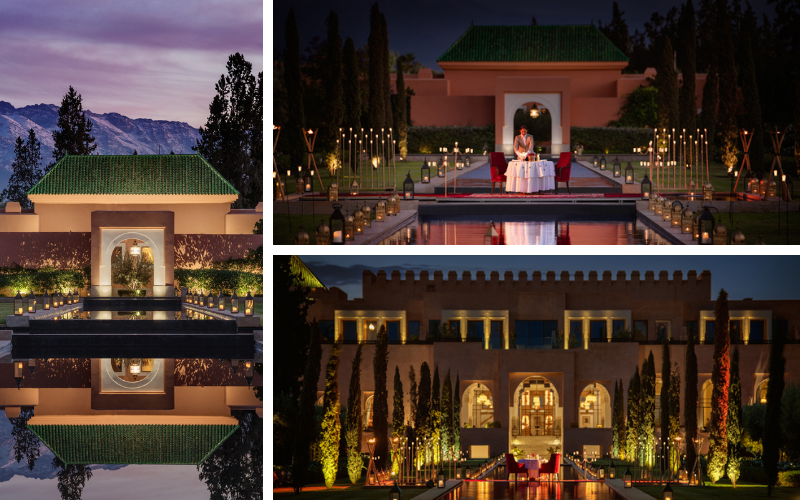 #1 Magical Mountain View Proposal at The Oberoi, Marrakech
Morocco is the ideal exotic proposal location if you're looking for majesty and extravagance.
And luxury and opulence seekers will love the enchanting ambience of The Oberoi Marrakech. Embodying Eastern magnificence, and offering a glittering five-star proposal experience, this exclusive hotel will make your big moment truly magical.
The proposal experience:
You'll take a long stroll down the hotel's impressive canal to a lavishly-set table for two.
Absorb the breath-taking scenery of the snow-capped mountain landscape, reflected alongside the countless candlelit lanterns glistening on the still canal water.
Share a super-romantic private dinner for two, feasting on world-class Moroccan and international cuisine
And then as the golden sun drops below the snow-capped Atlas Mountains, slip out of your chair and sink down to one knee.
#2 Propose Under Juliet's Balcony in Verona with Sensi e Diletti – Wellness Wine Travel
At Italy's heart is sophisticated culture, a rich history and incredible food and wine. Not to mention being home to the most famous romantic tale ever told – Romeo & Juliet.
For gastronomy lovers looking for an elegant yet stylish proposal experience, Sensi E Diletti by Wellness Wine Travel offer a fantastic opportunity to pop the question in the renowned City of Love, Verona.
The proposal experience:
Whisk your beloved away for weekend of romance in Verona – City of Love.
Spend 3 days indulging in the finest gastronomic experiences including an 8 course, wine-paired Michelin star Italian tasting menu, and 4 courses at your private table in Verona's oldest wine bar.
Explore the historic sights Italy has to offer before pausing at the very balcony Romeo first declared his love for Juliet.
Underneath this iconic monument to romance choose your perfect moment to declare your dedication and get down on one knee.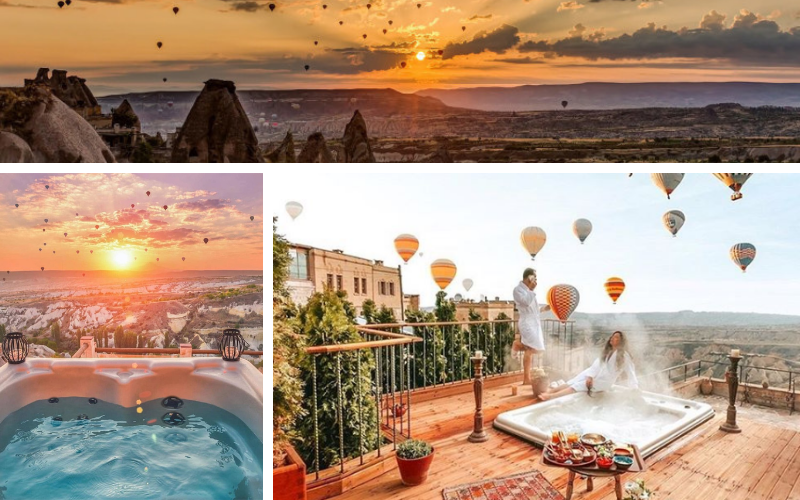 #3 Propose at Sunrise from your Private Rooftop Hot-tub at Taskonaklar, Cappadocia
Aromatic and mysterious, Turkey is a country of incredible heritage and architecture. A flawless proposal destination for those couples looking for an enigmatic yet opulent setting.
And the King Suite at the boutique-style cave hotel at Taskonalkar offers an unreal viewpoint to pop the question.
The proposal experience:
Book yourselves into the King Suite for 24 hours (or more) of pure romance and seduction
Spend a magical evening together in front of your suite's log fire
Rise early for a spontaneous dawn dip in the decked-terrace hot tub watching the sunrise over the incredible rocky Cappadocian landscape.
Allow a moment to appreciate the out-of-this-world view as hundreds of vivid hot air balloons fill the glowing skies all around.
Then turn to your loved one and begin your own magical moment, to be remembered forever.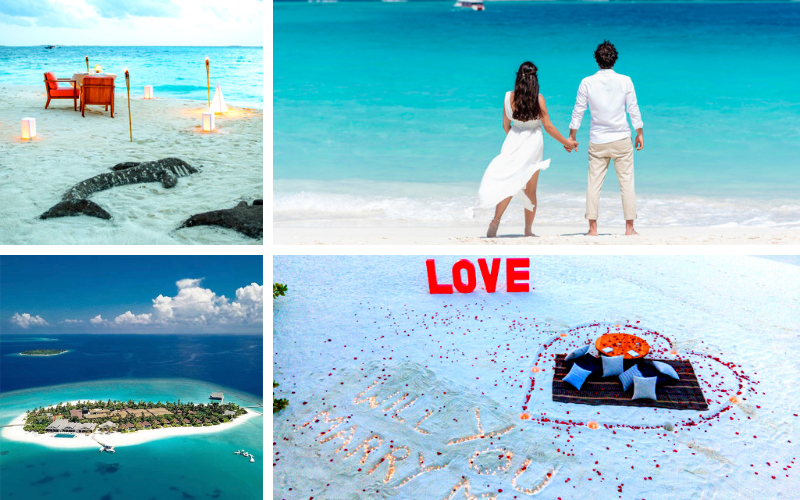 #4 Personalised Beach Proposal in Paradise at The Standard, Huruvalhi, Maldives
The epitome of tropical utopia, the Maldives are the go-to destination for those looking for a little slice of heaven... and a tropical proposal paradise.
As if the natural beauty of the Maldives was not enough to serve as an incredible proposal backdrop, The Standard offers an incredible beach proposal package to take your romantic bid to the ultimate next level.
The proposal experience:
Take your beloved by the hand and guide them to your private proposal set up on the beach
With the cool breeze and gentle sounds of the Maldivian waters calming your nerves, get down on one knee on the warm white sands and declare your love.
The music of your personally curated playlist can be heard discreetly in the background, while an unobtrusive photographer discreetly snapshots your perfect moment.
Once you've heard the words you've been waiting for, celebrate your engagement over a romantic 3-course beach dinner and a bottle of ice-cold champagne.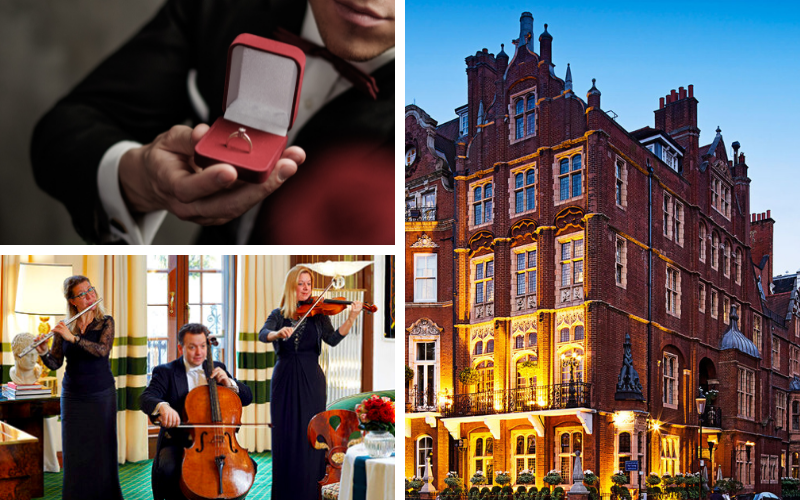 #5 Serenade your Beloved at

The Milestone Hotel, London

London is an iconic historical city, famed for its long noble heritage and for its character and creative music and arts culture.

And for lovers of history and classical music, this proposal experience at the Milestone Hotel is just... perfect!

The proposal experience:
Stay in the Royal Borough of Kensington in 5-star decadence at The Milestone Hotel and soak up the regal glamour this grand mansion has to offer.
Spend time together soaking in the unique London culture,
Before returning to your majestic suite for a private fine dining experience with Champagne served by your personal butler.
Serenade your beloved with a live private in-room recital of 'your special song' by the incomparable Royal Philharmonic Orchestra. With the choice of a heavenly harp soloist or the velvety tones of the string trio.
When the moment is right, pose that most important question with in-room views of Kensington Palace.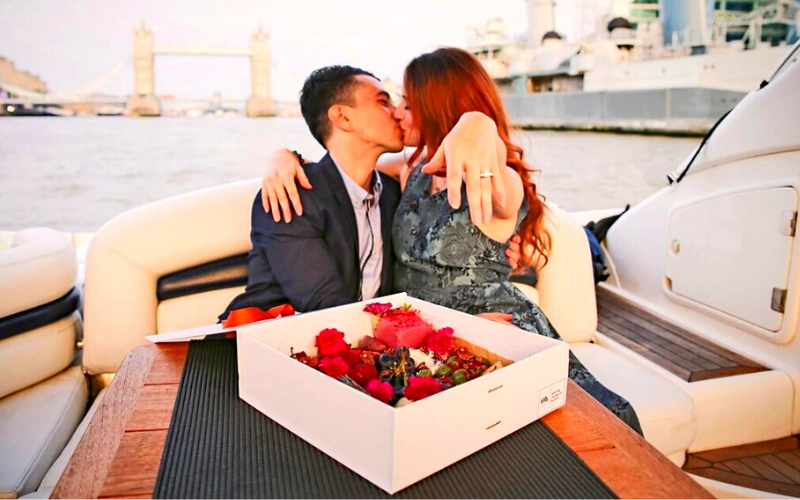 #6 Private River Cruise Proposal on the Thames, London
Another London gem, this time for those looking to pop the question on their own private speed boat.
Diplomat Cruises offers an exclusive proposal package on the famed River Thames (and with lots of extras to ensure your proposal is as unforgettable and epic as your love).
The proposal experience:
Begin your proposal experience with a helicopter ride to your boat, or for those classic car enthusiasts, a Rolls Royce Phantom can take you to your vessel, which by the way happens to be the actual Sunseeker from The World is Not Enough!
Escort your beloved onto your private boat and commence your 2 hour romantic cruise for two on the Thames.
Sip Champagne and take in iconic London landmarks along the river bank including the London Eye, Tower Bridge and the Tower of London.
Before surprising your lover with a "Marry Me?" sign suspended from one of the London bridges.
A hidden 6-piece acapella band then appear from below deck to serenade you as you pop the question.
Personalised macaroons and delicious canapes help to add that final suave touch.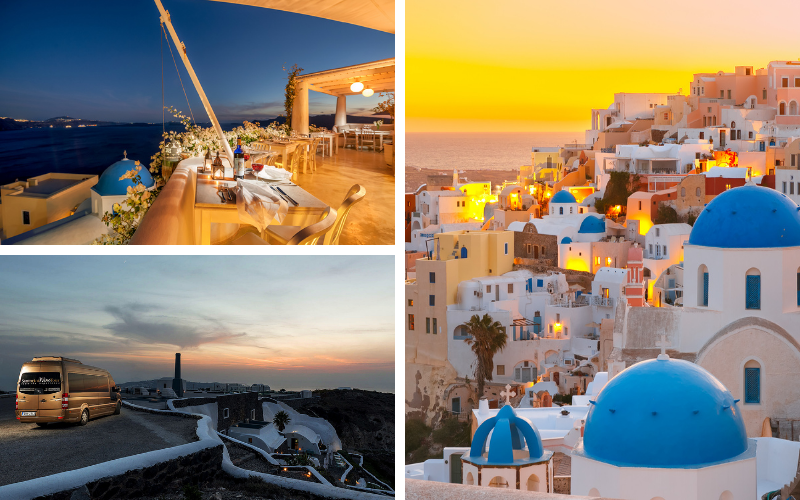 #7 Wine Lovers Proposal Experience (5 hours) designed by Santorini Wine Tours
Santorini is an enchanting Greek Island in the Aegean Sea, decorated with vast expanses of viticulture and incredible views.
It's perfect for food & wine lovers who love to explore with their taste buds as well as their suitcases. Plus you'll love its iconic sunsets and popularity with romantic couples and honeymooners.
Book in for the expertly designed 'Proposal Tour' by Santorini Wine Tour Co. - guaranteed to make your big moment effortlessly unforgettable.

The proposal experience:
Invite your beloved on a 5 hour journey of amazing wine and gastronomy.
Visit 2 award-winning wineries including full wine tasting experience.
Take a detour trip along the cliffside of Santorini to mark your love in the earth with a love-heart of stones remembering this special date.
You'll then be escorted to a traditional Greek restaurant for your private table overlooking the famed Santorini cliffsides.
Sample their authentic cuisine and prepare for the most romantic evening of your lifetime.
Allow the team to assist in planning your perfect proposal moment over dinner.
With full bellies and a satiated thirst for exploration, seize the magical Grecian moment and seal the deal in front of the beautiful Mediterranean Sea.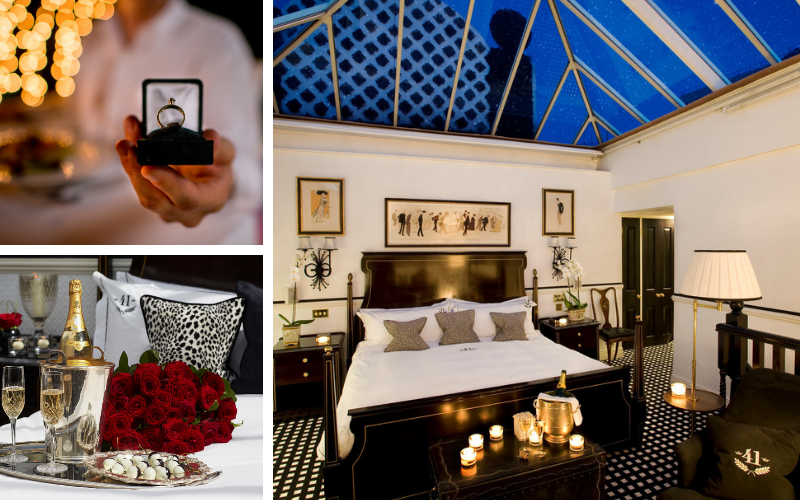 #8 A Proposal Written in the Stars at Hotel 41, London
Astronomy lovers will go crazy for Hotel 41's Conservatory Suite in London.
The glass topped penthouse suite is a uniquely inspiring place to pop the question after enjoying an evening of romance and luxury in London.
Designed for an after-dark proposal, we recommend this especially for night owls who love to bond under the stars.
The proposal experience:
Treat your beloved to a romantic getaway in the famous Conservatory Suite at Hotel 41.
With an in-room telescope to explore the your clear view of the night sky, and a selection of champagne, and romantic treats... the scene is set for romance.
As you're lying together on the king sized bed looking up at the diamonds in the night sky, why not give your lover the diamond you've been holding and ask for their hand in marriage?
There'll then be plenty to do to celebrate your engagement, including a Name a Star Certificate to immortalise this incredible moment.
After a late night's stargazing and candlelit celebrations, top off your engagement trip with a classic full English breakfast before starting this new phase of your romance.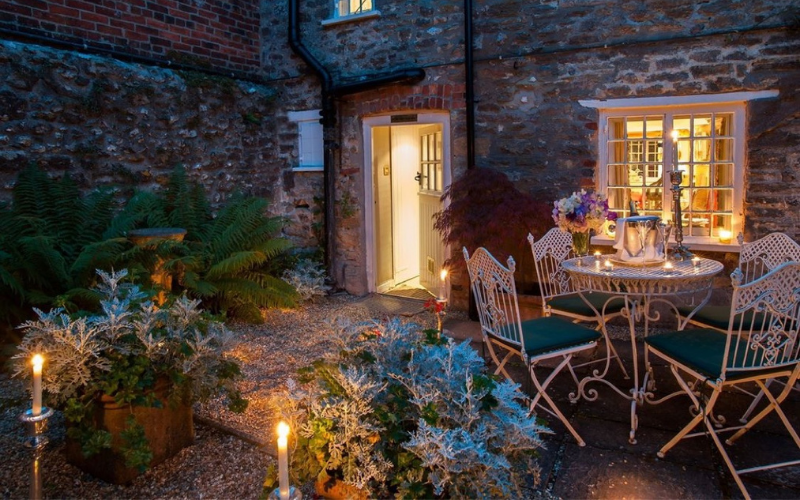 #9 Secluded Cottage Proposal in the English Countryside at Summer Lodge, Dorset
Spend a weekend in the lush Dorset countryside in the privacy of the centuries-old picturesque Ivy Cottage, before taking your moment to ask that all-important question.
For lovers of the English countryside, and for those who prefer an entirely private experience.... THIS is the proposal destination you've been looking for.
The proposal experience:
Escape from the world for a private proposal just for two.
Arrive at this secluded hideout and seek out your dream proposal setting for you to seize your moment.
Choose from a proposal in the hot tub over a glass of fine wine... or curled up in front of the open log fire... or after a luxury dinner on the romantic private terrace followed by champagne and chocolate-covered strawberries delivered directly to your door.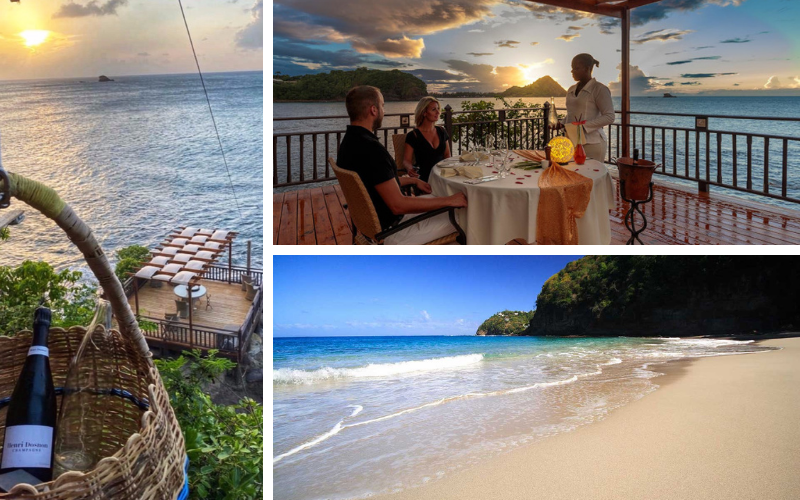 #10 Surprise Champagne Zipwire Proposal in the St. Lucia at Cap Maison
Saint Lucia is a blissful Caribbean island and a firm favourite of many paradise chasers seeking romance in the sun.
If you're dreaming of a tropical Caribbean proposal then look no further than the incredible package offered by Cap Maison Resort & Spa.
With their dedicated proposal concierge perfecting your proposal, Cap Maison Resort & Spa can help turn island bliss into a "yes" with a kiss.
The proposal experience: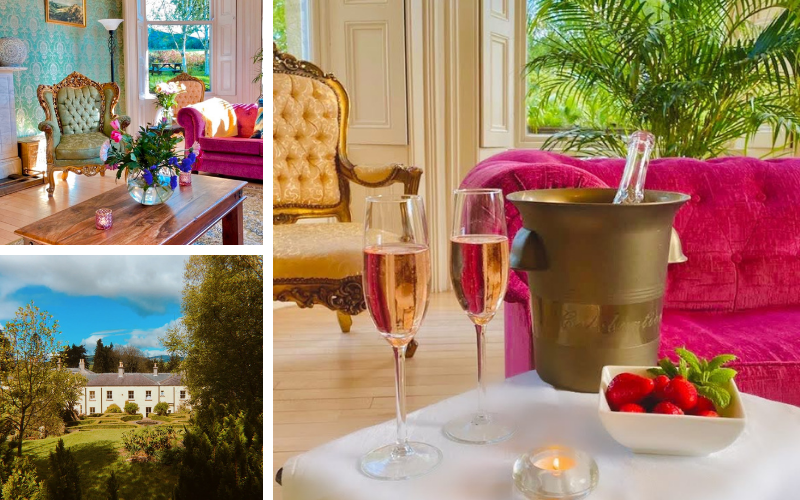 #11 Intimate Irish Proposal at Clone Country House
For intimate and serene proposals, there's no better destination than the rolling countryside of the Emerald Isle.
Peace and tranquillity ooze from East Ireland's County Wicklow – just right for those couples seeking calm and stillness... and a lush green backdrop for romance.
A wonderful mix of Irish charm and classical dignity, Clone Country House offers amazing food and wine for a romance-filled night to set the stage for your proposal.
The proposal experience:
Take your beloved on a romantic rural retreat at Clone Country House in Ireland.
The quiet, unassuming luxury and incredible views of the Wicklow countryside will leave you without a care in the world – perfect preparation for popping that question nerve-free.
Relax in their deluxe Victorian suite where you'll be served a private 4-course gourmet proposal dinner.
Finally, you'll celebrate your most special of evenings with a petal-filled fireside soak in the tub sharing a glass of prosecco.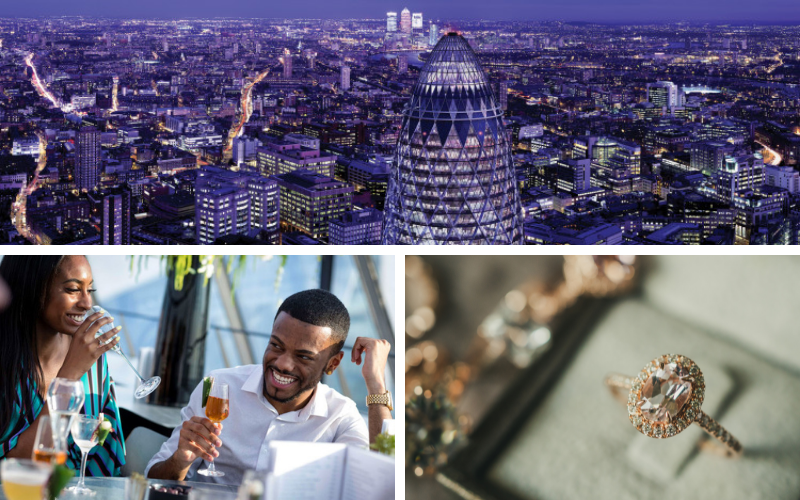 #12 Propose in the Clouds at Searcy's at the Gherkin, London
For an epic city proposal, Searcy's at The Gherkin, London has it ALL.
Witness 360-degree views of one of the world's most beautiful and striking cities, ideally planned to coincide with the sunset for an added touch of magic and romance.
The proposal experience:
Book a table for two hours in your very own private dining room, at the top of London's famous Gherkin building.
With wraparound views of the city and a bottle of Searcy's champagne, your personal proposal planner will create a perfectly polished setting to ask the big question.
Scattered rose petals and candlelight create the romantic ambience, but if you're looking for additional romantic touches, this package includes a dedicated proposal planner to make things 'proposal perfect'.
The five-course tasting menu and paired wines along with delectable William Curley chocolates and post-feast tea and coffee make this the ultimate proposal destination for those who love food and high class... (and want to show-off to their family and friends).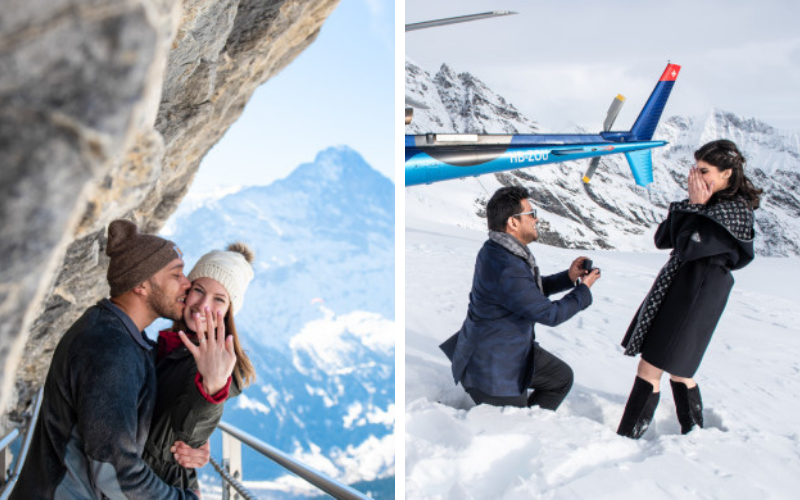 #13 Propose on a Glacier in the Swiss Alps
Switzerland has an abundance of beautiful, romantic settings in which to propose, so for those looking for an alpine engagement destination, it can be hard to decide on a location.

That's where the Switzerland Wedding Company come in.

Experts in the most romantic and decadent experiences the Swiss culture and landscapes have to offer, they'll advise and arrange everything for you... right down to the very last details.

Anything is potentially possible with this proposal - so long as the landscape allows it.

Whether you've envisaged luxury cars, private helicopter tours and champagne and roses, or a simple but unforgettable proposal at the foot of the mountains, they really can help make anything a reality.

The proposal experience:
Take a helicopter flight to the glaciers
Surprise your beloved with a ring and Champagne
Includes a discreet photographer to unobtrusively snap the memories made in this most special moment.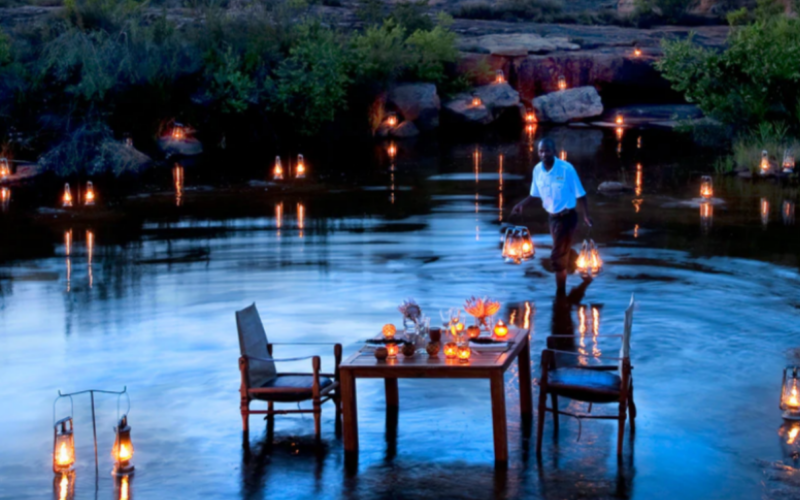 #14 Extraordinary River Proposal in the African Bush at Bushman's Kloof
The South African landscape and distinctive natural wildlife is unparalleled in its ability to create a special kind of romance.
And for those enchanted by the ancient spirit of Africa, a proposal in the Western Cape of South Africa could be for you.
The River Boma Extraordinary Dining Experience offered by Bushman's Kloof Wilderness Reserve and Wellness Retreat truly lives up to its name and uses the spiritual wisdom of this wonderful destination to bring life to your proposal.
The proposal experience:
Your private proposal table awaits you in the most exclusive and romantic setting on the river.
Enjoy an authentic African dining experience overlooking the majestic Boontjies River (with the wonderful staff attending to your every need).
Say those all-important words illuminated by the breath-taking South African night sky and an array of candlelit lanterns.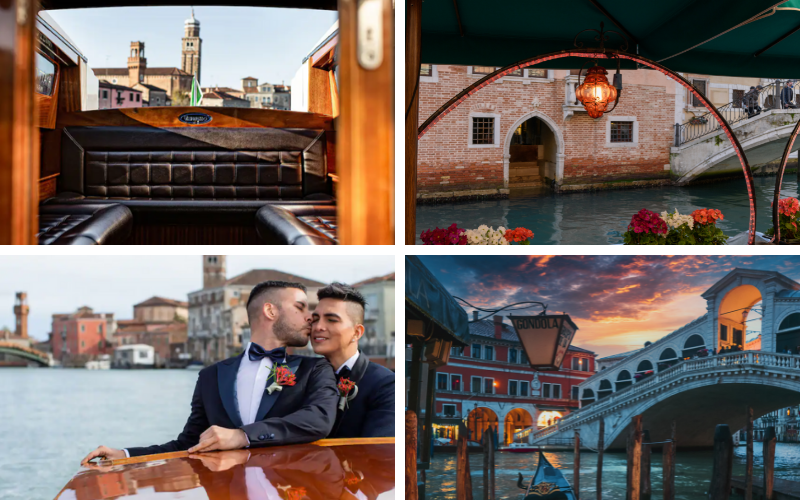 #15 Propose on the Venetian Lagoon at Hyatt Centric Venice
The Venetian island of Murano with its beautiful canals and unique location is a wonderful destination for those proposal planners looking for history, culture and the charm of Venice's watery highways.
And the Hyatt Centric Hotel has the perfect package for a luxurious and truly Venetian proposal experience.
Let the moment take you at any point in your two-night stay to ask those four magical words. But here's what we suggest...
The proposal experience:
Arrive in your luxurious canal-view suite, welcomed with champagne, Prosecco, chocolate-covered strawberries and velvety rose petals.
Then let the words 'Will you marry me?' tumble from your mouth during an ultra-romantic private boat ride across the lagoon.
Continue the celebrations with an intimate dinner for two
Followed by a 2-hour wellness session the following morning (perfect to revive from the previous day's excitement).
#16 Propose on a Yacht in Thailand at

My Beach Phuket

Phuket is a dream destination for anyone looking for a warm proposal paradise.

The exotic call to Thailand's white sandy beaches far away from the stresses of everyday life is hard for anyone to resist.

And there aren't many other destinations like My Beach Resort Phuket.

The proposal experience:
Take an incredible sunset yacht trip and spend a couple of hours just the two of you, evoking memories of your romantic journey together over a delicious picnic.
When the moment feels right, take a deep breath and say those magical words.
Head back to the shore for a romantic beachside private dinner
Before going back to your beachfront room with private pool to continue your celebration.
When you wake to your first day as an engaged couple, enjoy a refreshing floating breakfast as you reminisce about the night before.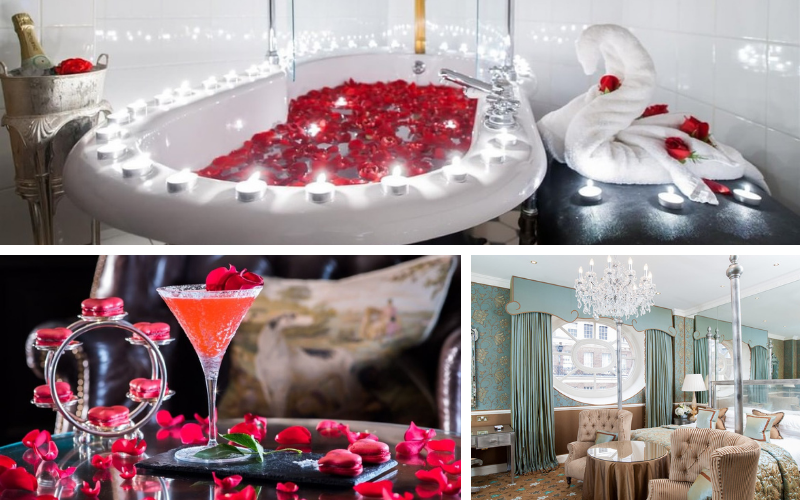 #17 Propose in Bath Tub filled with Rose Petals at Chesterfield Mayfair
For couples seeking a seductive proposal within reach of a city buzz, The Chesterfield Mayfair is a fantastic option.
Although the Chesterfield is in the heart of England's capital, it delivers a truly secluded romantic getaway feel with the added benefits of boutique city hotel luxury.
And their romance package has everything you need for a proposal night to remember.
The proposal experience:
Start your night in the hotel's bar where you'll find two complimentary romantic cocktails... to get you in the mood for love.
Then, whenever you decide to retire for the evening, you'll be greeted by the ultimate room for romance (and a special proposal).
Imagine a scattering of rose petals, a single red rose, chocolate-dipped strawberries, Champagne and a heart-shaped bath bomb for good measure.
Whether you decide to get down on one knee then and there... or you wait until you're sharing a glass of bubbly in a perfumed bubble bath filled to the brim with rose petals and surrounded by flickering candlelight... it would be hard for anyone to say no!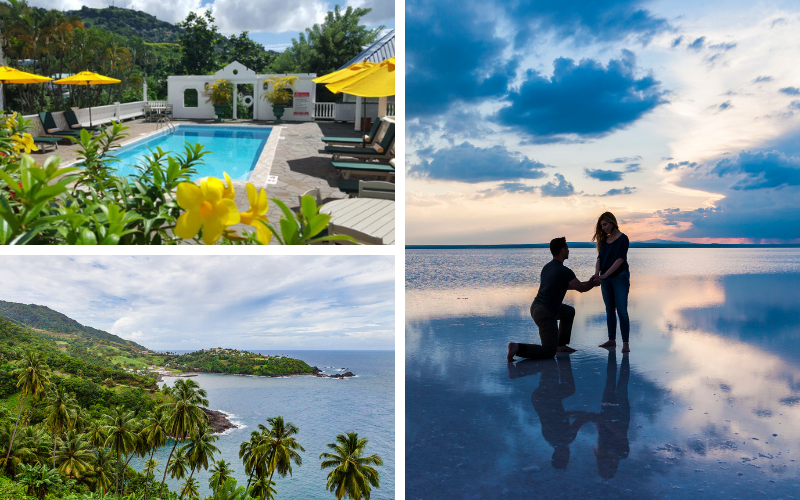 #18 Relaxed Beachfront Caribbean Proposal at Grenadine House
The Caribbean is a favourite destination for couples wanting to focus only on each other... away from the stresses and strains of everyday life.
And its popularity as a proposal destination is no exception, with its palm-fringed beaches and turquoise waters making it obvious why.
Add to this exuberant environment one of Grenadine House's romantic and celebratory three-course dinner packages, and you have the ingredients for the tropical proposal of your dreams.
The proposal experience:
This proposal is all about relaxing into the moment.
Pop the question poolside... on their impressive roof deck... in their manicured tropical gardens... or on the beach.
Or if you'd prefer to wait until your sumptuous 3-course meal, you can look forward first, to a luxurious lobster or steak entrée and a bottle of ice-cold sparkling wine.
Sink into this laid back tropical vibe and you won't need to calm your nerves before you get down on one knee.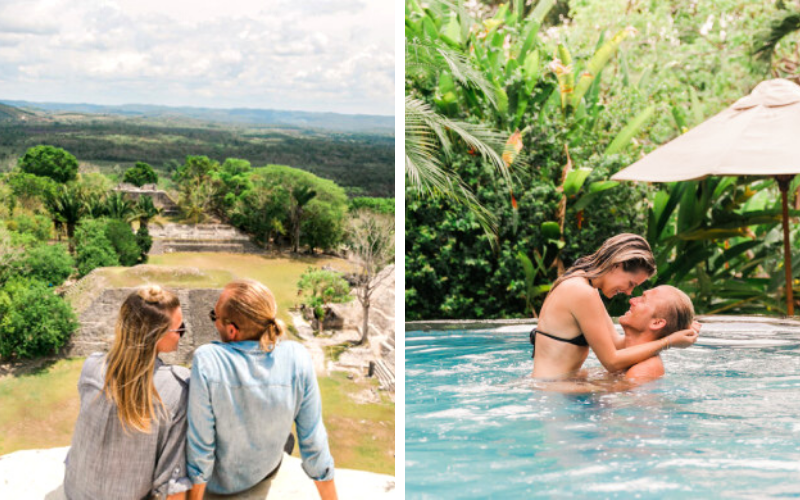 #19 Propose in the Maya Mountains of Belize at Ka'ana Resort
The Maya Mountains in Belize are a treasure trove of ancient history and enchanting Belize culture.
If you're looking for a way to incorporate a love of mysterious history into your proposal then the Ka'ana Resort could have the package for you.
The proposal experience:
Hidden in the jungles of Western Belize, pamper yourself in the lead up to your magical moment with a couples' Swedish massage and a bottle of sparkling wine.
When fully rejuvenated, re-energised and reconnected to each other, embark on a once-in-a-lifetime tour of the epic Xunantunich Maya Ruins.
This historical archaeological monument is an unexpected, yet ideal place to pop the question, and a memorable tale to be told for years to come.
Head back to the resort to celebrate with an intimate proposal dinner for two.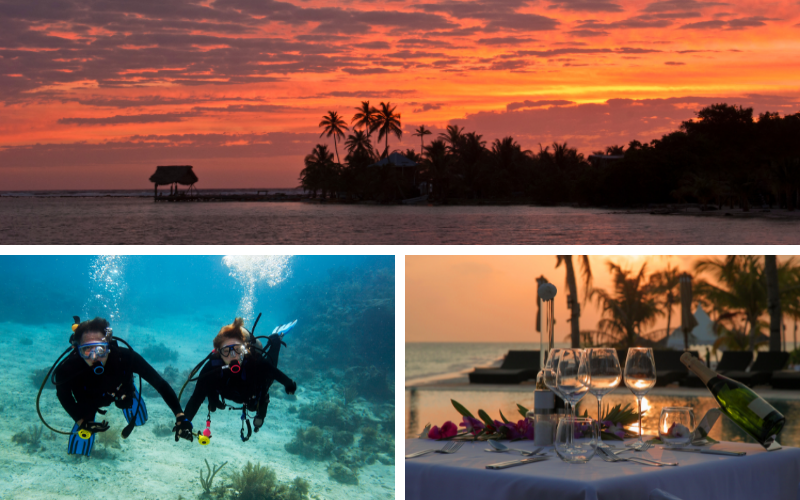 #20 Propose Underwater in the Coral Waters of Belize at Isla Marisol
You can't get closer to the water than the Isla Marisol Resort, so for ocean-loving couples, this is an ideal destination for a truly imaginative underwater proposal.
Ocean lovers will bask in its proximity to the unique marine wildlife on Glover's Reef Atoll, and with experts in all things aquatic, Isla Marisol Resort can help plan your perfect underwater proposal.
The proposal experience:
Stay in a beach cabana, just 3 feet from the water's edge and allow the ocean to inspire your upcoming event.
Whether it's while you're scuba diving among the whale sharks, or observing the incredible reef turtles and rays, an underwater proposal is an unforgettably different way to pop the question.
Celebrate with a romantic dinner on the beach
We hope these 20 romantic places to propose helped inspire your upcoming proposal plans.
You can search all our proposal ideas, experiences and packages here or for even more ideas why not use our Romantic Butler to bring you personalised quotes based on your desired proposal setting and your unique personal interests.
Happy Proposing!