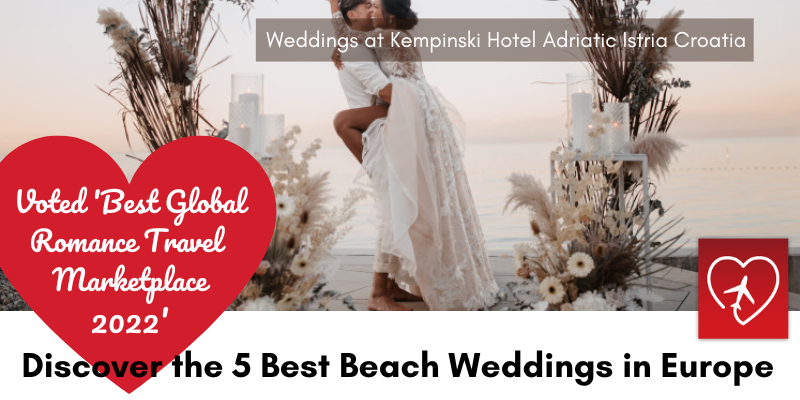 5 Beach Wedding Destinations in Europe... you'll want to die for!
For a truly unforgettable wedding, exchange vows beneath a luxurious cotton candy sky as the warm ocean air wafts around you and your guests.
Nothing beats this iconic combination of romance and serenity!

Brides and grooms from all walks of life dream of a beach wedding... and a sunset ceremony on sand is often top of the wish-list.
Capture timeless memories in front of an unparalleled ocean view with a laidback, yet unforgettable vibe.
Your perfect shoreline ceremony awaits you!

Search no further for your beachy wedding dreams - YOUR DREAM BEACH WEDDING DESTINATION
** A word of warning from personal experience and a very last-minute change of plans on my own wedding day - sand and your gorgeous high-heeled wedding shoes are not going to be best of friends! So, if you can't imagine walking down the aisle in flats or ideally bare feet, you may want to opt for a ceremony overlooking the beach or on the decking. I did!
5 BEST BEACH WEDDING DESTINATIONS IN EUROPE
If you're looking for a breath-taking beach wedding destination in Europe, then look no further! Europe has a plethora of beautiful sandy beaches and tranquil sunsets views to provide the perfect backdrop for your special day. Plus, our experienced wedding venues and planners will help you create a unique and unforgettable ceremony that will be remembered for years to come. So, why not say "I do" in some of the most enchanting locations on earth?
Check out our top recommendations below including Turkey, Croatia, Greece, Italy and Iceland – each with its own unique charms and romantic experience.
We know you won't be disappointed!
#1 Get married on a private beach in Turkey's lesser known answer to Santorini...

SIMURG INN BEACH WEDDINGS - QUICK ENQUIRE
Looking for a wedding venue that no one else knows about? Ayvacik, the Mediterranean's best-kept secret, is an alluring destination perfect for tying the knot. Plus, you won't have to wait long! This hidden paradise in Santorini's Turkish cousin will dazzle couples searching for romantic sunset weddings as early as 2023/24.

Find out everything you need to know about booking your dream sunset beach wedding in Ayvacik at the gorgeous Simurg Inn
#2 Have a 5-Star beach wedding overlooking the Adriatic Sea in Croatia...
KEMPINSKI HOTEL ADRIATIC WEDDINGS - QUICK ENQUIRE
Love is in the air! Get ready to make your special day extra memorable with a truly unique beachside wedding experience. Enjoy sweeping Adriatic horizon views, top-notch planning services and exclusive access to one of nature's most beautiful coasts - all for the perfect destination wedding celebration.

Find you out everything you need to know about booking your luxury sunset beach wedding in Istria at Kempinski Hotel Adriatic Istria Croatia
#3 Be the envy of every beach bride & groom with a Greek Island beach wedding...
STELLA ISLAND WEDDINGS - QUICK ENQUIRE
Crete is the perfect wedding destination for couples seeking an unforgettable experience at a beautiful location. From its romantic Mediterranean coastline to its dramatic mountain views, it offers stunning backdrops and blissful indulgence that make it one of Instagram's most popular destinations for romance.

Find out everything you need to know about booking a sunset beach wedding at Crete's gorgeous Stella Island Luxury Resort & Spa
#4 Get married on the black sands of Sicily...


CASTELLO DI SAN MARCO WEDDINGS - QUICK ENQUIRE
Sicily is a classic Mediterranean destination that has recently surged in popularity due to its starring role as the setting for White Lotus. Whether you're looking for stunning vistas, romantic ambience or fascinating history, this captivating island will surely have something special waiting just around every corner!

Found out everything you need to know about booking a sunset beach wedding at the exclusive Castello di San Marco near Taormina.
#5 Or alternatively choose the dramatic black sands of Iceland.


FRIEND IN ICELAND WEDDINGS - QUICK ENQUIRE
Looking for a unique, romantic setting to declare your love? Iceland is the perfect destination! With its stunning black sand beaches and breath-taking natural beauty, it's no surprise that couples all over are choosing this beautiful island as their wedding site. Make your day unforgettable - book an Icelandic destination wedding today!

Found our everything you need to know about booking a wedding in Iceland with our expert wedding partners at Friend in Iceland.
Although a beach ceremony might not be traditional, it's definitely incredibly romantic and becoming more and more popular – especially in Europe! If you're looking for beautiful beaches to elope to or have a small, intimate wedding ceremony, check out the options above. And if none of those quite fit what you're looking for, we have plenty of other gorgeous wedding destinations all around Europe – just get in touch and we'd be happy to help you plan your perfect day.
You many also like: World's 18 Most Romantic Island Destinations (perfect for beach weddings and honeymoons)
You may also like: 21 Most Romantic Mini-Moons in Europe
You may also like: 10 Unique & Exclusive Destination Wedding Venues