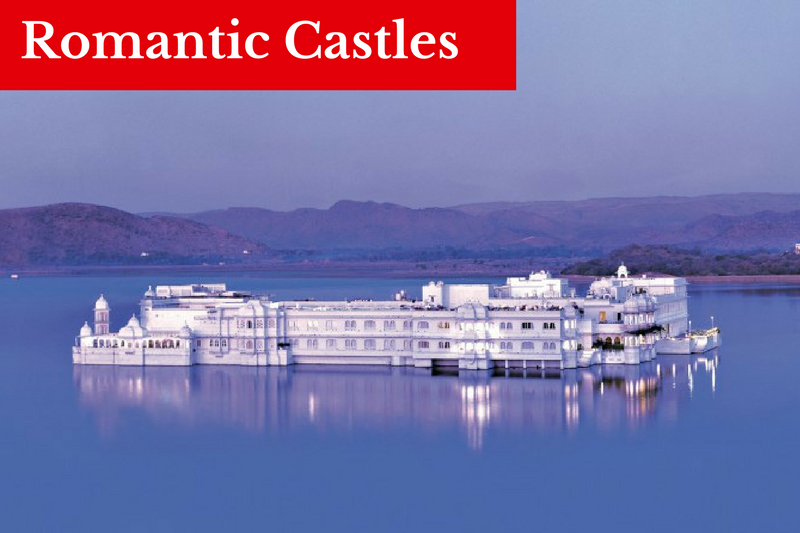 15 Most Romantic Castles, Palaces & Historic Buildings | Worldwide
Whilst there's no denying the lure of modern luxury, when it comes to romance and special occasions there's something magical about staying in a castle, palace or historical building.
If you're planning a romantic break or looking for the perfect venue for your wedding take inspiration from our countdown of the 15 most enchanting castles, palaces and historical buildings from around the world, all offering bespoke romantic packages and services for couples.
#1 Il Borro Relais & Chateaux | Tuscany, Italy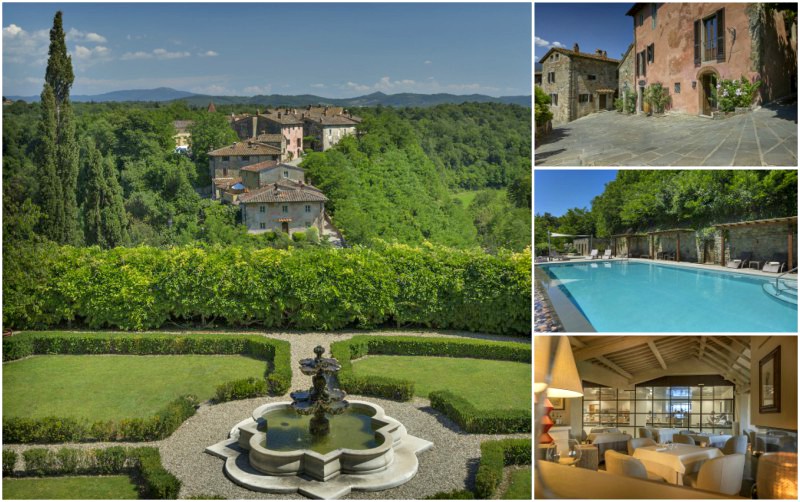 Couples love romance at Il Borro because…
Located in the shadow of the cypress trees of ancient Via dei Sette Ponti, and surrounded by enchanting vineyards and olive groves, is the utterly encapsulating Il Borro Relais & Chateaux. Set on a 1000 year-old castle estate, it has an air of grandeur and refinement that will transport you to a faraway land, where the rolling landscape and Tuscan sun will nourish your soul. Il Borro has an air of quiet magic and charm in abundance. Its romantic philosophy is that through telling stories, a place becomes a part of those stories, so you'll feel the romance of all the stories that have been here in Tuscany over the years, and your love story will stay here forever...
Get married at Il Borro
Your love story here may be the tale of you beginning the journey of married life, and weddings at Il Borro combine nature, tradition and exclusivity, to bring your dream wedding to life. You could choose to say 'I do' in traditional Renaissance style in the perfectly manicured private gardens, or perhaps you'd like to hold an elegant Mediterranean reception in the fragrant orangery. Il Borro's wedding service takes care of as much or as little as you like. Expert coordinators are available for every step of your big day, and luxurious additions will help you to prepare, such as couple's sensual spa treatments.
#2 Taj Lake Palace | Udaipur, India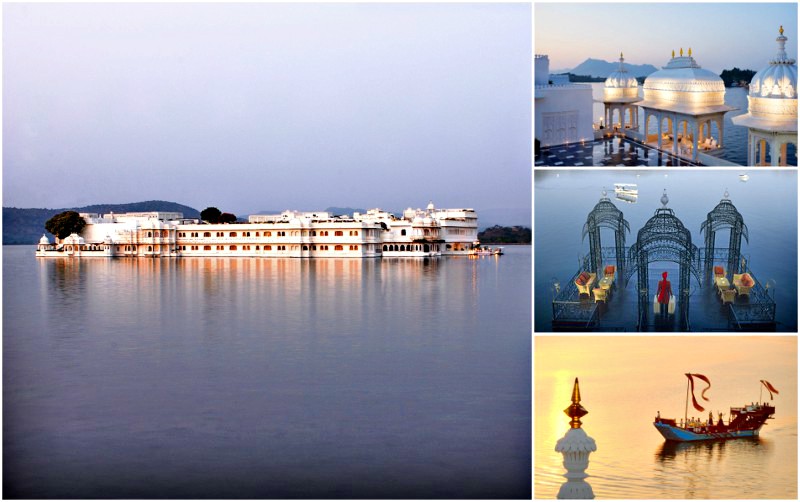 Couples love romance at Taj Lake Palace because…
Stay in a magical palace straight out of a fairy-tale book! Taj Lake Palace is located in the middle of Lake Pichola and is 45 minutes' drive from Udaipur Maharana Pratap airport. Built in the 17th century on a natural foundation of 4 acres of rock, the Lake Palace is one of the most beautiful palaces in the world, arising out of the Turquoise Waters of the Pichola like an elegant fantasy in white marble.
#3 Ashford Castle | County Mayo, Ireland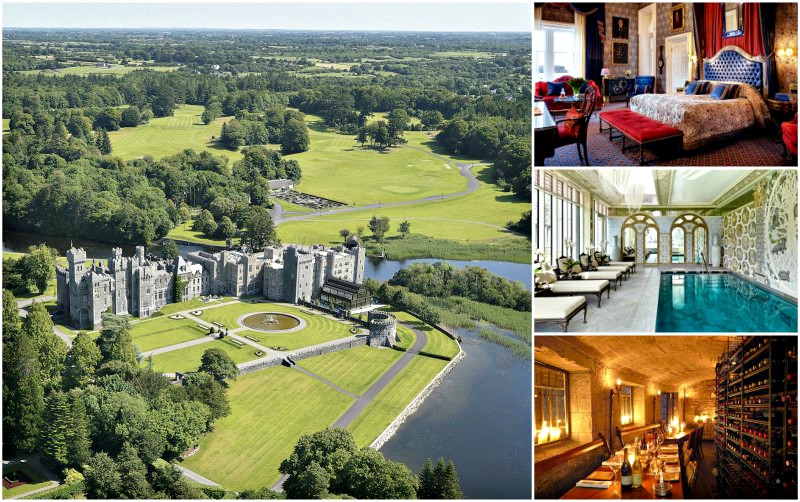 Couples love romance at Ashford Castle because…
Through the grand stone gates, a royal adventure begins. This remarkable 800-year-old castle, widely recognised as Ireland's top castle destination and once home to the Guinness family, is exceptional in every sense. Set in 350 acres of woodland on the shores of Lough Corrib in County Mayo, the multi-award winning property has been voted 'Best Hotel in the World'.
Get married at Ashford Castle
With its elegance and splendour, breath taking views and decadent guest suites, it's no wonder that Ashford Castle wins the award for The Most Romantic Hotel in Europe, year after year. Its grandeur enables it to play host to wedding parties of almost 200 guests, yet more intimate affairs are also held here in the divine Connaught Room, which enjoys incredible views of Lake Corrib. Elaborate yet tasteful affairs kiss the air with a classic feel, as this elegant castle moves into a new era of celebrating love in all its glory, and the close-knit team of wedding experts at Ashford Castle will work closely with you to ensure your day is everything you'd ever dreamed of.
#4 Luxury Art Nouveau Hotel Villa Ammende | Pärnu, Estonia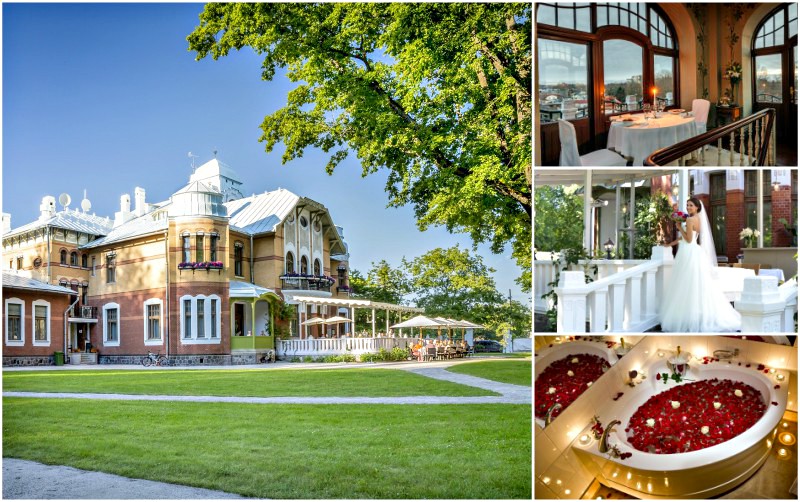 Couples love romance at Luxury Art Nouveau Hotel Villa Ammende because…
100 years ago, a Pärnu merchant, Hermann Leopold Ammende, was looking for the perfect venue for the wedding party of his beloved daughter Ellen. Since he could not find it, he decided to build it himself - an exquisite villa with towers, balconies, luxurious guest rooms, salons and dining halls, with a spacious garden and a sunny terrace. On her wedding day, Miss Ellen was the happiest bride in the world as she married the love of her life in a most elegant and romantic villa imaginable. Today, Luxury Art Nouveau Hotel Villa Ammende is a century old carefully renovated charming city chateaux with genuine historic interiors, luxurious antique furnishing, and the perfect setting for romance.
Get married at Luxury Art Nouveau Hotel Villa Ammende
Share in Miss Ellen's happiness when your dream wedding becomes your reality at Luxury Art Nouveau Hotel Villa Ammende. Offering "timeless elegance, privacy and unforgettable moments" contact the team to plan your perfect wedding, civil union or a romantic renewal of vows ceremony.
#5 Cıragan Palace Kempinski Istanbul | Istanbul, Turkey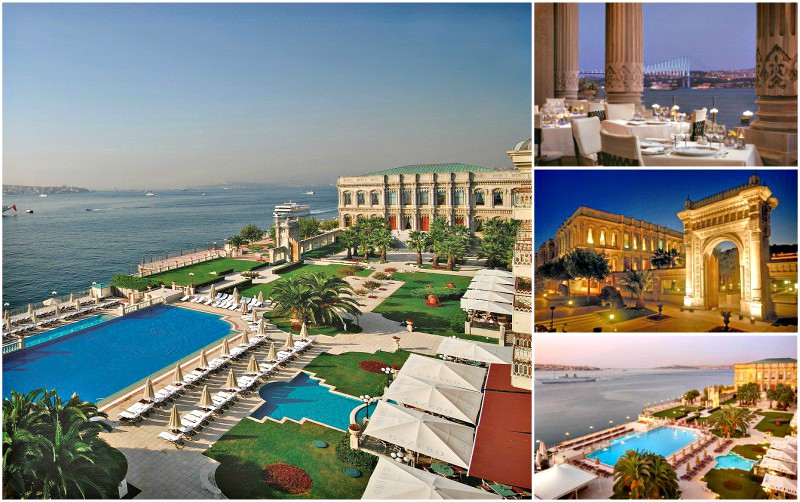 Couples love romance at Cıragan Palace Kempinski Istanbul because…
Stood proudly on the shores of the Bosphorus waterway in Turkey, the Ciragan Palace Kempinski Istanbul is a unique 19th-century Ottoman palace, transformed today into a majestic hotel. Couples can indulge here in 5-star luxury and enjoy the relaxed atmosphere of the grand hotel from one of the stunning rooms or suites, while the lush gardens, infinity pool and panoramic views are best described as simply spellbinding.
Get married at Cıragan Palace Kempinski Istanbul
A former Ottoman palace, the Ciragen Palace Kempinski Istanbul makes a truly magical setting to host a fairy tale wedding, whether it's a lavish affair for up to 2000 guests, or an intimate ceremony for close friends and family.
#6 Hotel Bristol, a Luxury Collection Hotel | Vienna, Austria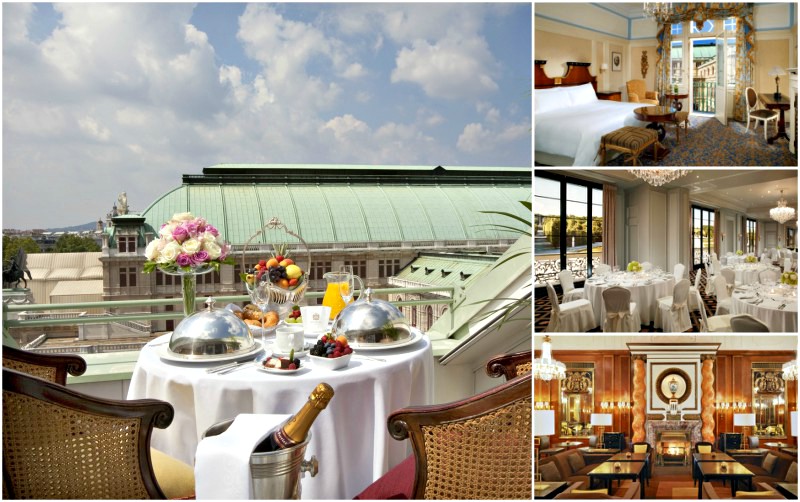 Couples love romance at Hotel Bristol, a Luxury Collection Hotel because…
With regal majesty and composed Viennese flair in abundance, the grand and opulent Hotel Bristol offers the most lavish place for love to grow and blossom. Dating back to 1892, the hotel has a longstanding reputation for its impeccable service and refined luxury. Furthermore, it is said that Edward, Prince of Wales, decided to abdicate his throne in favour of his love for Wallis Simpson – the Duchess of Windsor and American beautiful American socialite – during one of his numerous stays at the Hotel Bristol. Politically speaking, this was utter scandal, but the romantic gesture offers heart-warming inspiration to couples everywhere.
Get married at Hotel Bristol
Hotel Bristol offers extensive personalised wedding packages, their ethos being to embrace the Unique, Individual and Exceptional. Whether you want an intimate affair surrounded by a small group of loved ones, or a grand and opulent celebration with an elaborate banquet and a wedding ball, Hotel Bristol has an exceptional events team that will take care of every last detail for you.
#7 Monastero Santa Rosa Hotel & Spa | Amalfi Coast, Italy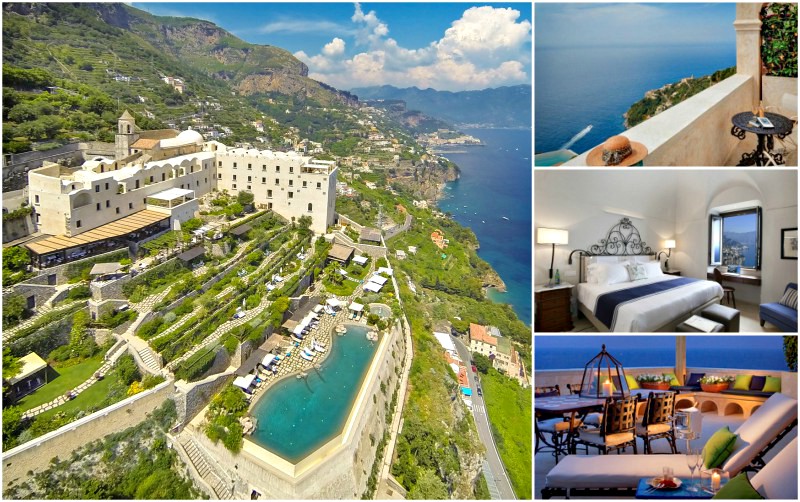 Couples love romance at Monastero Santa Rosa Hotel & Spa because…
Built upon a rocky cliff edge on the Amalfi Coast, Monastero Santo Rosa Hotel and Spa is a former 17th century monastery that offers a unique holiday experience within an unforgettable setting. While with the resort's spectacular views over the Tyrrhenian Sea, lush secret gardens, fully equipped spa and relaxing pool, guests are certain to be kept thoroughly entertained throughout their stay.
#8 Raffles Grand Hotel d'Angkor | Siem Reap, Cambodia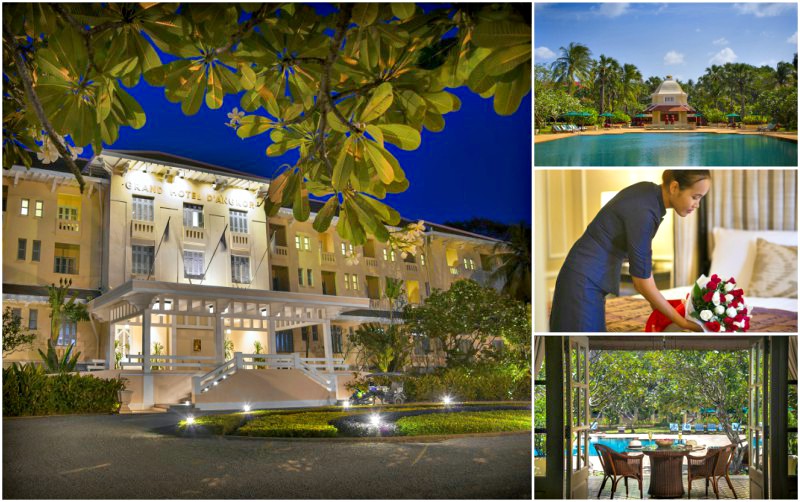 Couples love romance at Raffles Grand Hotel d'Angkor because…
Sitting grandly in 15 acres of beautifully landscaped French gardens, is the sophisticated and statuesque Raffles Grand Hotel d'Angkor. This luxurious 5-star hotel first opened its doors back in 1932 and has been lovingly restored to its former glory, enhancing its original art deco features, such as the striking cage elevator in the lobby. Uniformed doormen still greet guests as they come and go, inspired by the Royal Palace. In the grounds, you shall also find the country's largest swimming pool, surrounded by fragrant frangipani trees, creating an oasis of peace and tranquillity.
Get married at Raffles Grand Hotel d'Angkor
Exchange your wedding vows in an enchanting paradise - Raffles prides itself on coordinating the most romantic, iconic and unforgettable events. If you'd like to embrace Cambodian tradition, you could also opt for a Monk blessing in the hotel's garden or nearby pagoda, or could hold your wedding ceremony and reception at the Temple.
#9 Romantik Hotel Schloss Pichlarn | Styria, Austria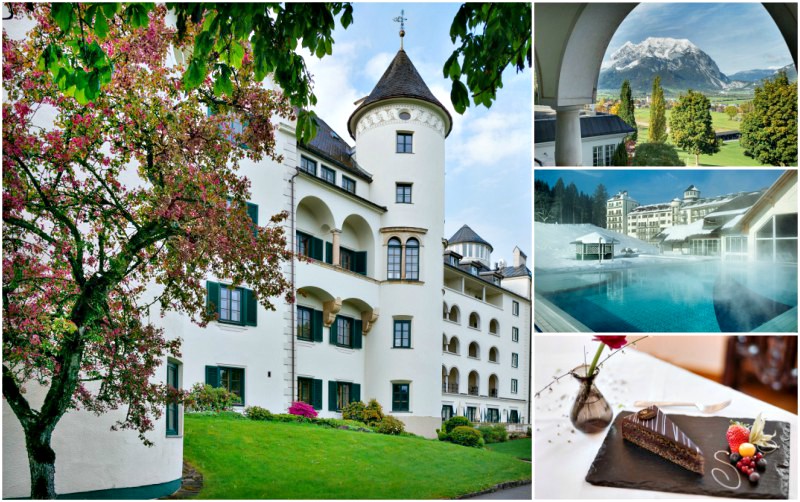 Couples love romance at Romantik Hotel Schloss Pichlarn because…
At Romantik Hotel Schloss Pichlarn you experience the unique atmosphere of a 1000 year old castle. Situated on an elevation with mesmerising views over the picturesque Ennstal valley this is an idyllic destination for well-being, golf and indulgence. Want to surprise your partner for a special occasion? The team gladly helps you to arrange a marriage proposal or other romantic occasions.
Get married at Romantik Hotel Schloss Pichlarn
Romantik Hotel Schloss Pichlarn is the perfect location for your exclusive wedding. It is incomparably romantic to say "Yes, I do" in the fairy tale setting of the castle park with view of the centuries-old linden tree, a symbol for love, and the castle itself. At the Schloss resort you will find everything you need for your very special celebration all in one place: a dream wedding venue for your ceremony and reception plus stunning accommodation for you and your guests.
#10 Leasowe Castle | Wirral Peninsula, United Kingdom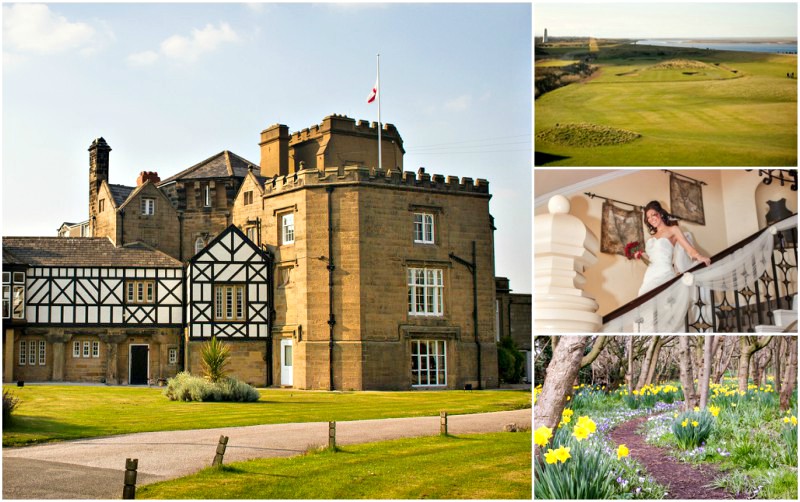 Couples love romance at Leasowe Castle because…
Located in the heart of the Wirral Peninsula, which is just a 20-minute drive from Liverpool City Centre, Leasowe Castle is an historic castle ideal for romantic breaks with your loved one. Having recently undergone an impressive £3-million rebrand and refurbishment, the venue is home to in-house restaurant Brasserie 1593 and the contemporary Knights Cocktail Bar, to offer a contemporary drinking, dining and events destination within a romantic castle setting.
Get married at Leasowe Castle
The luxurious setting and impressive sea views make Leasowe Castle Hotel one of the best wedding venues in Merseyside. Whether you just want a simple wedding reception or the full wedding service the castle can provide everything you need to create your perfect wedding day. You could even book the entire venue for yourself with an Exclusive Use package, making you the King and Queen of Leasowe Castle Hotel on your wedding day. Leasowe Castle is licensed to hold civil ceremonies and partnerships for up to 110 people and reception rooms holding up to 250 people.
#11 Palazzo Caracciolo Napoli MGallery by Sofitel | Naples, Italy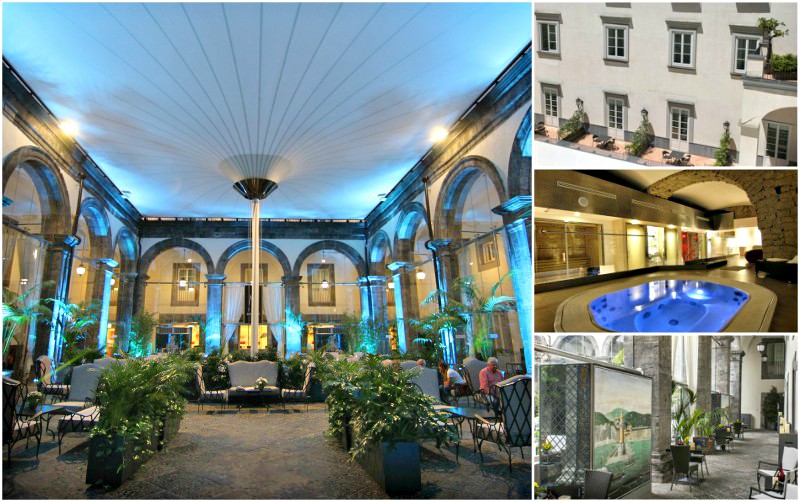 Couples love romance at Palazzo Caracciolo Napoli MGallery by Sofitel because…
Naples is a big city with its own charm and romance: it is vibrant, captivating and full of passion and was the capital of the kingdom for hundreds of years. Palazzo Caracciolo, built in 1584, during these centuries of kingdom was one of the Royal palaces inhabited by the Court. It is a majestic building, that conceals a beautiful covered cloister and pretty garden. The 146 rooms, where history combines with modern hospitality requirements, are naturally sound-proofed by the substantial old walls, and are fresh during the summer and comfortable in winter.
Get married at Palazzo Caracciolo Napoli MGallery by Sofitel
Thanks to its 800 years of history and its impressive colonnaded courtyard, Palazzo Caracciolo offers a unique romantic ambience and an utterly enchanting frame
for couples seeking privacy and charm on their wedding day
. Hosting large celebrations for up to 180 guests in the Cloister as well as intimate events in the luxuriant garden, couples can create their perfect wedding day or renewal of vows ceremony.
#12 San Clemente Palace Kempinski Venice | Venice, Italy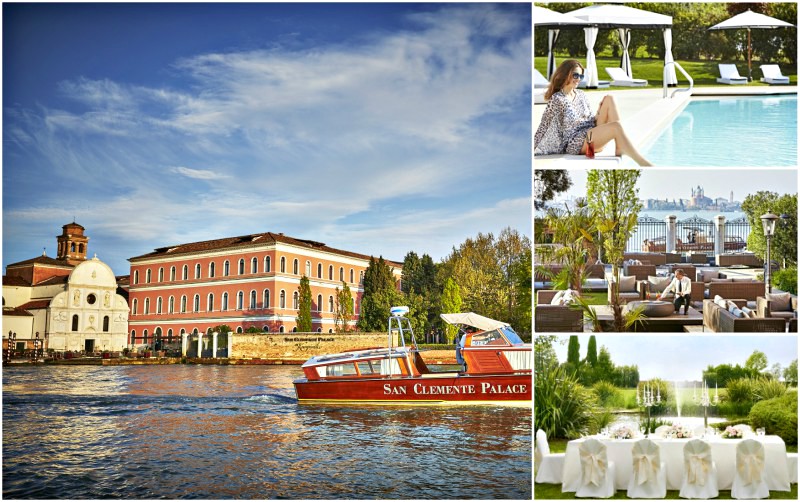 Couples love romantic at San Clemente Palace Kempinski Venice because…
San Clemente Palace Kempinski offers peace and intimacy on the private island of San Clemente just a short boat ride away from Venice. ffering views over the lagoon, courtyard or the centuries old park, each room and suite is stunningly presented with classic Venetian design and a number of elegant touches. Couples looking to make their stay a truly magical experience won't be disappointed by the incredible Tiepolo Suite, with its white Italian marble bathroom and high windowed doors opening to views over the gardens and sea below.
Get married at San Clemente Palace Kempinski Venice
Loved up couples after for an unforgettable venue to hold their wedding will struggle to find anywhere as exquisite and one-of-a-kind as the island of San Clemente. Couples can have the choice of saying; "I do" in the island's magnificent 12th century church or in the wonderful gardens surrounded by cypress and magnolia trees. Honeymooners and those just looking to enjoy one another's company are also sure to be impressed by the island's seclusion so close to the romantic city of Venice.
#13 The Old Government House Hotel & Spa | Guernsey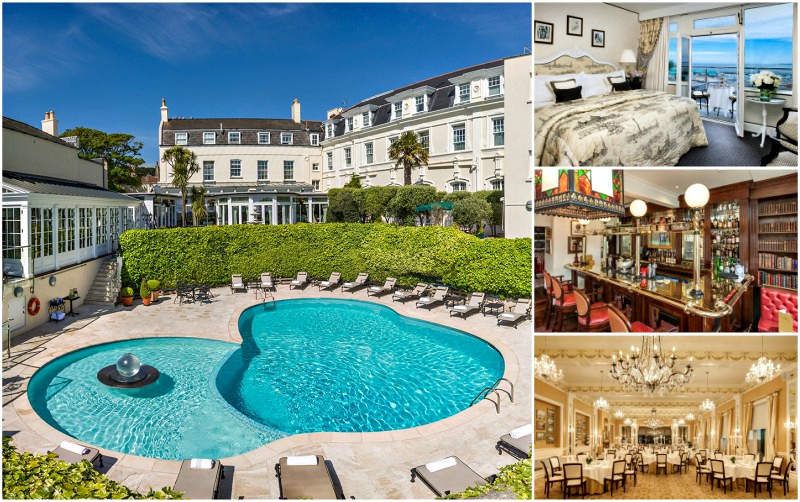 Couples love romance at The Old Government House Hotel & Spa because…
The Old Government House radiates with 5 star luxury and historical charm: fresh sea air and the breath-taking landscapes creating a feeling of peace and harmony. Whether you're here for the perfect proposal, a honeymoon hideaway or a cherished anniversary, the devoted team of hopeless romantics at The Old Government House will tailor your experience to meet your every desire. To make the most of your stunning location, opt for a room with a balcony, where you can sip champagne with an enchanting view.
Get married at The Old Government House Hotel & Spa
Expert wedding coordinators will work closely with you for your Big Day, and there are three superb halls for hosting exceptional wedding banquets. The private patio and picturesque walled gardens offer spectacular views of the sea and the neighbouring islands, so this is a wonderful place to hold your reception, and raise a glass of champagne towards your Happily Ever After.
#14 Schloss Fuschl Resort & SPA | Salzburg, Austria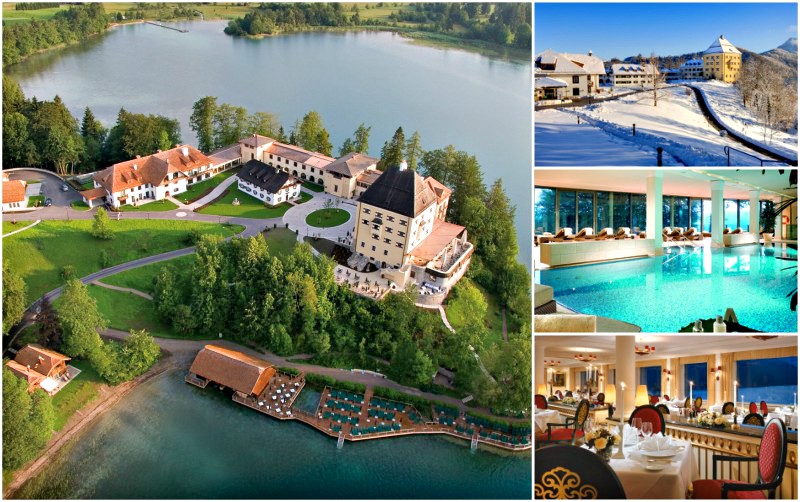 Couples love romance at Schloss Fuschl Resort & SPA because…
Originally built as a hunting castle in 1461, the grandeur of Schloss Fuschl Resort & Spa sits magnificently in an exquisite spot of land that stretches into the breathtaking Lake Fuschl. It is dubbed by Condé Nast Traveller as one of the 25 best resorts in Europe, and it's easy to see why; its combination of rich, traditional style and slick modernity, alongside sweeping landscapes of natural beauty, is utterly enchanting. Considered to be a refuge for relaxation, Schloss Fuschl Resort & Spa is the place to unwind in opulent surroundings. Here, you shall be cocooned in lavishness and luxury, making it the perfect place to reconnect with your loved one.
Get married at Schloss Fuschl Resort & SPA
With its idyllic location in The Alps and the enchanting emerald green Lake Fuschlsee stretching out before you, this is an awe-inspiring location to begin the journey into married life. Whether you're looking to celebrate your love with a huge high-spirited party, or you desire an intimate affair for just your nearest and dearest, Schloss Fuschl Resort will make your wedding dreams come true. The team will fulfil your every wish, down to the very last detail, so you can count on the most personal experience; and the picture-postcard perfection of this place will sweep you off your feet almost as much as saying 'I do'.
#15 Gretna Hall Hotel | Scotland, UK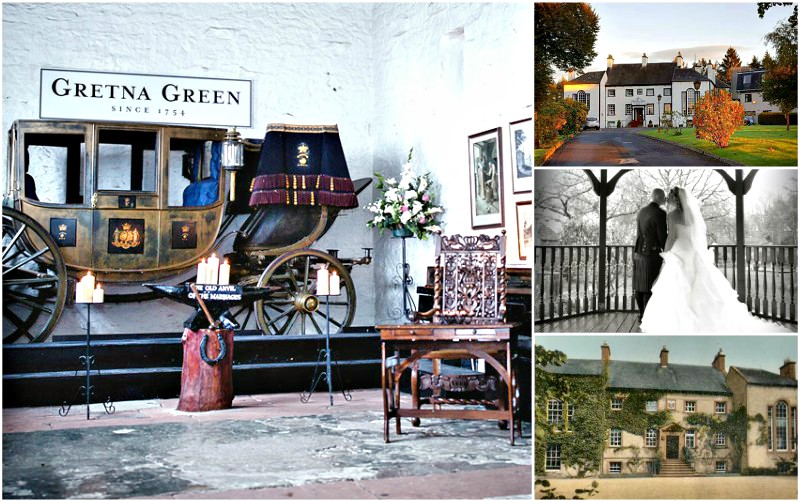 Couples love romance at Gretna Hall Hotel because…
A private manor house built in 1710, Gretna Hall then became a coaching inn from later that century. This historic venue is steeped in the traditions of Gretna Green and as a modern day venue, weddings take place in atmospheric marriage rooms in the original coach-house and courtyard. The wedding rooms are full of character and in keeping with tradition, each room features an anvil, which to this day seals your marriage in Gretna Green.
Get married at Gretna Hall Hotel
You cannot help but fall in love all over again with the romance of Gretna Green floating around. You may even want to plan your wedding, renewal of vows or why not ask about our hand fasting ceremony, which can be performed immediately. The gardens at Gretna Hall are extensive and provide an ideal backdrop for wedding photographs, with an ornamental water feature, Gazebo, Kissing Gate and "Gretna Green" sign alongside the large lawns and woodland. Show your romantic side and visit our marriage rooms and learn all about the 'Gretna Green' history as well as taking a stroll 200 yards to our Famous Blacksmiths Shop where you can learn even more!