18 Romantic Hotels for an Anniversary Break in the UK
A romantic break together is one of the most popular ways that couples celebrate their anniversary.
And with good reason.
Because a romantic hotel break is the perfect way to escape from the everyday and rediscover the magic of your love all over again.
Whether you're looking for quiet reconnection or have naughtier ideas in mind…you'll find that the UK is bursting with gorgeous hotels. From rambling country manors to boutique city-centre hideaways, the only problem is choosing where to go!
Here we have our pick of 18 Romantic UK Hotels for an anniversary break in the UK...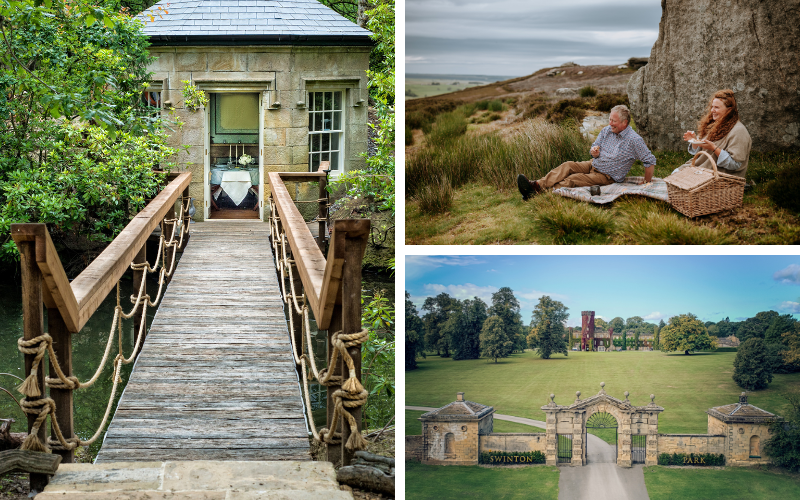 #1 Swinton Estate, Yorkshire Dales
Celebrate your anniversary with an enchanting escape for two at Swinton Estate. Choose from an opulent evening of romance in the master suite at Swinton Park Hotel, or if you're looking for a unique countryside experience, stay in one of the Bivouac Tree Lodges, complete with hot tubs, log fires, tree-hung hammocks and blanket laden verandas.
Either way we highly recommend you surprising your partner with a cosy anniversary picnic at either Bothy Hut, overlooking the parkland, or on the property's Secret Island. Accessible only by hand drawn cable ferry, complete with fairy lights and a flower strewn summerhouse, give your loved one a romantic anniversary beyond their wildest dreams.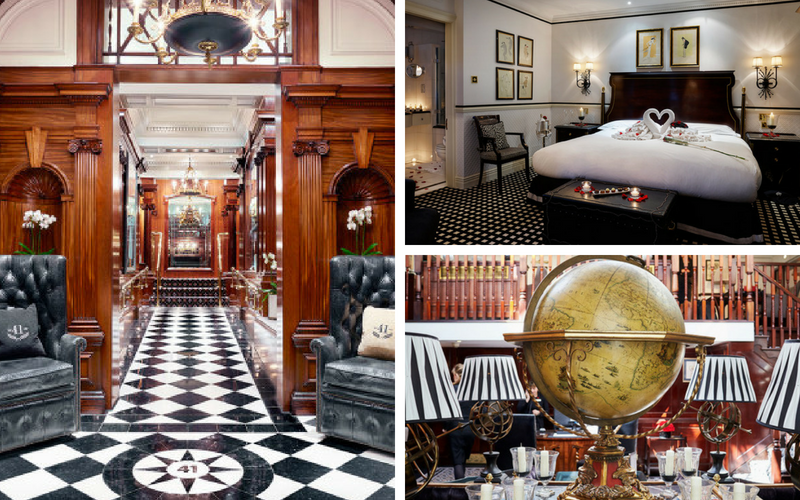 #2 Hotel 41 - Westminster, London
With sumptuous, carefully designed rooms and staff who have an eye for romantic detail, Hotel 41 is a tranquil retreat in the heart of London. Overlooking the Royal Mews at Buckingham Palace, many of the city's most popular attractions are also within walking distance. Take in the magnificent views with a glass of champagne on the nearby London Eye, or enjoy a specially made picnic in peaceful St James's park.

Each luxurious room is unique, with thoughtful details to make your stay extra memorable. For an anniversary break that's even more special, consider staying in the Conservatory Suite. This includes a Jacuzzi with space for two and an impressive glass ceiling, so you can snuggle up and stargaze in each other's arms. Don't worry - we won't tell anyone if you never leave the room!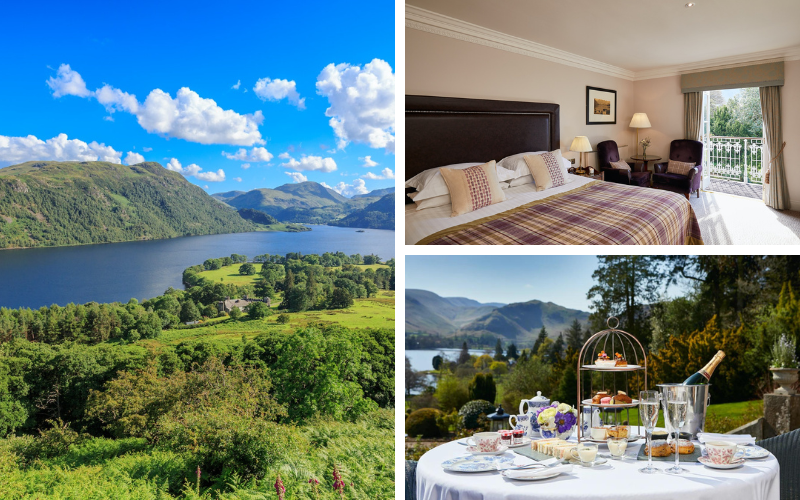 #3 Leeming House - Ullswater, Cumbria
Treat your significant other to an anniversary getaway in the romantic Lake District! Leeming House is a luxurious and charming 4-star hotel nestled amongst 22 acres of breath-taking gardens. Enjoy jaw-dropping views and direct access to Ullswater from this 200-year old country house - making it one of the UK's most sought after destinations for romance.
And if you want to celebrate your special anniversary in true style? Check into one of their luxurious suites with stunning views of the lakes and fells, a romantic two person bathtub, and even a telescope to gaze at the stars!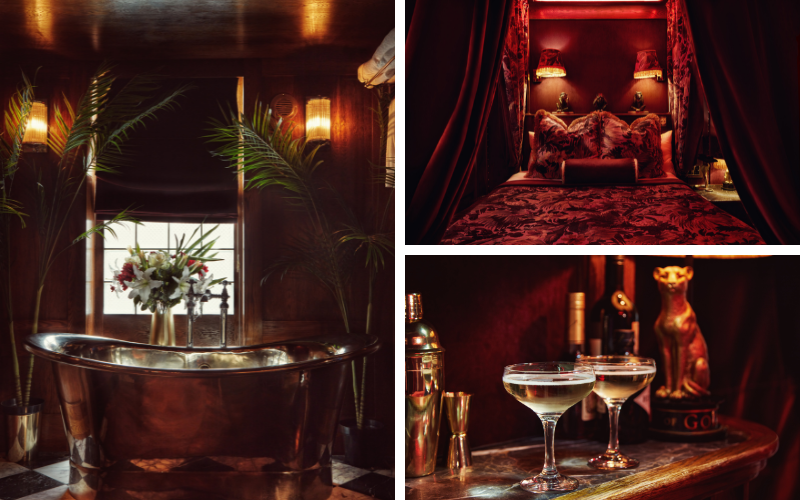 #4 House of Gods, Edinburgh, Scotland
Experience a night of pure pleasure at Edinburgh's sultry House of Gods, the ultimate adults-only escape. Let yourself be swept away in luxurious surroundings and enjoy an intimate romantic retreat that will make your anniversary one to remember! Lose yourselves in this decadent hideaway nestled within one of Europe's most beautiful cities - you won't regret it.
The magnificent rooms here have been designed specifically to overwhelm your senses - think freestanding copper baths, four-poster beds draped in luxurious curtains and secret neon lights for an extra sensuous touch! Make it a truly special evening by choosing one of the exclusive couples packages: toast each other's company with butler served Prosecco, enjoy intimate dining experiences featuring Civerinos' world famous pizza or chill out together in Lilith's Lounge before winding down after midnight. And don't worry about checking out early the next morning either; there'll be breakfast waiting for you, plus Mimosa chasers...
#5 The Coal Exchange - Cardiff, Wales
Celebrate your anniversary with a staycation at the iconic (and beautifully renovated) Coal Exchange Hotel, located in vibrant Cardiff! Start your morning here with the sweet aroma of coffee and a delectable breakfast to fuel you for an amazing day full of exploration! Experience all that this wonderful city has to offer, or take in breath-taking views on picturesque walks throughout stunning Wales.

Up the romance factor for the evening with a bottle of bubbly delivered directly to your room's private spa bath - perfect for some quality time together. Plus, The Coal Exchange can help arrange special anniversary surprises that will guarantee lasting memories when it comes time to leave!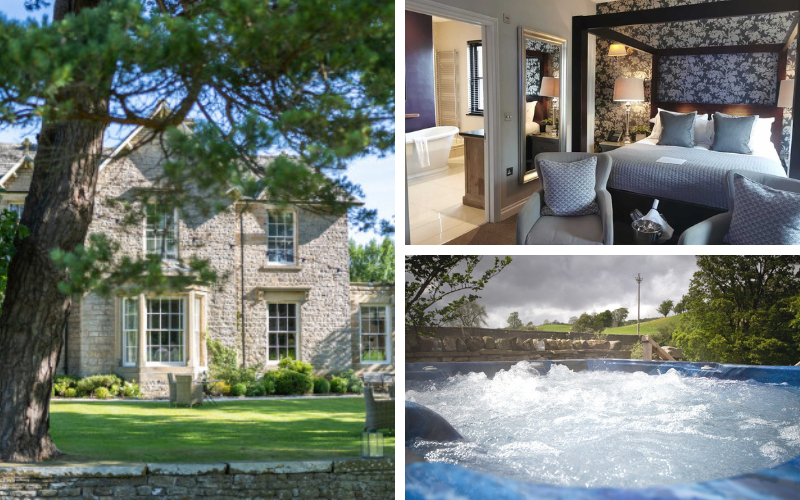 #6 Yorebridge House - Yorkshire Dales
If you're looking for an utterly romantic getaway then Yorebridge House is the perfect anniversary destination! It's been voted 'Most Romantic Hotel in UK' and it comes packed with extras like private hot tubs, intimate dining rooms treated to award-winning menus and TempleSpa luxury products waiting for you both!
Plus speak about romance... The Nishiki room at Yorebridge House has its own Mills & Boon Romance Awards title as "Sexiest UK Hotel Room"! And let's not forget all those lovely complimentary treats like champagne, chocolate dipped strawberries plus massage treatments… what more could anniversary lovebirds want?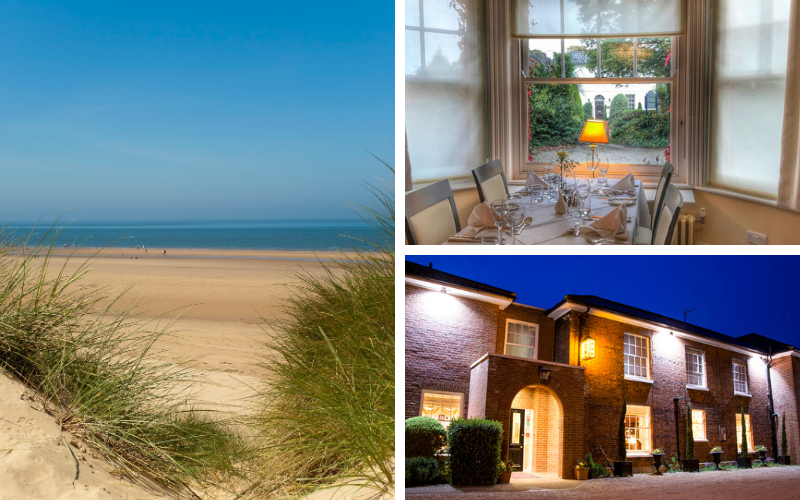 #7 Beechwood Hotel - North Walsham, Norfolk
Norfolk is a dream destination for couples looking to reinvigorate their romance. And what better place than the gorgeous Beechwood Hotel in North Walsham? Spend your anniversary break exploring this beautiful county and create unforgettable memories as you cruise around on the enchanting Norfolk Broads, stroll hand-in-hand along miles of unspoilt coastline, and enjoy idyllic picnics - complete with bubbly!
For those wanting something extra special, don't miss a visit to nearby Holkam Village where Shakespeare in Love had its heart-melting finale. What more could two lovebirds ask for?!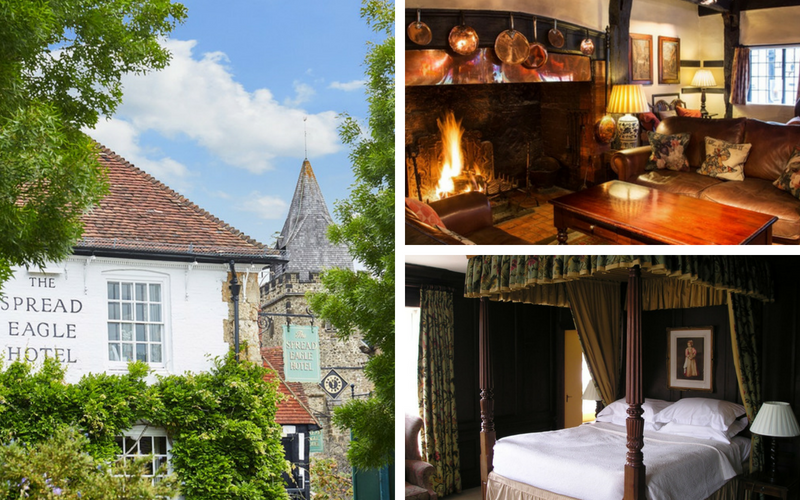 #8 The Spread Eagle - Midhurst, Sussex
Set in the heart of the glorious South Downs national park, The Spread Eagle is an enchanting place. Dating back to 1430, it's full of intriguing stories from across the hotel's history. There's a mix of traditional and more modern rooms - our favourites have opulent four-poster beds and a wonderful classic English design. It's not all about the history though, as the hotel is also home to a superb modern spa offering a range of luscious treatments.
Nearby, visit the impressive Cowdray ruins, or of course the South Downs are on your doorstep, waiting for you to pull on your boots and start exploring. After a long walk, cosy up together in the marvellous restaurant, with its inglenook fireplace and candlelit tables. Bliss.


#9 Wivenhoe House Hotel - Nr. Colchester, Essex
Sitting on the border of Essex and Suffolk, Wivenhoe House Hotel is ideal if you're looking for an anniversary break in a pristine English countryside setting. For the maximum romance factor we recommend staying in a luxury room in the historic 18th-century main house. And for meals, you'll love their fine dining brasserie serving delectable dishes made with fresh, local ingredients. TOP TIP: Ask about booking a private gazebo dinner for two to make your anniversary celebration really special.
When you're ready to venture out, take the time to explore local villages including Wivenhoe and Lavenham , or experience Colchester castle, a Norman fortress from the 11th century. Or you could simply take a sunset walk around picturesque hotel grounds to leave you feeling like you've stepped into a romantic movie: what better way to end a perfect anniversary day?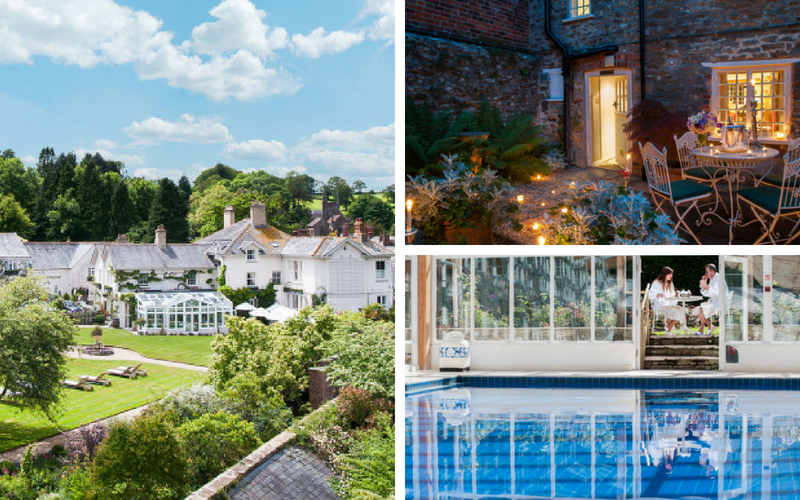 #10 Summer Lodge Country House Hotel & Spa - Evershot, Dorset
This grand Georgian manor house offers the ultimate in refined, traditional luxury. Set in four acres of impeccable gardens, surrounded by rolling hills, Summer Lodge is a superb option for your anniversary break. For a bit of fun, play croquet on the lawn before indulging in a lavish afternoon tea in the drawing room. Don't fill up too much though - the restaurant here has three rosettes and is the epitome of fine dining.
Forget about the grind and get back into nature, as the countryside around the hotel is crying out to be explored. Spend a day discovering new places together, with the night left to rediscover each other. The bedrooms here are magical - richly decorated and full of vintage details. There's also a fabulous spa with a range of treatments and a truly lovely heated indoor pool.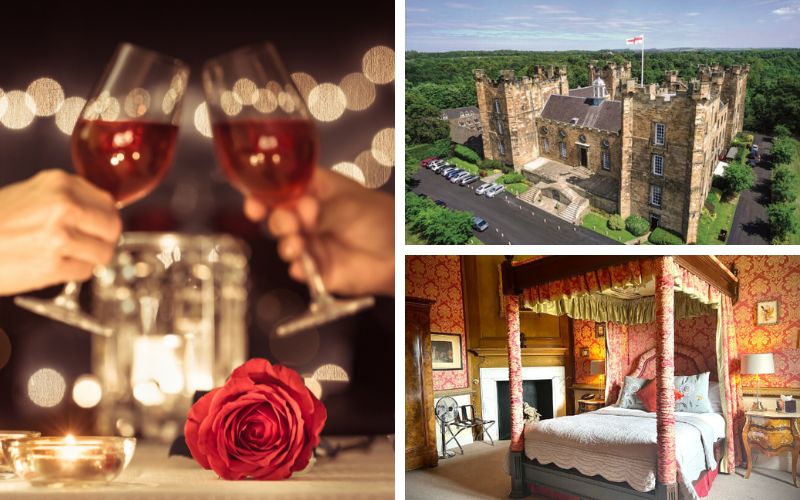 #11 Lumley Castle - Durham
Step into the portals of time at Lumley Castle, a 600 year old hotel that's more than just an ordinary getaway! Experience all the romance and drama straight out of medieval times as you explore its ancient walls - we're talking 4-star accommodations complete with special packages perfect for lovers looking to reignite their fire.
Anniversary getaways at Lumley Castle promise 4 poster beds, hidden bathrooms and breath-taking architecture bringing the magic of the past to life.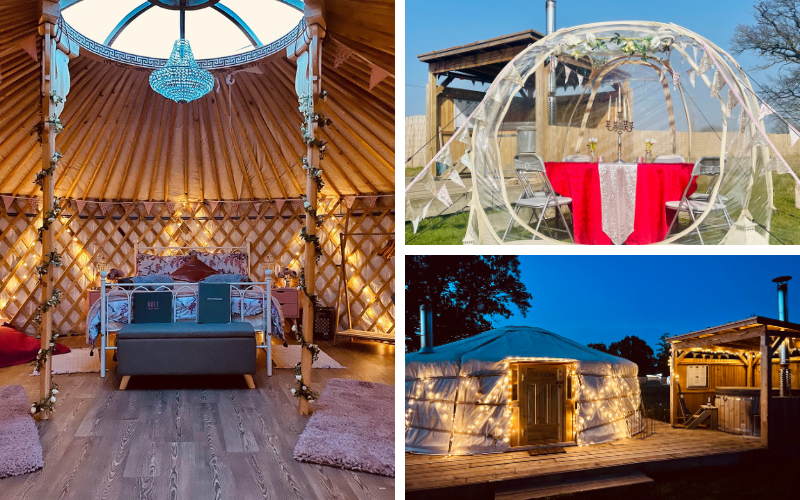 #12 Glamp & Tipple - South Norfolk
Fed up of the hustle and bustle? Looking for an anniversary escape that's off-the-beaten track yet still luxurious? Look no further – Glamp & Tipple offers just that! Nestled in beautiful South Norfolk countryside, their luxury glamping site is ideal for couples wanting to relax amongst nature.
With its idyllic working farm setting and all the amenities you need for an indulgent break away from reality - it's perfect if what you're after is romance or reconnection with Mother Nature. Relax in an extravagant private hot tub, enjoy dinner for two amidst a cosy dining pod, or cuddle up together at movie night - this truly is a romantic rural paradise!



#13 Ockenden Manor - Cuckfield, Sussex
A splendid Elizabethan manor house, Ockenden Manor has everything you need for a rejuvenating anniversary break. With traditional gardens, wood-panelled bar and tastefully decorated sitting room, you'd be forgiven for thinking you'd stepped back in time to whole other world of regal luxury. However, the award-winning spa is a fabulous juxtaposition. Strikingly modern on the outside, with bright airy proportions inside, it's a truly outstanding space. You really get the best of both worlds here.
There's a range of bedrooms to suit every couple too, from cosy oak-panelled rooms to more contemporary spa suites. What remains the same across them all is excellent attention to detail. If all the above isn't enough, the restaurant serves amazing food, carefully sourced from local suppliers. It's the perfect place to really let go and allow yourselves to be completely looked after.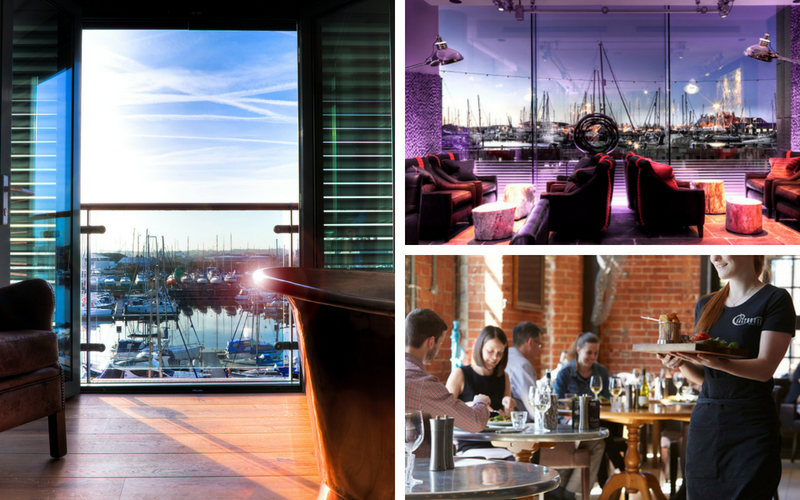 #14 Salthouse Harbour Hotel - Ipswich, Suffolk
Overlooking Ipswich's trendy Waterfront area, this modern boutique hotel - Salthouse Harbour - features some striking design touches alongside amazing views. If you'd like an anniversary break that's a little bit different, this is the place to book. The award-winning restaurant is deservedly popular and has a menu that reflects the surroundings - contemporary with an original twist.

If all this has inspired you to add your own exciting twist to the evening, the bedrooms won't disappoint. Each one is individually designed; our favourites have panoramic views across the sparkling water and extravagant copper baths. Have an indulgent soak together and be transported to the French Riviera as you watch the boats bobbing in the harbour. Heavenly.
#15 Neidpath Castle - Peebles, Scotland
Hidden away on the banks of the River Tweed and surrounded by wonderful countryside, Neidpath Castle has absolutely everything you need for a magical anniversary break. The setting, the history, the small touches – they all inspire a deep and unique romantic air. Sip a wee dram beside a crackling open log fire in one of the castle's incredible lodgings, or share a bath and a bedtime star-gaze in the romantic retreat that is Barns Bothy.
Spend your anniversary night in the magnificent Queen Mary's Chamber for an authentic 16th-century experience. Or perhaps spend a week hidden away in the ultimate seclusion of Barns Bothy - a place quite literally made for two. And for all-out romance, you and your loved one can share a rooftop dinner in the castle's historical battlements – a viewpoint to be truly treasured.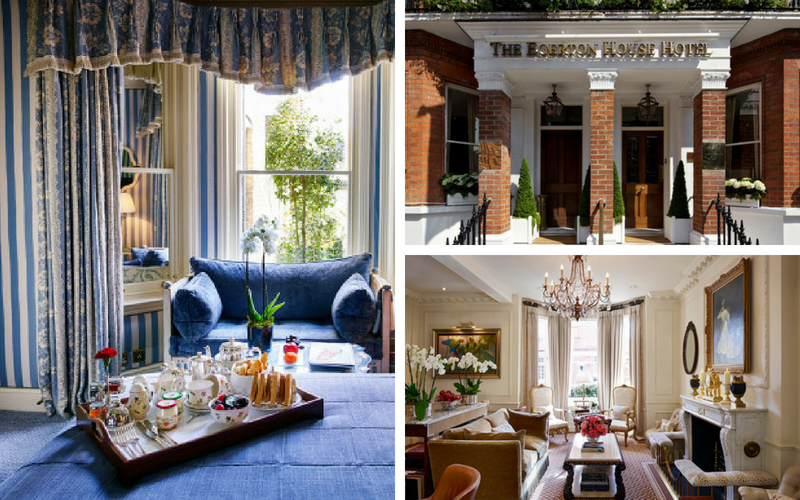 #16 Egerton House Hotel - Knightsbridge, London
An exquisite boutique townhouse in the centre of leafy Kensington, Egerton House Hotel effortlessly combines classiness and tradition. Each room is thoughtfully designed, with no detail overlooked. The staff pride themselves on going the extra mile, happy to arrange anything extra you might need to make your stay truly unforgettable.
The prime location means there's plenty to do. Take an afternoon stroll through Hyde Park, treat your love to a special gift from nearby Harrods, or immerse yourself in art and culture at the V&A museum. On your return, the chef will be waiting with an enticing menu - enjoy your meal in the Lounge or savour an intimate dinner for two in your room.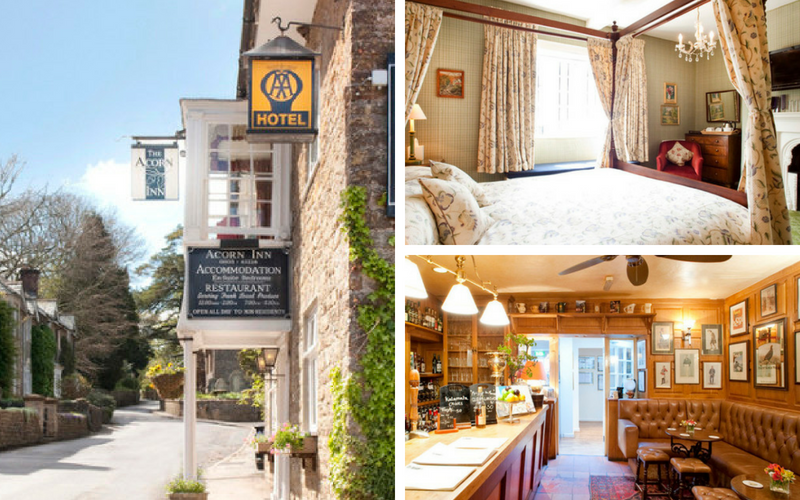 #17 The Acorn Inn - Evershot, Dorset
This former coaching inn appears in the Thomas Hardy novel Tess of the d'Urbervilles and the Acorn Inn is the perfect place to continue your own love story with an anniversary break. Oak panelling, old beams and beautiful fireplaces all add bags of charm, while the beauty of the rural surrounds will ensure you leave feeling relaxed and revitalised.
The rich past of the Acorn Inn is everywhere, not least in the traditional style bar, complete with cosy log fire. Here you can sample delicious meals from an award-winning menu. Each room is designed to reflect the unique history of the property, whilst providing all the modern luxuries you need to make your break special. For an extra romantic experience, book the Hardy room and spend the night together in its 350 year-old carved oak four-poster bed.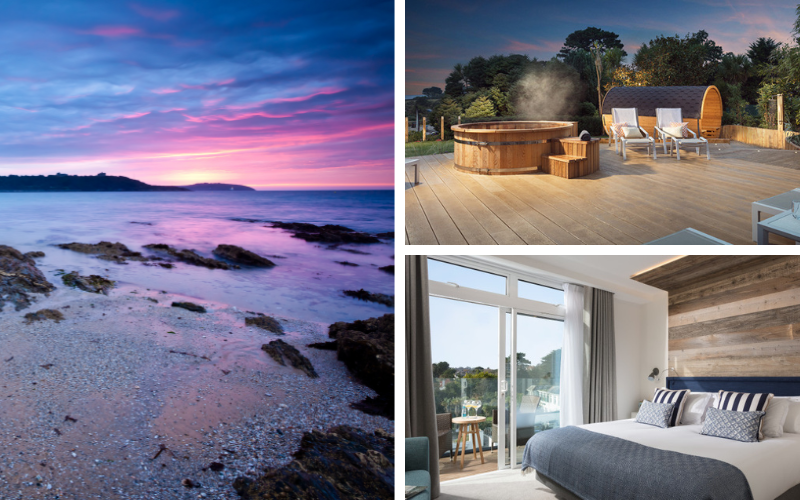 #18 St Michaels Resort - Falmouth Cornwall
No matter what the time of the year a beach break in Cornwall is always romantic. And just a short stroll from Falmouth Harbour, St Michaels Resort is a romantic retreat perfect for anniversary getaways.
Start your perfect day together with breakfast in bed, then lazily stroll hand in hand through our sub-tropical gardens down to the sandy shoreline. For the more adventurous at heart, there are water sport activities and lessons to enjoy. Try a stand-up paddleboard lesson for two or hire a two-seater kayak to explore the bay. You might even spot a dolphin or two!
To receive weekly tips and recommendations for romance and travel - SIGN UP HERE