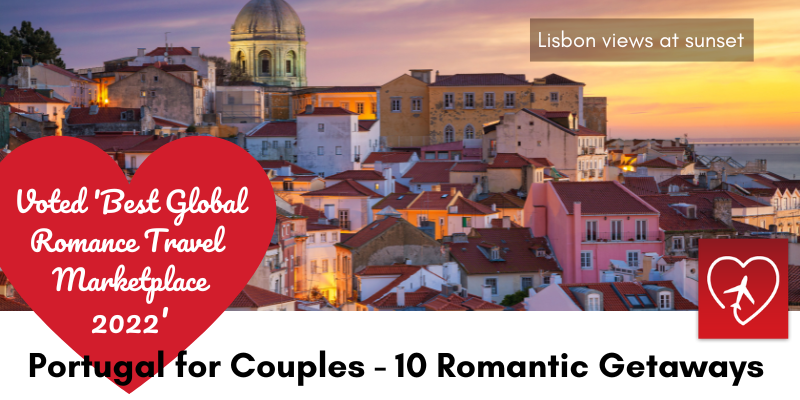 10 Romantic Holidays in Portugal for Couples | Algarve, Lourinhã, Lisbon, Boticas, Coimbra & Estoril
Portugal is breaking records.
Wild Atlantic coastlines… Balmy beaches… World-class wine regions… Enchanting historical cities... And traditional rural retreats... Portugal offers an abundance of mind-blowing natural and cultural treasures which are enticing more and more of us to book a romantic holiday in sun- kissed Portugal year after year.
Search the best Romantic Hotels and Packages in Portugal
Here are 10 of our favourite romantic holidays in Portugal - along with a few romantic tips on how to make the most of your time away together.

#1 EPIC SANA – Algarve
Five star luxury with exclusive access to Falésia Beach.
Romantic Celebrations & Weddings at EPIC SANA - QUICK ENQUIRE
Prepare to be dazzled! Here's at Epic Sana Algarve, you'll find eight acres of tranquil pine forest and stunning beaches. But it doesn't end there - expect five-star luxury too. Welcome a world of relaxation in this incredible region!
5 -star resort in Algarve
Guaranteed sunshine and pristine beaches
Exclusive beach access
Love tree experience (for couples celebrating romantic milestones)
Romance by Day – At Epic Sana, every day is an adventure! Climb aboard a private boat or yacht and explore the magnificent Ria Formosa lagoons. Get up close with dolphins on guided tour of hidden caves before taking to the skies in hot air balloon for panoramic views from above. Finish off your excursion by hopping onto horseback and capture it all forever with a personalized photoshoot against spectacular seascapes - no two trips are ever alike!
Romance by Night - Epic Sana offers the perfect romantic evening for couples. Toast to a beautiful sunset with delicious cocktails, and then indulge in an exquisite candlelight dinner at Al Quimia's fine dining Restaurant. Or if you truly want a unique experience, plan your very own private dinner party among our stunning gardens that overlook breath-taking ocean views - all while enjoying exceptional wine tastings!

#2 Da Silva Surf Camp Portugal - Lourinhã
The spirit of Portugal and the soul of the ocean
Group Celebrations & Weddings at Da Silva Surf Camp Portugal - QUICK ENQUIRE
Tap into the wild heart of Portugal by learning to surf together and exploring stunning beaches away from the usual tourist traps. This is also the perfect romantic getaway for off-the beaten path honeymoons and destination weddings with a difference.

Learn to surf with your lover
Discover the real Portugal away from crowded tourist beaches
Perfect for unique, off-the beaten-track honeymoons
Great for unique group celebrations including beach weddings and stag parties (including surf sessions for all your guests)
Top tips for holiday romance at Da Silva Surf Camp Portugal

Romance by Day - Embrace an exhilarating adventure as you learn to surf together in beautiful Portugal! Feel the rush of endorphins and revel in endless days spent laughing with new friends, all while exploring hidden gems off the beaten paths.
Romance by Night - Why not finish your day at the beach with something special? Experience a romantic horse-ride along an empty shoreline as you watch the sunset in all its glory. And as you'll no doubt have worked up an appetite, what could be better than indulging in locally made Portuguese feasts, served BBQ style right here at Da Silva Surf Camp!


#3 Boticas Hotel ART & SPA - Boticas
The ultimate art-lovers romantic escape in Portugal
Personalised romantic getaway at Boticas Hotel ART & SPA - QUICK ENQUIRE
Situated next to the Nadir Afonso Arts Center, right in the center of Boticas, Alto Tâmega and Barroso, Boticas Hotel ART & SPA pays homage to the Painter, Artquiteto and Philosopher, Nadir Afonso.
Charming, contemporary 4-star hotel
Panoramic restaurant
Rooftop pool and bar with amazing views
Dedicated to art and philosophy
Top tips for holiday romance at Boticas Hotel ART & SPA
Romance by Day – Couples visiting the Nadir Afonso Arts Center will be able to explore wondrous works of art from one of Portugal's greatest 20th-century painters. Immerse yourself in a breath-taking journey through this master's timeless creations!
Romance by Night – Don't miss your chance to experience a unique taste of history! Step back in time with the Wine of the Dead and discover what happened when French invaders reached Portugal's wine-making region. Fearing plunder, locals buried their precious bottles only for them to be unearthed 200 years later-- but better than before: an unexpected twist on centuries old tradition that you won't want to pass up tasting today!

#4 Valverde Hotel - Lisbon
Luxurious New York Townhouse-inspired city hotel – perfect for foodies
Romantic celebrations for two at Valverde Hotel - QUICK ENQUIRE
Come experience the allure of Lisbon, Portugal! No other city offers a more romantic setting than this stunning metropolis. And with six stories overlooking Avenida da Liberdade, Valverde boutique hotel invites you to explore its captivating surroundings and bask in the magical mystique of southern Europe.

5-Star luxury boutique hotel
Secret courtyard swimming pool
Gourmet experiences
Romantic wellness for couples
Top tips for holiday romance at Valverde Hotel, Lisbon
Romance by Day – Ready to unlock the beauty and culture of Lisbon? Enjoy some well-deserved rest by the pool or in the spa at Valverde, then discover its hidden secrets as you stroll down cobbled streets. Visit River Tagus – one of the city's most historic areas, or continue your vacation in style with a visit to Bairro Alto for unforgettable shopping & dining opportunities! For something different explore Eduardo VII Park - an incredible green oasis surrounded by bustling city life.
Romance by Night – Surprise your special someone with a romantic night at Valverde Hotel! The attentive staff will prepare a beautiful bouquet of flowers to set the mood, and you can slow dance under stars on their relaxed patio. Toast each other's company over cocktails from Sítio Valverde bar and restaurant for an unforgettable experience full of love.

#5 Eleven Boutique House & Garden - Algarve
Soul-soothing sanctuary in the hilltops of the Algarve
Romantic celebrations and small weddings at Eleven Boutique House & Garden - QUICK ENQUIRE
Escape to the picturesque village of Boliqueime and discover Eleven Boutique House, a luxurious Algarve getaway surrounded by rolling hills and just 15 minutes from the beach. Here you can relax in rare elegance as this traditional house has been carefully restored with charming decor, vibrant art accents and all luxuries worthy of an exclusive boutique hotel!

Intimate boutique hideaway with just 7 rooms
Charming courtyard restaurant - perfect for private dinners, small events and weddings up to 40 guests
Arrange special romantic experiences
Only 15 minutes from the beach
Top tips for holiday romance at Eleven Boutique House & Garden, Algarve
Romance by Day – Awaken your senses and explore all that the Algarve Coast has to offer! Take a refreshing stroll along Praia da Rocha, followed by an intimate lunch for two. Make sure you check out Benagil's beautiful caves or take in nature at its finest with a visit to Ria Formosa Wildlife Reserve. Old-world charm can be found as well; seek it out among Boliqueime's 12th century village streets while also enjoying some of our vibrant coastal towns - come discover why this place is so special!
Romance by Night – The courtyard is the perfect destination for a romantic evening meal. Enjoy chilled wines and menu offerings to tantalize your taste buds with fresh fish dishes, vibrant salads and tapas! Or for why not arrange an extraordinary sunset dinner on a private yacht - just let the team at Eleven know what you desire so they can make it happen.

#6 Vidamar Hotel Resort - Algarve
5-star beach resort ideal for destination weddings and romantic sunshine getaways
Romantic escapes and destination weddings at Vidamar Hotel Resort Algarve - QUICK ENQUIRE

Come and experience the perfect Algarve vacation! With a picturesque natural reserve, stunning views of the Atlantic Ocean and an exquisite golf course nearby, VidaMar Resort Hotel is your ultimate 5-star resort destination in Portugal's sunny south.

Oasis of themed pools and palm trees
Direct access to Salgados Beach
Ideal for romantic getaways and destination weddings
Romantic experiences on request for special occasions
Top tips for holiday romance at Vidamar Hotel Resort Algarve
Romance by Day – Escape to paradise with Mar Club at Vidamar Hotel Resort - an adults-only hideaway perfect for those long sunny afternoons. Experience all of the luxuries you could imagine, from colourful cocktails and Bali beds to relaxing massages and a heated saltwater pool.
Romance by Night – Salgados Beach offers the perfect setting for an unforgettable night. Stroll along its unique coastline during a romantic sunset and end your evening with a delicious meal of choice thanks to the new Dine Around Concept at Vidamar hotel - featuring four restaurants in one to guarantee your perfect choice!

#7 Ecorkhotel, Evora - Suites & Spa
Évora is more than just a city—it's an experience! Declared by UNESCO to be of global significance, it's the perfect place for history buffs and culture-lovers alike.
Romantic celebrations and weddings at Ecorkhotel, Evora - QUICK ENQUIRE


Discover a unique eco-experience in the beautiful city of Évora, just an hour away from Lisbon! Through its membership of the "Network of Older European Cities," this World Heritage site has been granted special status by UNESCO - and right nearby is Ecork Hotel Evora: your key to unlocking Portugal's natural beauty.

Luxury eco-hotel built to give guests the ultimate experience with nature
Complete sensory wellness experience
Authentic local cuisine from the Alentejo region of Portugal
Weddings up to 120 guests
Top tips for holiday romance at Ecorkhotel, Evora
Romance by Day – Immerse yourselves into the romance of Evora with a stay at Ecorkhotel, offering far more than just your average hotel experience. With its fabulous state-of-the art spa and wellness centre - featuring five treatment rooms (including one tailored for couples), sauna, indoor pool and Turkish baths – you'll soon be feeling relaxed and refreshed in no time! And if that wasn't already enough they also have an incredibly well equipped gym where you can keep up with those fitness goals too.
Romance by Night – Évora is an enchanting Portuguese city that effortlessly blends ancient beauty with modern vibrancy. At the centre of it all sits Praça do Giraldo, a romantic and inviting square where locals and tourists alike flock to take in its magical atmosphere. On each side are some of the most iconic monuments within this UNESCO World Heritage City – not forgetting lively bars, cafes and eateries offering al fresco dining until late into balmy evenings! From here you can sip on tasty drinks whilst taking part in stimulating conversation or simply people-watch as life passes by for a truly unforgettable experience.

#8 Quinta das Lagrimas - Coimbra
Live one of Portugal's greatest love stories
Romantic celebrations and weddings at Quinta das Lagrimas - QUICK ENQUIRE
The 18th century Quinta das Lagrimas is the perfect place for romance and a testament to Portugal's timeless love story. Set against one of the nation's most cherished historical tales, Prince Pedro & Inês de Castro (the Portugese answer to Romeo & Juliet), this hotel radiates with dreamy charm and heartwarming nostalgia making it an ideal getaway spot for any couple looking to rekindle old flames or spark something new!
Peace and tranquillity in the Ancient Capital of Portugal
Luxurious spa
Dine in the world's smallest restaurant
Collection of 600+ vintage wines
Top tips for holiday romance at Quinta das Lagrimas
Romance by Day -Experience the beauty and romance of Coimbra, Portugal - a city steeped in over 1000 years of history. After exploring its fascinating past, retreat to our hotel spa for an unforgettable couples-only massage inspired by Pedro and Inês – one of medieval Europe's most famous lovers!
Romance by Night - Treat yourselves to a one-of-a kind evening out and book an intimate dinner for two at the world's smallest restaurant! Enjoy delicious food in total privacy with no other guests around – it's sure to be an unforgettable experience.

#9 Monchique Resort & Spa – Algarve
A Cool Countryside Retreat in the Algarve
Romantic getaways at Monchique Resort & Spa - QUICK ENQUIRE
Enjoy a romantic getaway at the exclusive Monchique Resort & Spa, nestled away in Portugal's wondrous Serra Monchique - an idyllic oasis of peace and tranquillity in the western Algarve. Gaze out over stunning natural mountain woodlands or across beautiful sea views as you enjoy unforgettable sunsets together.
Amazing Spa Experiences
5 Star Hospitality & Accommodation
Stunning Natural Setting in Mountainous Woodlands
Breath-taking Sea Views & Sunsets
Top tips for holiday romance at Monchique Resort & Spa
Romance by Day - Take in the gorgeous nature of this scenic resort, located near Caldas de Monchique. Explore the flora and fauna unique to this region - you might even catch sight of some exotic birds! When you're ready for a break from all that outdoor adventure, wander over to Fonte dos Amores-a romantic Lovers' Fountain nestled within this quaint village.
Romance by Night – Enjoy a romantic evening at Foia in the Algarve mountains! Watch as the sky is lit up with twinkling stars and let yourself be mesmerized by a stunning sunset. Don't forget to stop off at Food Truck Rosemary for an ice cream or drink, so you can make your magical experience complete.

#10 Hotel Estoril Palácio - Estoril
Timeless grand hotel near the UNESCO World Heritage Site of Sintra
Romantic celebrations and weddings at Hotel Estoril Palacio - QUICK ENQUIRE
Looking for a Portugal getaway with the royal stamp of approval? Welcome to Hotel Estoril Palácio, located just 25km west of Lisbon and 14km from iconic Sintra. Step into 1930's grandeur without sacrificing modern 5-star luxury; enjoy unrivalled personalised service that comes with half the staff having served more than 25 years! Explore nearby beaches or even Europe's largest casino - then return back to your charming oasis nestled in nature.
1930's grand hotel offering modern 5-star luxury
Day trips to Lisbon and Sintra
Unrivalled personalised service – 50% of the staff have worked here for 25 years+
Nearby beaches & Europe's largest casino
Top tips for holiday romance at Hotel Estoril Palácio
Romance by Day - Make your next day trip a royal one! Discover the romantic and gorgeous town of Sintra, once home to Portuguese royalty. Marvel at its unique atmosphere and aesthetic beauty for an unforgettable getaway!
Romance by Night – Ready for an unforgettable night of fun and excitement? Put on your favourite outfit – don't forget those lucky pants! – & head off to Europe's largest casino, where exhilarating games await. Time to get the party started!
Portugal is the idyllic destination for couples looking to get away and reconnect. Explore iconic cities with rich histories, unspoiled countryside retreats or relax on picturesque golden beaches - all perfect for a romantic adventure!