The Most Romantic Foodie Breaks in Italy this Autumn
The end of summer is the ideal time for foodie couples to track down some of the best seasonal produce in Europe. If you're on the lookout for freshly harvested food, there are few better places to go than Italy. With that in mind, we've put together some of the Old Country's tastiest adventures for the autumn.
The seasonal treats of Tuscany
Tuscany is renowned as a beautiful place to visit in the autumn. It's a time when mass tourism eases off (a little), the heat gets more manageable and – perhaps most importantly – it's time for 'vendemmia', or, the latest grape harvest. Wine tasting and food festivals take place across quaint villages and towns. The faces of locals and visitors brighten, just as the golden autumn hues change the look of the rolling countryside. The Tuscany region is an ideal place to facilitate a romantic break for couples in Italy.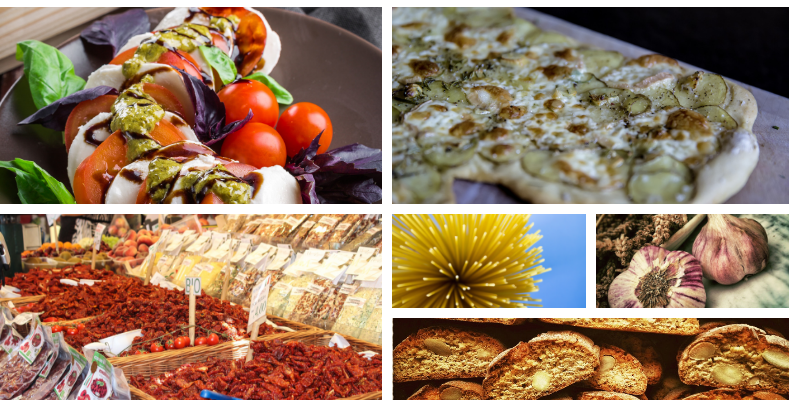 Sagras and food festivals
Italians take pride in showcasing the fruits of their harvest each year – typically, communities will come together for a celebratory sagra. These local festivals are centered on the latest yields, and they'll often include a historic pageant and a sporting event. Vegetarians and vegans shouldn't have too much trouble at a sagra. After all, tradition dictated that everyone had a veggie-friendly 'orto' (garden) with countless rows of sun kissed tomatoes, beans, basil and plenty more – all growing in ideal conditions on the jagged terrain of the area.
Discovering fresh local produce

The first autumnal drizzle on the foothills usually marks the arrival of the mushroom foragers and their wicker baskets. Porcini mushrooms are a firm favourite in Tuscany, along with a range of flavoursome chestnuts and truffles. Your visit could include a couple of days absorbing some of the world's best art in Florence, paired with a trip to the annual Chestnut festival of Marradi. October and November are both great months for the Tuscany olive harvest. If it's the most sumptuous extra virgin olive oil you're after, then you could try Montemurlo (Prato). This late autumn feast celebrates all things to do with olives. Meanwhile, September sees a host of wine based get-togethers. Tuscan production takes in more than 60 different types of grape, offering the wineries of the region plenty of scope for experimentation.

Recommended Tuscany hotels and resorts…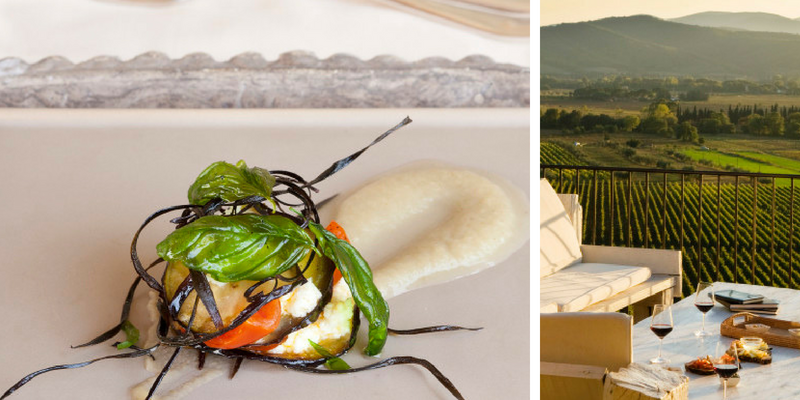 From cooking courses to the freshest vegetables picked on-site, the Conti di San Bonifacio Wine and Hospitality provides an ideal base for exploring the tapestry of Tuscan food and wine alongside your lover. This 4-star hotel is full of rustic charm, not least through Maremmana, its organic restaurant. You'll have no problem finding a great local drop, as wine is delivered straight from the surrounding vineyards and further afield. Such is the focus on wine that you can even stay at the hotel's Vineyard Suite, which comes complete with its own terrace and dining table. After some fine dining, couples can bask in the warm autumn sunset while looking across the Conti di San Bonifacio Vineyards – all from the comfort of a sunbed. The following morning, share a romantic breakfast at the resort's classy (and recently opened) wine bar.

See how you can build the ideal romantic couples' trip to Italy at the Conti di San Bonifacio Wine and Hospitality. The Conti di San Bonifacio Wine and Hospitality is perfect for couples who… adore fine wine.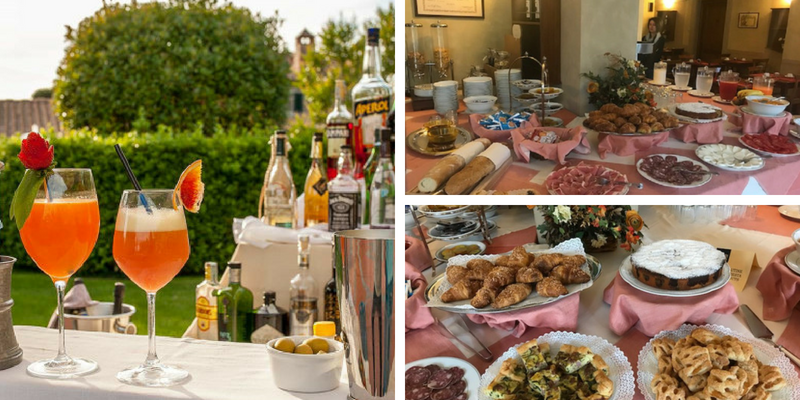 If your dream foodie trip to Italy involves finding a secluded hidden gem, then you might not need to look further than the Borgo Il Melone. This grand manor house is set deep in the Tuscany countryside, and it's a mere five-minute drive from the hilltop town of Cortona. As well as being home to an exquisite pool and super-friendly staff, this 4-star hotel would make an ideal location for an intimate wedding. It could be something to keep in mind in the (quite likely) event that you fall in love with the place. Your future guests could enjoy the chance of group cooking classes for up to ten. That's not to mention the serenity of their well-groomed lawns, which are surrounded by fruit trees, and a cute church that would make an ideal setting for baptisms, civil marriages or the renewal of vows. Take a look at their Cooking with Love package, which includes chocolate and wine, along with a romantic cooking class for two. Complimentary upgrades, and romantic extras, are available. The hotel will be more than happy to personalise these to your individual needs.
Find out more about the Borgo Il Melone. The Borgo Il Melone is perfect for couples who… are thrilled by the idea of authentic Tuscan cooking classes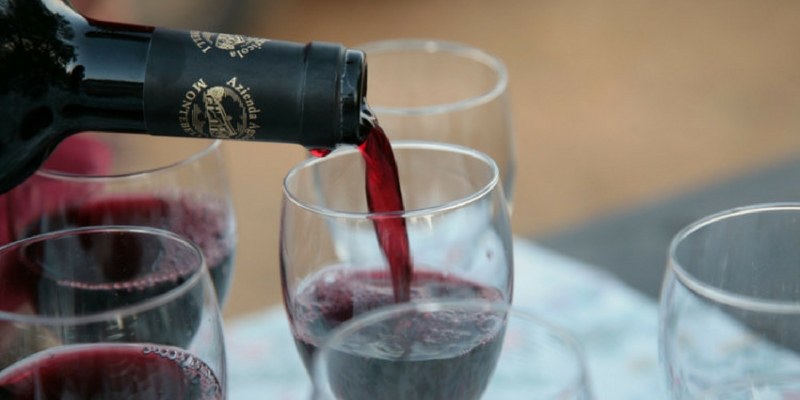 For a romantic getaway in Tuscany with a little more activity, you could use the Montebelli Agriturismo & Country Hotel as a base. Both sport and nature feature highly in the breathtaking experiences on offer at Montebelli. As well as tennis courts and a spa at the resort, there are some excellent chances to trek and cycle around the area. You could take a trip to the immersive Natural Park of Maremma, which goes right up to the Livorno-Roma train line. The climate makes adventures on two wheels a very pleasant possibility until around late October. Or, you might prefer to take in a romantic canoe tour at sunset. Back at the hotel, your appetites can be sated with one of the hotel's regular meat and fish heavy barbeques; or, by partaking in a Sunday night pizza party. It could be worth keeping in mind that an early evening's stroll up to the old oak tree would make for an ideal proposal spot...
Read more about the Montebelli Agriturismo & Country Hotel. The Montebelli Agriturismo & Country hotel is perfect for couples who… love activity and fine food.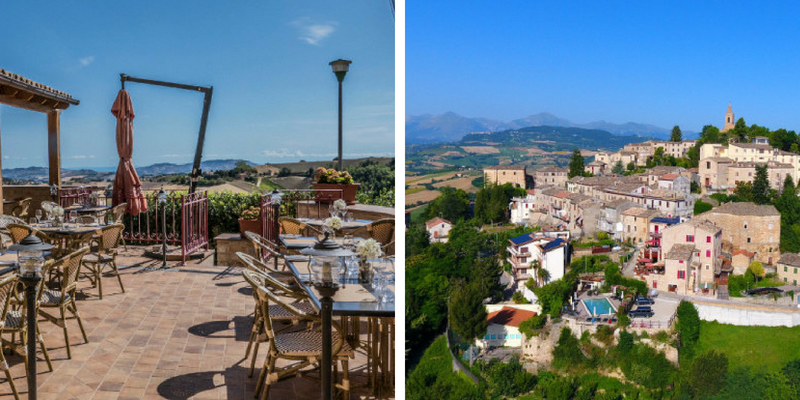 Away from Tuscany, there are plenty of less discovered charms for foodie couples. One such example being the luxury Boutique Hotel Leone, which is perched grandly on the corner of the quaint hillside town of Montelparo in Eastern Italy. Surrounded by the Sibillini Mountains, the Adriatic Sea and no fewer than three national parks – the gorgeous hotel is an 8-bedroom property less than 30 minutes away from the beach. The Le Marche region of Italy has something of a burgeoning wine scene. Try their Taste of Le Marche package, which comes with 4-course evening meals, and includes a guided tour taking in a cheese producer, an olive oil maker and a vineyard. Best known for its white wine, the Verdicchio, you could pair this slightly bitter drop with the area's Adriatic fish. There are plenty of other wines to try at the hotel's wine cellar, and there's an Instagram friendly brick vaulted restaurant in medieval style too.
Find out more about the 4-star Boutique Hotel Leone. The Boutique Hotel Leone is perfect for couples who… stay ahead of the curve on trendy wine and cheese adventures.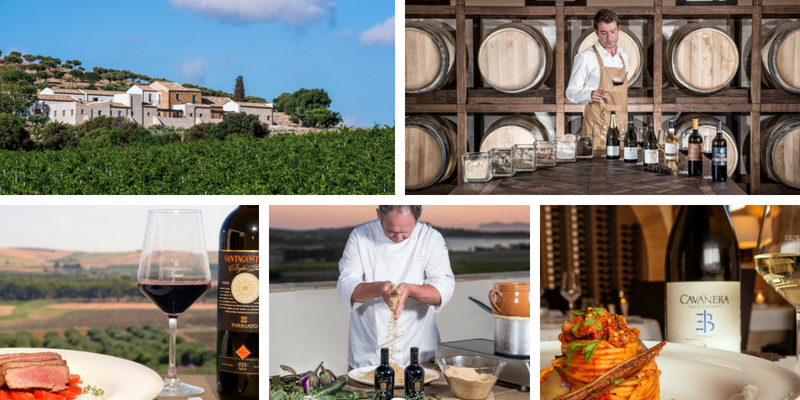 Set in the heart of the Trapani countryside – amid olive groves and sleepy vineyards – is the chic Baglio Sorìa Resort & Wine Experience. Learn about the Mediterranean island's local wine heritage through a trip to the nearby Firriato estate. You'll be less than a ten 10-minute drive away from the coastal city of Trapani. Back at the hotel, you can take a unique cookery course which takes in a range of local produce. This includes couscous and pesto Trapanese, traditional pastries like cannoli, and the freshest possible fish. As a charming extra, you can have your names – and the date of your trip – etched on to a bottle of your choice. The on-site restaurant can arrange wine tasting along with your lunch. Afterwards, you might take in the spectacular views of the Trapani region at the hotel's sky lounge, which offers stunning views of sunset. With only 11 rooms, it might feel like the 17th Century country estate is a private resort made for the two of you.
Discover more about the Baglio Soria Resort & Wine Experience. The Baglio Sorìa Resort & Wine Experience is perfect for couples who… seek seclusion and hot romance.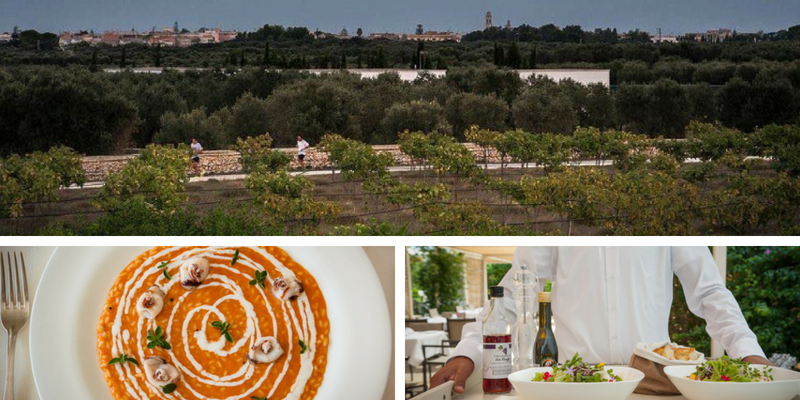 There are many different sides to the south of Italy, and the exclusive 5-star Furnirussi Tenuta could be an ideal base for exploring some of the finest food in the Salento region (an area famously known as 'the boot'). Billed as the 'new Tuscany', the splendid hotel is surrounded by Europe's largest organic fig plantation. Share a romantic meal at 'Il Ficheto', their on-site restaurant, and enjoy the delicious local gastronomy made with seasonal products from the farm. Expect 'Puglia portions' that won't leave you hungry – your appetites might well have been raised by an afternoon spent at the Jacuzzi and exclusive spa, or perhaps a spot of yoga. Have a look for the hotel's extra special romantic package, which gives you access to the spa and a terrific 3-course dinner at the Il Ficheto restaurant.
Compare the Romantic Getaway package on offer at the Furnirussi Tenuta*****. The Furnirussi Tenuta is perfect for couples who… want to discover the charms of Italy's deep south.
Read more through our list of 25 Most Romantic Hotels in Italy.
Alternatively, get in touch and a member of our friendly team of staff who'll help you build the perfect romantic break personalised to your specific needs.