Poolside Passion | 15 Irresistible Pools for Lovers
The only thing better than a hot and steamy romantic getaway is… a hot and steamy romantic getaway WITH a dazzling pool to cool off in.
Here's our rundown of 15 of the world's most irresistible pools for lovers!

The only thing better than a hot and steamy romantic break is… a hot and steamy romantic break with somewhere to take the odd dip to cool off. With that in mind, here's our rundown of 15 of the world's most breath-taking pools in resorts made for lovers.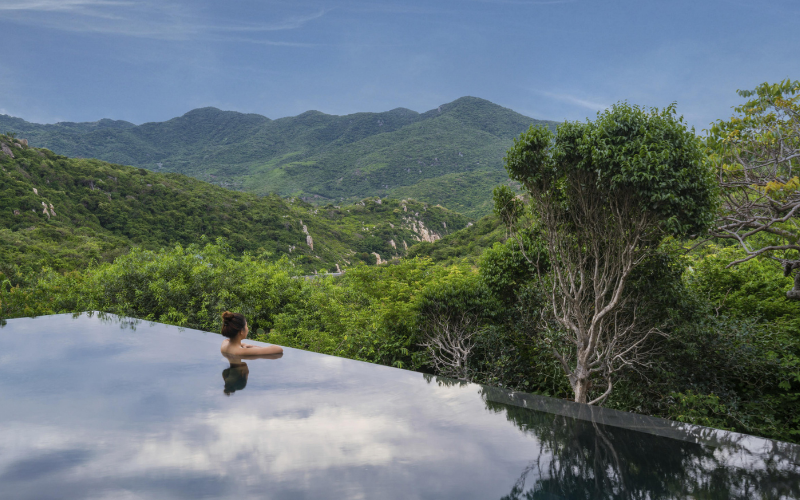 #1 Amanoi, Vietnam
Infinity pools don't get much more spectacular than this one at the luxury Amanoi resort! Overlooking Vinh Hy Bay on Vietnam's dramatic central coast and the hilltops of the Nui Chua National Park the pictures speak for themselves. Embracing a private sandy beach, rocky bluffs and a lotus-filled lake, Amanoi is a destination unto itself in a region renowned for its natural beauty, cuisine and wildlife - see more details here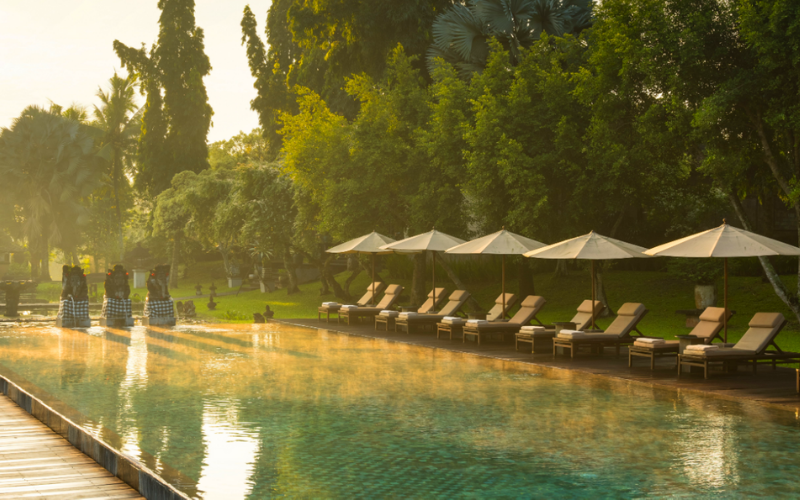 #2 The Chedi Club Tanah Gajah, Ubud, Bali
Your intimate pool-based indulgence at the Chedi Club begins with a sumptuous floating breakfast that's delivered straight to your private plot of water. What a way to kick-start your honeymoon or special getaway! Head across to the resort's huge main tub to experience the utter tranquillity that exudes from every corner of this serene Ubud estate. Measuring a greedy 30 yards, the pool even has a bar which stays open all day - More details here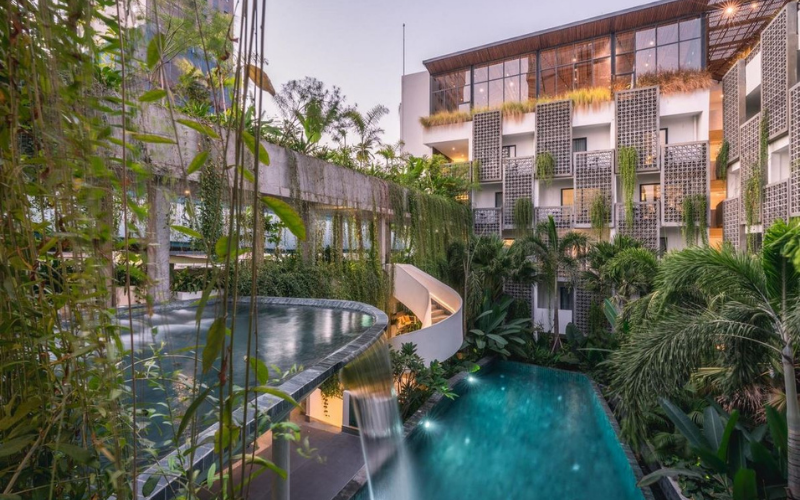 #3 Baitong Hotel & Resort, Phnom Penh, Cambodia
Inspired by Mother Nature and the hanging Gardens of Babylon with its mythical water pools, the Baitong Hotel is an oasis of relaxation in the city with its iconic forest pool as its centrepiece. Featuring lush tropical plants and a spectacular waterfall Jacuzzi it is the perfect setting for pre-wedding and wedding photo shoots, or to simply relax with your loved one. - More details here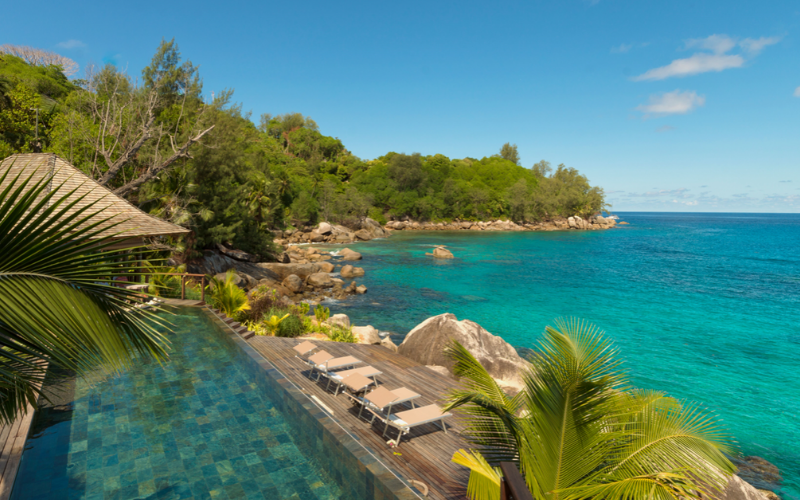 #4 Sea Monkey, Luxury Villa, Seychelles
The island of Mahé in the Seychelles offers near-peerless luxury, which makes it's easy to overlook how stunning a pool is housed at this award-winning venue. But once discovered, it'll be hard to leave this super slick infinity pool (with jaw-dropping Indian Ocean views). Can you hear the sea lapping gently on sculptured granite rocks.... - More details here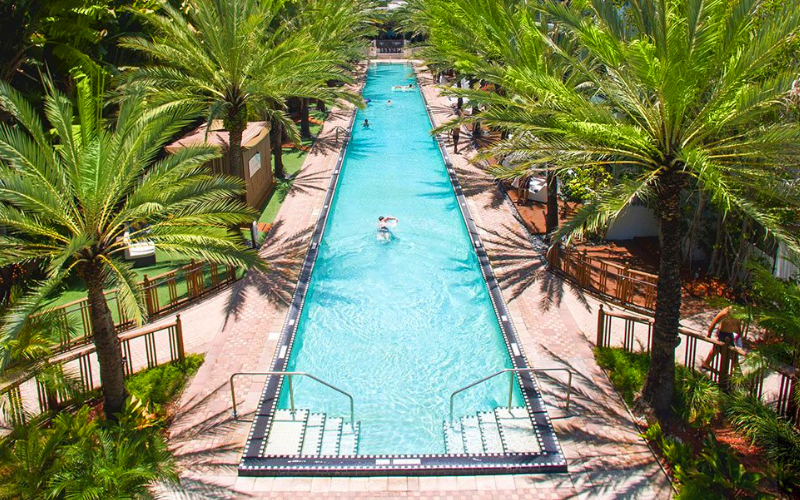 #5 The National Hotel Miami Beach, USA
In a city that's famed for excess and glitz it's an impressive feat to be able to say you have Miami Beach's longest lap pool. The National Hotel Miami Beach is home to this iconic 205-foot treasure, which comes with a poolside cabana spa. And it's every bit a ten out of ten for location: The National is located in the heart of South Beach's Art Deco District on Collins Avenue - More details here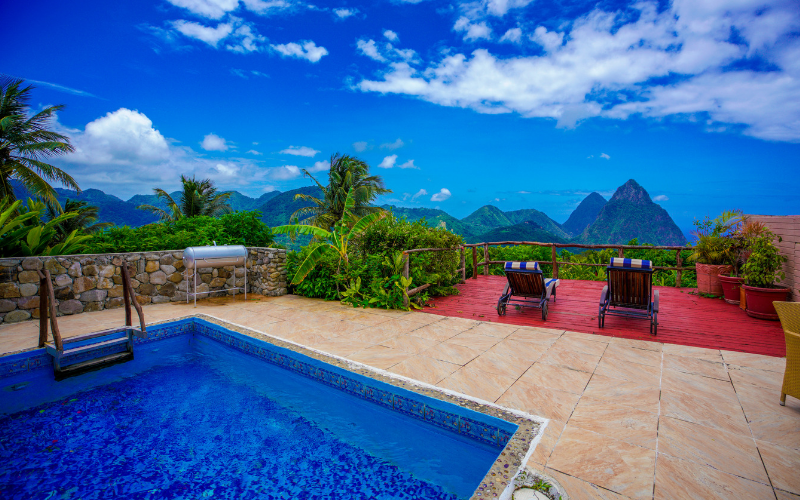 #6 Crystals, Papaya Cottage, St. Lucia
The pools at the dreamy honeymoon destination of Crystals in St. Lucia really stand out for their extraordinary view. Set high above the hills of Soufriere, couples are surrounded by lush greenery, and sights of the famous Piton mountains and blue Caribbean waters. With pools offering total privacy it feel as though the panoramic views were made just for the two of you - More details here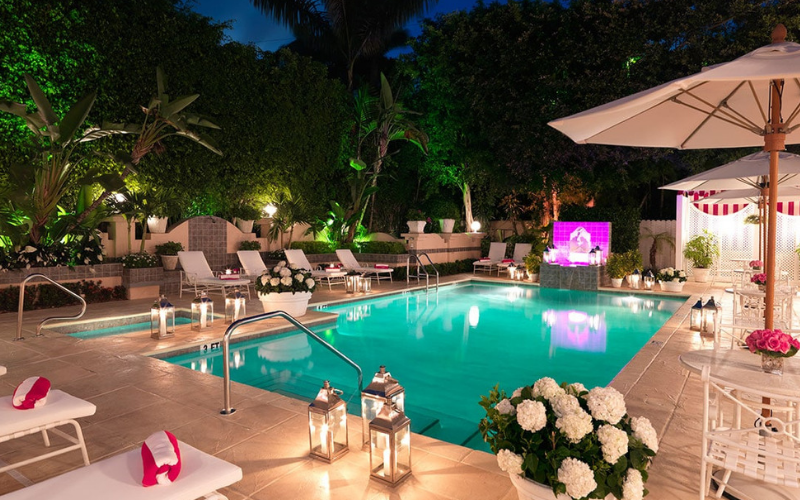 #7 The Chesterfield Palm Beach, USA
Lovers can swim in this enchanting heated pool amid outrageous luxury at The Chesterfield Palm Beach in Florida. If judged on visual appeal alone, then this stylish pool would surely have topped our list. Crafted to look like a Mediterranean courtyard, the pool is surrounded by a cool and contemporary white and pink design that's flanked by lush greenery - More details here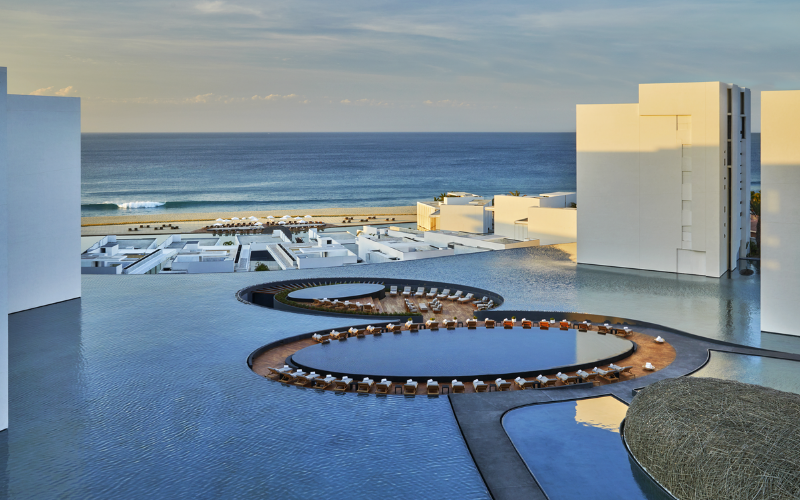 #8 Viceroy Los Cabos, Mexico
An architectural masterpiece is perhaps the most accurate way of describing the beach-side pools of Viceroy Los Cabos. This eclectic series of 'water mirror' pools glisten in the hot Mexican sunlight and wrap around the resort (with parts facing into the Sea of Cortez creating the illusion of monster-sized boxes floating on water. There's also an adults-only pool on the roof and a giant reflecting pool that has a ceviche restaurant suspended over it - More details here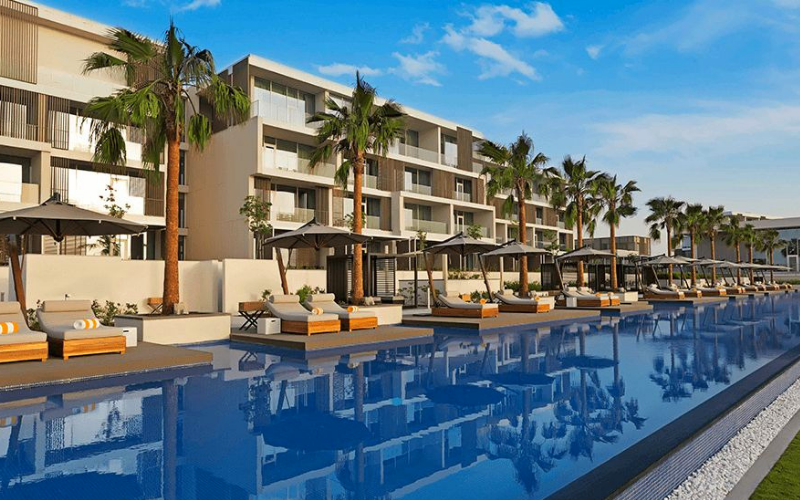 #9 Oberoi Beach Resort Al Zorah, United Arab Emirates
Oberoi Beach Resort in Al Zorah is home to this impressive 85m-long infinity pool lined with palm trees and teak day beds. Guests can gaze over midnight blue reflections and two tiers of villas before setting their gaze to the ocean. Handily this luxury resort is right by the beach, which has a gently curving wooden boardwalk that's made for romantic strolls at sunset. Meanwhile a neighbouring marina offers boating and water sports, along with seaplane arrivals and tours - More details here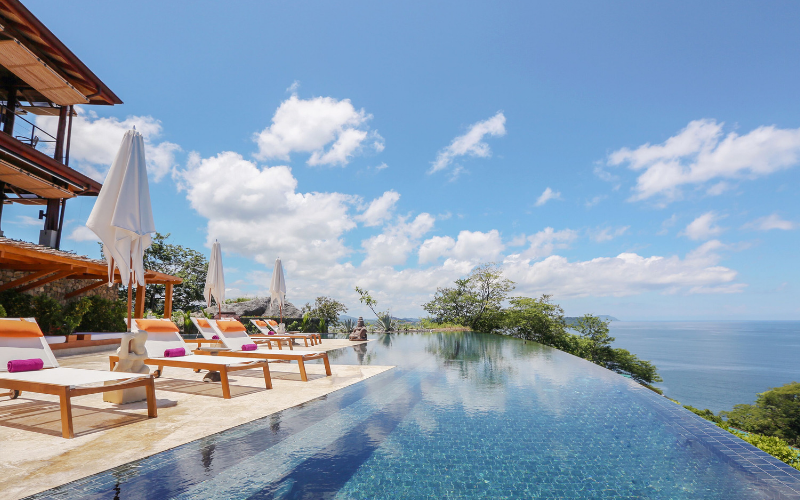 #10 Casa Chameleon, Costa Rica
It's easy to see why the Casa Chameleon, at Las Catalinas in Costa Rica, secured a spot on CNN Travel's list of the most jaw-dropping pools around the world. The spacious and curved infinity pool is set in a glorious hotel that has incomparable views of the Pacific Coast. Suites include a patio and a sea view, while each luxury villa also has a salt-water plunge pool - More details here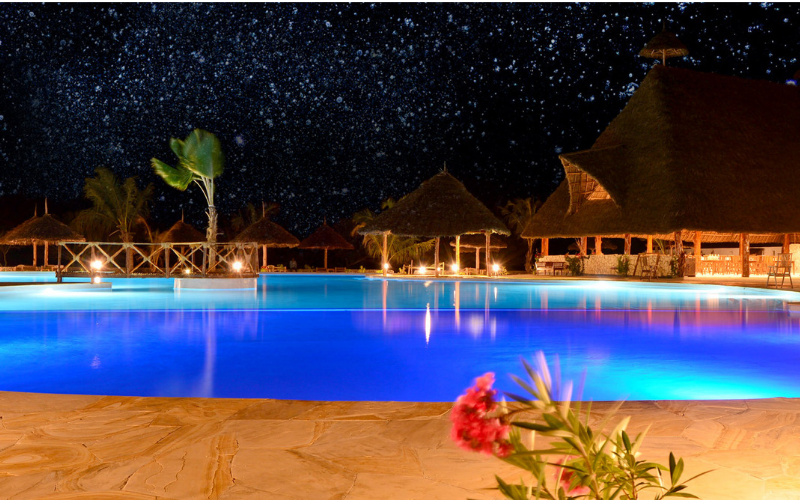 #11 White Paradise Zanzibar, Tanzania
White Paradise Zanzibar offers romantic candlelit dinners above one of Zanzibar's largest pools on the island. This outdoor pool and sun terrace is set in Pongwe on a private beach. It's fair to say you'll have the most luxurious of bases for exploring the Swahili Coast. What's more, there's a pool bar and a beach cinema is only a stone's throw away - More details here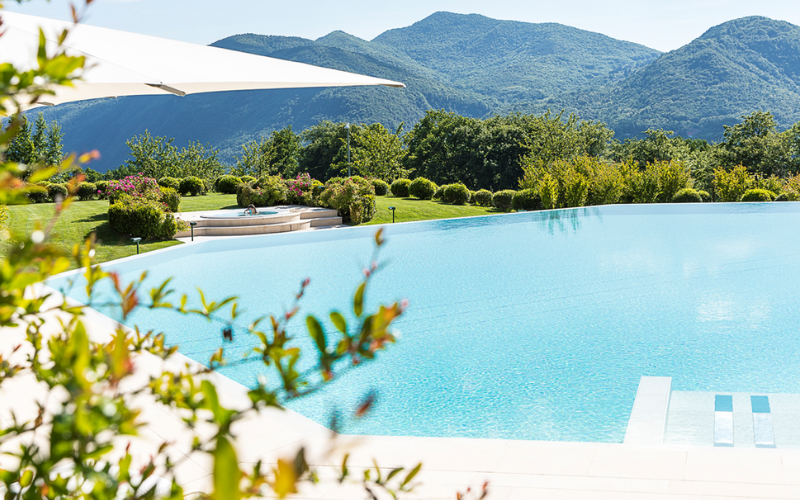 #12 Resort Collina d'Oro, Switzerland
This outdoor pool is open during summer and surrounded by lush nature with sensational views over the hills and the sparkling lake waters. It has an octagonal shape and boasts whirlpool jets and a separate Jacuzzi. The location is particularly romantic for couples and offers breathtaking sunsets (making it an equally fabulous setting for a celebratory cocktail party) - More details here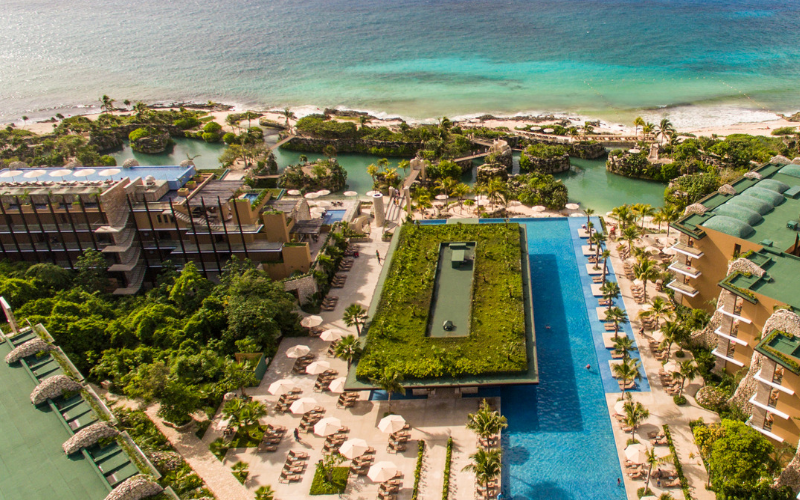 #13 Hotel Xcaret, Mexico
There are several outstanding pools to choose from at Hotel Xcartet, in the vibrant coastal city of Playa del Carmen in Mexico. These include shallow pools for kids, those with ocean views and swim-up lagoons. Perhaps the best view is from the rooftop pool at Casa Fugeo, which has a glass swim tunnel. There's a wide choice of dining options at this top-class resort, which has ten restaurants so that you can taste everything from classic Mexican dishes to a range of Asian cuisines - More details here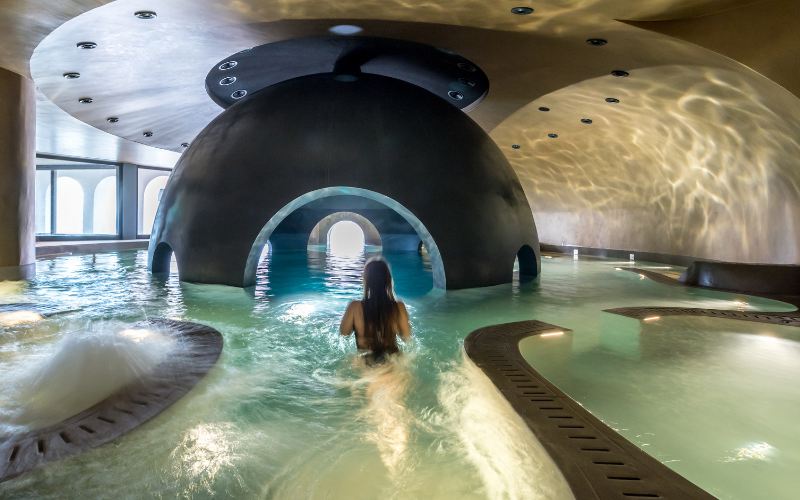 #14 Euphoria Retreat, Greece
This Sphere Pool is set in a dome structure that draws on Byzantine architecture for a truly unique (and somewhat surreal) design. Focused on relaxation, this 3.5-metre deep pool combines soothing hydrotherapy jets and the piped sounds of whales and dolphins. The Sphere opens up to an outdoor pool which allows you to make the very most of the baking Mediterranean sky - More details here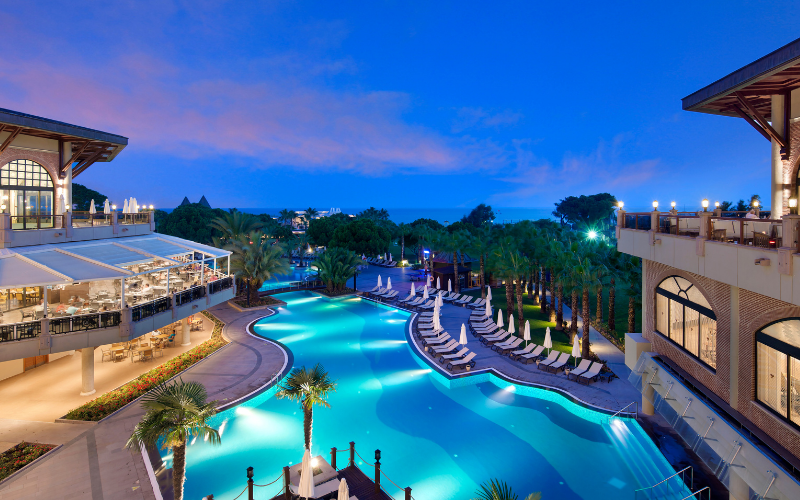 #15 Papillon Zeugma Relaxury, Turkey
Papillon Zeugma Relaxury has a dreamy beachfront location in the Belek region of Antalya. Amongst many others, one of this hotel's stand-out USP's has to be its fabulous selection of swimming pools amid its many luxury facilities. Alongside the stunning (and huge) main pool you'll also find an aqua park with 4 water-slides, a relaxation pool with lounge bar, and a gorgeous indoor pool with twinkling spot-lights that shine like the stars - More details here
If you'd like to find out more about any of these destinations, our expert team of Romantic Consultants can help with any inquiries you may have – we promise to respond to you within 24 hours.