Life's a Beach! Romantic Getaways & Weddings at Muri Beach Club Hotel, Cook Islands
The Cook Islands offers no fewer than 15 gorgeous dots of land set deep in the remote South Pacific.
Find out why this couples' castaway destination – and Muri Beach Club Hotel – should be high on the wish-list of all romantic travellers.
Why come to the Cook Islands for a romantic break?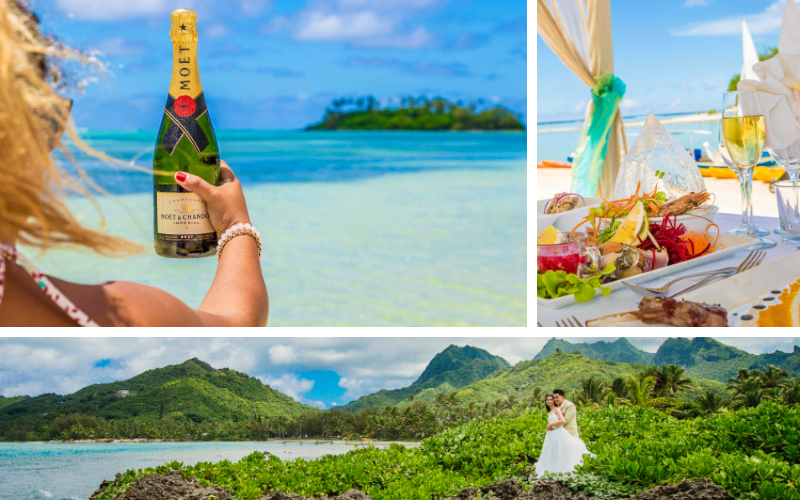 This small and peaceful collection of islands, about 1,900 miles northeast of New Zealand, is packed full of wonder and contrast both man-made and natural. From its mix of Maori and Christian traditions, to the ever-changing landscape and natural features of its inland volcanic ridges and rainforests.
The most populous island, Rarotonga, is a perfect illustration of how tradition and modernity come together to create something that's truly special for any style of romantic trip – be it a wedding, renewal of vows, proposal or honeymoon.
Rarotonga is a well-connected place, greatly helped by a 32-kilometer ring road that helps to connect its breath-taking beaches, coastal lagoon and reefs. There's a buzzing cafe and organic food culture here too, along with beer breweries that visitors can explore at their own place. All of this is complimented by a string of bars and clubs which visitors can make the most of long into the night.
Then there's Muri Beach, on the island's south-east coast, which is set on a majestic lagoon above crystal clear waters – an ideal setting for many water-based activities. Spend half a day floating above sea turtles and tropical fish while aboard a glass-bottomed boat, only stopping for a leisurely snorkel to get a closer look. At night you can learn about Polynesian history and culture with an evening trip and feast at Te Vara Nui Village.
The renowned Muri Beach is an ideal base for a huge range of delightful activities: hand-locked walks on the sand at sunset, yoga, shopping… the list goes on. And if you're serious about heading to Rarotonga for your next romantic getaway then you'll want to check out the Muri Beach Club Hotel.
If you decide to leave 'Raro' during your unforgettable break, there's plenty more to see and do in the Cook Islands. Head north and you'll discover the incredible lagoon of Aitutaki, which is ringed with tiny deserted islets that are primed for exploration.
Where should we stay?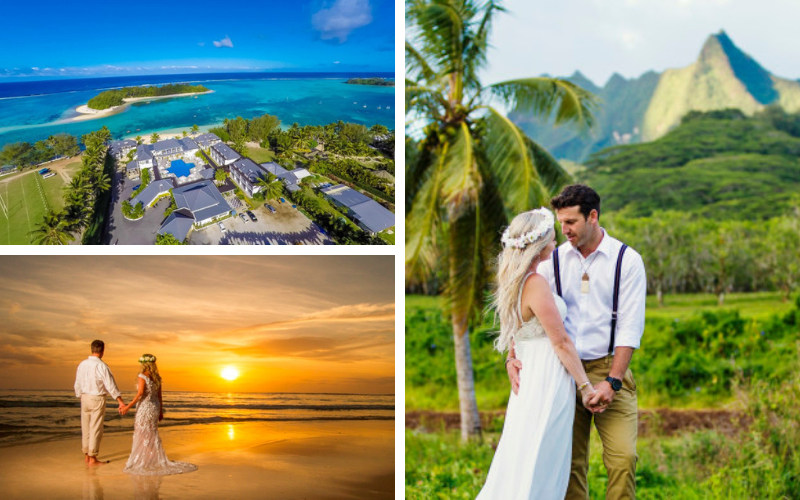 Muri Beach Club is an adults-only oasis that makes for an incomparable setting to rejuvenate and connect with your partner.
Located squarely on the beachfront at Muri Lagoon, you'll have access to beachfront rooms with dreamy views over the lagoon and to off-shore islands.
From the moment you see the calm waters of the Muri Lagoon, you'll feel an inner calm that'll stay with you for the rest of your visit to this special resort. Don't be surprised if staff members greet you by name, and with a wide smile, as this compact resort is also well-known for its great customer service. The boutique property has 30 luxurious suites to choose from, and the beach is a short stroll away from each room. Rooms are air-conditioned and include satellite TV and private balconies.
Meanwhile there's a large central swimming pool with sun loungers, a spa and a cocktail lagoon lounge, plus, a restaurant serving fresh-off-the-line fish. The fine dining restaurant is open for breakfast, lunch and dinner. The exclusive Lagoon Lounge serves drinks overlooking the lagoon.
The lagoon itself is perfectly set up for snorkelling or simply taking a dip in the warm ocean. Other water-based delights here include:
Windsurfing
Kayaking
Canoeing
Kite-surfing
Sailing
Scuba diving
Paddle boarding
What's more, there are weekly guided snorkel tours to the nearby Tikioki Marine Reserve.
As well as having the sea, Muri Beach Club is blessed to be in close proximity to a variety of local amenities. Again these are wide ranging and include: shops, cafes, restaurants, a dive centre, a salon and hairdressers, beauty therapists - and much more.
What about once-in-a-lifetime romantic breaks and weddings?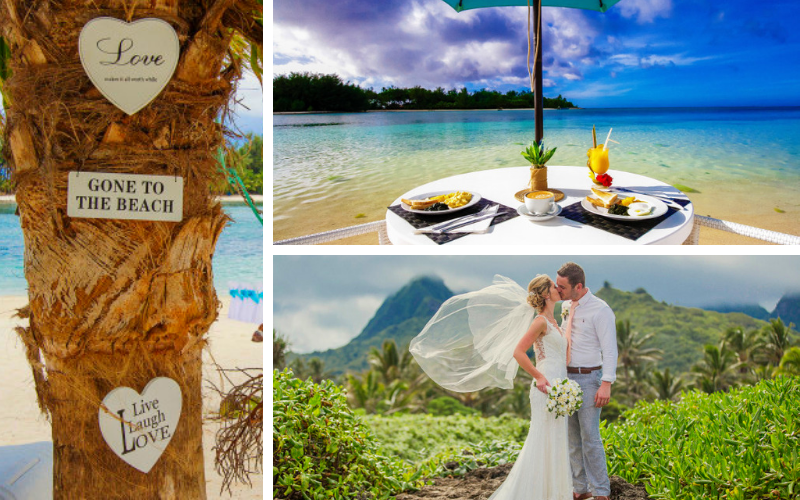 The Muri Beach Club Hotel can host ceremonies for up to 200 guests and has two main wedding packages to compare:
With this deal, you'll be able to choose between a set of stunning venues including: the resort's air-conditioned Lagoon Lounge, their beautiful Beachfront Marquee or at the gentle breeze and expansive Silver Sands Restaurant which gives spectacular views of the lagoon and pool. This flexible plan will also give your guests five nights' free accommodation for each 15 nights which are booked.
The resort's less comprehensive choice still comes with an intimate ceremony hosted by a celebrant, along with a bamboo or floral registry table and chairs. Plus, newlyweds can share a bottle of sparkling wine and a surprise wedding gift.
Each of the wedding packages comes with an experienced wedding planner who'll be at your side every step of the way. Your marriage papers and license will be covered too. Be sure to ask about a pre-wedding day girls' pamper session, or a romantic couples' massage ahead of your wedding day. And finally, Muri Beach Club will allow children to attend your special occasion.
If you've already tied the knot, the Just Married Muri Magic Package could really fit the bill for complete luxury and indulgence. This terrific honeymoon package includes an upgrade to a Deluxe Beachfront Room (just be sure to check with the hotel in advance to make sure it's available when you want to travel). You'll enjoy bubbles on arrival, a Lovers' Lunch on a quaint islet and a couples' massage as a starter.
The travel essentials
Muri Beach Club Hotel,
Muri Beach,
Ngatangiia,
Muri,
3050 Rarotonga,
Cook Islands
Rarotonga has an international airport which serves as the Cook Islands' main international gateway. The Muri Beach Club will be able to arrange transportation to and from the airport, which is about ten miles away. There are direct flights from Auckland, Sydney, Los Angeles and Tahiti and connecting flights from across the world.