WE REVIEW | Blakes Hotel: a faultless display of romance, style and comfort (Republished from 2019)
Blakes Hotel in Central London is celebrating its 40th anniversary this year.

So, whilst we are later-comers to the party, if our first romantic trip here this summer is anything to go by, this stylish and well-loved hotel has many more years of Champagne cork popping to come. (Much like we did on the hot August evening of our summer soiree).

This 5-star hotel is somewhat off the beaten track (by London standards), as it's located along a row of red-bricked residential townhouses in the heart of the London Borough of Kensington and Chelsea. With its happy mix of seclusion and a trendy SW7 postcode, it's easy to see why a celeb or three has been spotted using Blakes as a favourite bolthole.
Having been lovingly converted from four Victorian Townhouses back in the late '70s by the renowned designer Anoushka Hempel, Blakes quickly grew a reputation as a 'Couture' hotel. And hence secured a natural popularity with creatives including more than a few famous faces.
In fact, one of the Blakes most special qualities (and probably the most coveted by rival hotels) is the way it effortlessly makes every guest feel like a rock-star with its decadent yet seamlessly professional hospitality. Whilst always maintaining a cosy and personalised experience that gives full confidence of privacy but doesn't ever try too hard.
It's truly not an easy balance to get right - but I guess they've had 40 years of practice!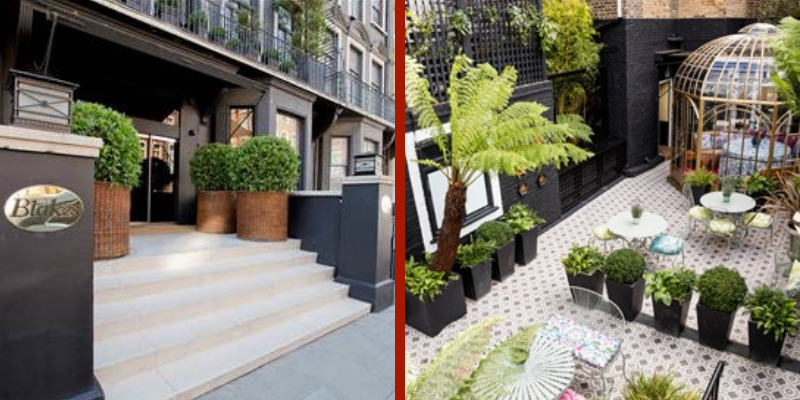 As born and bred Londoners, we have the luxury of enjoying London hotels without the urgent temptation to go exploring the sights. But for visiting couples, who will understandably want to get outside and 'make the most of their time in the capital', we'd recommend staying local. You can easily access High Street Kensington (for great shopping and afternoon tea), the Royal Albert Hall and the Saatchi Gallery in nearby Sloane Square – to name just three cultural adventures on Blakes' doorstep.
Needless to say, your location in one of London's most exclusive neighbourhoods, means it's not unusual to bump into well-known locals such as Liz Hurley or the odd Formula 1 star. Although the vibe here is really not 'Vegas' or for those seeking red-carpet celebrity experiences. Blakes' immediate grounds were actually fairly quiet, with the advantage of being a conveniently easy stroll away from some great shops!
Jason and I arrived at Blakes Hotel on what was a steaming hot summer's day in London (and for the sake of full and frank disclosure, we were also a little 'tired' following the previous night's indulgences as guests of the Taj - St. James' Court where a combination of summer sunshine, Champagne, a delightful courtyard setting and great company had resulted in slightly fuzzy heads. We'd also had a very early start that morning in order to attend an emergency appointment at the passport office at Victoria as we were traveling to Portugal in a couple of days!)
We decided to get the tube to Kensington as cabs in London are often slower than walking, and as we walked up Roland Gardens in search of Blakes Hotel we were pleasantly surprised when we arrived at its entrance seamlessly integrated on the corner of an unassuming residential street.
And from the black-painted brickwork, faux English garden décor to its spacious grand lobby and speedy welcome - our first impressions were exquisitely uncomplicated: This Feels Good!
Because Blakes has a genuine attunement to its guests' needs: a 5-star welcome more akin to knocking on the door of a dear old friend.
We arrived at Blakes early in the afternoon (following a stressful morning at the passport office) and wanted nothing more than the respite of our room, but with Blakes' Courtyard being open each day from 8am until 8pm – you've got plenty of options should you arrive with an appetite, or seeking a tranquil watering hole in which to unwind.
With such flexible timings, you could enjoy a cheeky breakfast, or some early evening cocktails if you're arriving a little later.
What's more, Blakes Below Bar is open from Wednesday to Saturday for hotel guests and, if you ask nicely, they will likely extend the welcome to a few of your pals - indeed unlike many 5-star hotels, Blakes has established itself as an equally welcoming host to non-resident customers who regularly dine here or relax to the sounds of the in-house DJ. Perfect if you're celebrating and have friends or family in the local area.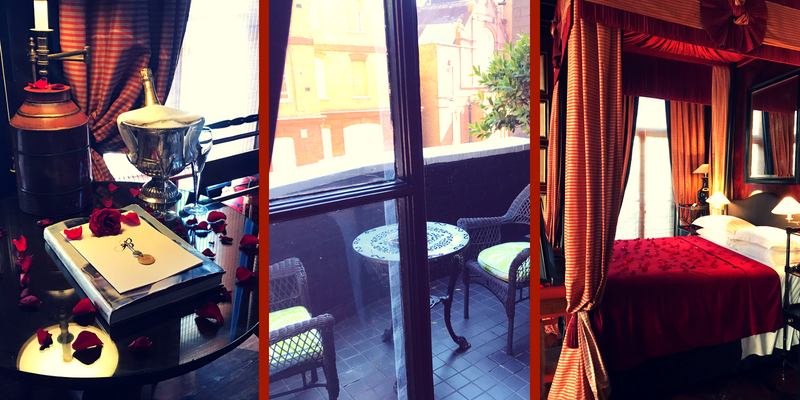 Going back to our own experience, we were treated to a stay in Directors Double. And as we were led into our room, the scene was something we immediately clocked as 'special'.
This was far from a standard hotel room or suite.
The big WOW (and Blakes arguably did this better than any other hotel we've stayed at - which is not a small achievement) was the generous romantic welcome. Every available surface of the room had been generously confetti-ed with plush, blood-red rose petals. Each and every one sensually thick and velvety to the touch.
Their deep red hue matched perfectly with the spacious room's stylish red and black colour scheme inspired by Asian influences. And they were scattered everywhere throughout the bedroom; covering tables, book shelves and the decadent four-poster bed, before leading through to the luxurious en-suite bathroom with its huge, deep-sink bath.
A bottle of Champagne-on-ice had also been gifted as part of the welcome experience so we poured ourselves some bubbles and started to explore our surroundings. Which delightfully led to a number of discoveries we hadn't immediately uncovered.
Starting with a cloakroom and hamper of sweets, wine and salty snacks (which had been clearly thought out to provide the essential after-party goodies guests need). Then the floor to ceiling windows veiled with exquisite bamboo blinds to create a dimmed romantic ambiance and which could also be raised to flood the room with natural sunlight.
But the winner for us was the intimate private balcony.
Sitting in my super-sized bathrobe, overlooking a quiet Kensington Street in the afternoon sunshine as I slowly sipped Champagne was a perfect piece of heaven. An invisible perch from which to observe the everyday banalities of neighbouring residents juxtaposed against a distant view of the city.
Of course, it's also super-handy for guests who enjoy a late night cigarette (which given the decadent approach of the hotel makes complete sense).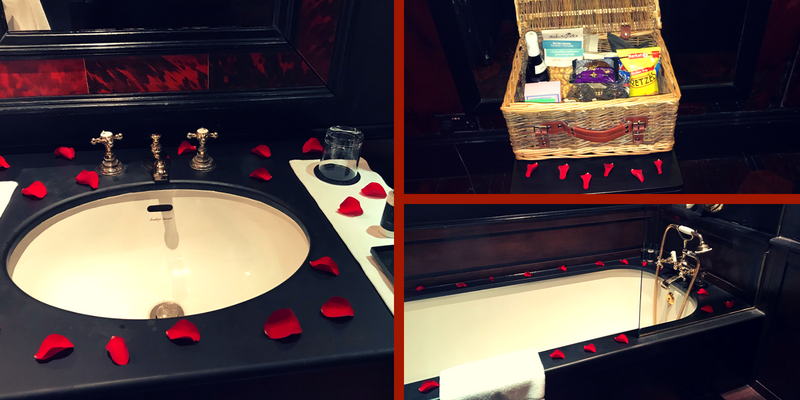 Blakes Hotel knows what it's doing when it come to romance.
There's no fewer than 45 rooms here, and each comes with a different and unique romantic twist. From their Corfu Suite, which is an all-white treasure once voted the world's sexiest hotel room (there's your proof), to the stunning Provence Room which comes complete with a standalone bathtub in the bedroom!
When we arrived we were told that as overnight guests we'd get a 30% discount in the restaurant, so we decided we'd give it a try.
The food was superb.
In particular, we'd recommend all of the fish and seafood dishes, but especially the black cod and tuna tartare. The service was impeccable too. We were told by our friendly waiter that you could create an even more romantic experience by hiring their outdoor Birdcage, to really top off the romance before heading back to Blakes Below.
We felt a bit feeble by not staying up for the party and we happily went back to our room after dinner. In hindsight this probably wasn't in the true spirit of Blakes but even if it was before midnight when we tucked ourselves up amongst the luxurious linen layers of our four-poster bed... it felt right!
The next morning, feeling beautifully refreshed following an uninterrupted night's sleep in a super-comfortable bed, we headed back to the restaurant for breakfast which was included as part of our stay.
Reviews of breakfast at Blakes are mixed. And as a hotel celebrated for its night-time experiences, it makes sense that breakfast isn't top of the agenda for most of its guests (and I expect this is where the hamper in the cloakroom often comes in handy).
For our experience, breakfast wasn't the best part of our stay but the food was of very good quality and portion sizes were plentiful. In fact, with a few tweaks, it could also be outstanding. But it didn't really matter because Blakes had done more than enough the night before than the morning after…
If you are planning any kind of romantic rendezvous – this really is your place. Truly, you won't need to look at many other options . It'd be the ideal place for anything from a naughty weekend away, to a full-blown marriage proposal.
We've stayed in countless hotel rooms over recent years and this place is really up there with some of the best. We couldn't recommend this place enough!
Find out some of the ways you can tailor an ideal romantic getaway at Blakes Hotel.
Chloe and Jason were guests of Blakes Hotel
If you're looking for inspiration for your next romantic trip or a special celebration including weddings, honeymoons, proposals, anniversaries, birthdays, babymoons and much more you can search all our recommended hotels and travel experiences here