Beautiful Beach Weddings in Thailand | Featuring Outrigger Koh Samui Beach Resort
If you dream of saying 'I do' with a beautiful beach wedding, the heat of the sun on your face, soft sands between your toes, the warm salty sea breeze through your hair... Thailand's breathtaking beaches will sweep you off your feet.
An enchanting country, Thailand glows with a varied landscape of experiences, drawing couples over for heavenly honeymoons to follow idyllic weddings, so your beach ceremony could also extend into an adventure of Thailand's rich and fascinating culture. Pulsating cities are alive with the scent of hot concrete and steaming street food stalls by the side of the road, sleepy tranquil villages will charm you with little eateries and a comfortingly slow pace of life, and Buddhist temples and palaces glitter across the country - but it is Thailand's beaches that will captivate you and make all your dreams of a tropical paradise come true.
However, don't forget that Thailand's peak season is between November and February, making the UK winter the perfect time to pack up and head to a land of pearlescent white sands and golden bays, sparkling turquoise waters, slender palm trees and hammocks swinging lazily in the ocean air. Whether you want a Western Wedding in a spectacular setting, or a Thai Ceremony with traditional flower garlands, blessings from Buddhist monks and the ritual of lighting candles, here are some of the most beautiful beaches you could choose for your intimate escape.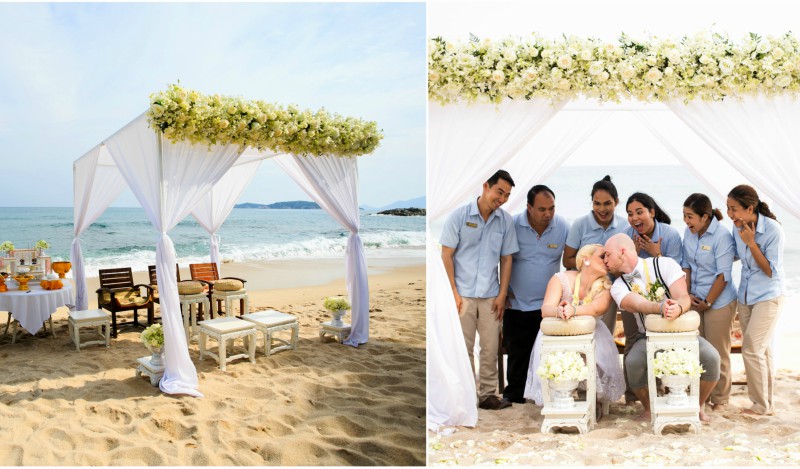 Beach Weddings in Krabi
The Andaman stretches across the west coast of Thailand, with miles and miles of pure white postcard-worthy beaches of exotic escapism; here, the breathtaking beauty exceeds the hype. Tropical rainfall lives all year round, making for nourished vegetation and towering coconut palms. Krabi is a tranquil river town on the Andaman coast, its beaches famous for dazzling cliffs and sheer rock walls that give it a 'shipwrecked-on-paradise' feel. Neighbouring beaches, Railay and Phra Nang, regularly feature on 'Most Beautiful Beaches in the World' lists, and they're petite yet perfect, with luscious greenery meeting emerald waters. Although regarded as separate destinations, ferries can take you to Ko Phi Phi and Ko Lanta, the idyllic islands swimming just off the shore.
Beach Weddings in Phuket
A rainforested mountain in the Andaman Sea, Thailand's island of Phuket holds some of its most popular beaches, which lie largely on the glittering waters of the western shore. It has a notorious nightlife scene and is a true tourist trap, but don't let that put you off, for the island's size accommodates 35 beaches, of which many are serene, sun-drenched secrets. Nai Harn Beach is owned by a Buddhist Temple that sits adjacent to the picturesque saltwater lagoon at the south of the beach, and at only 1km long, Nai Harn avoids the crowds and makes for a place where lovers escape for romantic retreats, solitude and seduction. Freedom Beach, as well as boasting a poetic name, is secluded in a private bay and surrounded by thick tropical jungle, giving you the feeling that you have stumbled upon a secret; a heavenly hideaway to exchange vows, and bask in the bliss of being newlyweds.
Beach Weddings in Koh Samui
Koh Samui has been a tourist attraction for longer than any other Thai island, and is a pristine princess of a place. It has grown up considerably over the years, becoming more and more upmarket, with 5-star resorts and luxury spas in abundance. Here, you'll still find the curious combination of both hot hedonism and heavenly hideaways; bars spill out onto beaches for party-goers, but there are many secluded shores and secret spots for the more discerning traveller. The south and west of the island boasts the most immaculate and intimate beaches, perfect for saying 'I do', with long stretches of coconut palms lining the sands and enhancing that feeling of privacy and peace, as though you're a million miles away from the rest of the world.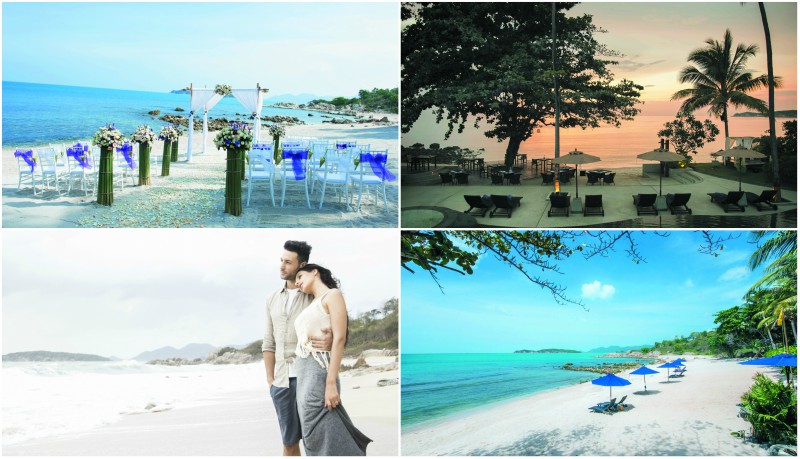 Discover Outrigger Koh Samui Beach Resort | Beach Weddings Thailand
Escape to an island of natural beauty and authentic style. Located on its very own beach at Hanuman Bay, Outrigger Koh Samui Beach Resort provides a luxurious tropical getaway. Enjoy a premium all pool suite and villa experience, each featuring an inviting plunge pool and warm sundeck for private relaxation. Surrounded by spectacular granite headlands and swaying palms, the soft sands create an atmosphere where you can find true serenity.
Wedding requirements
The bride and groom are responsible for contacting their embassy in Bangkok to obtain a certified letter or document indicating their wish to get married in Thailand with their personal details, and if applicable, divorce document if previously married. The process takes a minimum of 5 working days to complete and will cost approximately THB 20,000-30,000 depending on country of origin and they difficulty of the document translation. The documentation will then need to be submitted to the Samui district office for processing and at least 3 working days prior to the wedding date and will cost THB 8,000.
Here are 5 reasons you'll love beach weddings at Outrigger Koh SamuiBeach Resort:
#1 Beautiful white sand beaches for barefoot wedding ceremony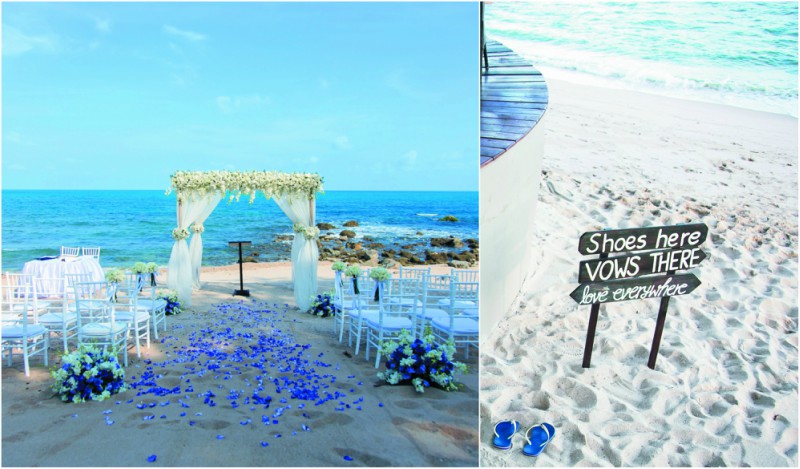 A fresh sea breeze floating through your wedding party, silken canopies billowing overhead, and a bouquet of fragrant tropical blooms… these are just a few of the reasons why brides, grooms and guests from all walks of life adore a beach wedding. If you want a ceremony on the shoreline with a laidback vibe, a sparkling ocean backdrop and powder-fine sand between your toes Koh Samui is the perfect destination!

#2 Western Ceremonies at Outrigger Koh Samui Beach Resort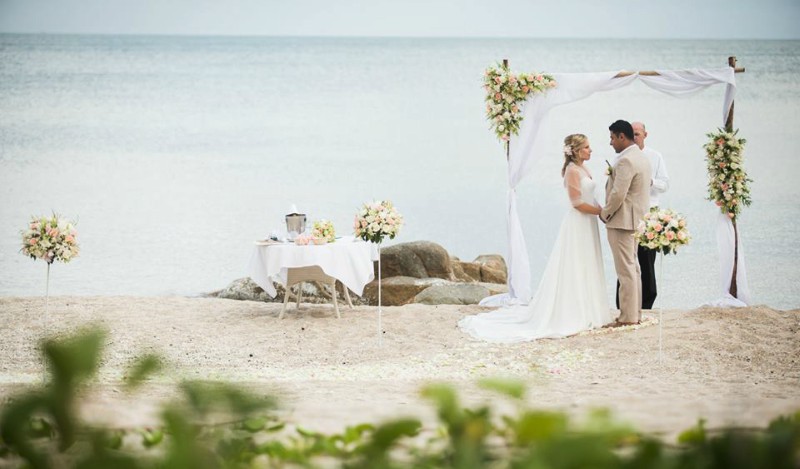 Create idyllic memories of your wedding day with a western ceremony on the shores of Hanuman Bay. Western ceremonies include:
Wedding venue on the beachfront area
Flower bouquet for bride and Corsage for groom
Local flower arch and aisles based on white theme
Sound system at ceremony
Celebrant
One hot air balloon to release after the ceremony
4-pound wedding cake (choice of chocolate or vanilla) decorated with fresh flowers
A bottle of sparkling wine for toasts
Photographer for two hours (unlimited shooting and high resolution files provided on a USB)
Two nights accommodation in a Pool Villa, including daily breakfast for two
Round trip transfers to/from resort to airport
One private dinner on the beach for two (can be used throughout the stay or as part of the wedding night event)
One couples spa treatment at Navasana Spa
Dedicated wedding planner


#3 Thai ceremonies at Outrigger Koh Samui Beach Resort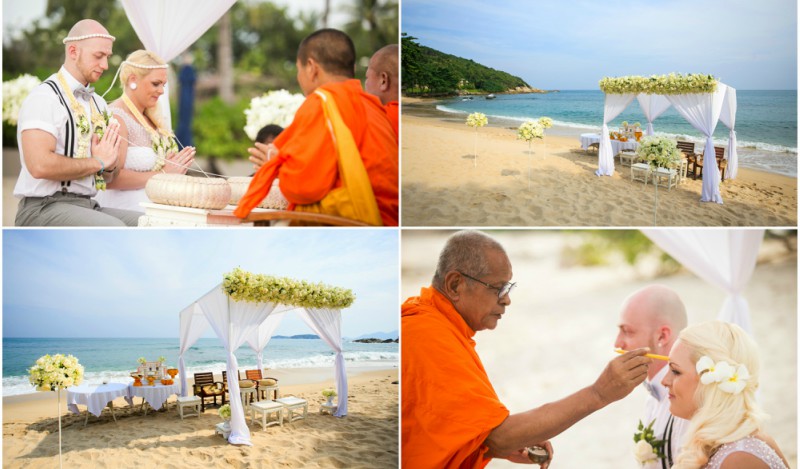 For a truly unique and unforgettable wedding couples can choose a traditional Thai ceremony. Traditional Thai ceremonies include:
Set up of wedding venue with traditional equipment
Wedding flower garlands for the bride and groom
Corsages for VIP guests (maximum 10)
Floral wedding decoration in the bedroom
4 pounds wedding cake
A bottle of house sparkling wine
Photographer for two hours (unlimited shooting and high resolution files provided on a USB)
2 nights accommodation in a Pool Villa, including daily breakfast for two
A round trip transportation from/to Samui International Airport
60-minute spa treatment for the couple at Navasana spa
Monks and monk assistant, donation offering
Dulcimer (kim) playing at ceremony
Dedicated personal wedding planner
#4 Intimate beach wedding dinner under the stars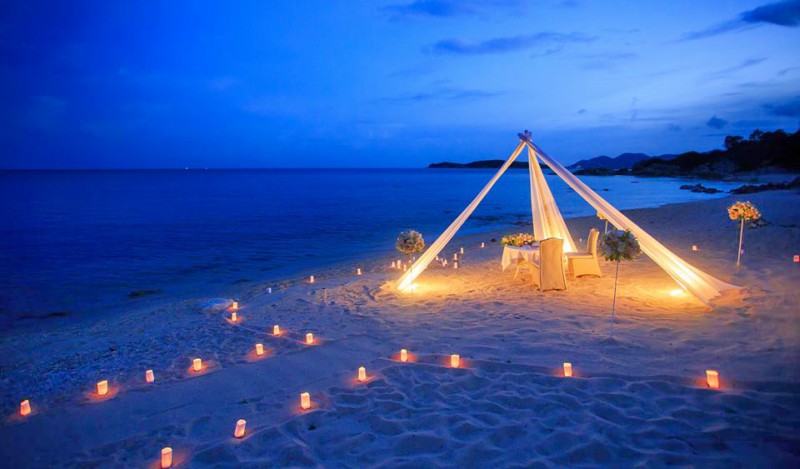 Can you imagine a more romantic end to your wedding day than an intimate beach dinner for two under the stars? Share gourmet delights on a candlelit private beach, listen to the soothing soundtrack of the sea and experience one of the most special moments of your life.
#5 Wedding reception / party on the beach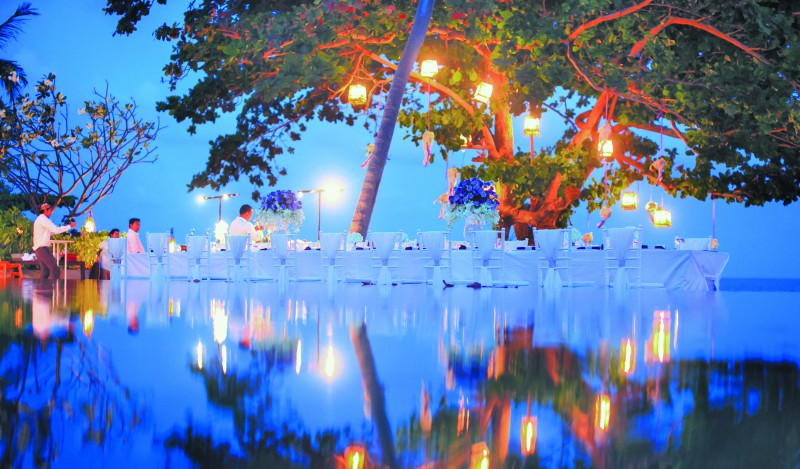 Celebrate your wedding with family and friends as you enjoy a candlelit banquet created by the resort's talented chefs. This is a night you and your guests will always remember!