7 of the Best Italian City Breaks for New Love
From gondola trips at sunset to Juliet's world-famous balcony, Italy isn't exactly short of romantic places to woo your new amore.
But in the early throes of love it's hard to think straight, never mind pick the perfect getaway for two.
To help you out, we've chosen seven of the top Italian city breaks to take your new sweetheart.
#1 – Genoa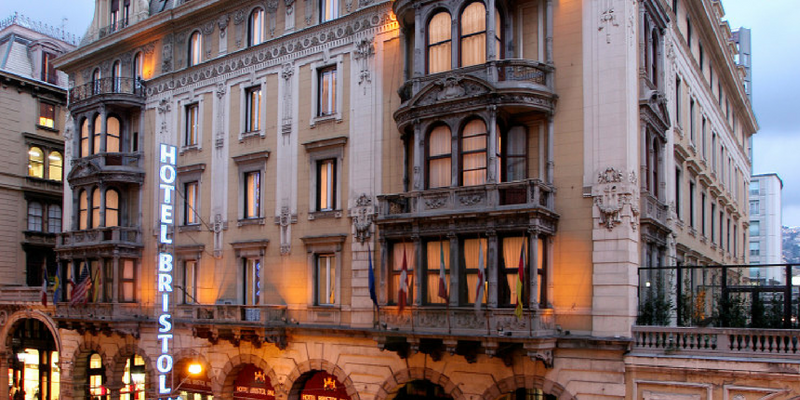 The Italian Riviera city is full of understated charm. Genoa may not be top of most people's romantic hotspots, but that isn't always a bad thing.

It means you can discover more hidden treats and, after all, your priority is getting to know your new partner more intimately.
Hotel Bristol Palace is a petal's throw from Doge's Palace, a 13th Century gothic pile which sits amid museums and a bunch of other cultural gifts in the port city's main square.
Stay at the 4-star hotel and get yourself a table at their very own Giotto Restaurant.
Once the chilled wine has done its work you'll be minutes away from your hotel room; perfect for an early night between the sheets.
#2 - Florence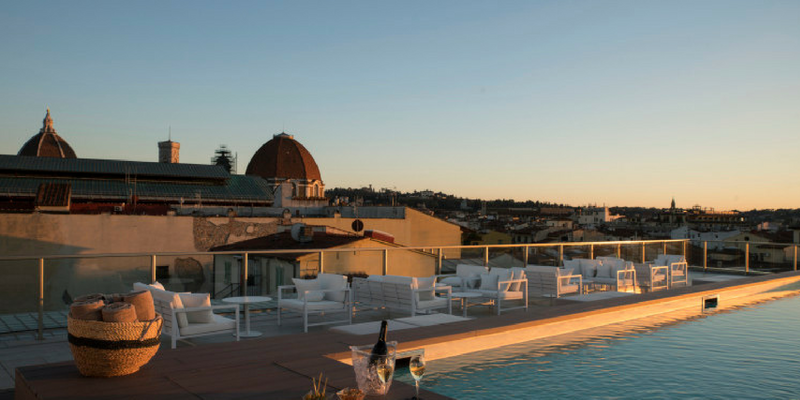 Picture a couple entwined on the legendary Ponte Vecchio Bridge, overlooking the Arno river at sunset. It's hard to think of a more romantic setting for the blossoming of new love.
But there's plenty more to enjoy about Florence. A Tuscan influence is never far away, nor is picnic-friendly food: from seasonal fruits to fresh bread and delightful cheese.
And if you're planning a gift for your new beau, the city in north Italy is home to some of the country's top designer brands and boutique jewellery.
The Bernini Palace Hotel makes for an ideal base from which to enjoy Florence's many cultural charms, not least the Uffizi Gallery with its remarkable display of masterpieces by a young Leonardo da Vinci.

A 5-star hotel, the Bernini mixes styles of Florence past and present; its Parliament Hall does weddings. Handy if you ever make a return one day with friends and family in tow...

Meanwhile the Glance Hotel Florence boasts a stunning Sky Breeze Roof and Pool. Its romantic Junior suites are perfect for lovers, offering both comfort and privacy – complete with large showers with plenty of space for two.

#3 – Rome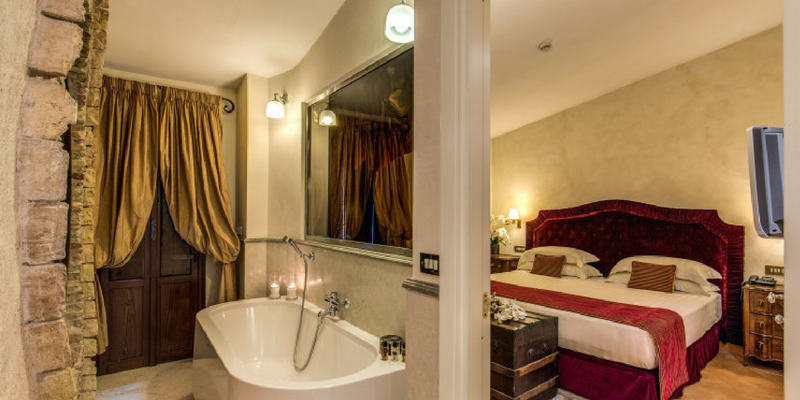 What remains to be said of the Eternal City? Your best plan (cost permitting) could be simply to choose accommodation which is within walking distance of as many of the most famed attractions as possible.
With that in mind, the Hotel Romanico Palace has most of the top spots close by: from the Villa Borghese – Rome's largest park – to Castel Sant'Angelo, and the Scalinata di Trinità dei Monti (Spanish steps).
Alternatively, you could go for the VOI Donna Camilla Savelli Hotel, which is set in a fully restored 17th Century Monastery.
The 4-star hotel has a gorgeous terrace, where you can absorb the magical views of the bohemian Trastevere below. That's assuming you can avert the gaze of your lover's eyes from your candlelit dinner.
Last but not least, for 5-star splendour try the Gran Melia Rome Villa Agrippina - which hugs the banks of the River Tiber. Vatican City and St. Peter's Basilica are both a stroll away.
#4 – Bologna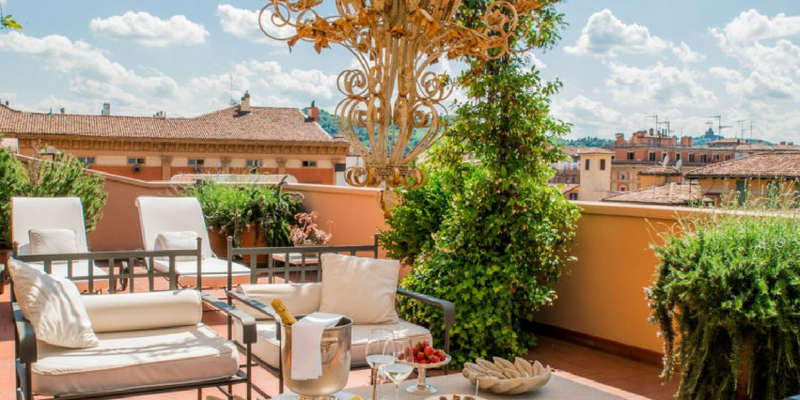 Often described as Italy's culinary capital, there is in fact plenty more to Bologna than parma ham, balsamic vinegar and parmesan.
And no, we're not talking about lasagne alla Bolognese either; or any of the multiplicity of other foods of which the northern Emilia-Romagna region is best known for.
Terrific bars, a thriving music scene and medieval architecture can all be found here too. And there can be few more romantically appealing places to stay than the Grand Hotel Majestic "già Baglioni".
Overlooking the town's main street, Via Indipendenza, is this six star 18th Century Renaissance palazzo.
The dreamy hotel is built on top of an ancient Roman road, part of which can be seen from the balcony.
But returning to the food. During any spare moments when you do separate from your lover's arms, it's well worth paying a visit to Fico Eataly World.
The foodie theme park, which opened last year, intimate cooking classes which will raise the 'date night' bar for years to come.
#5 - Verona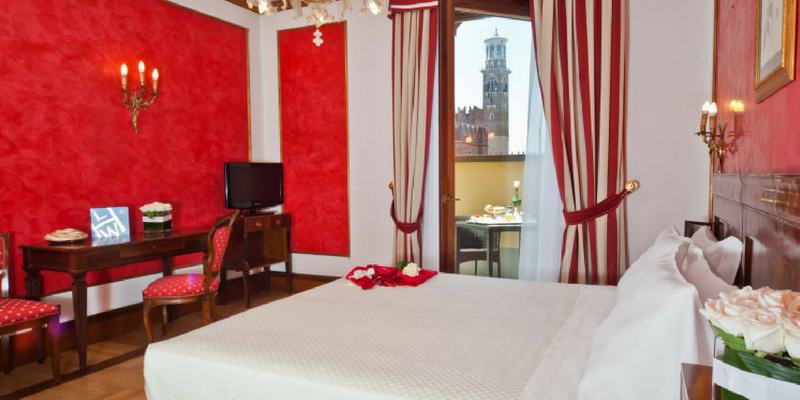 Near to the balcony where Shakespeare made Juliet declare his love for Romeo sits the 5-star The Due Torri Hotel.

During Spring and Summer, its exclusive panoramic terrace opens on the rooftop of the 14th Century palace.
If all the history (and pasta based lunches) starts to weigh heavy then you could unwind with a glass or two of the region's famous Valpolicella wine.
Or, enjoy a tasting tour of some of the most prestigious vineyards of the area. Then share a gelato and really feel like a local.
Contrast is key when it comes to a short break in Italy. And so a stay at the 4-star Hotel La Favorita, in the lake-locked city of Mantova – less than an hour's train ride away – offers a much different scene than 'fair Verona'.
In the rolling hillside terrain, you could enjoy a more off-beat route to Lake Garda for a romantic walk or lakeside dinner.
#6 - Naples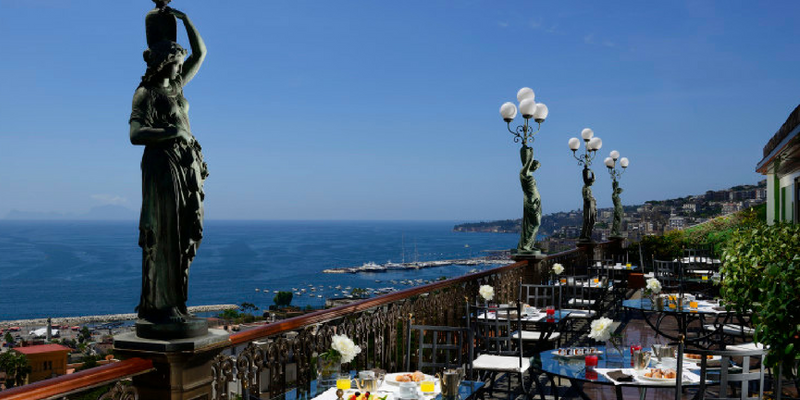 Southern Italy is the ideal place for a short, hot romantic trip. The superb Grand Hotel Parker's hotel boasts grand chandeliers, artwork and regal statues – the sea views aren't to be sniffed at either.

The Grand Hotel is worth each one of its five stars, and what's more Naples' historic centre has the prestigious label of being a Unesco World Heritage Site.
If you take a stroll along the seafront to Mergellina, make sure you keep an eye out for padlocks attached to the poles. Don't leave before being the latest couple to add your own message of love.

And if all of the getting to know one other better is making hungry work, then try a slice or two of their famed pizzas. Start with the L'Antica Pizzeria da Michele and decide for yourself if it really is up there with the world's best.

#7 - Venice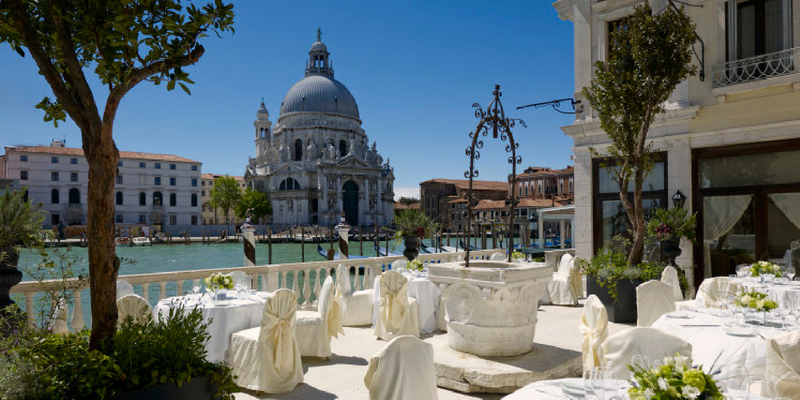 Admit it. Secret lagoons, pine forests and golden unspoilt beaches are not the first three things that spring to mind when you think of Venice.
Well at Almar Jesolo Resort & Spa – a 5-star resort – you can enjoy an unexpected side of the Veneto region, one far from the hustle and bustle of the tourist hot spots.
The Almar Jesolo is all about seclusion in a slick, contemporary setting. Its features include a cute private jacuzzi, a glistening swimming pool (a monster at 70 metres in length) and a secluded beach.
Meanwhile The Westin Europa & Regina, Venice offers private dining and is set opposite the beautiful Santa Maria della Salute Church.
The hotel boasts sweeping views of the city's iconic canals and other landmarks.
Of course, if your love has already truly bloomed then you could be in luck: it's super easy for non-Italians to get a marriage license in Italy. Just so you know…
See all our recommended romantic hotels and packages in Italy - HERE