25 of the World's Most Romantic Rooms & Honeymoon Suites
If you're planning an extra special Romantic break – such as your honeymoon, or another once-in-a-lifetime celebration – it's easy to overlook a resort's living quarters in favour of the more obvious draws to a destination.
BUT... at the Romantic Tourist we know choosing the right room or honeymoon suite is VERY important: especially given how long you're likely to spend in your love nest.
With this is mind, we've selected some of our favourite romantic rooms from across the globe. And whilst each has it's very own USPs, they've all been built for lurve....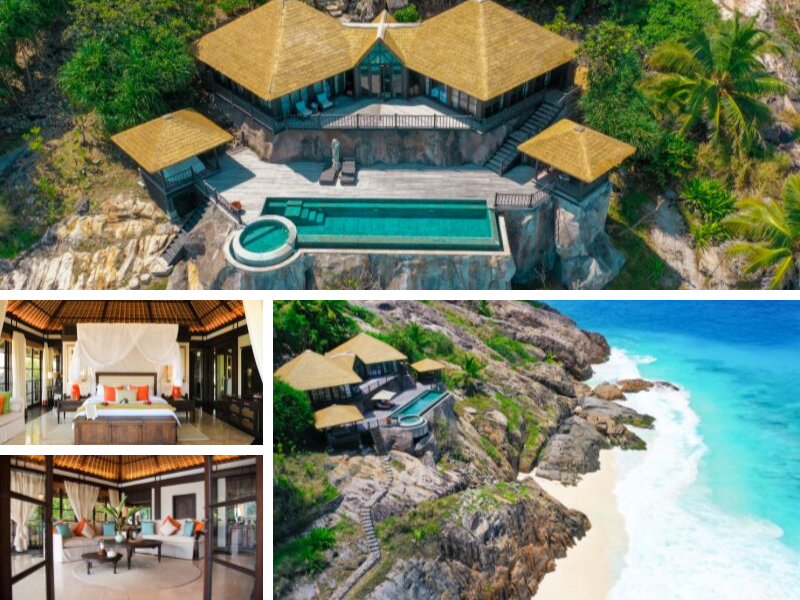 1) Fregate Island Private, Seychelles - Stay in a Private Pool Villa
Here at Fregate Island in the Seychelles offer couples the ultimate romantic hideaway (with your own personal pool, Jacuzzi, daybed and a pavilion for dining alfresco). Plus, you'll have a dedicated butler to meet your every whim and fancy. Needless to say, this being an exclusive island you'll be able to enjoy the most extraordinary Garden-of-Eden-like views from your villa while placed on a lofty veranda high above the pearly blue Indian Ocean.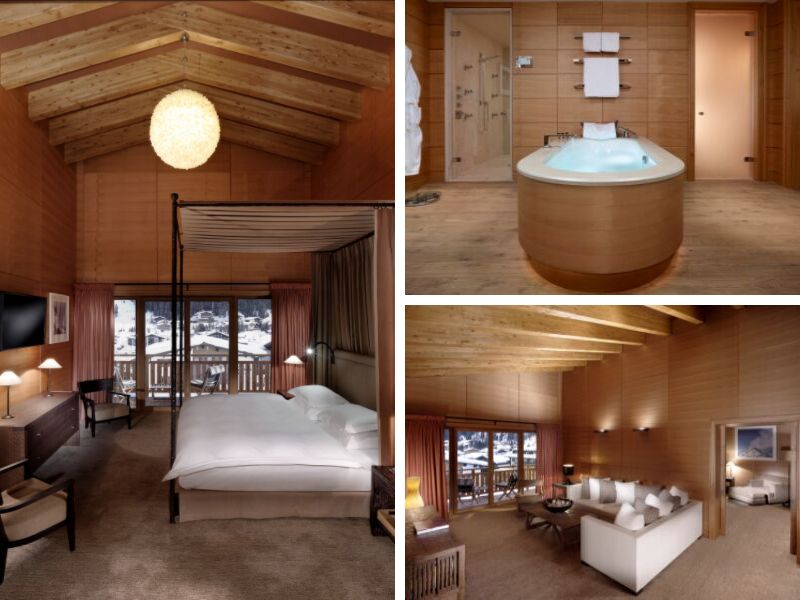 2) Aurelio Hotel, Austria - Stay in the Aurelio Suite
The scene from your private balcony here at Aurelio Hotel (high in the mountains of West Austria) offers newlyweds an unforgettable setting in which to start married life together. After basking in another sunset view of Lech town, you can retreat to your softly lit room which is completed by enormous wood-planked ceilings. It's all too easy to forget that you're staying in a suite, rather than your own resort here, owing to the spacious private chalet vibe. A King Size bed and a walk-in shower help to make a stay the very apex of comfort and indulgence.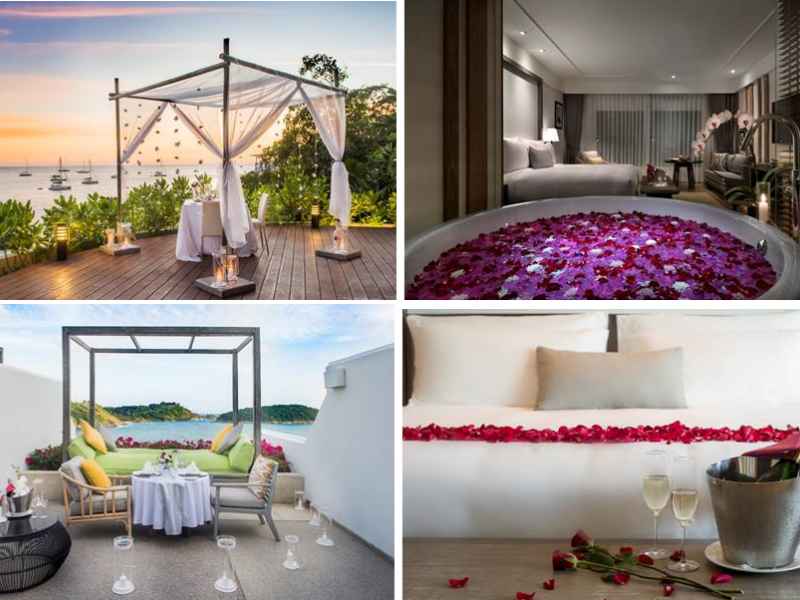 3) The Nai Harn, Thailand - Stay in an Ocean View Suite
Both the Ocean View Suites and the Royal Ocean View Suites at Phuket's Nai Harn resort would make a dream place for an unforgettable celebration of love. These quarters offer sweeping views of Nai Harn Beach and Bay, situated under Phuket's famous Promthep Cape viewpoint. What's more, your accommodation opens out lovingly to an expansive terrace with a canopied four-poster daybed, which has a 'press for Champagne' button. Meanwhile the large 360° hot tub really is a sight to behold.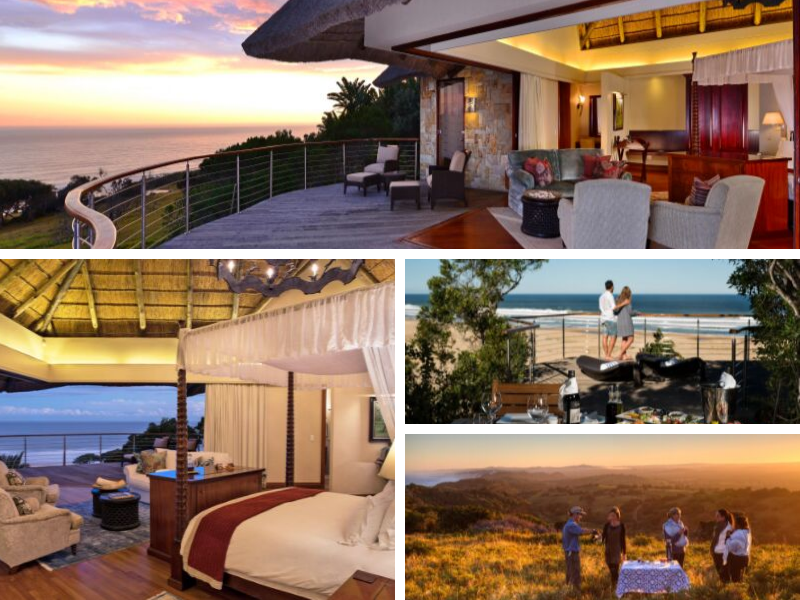 4) Oceana Beach & Wildlife Reserve, South Africa - Stay in an Ocean Suite
The Ocean Suite at Oceana Reserve offers lovers the most expansive and delightful of settings. This extra special room has a hot tub on a private deck looking out to the bush and the spectacular Indian Ocean. Romantic little touches on offer only serve to heighten the experience of paradise: a bubble bath with petals, pink champagne and a red rose or two will set you up for your break. Both private dining and spa treatments on the deck are available to couples.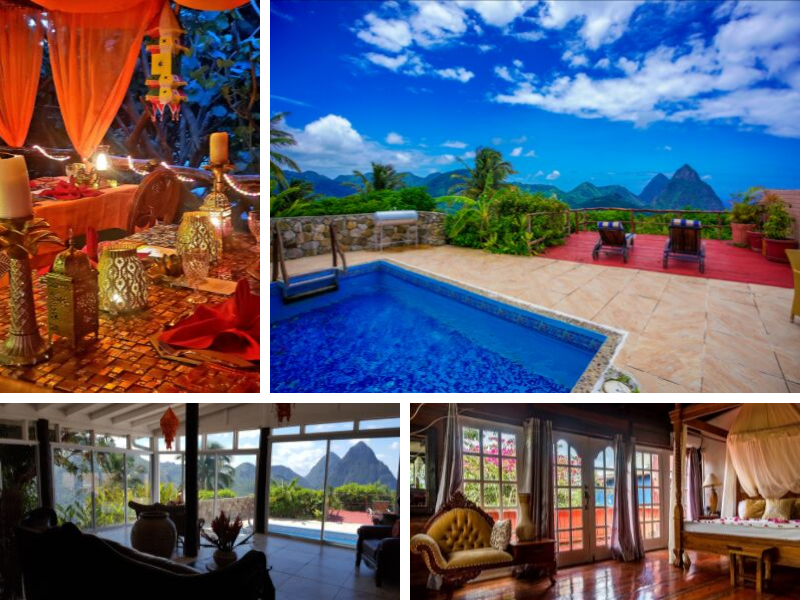 5) Crystals, St Lucia - Stay in Papaya Villa
The renowned volcanic spies of the Pitons… the rolling, lush countryside of Soufriere... peerless ocean views... these are just a few of the earthly treasures that can be enjoyed from your private pool at the Papaya Villa at Crystals. This villa's décor is stylish and beautifully arranged, having a heady mix of local arts and crafts along with touches of European and Asian flair. The spacious master bedroom of Papaya Villa hosts a King Size bed that radiates romance and luxury, and the suite leads to an outdoor shower, a hammock and a second patio ensuring you can catch some rays around the clock.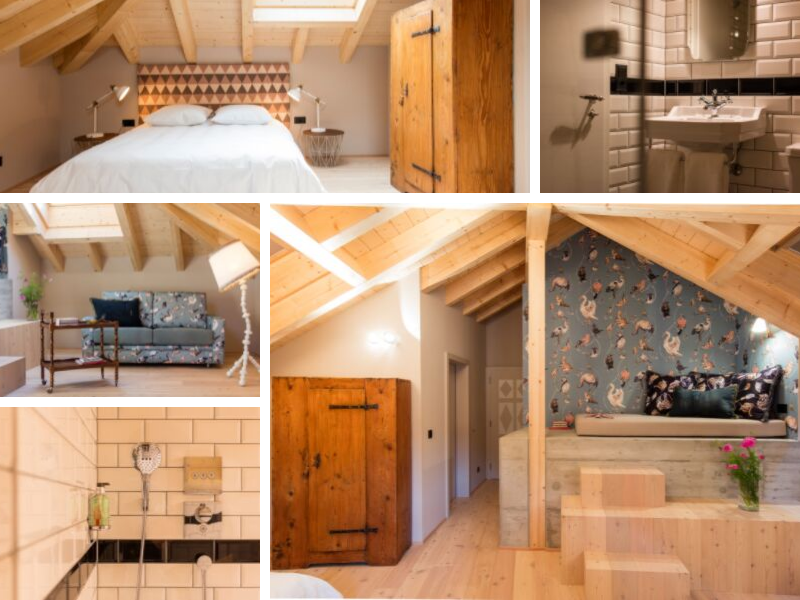 6) Hotel de Londres, Switzerland - Stay in a Loft Suite
The Loft Suite at Hotel de Londres oozes contemporary Swiss design and style. Your attic retreat affords fabulous views of the quaint Old Town of Brig. Inside you'll be wowed by parquet flooring, larch and fir wood furnishings and a lovely bathroom. After your first night of passion, you can savour in a delicious continental breakfast with homemade granola, fresh local yoghurt, sourdough and a selection of cheeses and jams.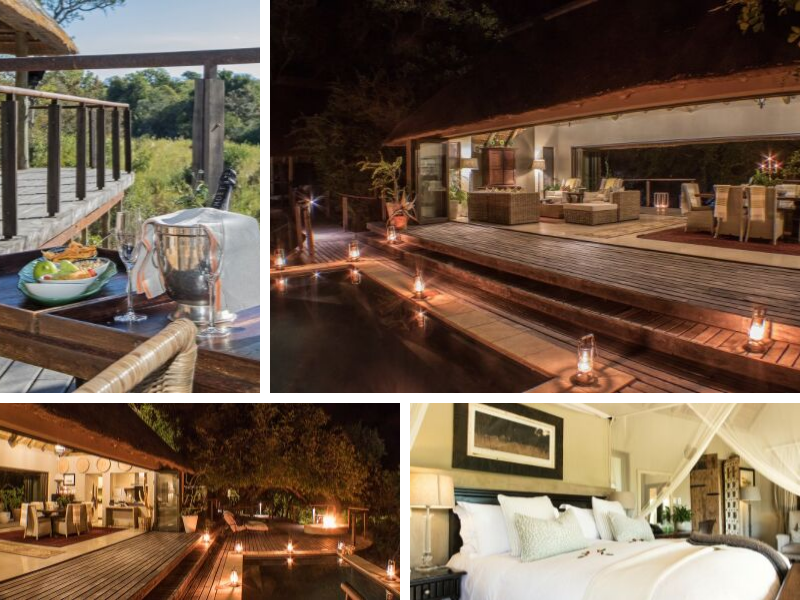 7) The River Lodge at Thornybush, South Africa - Stay in the Royal Suite
Stunning wilderness meets unsurpassed luxury at South Africa's The River Lodge. Guests have the opportunity to stay in one of only six suites – ideally, you'd choose the two bedroom Royal Suite. By doing so, you'll have a 100 square meter mecca with a seasonal river bed and your own heated plunge pool. Star struck lovers can enjoy some the country's finest wines and cuisine here too.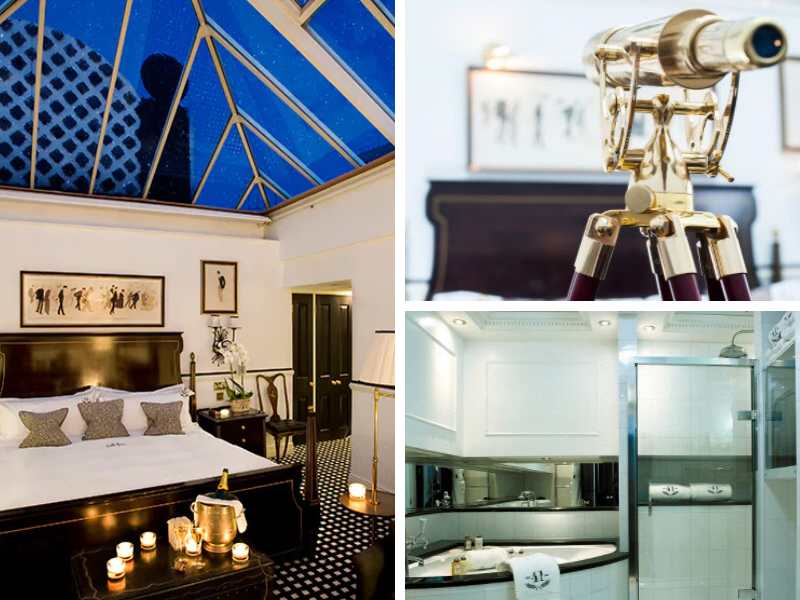 8) Hotel 41, London, UK - Stay in the Conservatory Suite
There's little debate over the main USP at the Conservatory Suite at Hotel 41. Your penthouse suite, a mere stone's throw from Buckingham Palace, looks up to the night's twinkling sky and is a haven of class and seclusion in the heart of London. This 5-star hotel has a stylish black-and-white theme and is a divine setting for an evening bathed in opulent luxury. The scene is completed by a double Jacuzzi in a marbled bathroom, and electric blinds that turn your split-level suite into a private paradise. After a soak, take a peek at the beautifully refurbished roof terrace.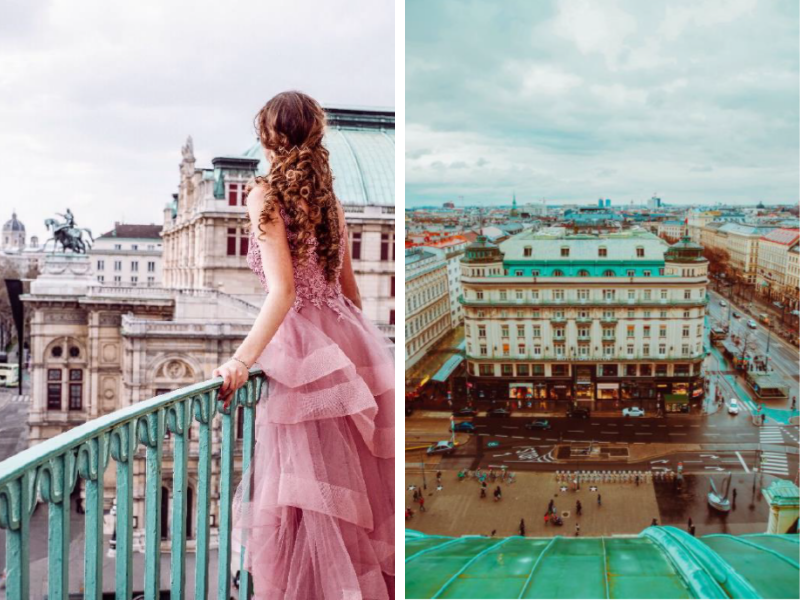 9) Hotel Bristol, Vienna, Austria - Stay in the Penthouse Tower Suite
Experience a real-life fairy-tale of regal luxury and romance when you stay in the 'Rapunzel' Penthouse Tower Suite in Hotel Bristol, a Luxury Collection Hotel in Vienna. Unique round bedrooms with hand-painted starry ceilings, elegant marble bathrooms and views of the Vienna State Opera make this a firm favourite with honeymooners and romantic couples. Your suite will come with all the five star touches you'd expect. Not for nothing did this place win a Travellers Choice Award this year…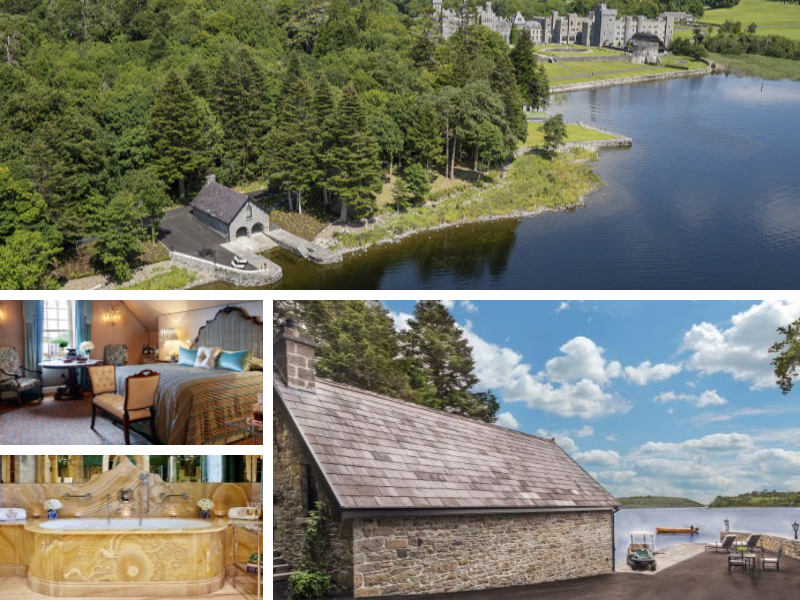 10) Ashford Castle, Ireland - Stay in Hideaway Cottage
Hideaway Cottage at Ashford Castle was once used as a boathouse in this fine Mayo resort. In 2013, the ancient property was converted into the most private accommodation you could imagine. Today this lovely place is a genuine retreat for loved up couples. The church-like setting will spellbind you, while the spacious bathroom is a sight to behold. Visitors can be treated by a personal assistant who'll prepare a fresh seafood lunch, which can include Ashford Castle's home-made caviar.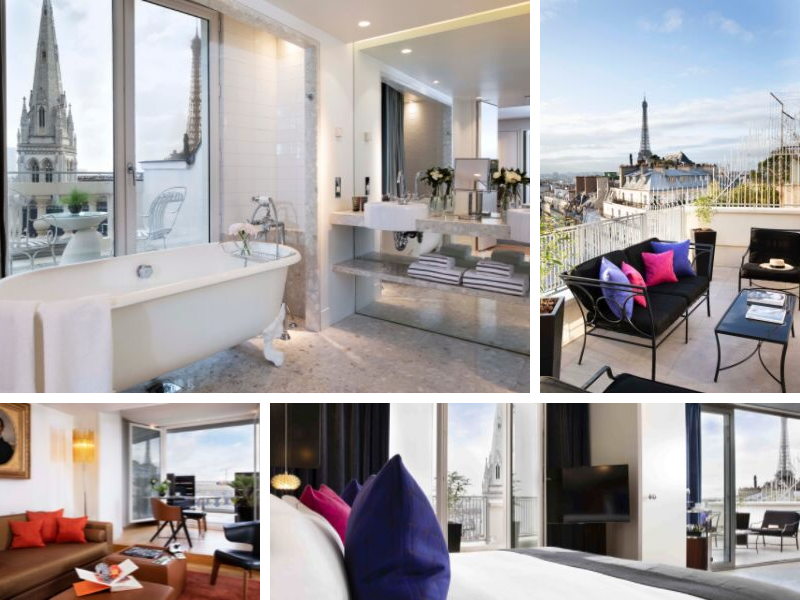 11) Hotel de Sers, Paris, France - Stay in the Eiffel Suite
If you're looking for an iconic romantic experience.... you've found it! The Eiffel Suite at Hotel de Sers is 60 square meters of pure luxury and guests here are spoilt with one of the most breath-taking views of Paris (including of course the world-famous Eiffel Tower). Pamper yourself with their special romantic treatment including rose petals, candles and red knots on the doors, Champagne, a flower bouquet and heart chocolates made by this stunning venue's pastry Chef.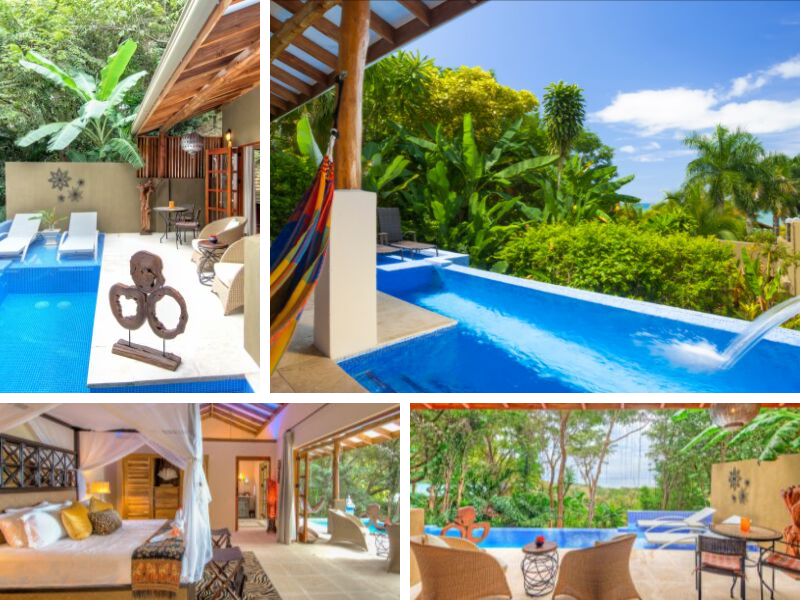 12) Casa Chameleon at Mal Pais, Costa Rica - Stay in a Villa Suite
Set on a picturesque hillside overlooking the sparkling Pacific Ocean, Casa Chameleon hotels are known for their romantic locales, and the Villa Suites at Mal Pais is without doubt no different. Each villa has a private plunge pool and help to add to the feeling you're part of one of Costa Rica's most romantic escapes. Nestled away in a remote part of the jungle, this nature lover's paradise offers complete intimacy and is devoid of all distractions… except for one other.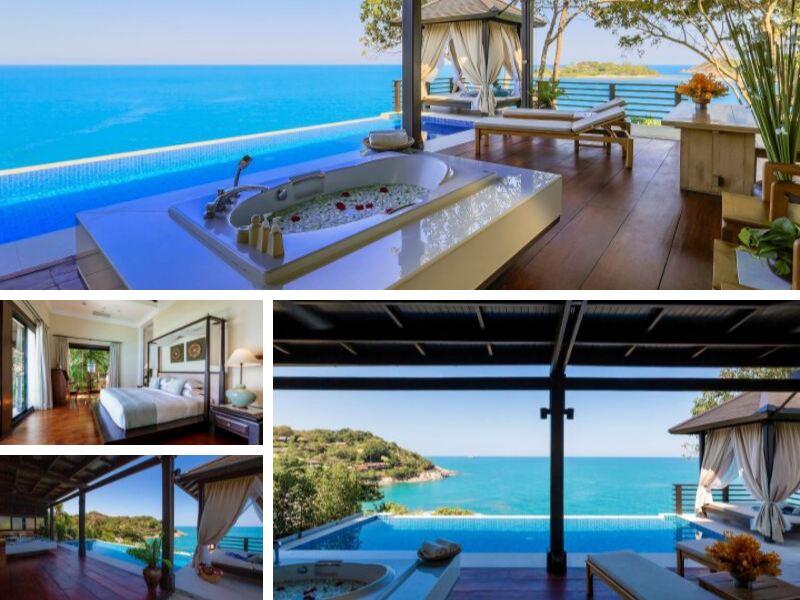 13) Tongsai Bay, Thailand - Stay in the Nang Gong Villa
The Nang Gong Villa in Tongsai Bay is a hillside resort featuring a vast open air terrace complete with a signature 'bath with a view', a 4-poster gazebo, a dining area, sun loungers and even a bar. There's no fewer than two private pools, one of which overlooks Tongsai Bay; the other peers on to the neighbouring Choengmon Bay. Combine these and you have the most sweeping sea views which is hard to match in Koh Samui or even the whole of Thailand.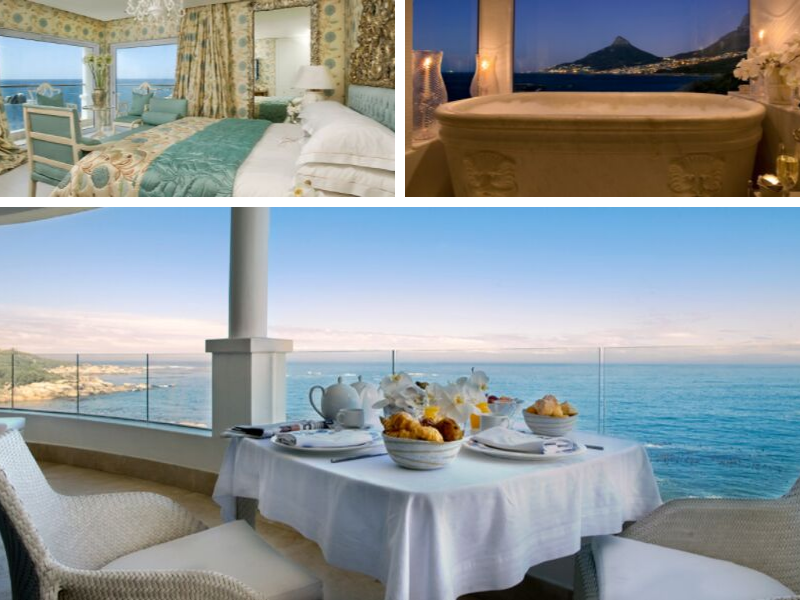 14) The Twelve Apostles, South Africa - Stay in the Presidential Suite
The award-winning Twelve Apostles Hotel and Spa is poised above the Atlantic Ocean on Cape Town's most scenic route. And for the ultimate experience of romantic luxury the Presidential Suite weighs in at 151 square meters and each and every bit is stuffed full of stately grandeur including a an open-plan dining room with a bar and lounge area, stand alone marble bath tub, Italian chandeliers and artwork. That's all before a mention of the panoramic views of the Atlantic Ocean, the Lion's Head and the Twelve Apostles mountain range.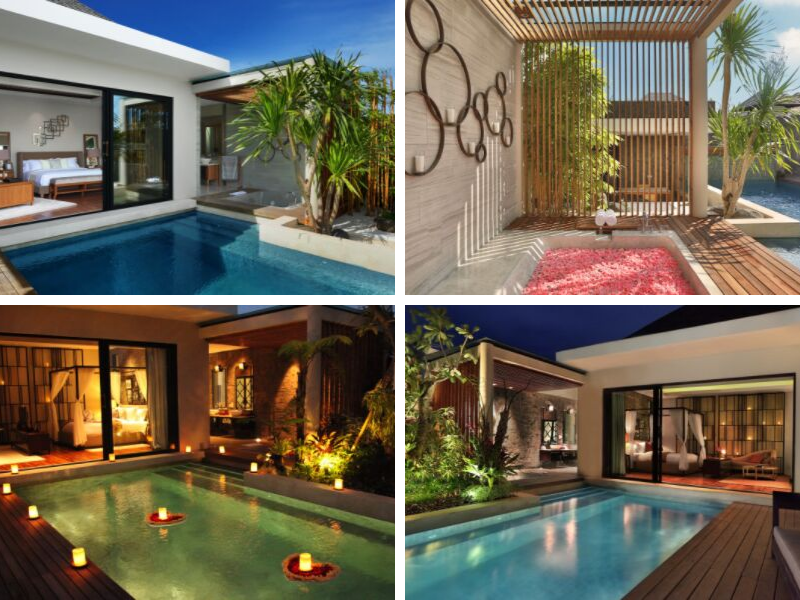 15) Berry Amour Villas, Bali - Choose from Desire, Temptation & Mystique Villas
Located only a few minutes' drive away from the fine white sandy Petitenget Beach, Berry Amour Villas believe everyone has their own expression of love and couples staying here can choose from 3 types of romantically themed villas - Desire, Temptation & Mystique - all with private pools and hot tubs. Air-conditioned bedrooms have a private bathroom and fits a shower and hot tub along with a fully-equipped kitchen. Enjoy a poolside breakfast at Berry Amour Villas with bubbles and flower petals available on your request.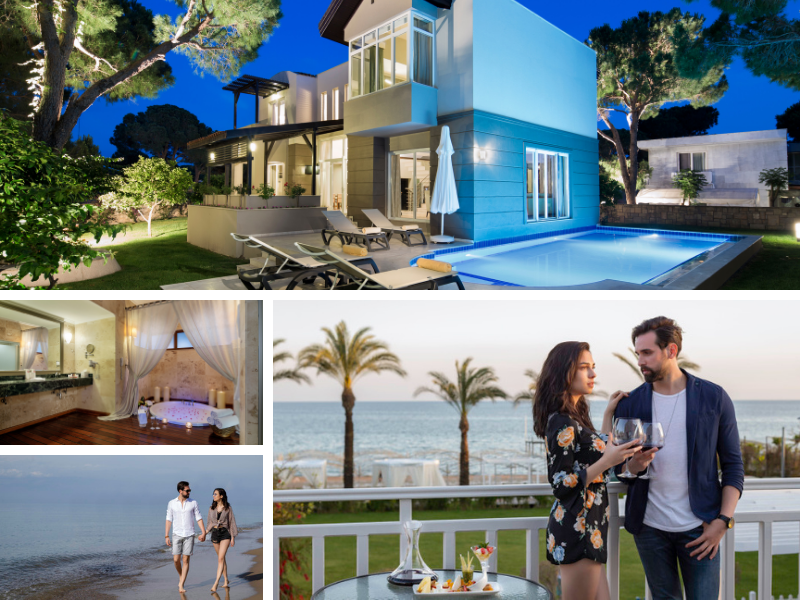 16) Papillon Ayscha, Antalya, Turkey - Stay in Deluxe Villa
The Deluxe Villas at Papillon Ayscha are the perfect honeymoon love nest for couples seeking privacy, luxury and plenty of space. During your stay you'll enjoy your own private pool, Jacuzzi and lush gardens as the exotic scent of pine trees fills the air. But what makes this place super-special is their Villa Concepts package! This VIP experience will ensure you're fully pampered every moment of your stay and guarantee you priority service throughout the resort.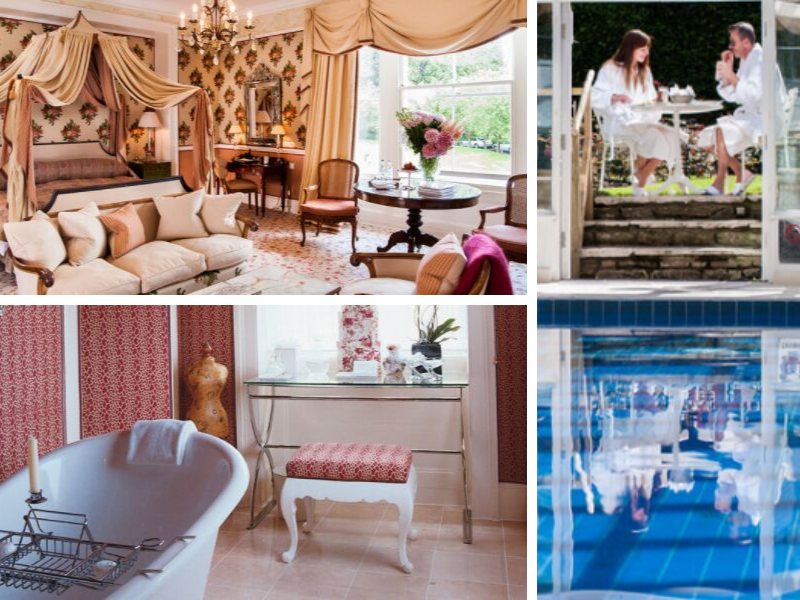 17) Summer Lodge, Dorset, UK - Stay in the Master Bedroom
Another very regal Master Bedroom is found at
Summer Lodge
;
rich and luxurious with a vintage feel. This is how you imagine royalty must have lived – with a grand king-size four-poster bed, a homely fire in the grate, and a room big enough to take the most exquisite fabrics and furnishings. And w
ith a relaxing spa, indoor pool, private tennis court and miles of beautiful countryside to explore, this is the quintessential luxurious escape.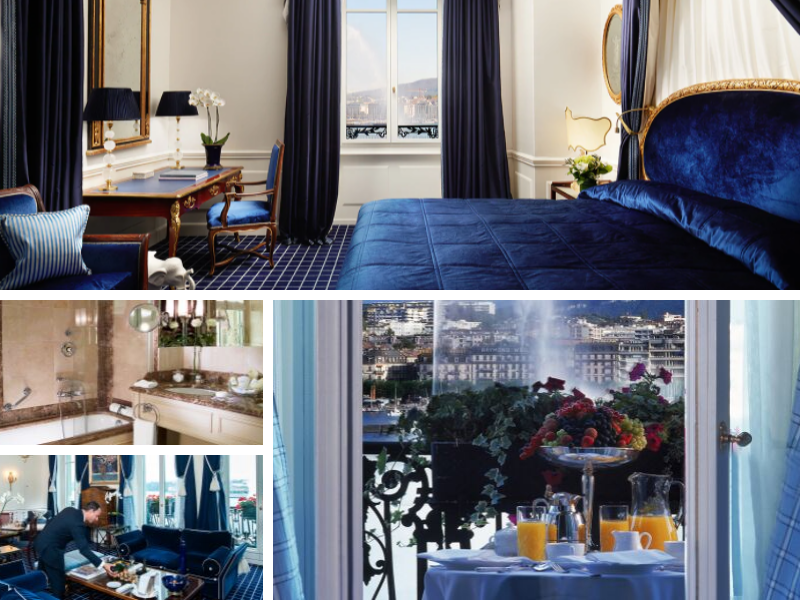 18) Hotel d'Angleterre, Switzerland - Stay in the Presidential Suite
The crowning glory of Hotel d'Angleterre is said to be its legendary Presidential Suite, which is rounded off by a quite stunning views across Lake Geneva and the snow-capped Mont Blanc. High-end antiques and fine furnishings help to make this a unique room, while there are two bathrooms – one of which boasts an Italian 'roll-in' shower and a hammam.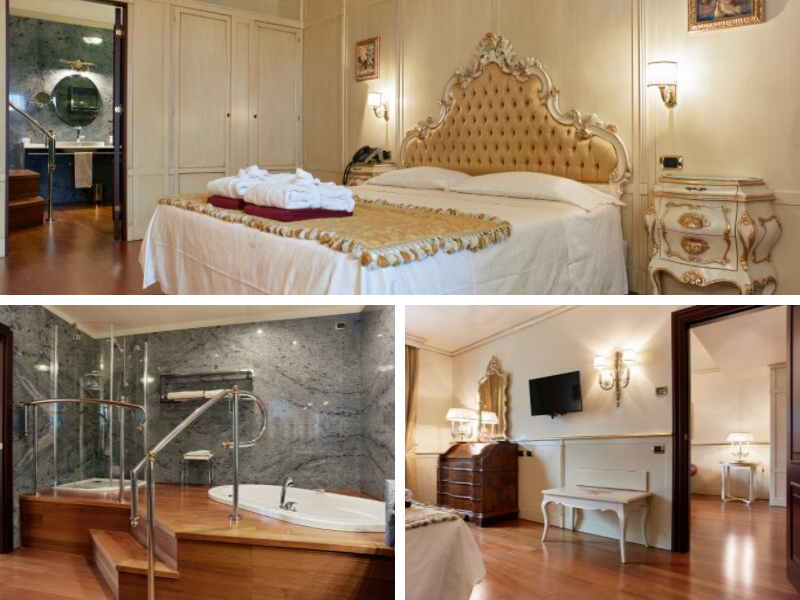 19) Villa Quaranta Tommasi Wine Hotel & Spa, Italy - Stay in the Suite
The Suite at Villa Quaranta Tommasi Wine Hotel & Spa has a lavishness that's hard to compare in terms of its authentic Italian flair and fashion. This space, which dates back to the 17th century and was once a noble residence, has beauty in abundance and you can admire original frescoes and antique furniture throughout the property. Don't miss the restaurant Borgo Antico restaurant, which has the most amazing local cuisine and wines.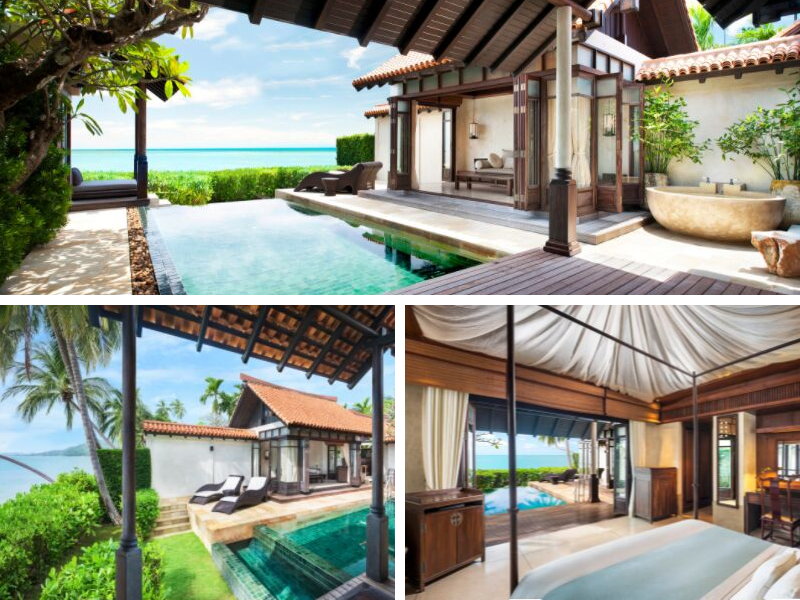 20) Le Meridien Koh Samui, Thailand - Stay in an Oceanfront Pool Villa
There are many beautiful suites and villas at Le Méridien Koh Samui, but the Oceanfront Pool Villa is really something to admire. And perfect for romantic couples seeking a spacious yet private tropical hideout with expansive sea views. Exquisite Thai and Chinese craftsmanship inhabits every feature of the room which has a very Zen and tranquil ambience supported by an open-air terrace and a private infinity pool.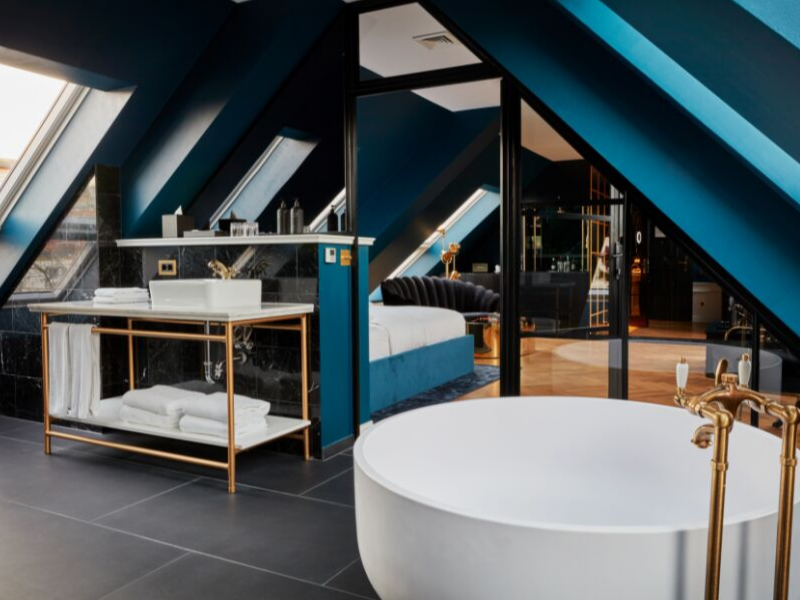 21) Provocateur Berlin, Germany - Stay in the Maison Suite
Ideally located in the beating heart of the Kurfürstendamm area of Berlin is the sexy and suggestive Provocateur Berlin. Have a peek at the Maison Suite, which follows closely the burlesque theme of the hotel. All rooms include a minibar and a private bathroom with rain shower. Meanwhile the patio's perfect for a coffee and the on-site restaurant offers quality Asian food. The premise here is quite German in its directness and efficiency: take the 1910s lift up to your suite, explore the video art of the Provocateur Mode and have as much fun as you possibly can during your stay…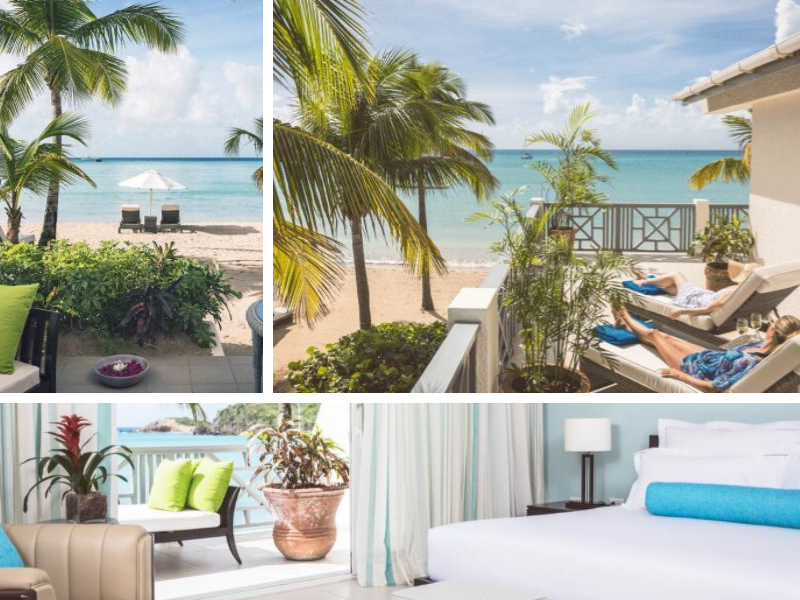 22) Carlisle Bay, Antigua - Stay in a Bay Suite
Strictly for couples only, the Bay Suites at Carlisle Bay are exclusively reserved for guests seeking privacy and romance. Each room comes with a balcony, private butler service, Vodka and Rum bar and with sweeping views looking out to the invitingly warm Caribbean waters. Bathrooms are large and feature a bath and walk-in shower as well as fab toiletries, thick soft towels and plush robes. Top tip: Ask your butler to set up a romantic dinner for two on the jetty for an unforgettable night of romance.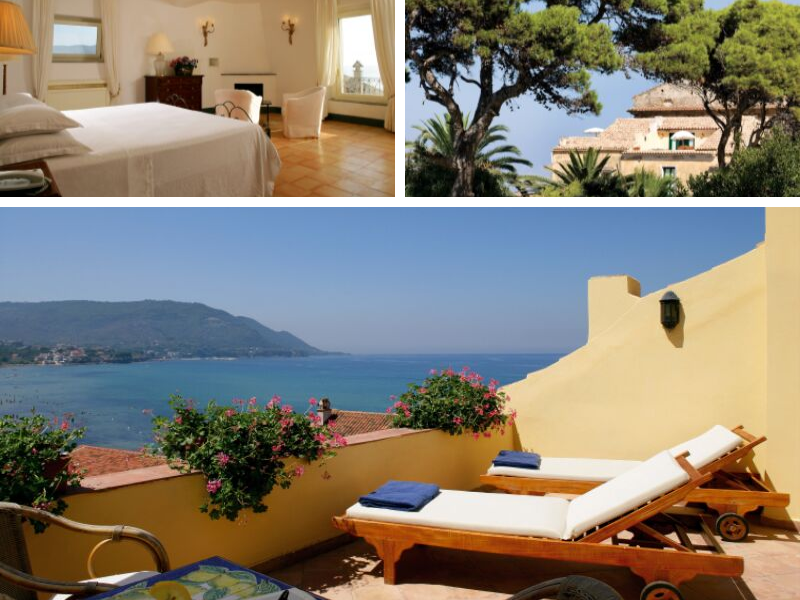 23) Palazzo Belmonte, Italy - Stay in a Luxury Suite with Sea View
Palazzo Belmonte provides a seafront location with no fewer than five acres of gardens containing orange and lemon trees, plus a private, spotless sandy beach. The Luxury Suite, complete with sea view like few others, is furnished with 17th Century antique furniture and hand-made terracotta floors. Think of this special place as a charming jewel in the crown of a super and gorgeous seaside resort.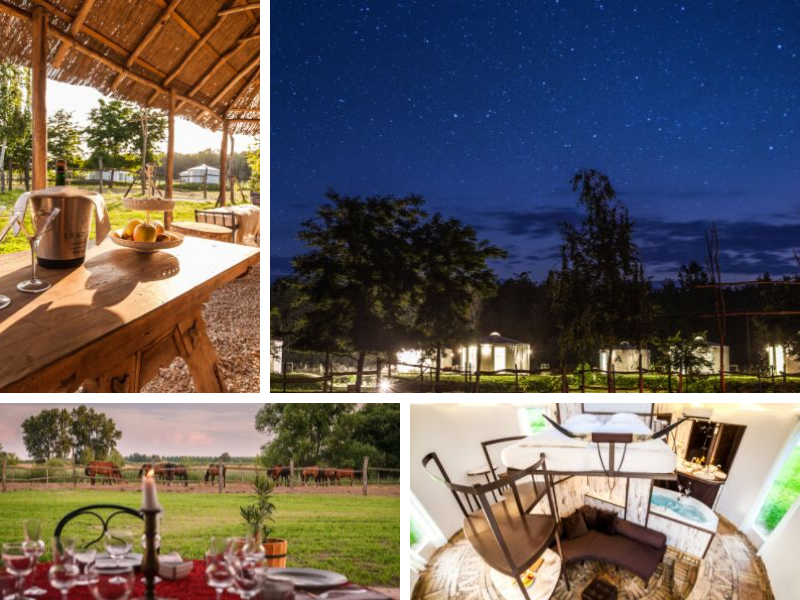 24) Homoki Lodge Nature Quest Resort, Hungary - Stay in a Spacious Yurt Luxury
For accommodation that's a little different, but no less romantic than a 5-star chalet, try Hungary's Homoki Spacious Yurt Luxury. The fix tents take glamping a step further than might be expected: this three-level yurt offers luxury and comfort that will make your stay unforgettable (the minibar and integrated bathing area both undoubtedly help). With the opening dome window you can watch the starry sky from the bed, but the sun loungers on the private terrace are equally a pleasant sight on a warm or crisp evening.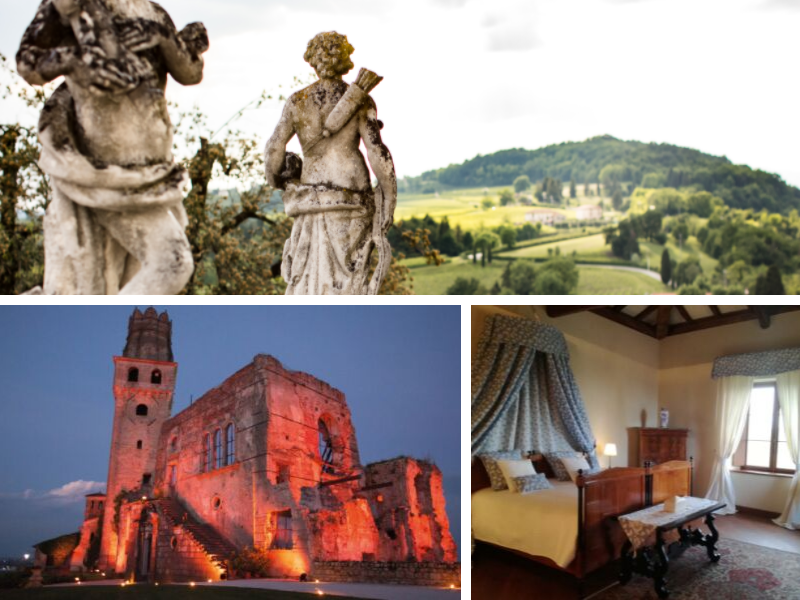 25) San Salvatore Castle, Italy - Stay in a Castle
At San Salvatore Castle you get more than just a suite. You get a whole ancient building along with your Relais de Charme sleeping space. And you're surrounded by the beautiful hills of Treviso, with olive trees and rolling vineyards. It's all too easy to fall in love with this unforgettable castle and couples can devour a local menu that's created by a personal chef and served by your own butler. Be sure to savour guided wine tastings of the famous DOCG Prosecco from the Conte Collalto winery.
Read some of the most frequently asked questions about honeymoons.