Sun, Sea and… Squats | Tropical Island Getaways for Active Couples
When you imagine a tropical island getaway do your thoughts dreamily turn to lazy days in the sun, sipping on coconut cocktails and swinging in a beachfront hammock?
Or does the idea of a fortnight of sunbathing fill you with dread?
If the latter, fear not! Because it's easy to combine the indulgence of a tropical island holiday with a spot of activity.
Here are five world-class resorts where you can have fun in the sun, stay fit and busy at the same time (and naturally they are all super-romantic too)!
Barbados - Crystal Cove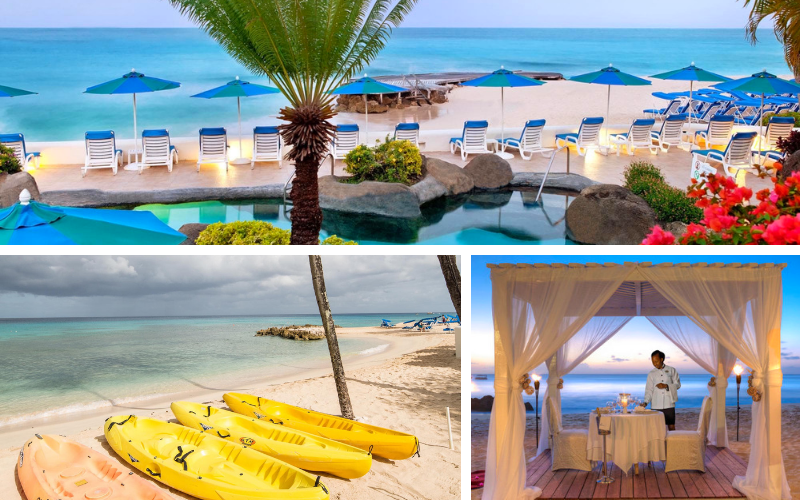 The west coast of Barbados offers lots of water-based pursuits: from snorkelling in coral reefs, to kayaking across a glittering bay, among many more. Staff at Crystal Cove will be happy to arrange a thrilling water skiing or tubing session, or a memorable catamaran ride for loved-up couples.
It's a one minute stroll to the beach from the resort, which is a thing of beauty in its own right. Crystal is home to log cabins which are nestled amid tropical gardens with lush vegetation.
This site's amazing facilities include a spa and two fab restaurants - one of which is set directly on the beach. The scene of paradise is completed by very friendly and attentive workers. Guests can make the most of a private dinner on the beach with a personal butler service. On days off from more fast-paced activity, you could savour in a champagne breakfasts in bed followed by a poolside couples' massages.
And if you're planning a destination wedding to this enchanting Caribbean island, it'll only take one look at the photos of Crystal Cove to know why this sandy sanctuary was named a Wedding Venue of the Year by Luxury Travel Guide UK.
The Maldives - Reethi Faru Resort, Raa Atoll & Adaaran Select Hudhuranfushi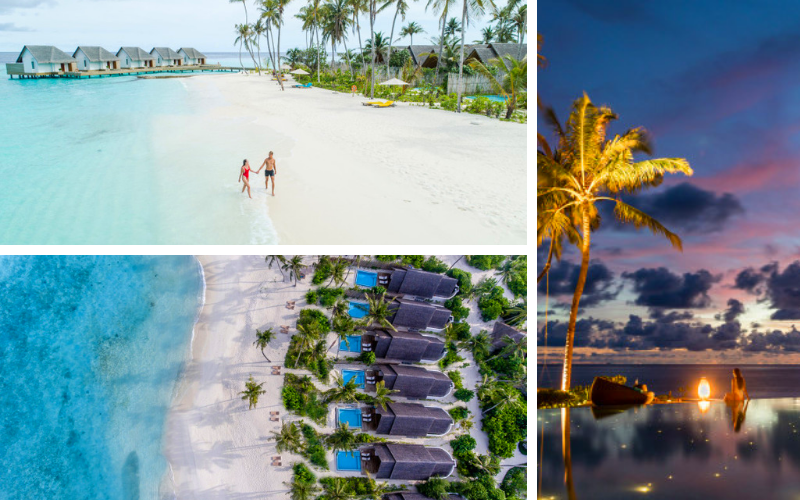 It may be located on the tiny and secluded Fonimagoodhoo Island, but the Reethi Faru Resort still manages to cram a sport complex - plus five restaurants and bars - into this super-cute speck of land measuring just 600m x 350m. Located on a stunning lagoon, the ample Indian Ocean surrounds can play host to a range of exciting water sports including:
Jet skiing
Windsurfing
Snorkelling
Diving
The resort's accredited Dive Centre will transport you to an undersea world of submerged islands, dramatic overhangs, underwater walls and sea caves. There's also a spacious swimming pool to supplement the on-site gym for when you return to base camp.
This very special property can arrange a variety of private and group excursions. You might fancy a catamaran ride for an authentic Maldivian fishing adventure. After another perfect day, you can bring your fresh catch back to barbecue your own dinner amid an extraordinary sunset view. You'll be able to peer into the starry sky from your water villa, each of which is completed by soft lights and a wooden ceiling in what makes an ideal retreat for lovemaking.
Elsewhere in the Maldives, Adaaran Select Hudhuranfushi , which is situated on Lohifushi in Kaafu Atoll, also has a setting of pure luxury and water-based activities that'll keep the pulse racing throughout the day. Cast away on the south atolls of this breathtaking archipelago, the resort is renowned as one of the best surf resorts in the Maldives. If its shallow reef isn't enough of a surfers' paradise for you, then take a visit to the nearby Lohi's surf break which is highly regarded across the world for the quality of its waves. The neighbouring dive site, also at Hudhuranfushi, affords magnificent snorkelling and scuba diving options to boot.
You might also like to look at other properties in the Maldives such as Adaaran Prestige Vadoo and or Adaaran Club Rannalhi where alongside scuba diving, watersports and beach volleyball you can also book safaris and a Whale Submarine Adventure.
La Concha a Renaissance Resort – Puerto Rico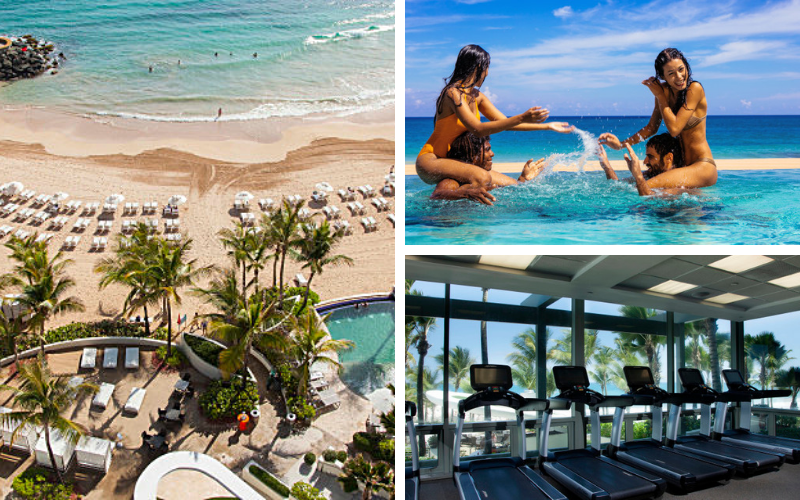 With free bicycle rental and a quality gym featuring a wide choice of cardio equipment and weights, you'll have no problem in balancing out any holiday excess enjoyed at La Concha a Renaissance Resort. This 4-star resort boasts a casino and several fine dining restaurants. For both breakfast and dinner, guests can choose from a variety of onsite restaurants such as Perla or Komakai, which has fresh and tasty poolside tapas and seafood.
Guests can unwind from a morning's beach run or a daytime workout on a lounge bed surrounding an infinity pool, or by supping on a cocktail from the poolside bar in the hot tub. Meanwhile the large guest suites come with private sea view balconies. You can also opt to dine in the privacy of your own room and, added to the fact that breakfast is included for couples, this truly would make for a dream honeymoon destination.
Hotel Las Islas, Barú – Columbia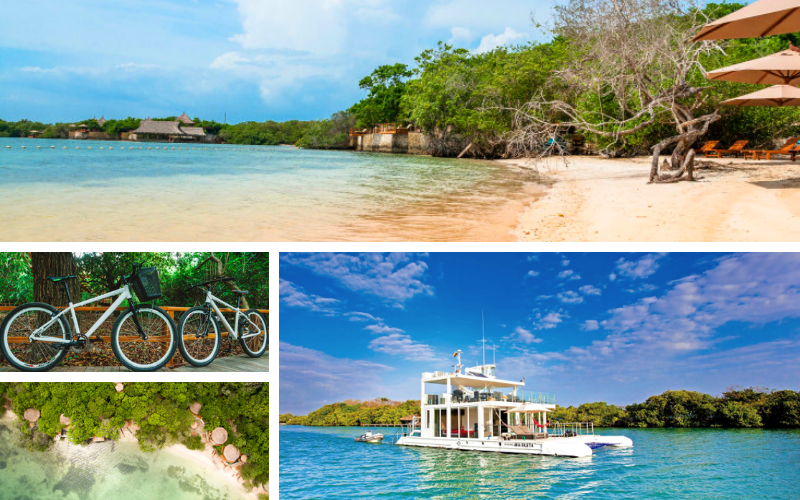 Set in the Corales del Rosario National Park, the remote, upscale island resort of Hotel Las Islas enjoys a Caribbean beach setting in a quiet haven that's only accessible by helicopter or boat from north Colombia. Book into a magical tree-top bungalow and, amid the purest serenity, you'll clock up a few of your 10,000-a-day steps by simply climbing into bed!
As a guest at Hotel Las Islas, you'll be able to take part in numerous water sports, such as:
kayaking
snorkelling
diving
paddle-boarding
What's more, you'll have use of the hotel's private strip of soft, spotless beach and a spacious ocean-facing pool. There's also a gym, spa, sauna and outdoor massage tent in what is a self-contained resort with a choice of three restaurants and a small coffee shop. Las Islas has a range of thatched rooms that spread out among mangroves and jungle foliage, all connected by boardwalks.
You'll arrive at the resort via the quaint and vibrant colonial city of Cartagena on the coast of Colombia. Be sure to spend at least a day walking around the unique historic charms of the walled city, or perhaps take part in a sexy salsa at Barranquilla, which is famous for putting on an annual Carnival that rivals Rio.
Serenity Island Resort - Fiji
As its name suggests, tranquility is a key USP of the extraordinary 48-acre private island resort of Serenity Island in Kadavulailai Island, Fiji. It'd be tempting to while away the days of your romantic break by not leaving the on-site swimming pool, bar or restaurant which each offer terrific service. However by doing so, you could miss out on many fun activities such as kayaking, scuba diving and snorkelling. Also, it's just a short boat ride to Viti Levu (Fiji's main island) where you'll be able to pursuit a plethora of activities, from beach volleyball to competing in full triathlons.
Further links
Read some of the most frequently asked question about honeymoons.