9 Destinations for a Dream Wedding in Thailand
Enchanting Thailand can truly be a magical place for a wedding abroad. For a glimpse of why this part of the world is so special, we have hand-picked 9 destinations that offer a perfect setting for romantic celebrations.
HOW TO GET MARRIED IN THAILAND: Frequently Asked Questions
How are marriages in Thailand legally recognised?
Ceremonies involving foreigners that are conducted in the correct way are both internationally recognised and legally binding. However, your marriage will only be recognised under your country's law if it's valid under Thai law.
The first step is to visit your country's embassy (for UK citizens, this would be via an appointment at the British Embassy in Bangkok). There, you will need to swear your affirmation by completing a form called an Affidavit of Freedom to Marry.
This affirmation document can be downloaded before your visit, but it must be signed in-person during your appointment. As a minimum requirement, you will need a valid passport as proof of identity – along with any evidence that any previous marriages you've had have been terminated.
What happens after we get our Affidavit of Freedom to Marry?
The next step is to get your affidavit translated into Thai. To do this, you could either hire the services of someone from an agency or go through a solicitor. Then you'll need to get the document officially certified at a local Ministry of Foreign Affairs office.
There will be a small fee involved in getting your document notarised, and you should allow at least two working days for this to be completed before you host your ceremony. Make sure you double check before you travel, as the length of time it takes to acquire a document will change depending on which country you're a citizen of. For example, if you're Irish then the waiting period tends to be 28 days.
What else do we need to do before we are legally married?
You'll need to pay a visit to a Registrar at an Amphur Office to complete your marriage registration. You should to the district office that is closest to where you're getting married, and take your affirmation document. At the Amphur office, you will need to have a translator present who speaks both English and Thai. The district office should be able to arrange the witnesses on your behalf to complete the formalities. Also, you can pay a fee for the registrar to marry you at your chosen wedding venue.
Should we hire a wedding planner?
Even if your wedding is in your home country, the expertise of a wedding planner can be an invaluable addition for you. These professionals could take care of many aspects of your big day, from useful local knowledge to gift ideas. If you are getting married at a resort location, they'll often have a celebrant or a wedding planner on-site. This individual should be able to contact the Amphur office on your behalf and help with translation… another reason to look for a tailored package through us!
How much does it cost to get married in Thailand?
The Affidavit of Freedom to Marry certificate will cost you about £100 (or £50 each). So, not bad considering the steep costs in other parts of the world! Getting your Thai marriage certificate translated back into English, so that you can show it as proof back home, should only cost around five pounds (unless you've included this as part of a solicitor's fee).
What else should we be aware of?
As of 07 November 2018, you cannot have a same-sex marriage or a civil partnership in Thailand.
WHERE COULD WE GO FOR A THAILAND WEDDING?
KOH SAMUI
Thailand's second largest island boasts a rich mix of scenery – its steep rainforests teem with wildlife, while palm-lined beaches compete with a string of luxury resorts and spas. All of which make this Thai island one of the world's most popular and romantic settings for a destination wedding and honeymoon.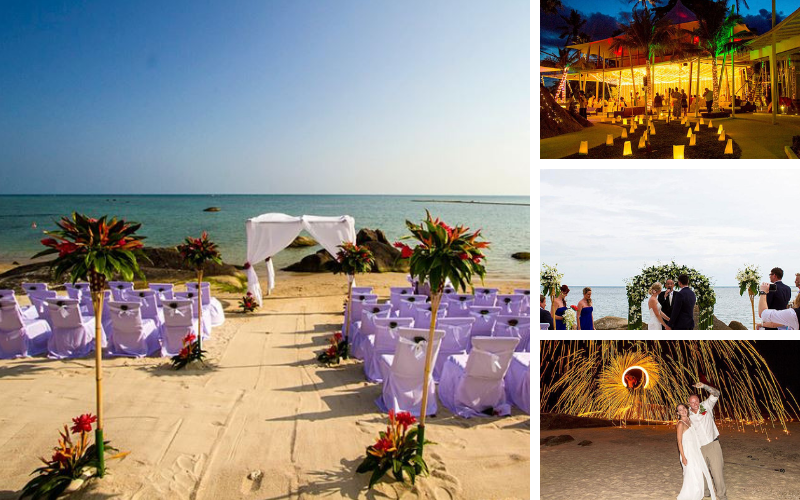 #1 Weddings at Beach Republic
Choose from a selection of popular wedding packages or create something completely bespoke for an unforgettable beach wedding:
• 4-star luxury, complete with free WiFi and modern styled fixtures and fitting
• Superb location on the awe inspiring Lamai Beach
• Beach-side pool with stunning sea views
• Spacious spa and wellness centre
• Expert wedding team to plan your big day
Holding only 1 wedding per day you're guaranteed the undivided attention of the Beach Republic staff. And all just 30 minutes from Samui airport making this an easy option for your guests.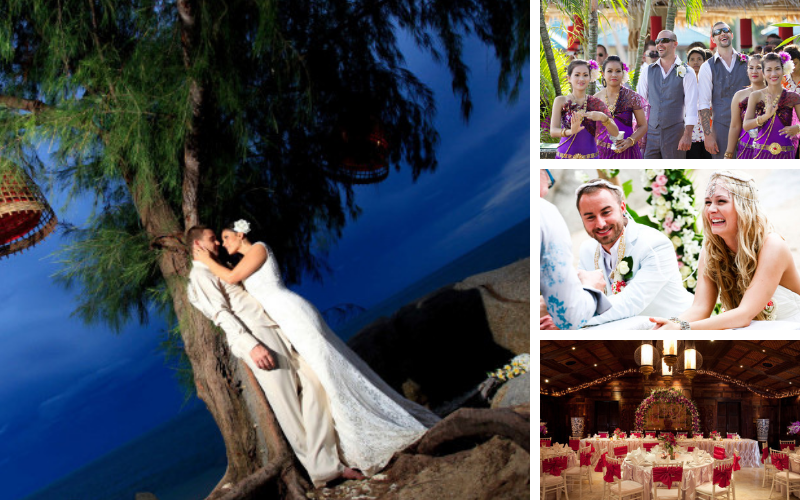 #2 Weddings Rocky's Boutique Resort
This unique and intimate boutique resort is an award-winning wedding venue, loved by couples for its exceptionally romantic features which include:
• Beachside setting with dreamy views of the Gulf of Thailand
• Boutique property with only 50 luxurious rooms
• All a short walk from downtown Lamai.
The experienced team here offer some of the best weddings on the island and Rocky's secluded, intimate beachfront coves provide both privacy and seclusion for your special wedding day.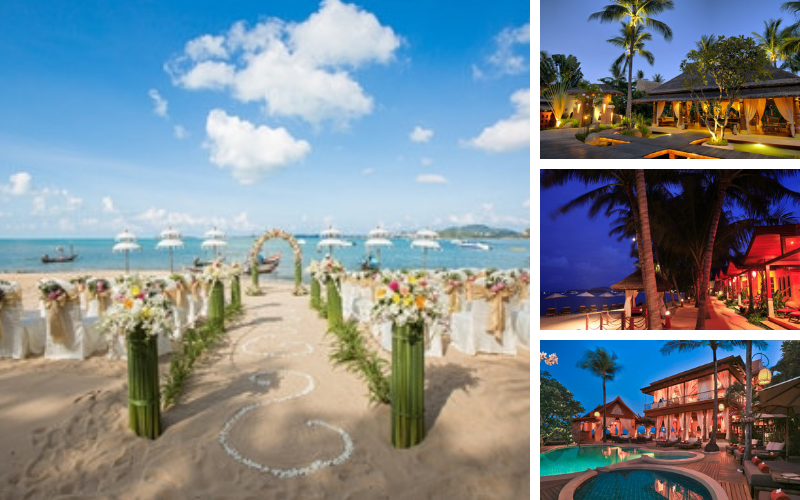 #3 Weddings at Zazen Boutique Resort & Spa
Set on the breathtakingly beautiful Bophut Beach, Zazen Boutique Resort & Spa is a haven of luxury and tranquillity - the most mesmerising backdrop for your wedding day:
• Boutique hotel where each room is designed like a small and elegant Thai home
• Access to a devoted team of wedding planners, who'll hand-hold you until you're holding hands – and they'll take care of you afterwards to ensure your best day possible
• Choose from a Thai or Western-style ceremony
Receptions can be anything from an intimate cocktail affair to an enormous banquet and a party, with celebrations looking out onto the beautiful bay of Bophut.
BANGKOK
Thailand's famous capital is a huge global draw, and with good reason. Its vibrant and varied street life weaves in and out of the Chao Phraya River - and all around its network of canals. Breathe in some of the world's best phad thai, before strolling around the opulent Grand Palace and the sacred Wat Phra Kaew Temple. Just a few of the countless activities you can enjoy if you choose to get married in the 'City of Angels'.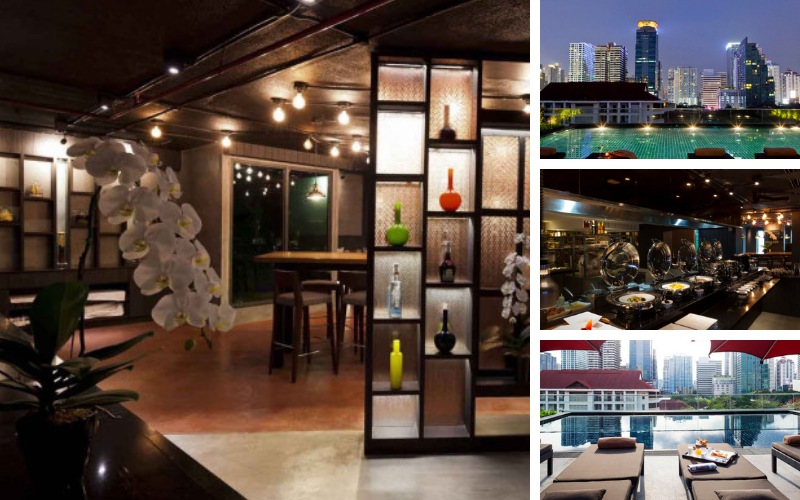 #4 Weddings at U Sathorn Bangkok
A quiet haven in the bustling capital, this peaceful resort offers couples traditional Thai wedding ceremonies where you'll be blessed by Thai Buddhist monks:
• Intimate property with just 86 guestrooms
• Most of the suites are nestled in the garden's luscious greenery, or by the shimmering pool
• Passionate about giving you 'a sanctuary of pure escapism'
Decadent details add to the overall air of indulgence, with suites including relaxing rainfall showers and beautiful bathtubs big enough for two.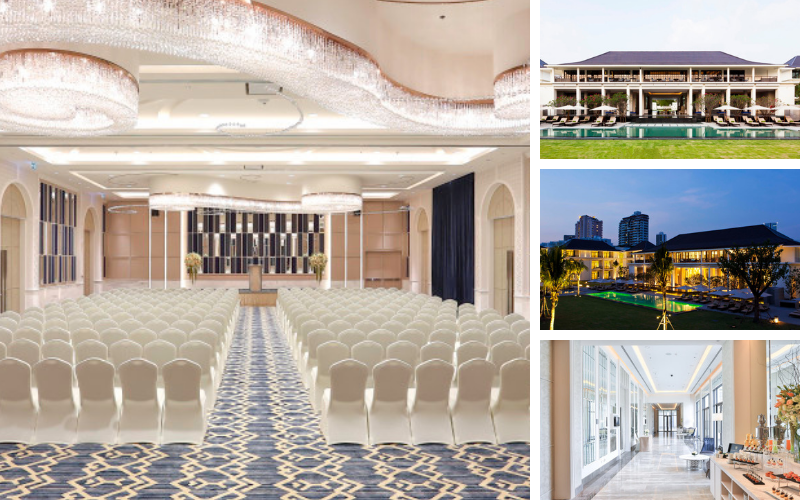 #5 Wedding Reception at Solitaire Bangkok
In a quiet backstreet of Bangkok's famous Sukhumvit nightlife area the Solitaire Bangkok offers a contemporary reception venue and the perfect place to spend your wedding night:
• Skytrain to city attractions and nightlife
• Private balconies with personal Jacuzzis overlooking the city - one of the most unique experiences the City of Angels has to offer.
• Wedding reception only, with a specialist function room for up to 60 guests
In the evenings enjoy the vibrant nightlife of Sukhumvit Soi 11 with its bustling restaurant scene, swanky bars and nightclubs.
PHUKET
This mountainous island is surrounded by the crystal clear waters of the Andaman Sea and home to some of Thailand's most popular beaches - offering romance and seclusion. Your wedding party will have plenty to do along the coasts, as there are a range of fun water based activities including diving, snorkelling and sailing. Meanwhile Bangla Road and the Phuket Big Buddah are just two of the hot things to see on Thailand's largest island.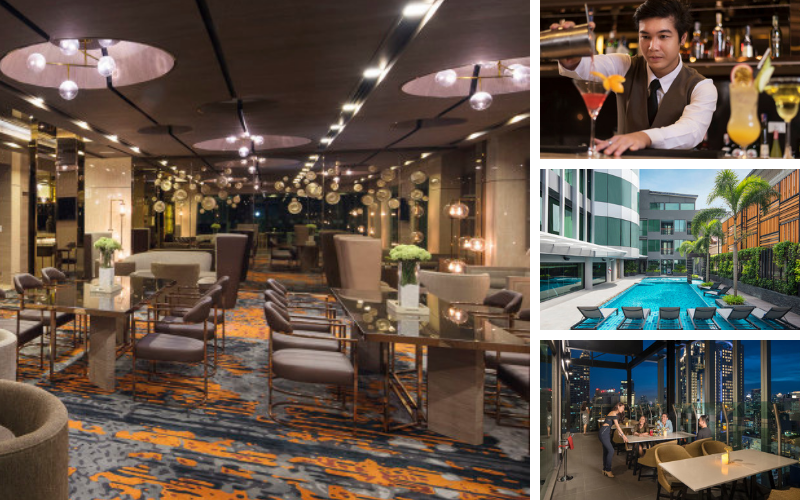 #6 Weddings at Royal Phuket City Hotel
At the Royal Phuket City Hotel they understand no day is more special than your wedding day. Choose from their dedicated wedding packages for a fairy tale experience:
• 4-star hotel with dedicated romance and wedding packages
• Ideally located a short stroll from the old town
• Character hotel with a choice of elegant rooms
If that's not enough, you'll be appointed your own staff member, who will offer you a dedicated personal service ahead of your special ceremony.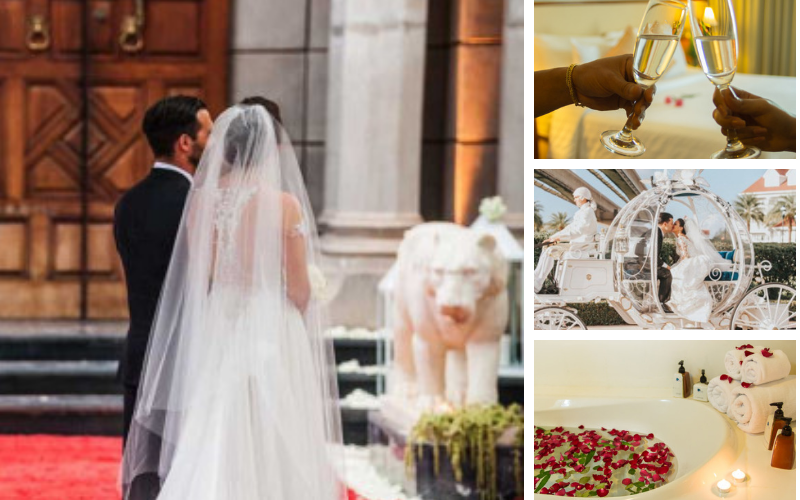 #7 Weddings at The Pavilions Phuket
Perched dramatically atop one of Phuket's highest points, this luxury retreat could make the perfect wedding venue (and just 5 minutes from the beach):
• Selection of breath-taking wedding experiences and settings
• Huge private villas and suites, some with private pools, offering unbridled decadence
• Award-winning restaurants and bars
• On-site spa and wellness centre offering relaxing treatments
If you are staying in a villa, be sure to book a dinner under the stars on your private terrace and choose from a number of romantic themed menus.
KHAO LAK
Located a mere hour's drive north from Phuket Island on the dashing Andaman coastline, Khao Lak is one of Thailand's more peaceful resort destinations - making it an ideal choice for weddings. A series of tourist-friendly villages, the literal translation of this area is 'lak mountain' and this small and hilly region has plenty of peaks for visitors to enjoy – both literally and metaphorically.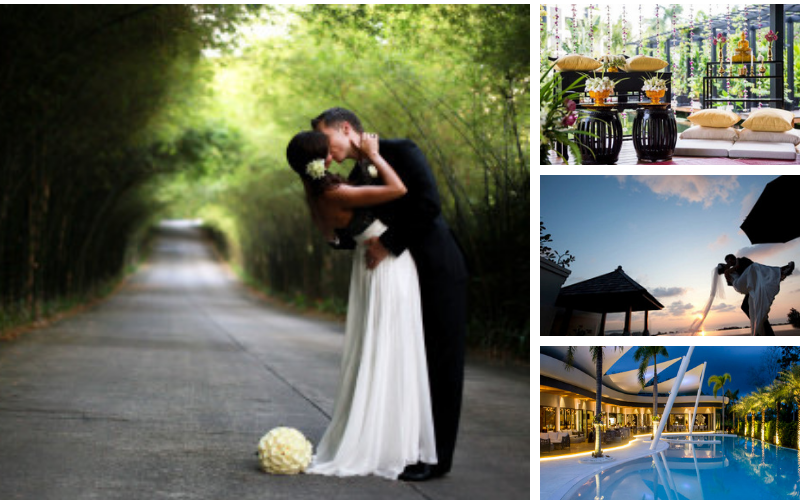 #8 Weddings at JW Marriot Khao Lak Resort & Spa
Prepare to be carried away by this resort's stunning beachfront location and immaculately landscaped grounds just moments from the famous Khuk Khak Beach in Phang Nga
• 5-star accommodation with rooms that have access to a huge, divine swimming pool
• Super friendly staff, who'll go the extra mile to create the wedding of your dreams
• Choice of wedding locations including the beach, gardens, poolside and marquee
This is where romance comes alive. What better place to make a lifelong wedding vow or celebrate your perfect honeymoon?
HUA HIN
Once a quiet fishing village, Hua Hin today is a popular seaside resort on the Gulf of Thailand, in the southern Thai province of Prachuap Khiri Khan. Hua Hin Beach is a popular spot for kitesurfing and other water sports, with cute seafood shacks also vying for visitor's attention. There's lively markets, golf courses and water parks within close reach – throw in classy international cuisine, and it's easy to see how both you and your wedding guests will have all of your needs met at Hua Hin.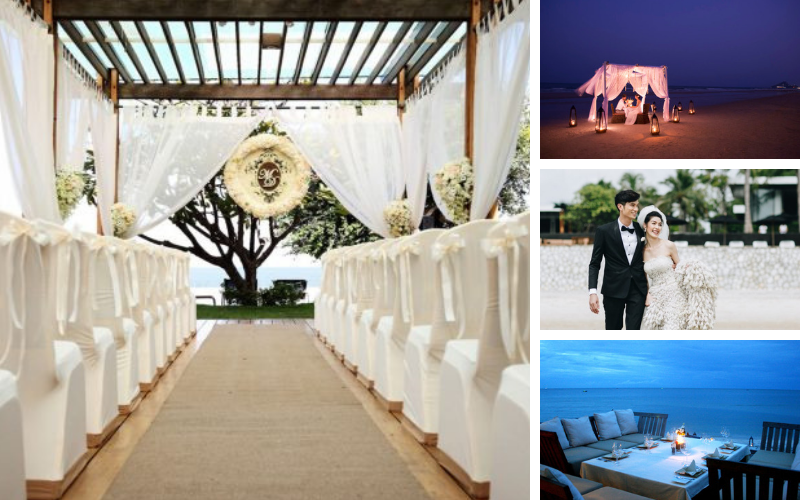 #10 Weddings at V Villas Hua Hin, MGallery by Sofitel
Located on the tranquil white sand beach of Hua Hin, this is a sophisticated destination wedding venue designed for discerning guests in search of romance and revival:
• Walking distance from downtown Hua Hin
• All rooms offer a private pool
• Beach and poolside weddings
This location is ideal for honeymoons and offers a range of wedding services, including planning help and a choice of beach or poolside ceremonies with up to 200 wedding attendees.
PATTAYA
Famed for its impeccable stretch of beaches, Pattaya lies on Thailand's eastern Gulf coast. The multicultural area is a draw for many foreign tourists and welcomes many romantic couples and families each year. The area also features several designer golf courses, some with views of Pattaya Bay. Nearby, the hillside Wat Phra Yai Temple features an 18m-tall golden Buddha.
#11 Weddings at U Pattaya
Located between Jomtien and Bang Saray Beach, U Pattaya is the picture of paradise, with beachfront access:
• Gorgeous beachfront access, where you'll be able to feel the sand between your toes in a matter of minutes
• Luxury villas and suites, featuring bamboo and rustic wood, which maintain the character and charm of its traditional fishing village roots
• Large function room and beach terrace suited for medium size weddings
Book into one of their special villas for extra seclusion...perfect for newlyweds!
KHAO YAI
Known in recent times for featuring in scenes from Danny Boyle's 2000 film The Beach, the colourful and tropical Khao Yai National Park covers a wide expanse of forestry and grassland in central Thailand. These lands are also home to diverse wildlife such as bears, elephants and gibbins. Hiking and biking are two activities suited to wedding groups, and its waterfalls include both the 150-metre Haew Narok and the 20-metre Haew Suwat - the latter of which was immortalised in Boyle's classic picture. Here, you're also just a couple of hours from the hustle and bustle of the capital city of Bangkok.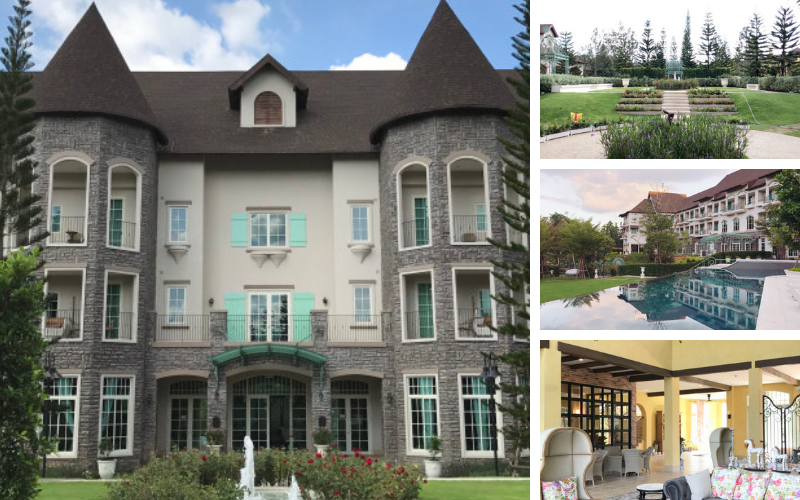 #12 Weddings at U Khao Yai
This beautiful hotel, built with inspiration from French/Swiss resorts, has a range of romantic features and is an exquisite place to say 'I do':
• Grand and spacious bedrooms, with balconies overlooking the pool and mountainous landscape surrounding
• Fully-customised wedding planning and catering with some of the region's finest cuisine
• Array of indoor and outdoor meeting and wedding venue options
Weddings at Hotel Khao Yai combine the natural beauty of the al fresco function venues with several glamorous reception rooms and an opulent ballroom.
KOH CHANG
From the pier-built village of Bang Bao, to the backpacker party spot of Hat Tha Nam (or, Lonely Beach) – Koh Chang is the epitome of a fun and romantic Thai island. As well as beaches, the Gulf of Thailand spot is home to dense, steep jungle.
Through the Mu Ko Chang National Park, you and your guests can enjoy hiking trails and waterfalls such as the tiered Klong Plu, which covers the interior and extends to the sparkling off-shore coral reefs. Koh Chang Beach Wedding is one specialist wedding planner and organiser based at Koh Chang Island Thailand.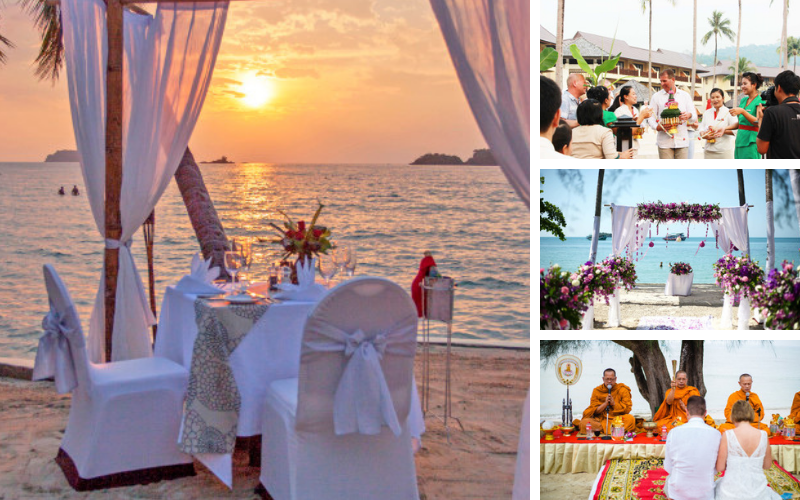 #13 Weddings at The Emerald Cove Koh Chang
Ideally located on the secluded beach of Klong Prao, this gorgeous resort offers many wedding packages including non-religious, to traditional Thai Wedding or holy ceremony.
• 165 rooms and suites, from which visitors can enjoy either sea views or jungle-lined hills
• a wide, golden beachfront with an unobstructed view of the gulf of Thailand
• thought to be one of the best destinations for private beachfront weddings in Koh Chang
We recommend surprising your love with a Private Romantic Beach Dinner where you can both watch the sky change from warm orange to a velvety midnight blue hand-in-hand.
KANCHANABURI
This west Thai town may be best known for its Death Railway, which was built during World War II but today this an region of stunning natural beauty. The Tiger Temple (exactly as the name suggests…) and the Erawan National Park are both within easy range for visitors. The town itself offers a range of delightful diversions, whether bamboo rafting journeys along the River Kwae, Khmer temple ruins tour, or a day out shopping at the gemstone village. The scenic riverside area sets the stage for romance, but can also get a touch loud at night – not for the faint hearted!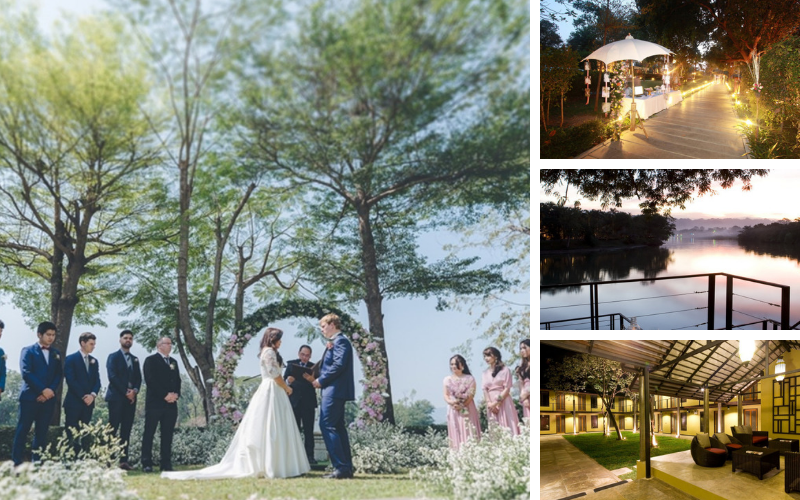 #14 U Inchantree Kanchanaburi
Built around an ancient 'inchantree' and courtyard, fantastic river views make the perfect setting for a romantic wedding:
• Rustic riverside lodges overlooking the River Kwai, with the chance of a perfect sunset wedding
• 50 guestrooms and suites over two contemporary and stylish buildings
• Suit pressing, free cycle hire to explore the sites around Kanchanaburi, and lots of other little touches your group will love
• Fully-caters for wedding groups
The devoted and unashamedly romantic staff here are passionate about creating those unique and unforgettable moments for their guests.
Our expert romantic consultants are waiting to hear from you. Yes, really! This is what we love... helping couples like you find and book their dream romantic trip, wedding or celebration. Get in touch HERE today. The fun is just about to begin